September, 19, 2012
9/19/12
7:37
PM PT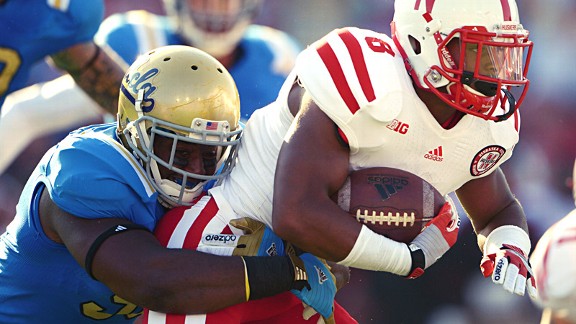 Kirby Lee/Image of Sport/US PresswireDatone Jones, making a tackle against Nebraska, figures to be key if Oregon State plays a physical game up front.
LOS ANGELES -- The spread is dead, at least for this week.
When the No. 19
UCLA Bruins
face Oregon State in a Pac-12 Conference opener for both schools Saturday at the Rose Bowl, it will be the first time this season UCLA will not be facing a team that runs the spread offense. That could be considered a bad thing for a team that is 3-0 against spread offenses and is coming off of its best defensive performance of the season, but coach Jim Mora says he is excited for the challenge.
"We need this right now," Mora said. "We need to get back to some hard-nosed gritty football on defense."
Oregon State isn't exactly a juggernaut when it comes to running the ball. The Beavers had only 78 yards rushing in their only game this season against Wisconsin and were No. 118 in the nation in rushing offense last season with 86.92 yards per game on the ground.
But after facing a
Houston Cougars
team that passed 60 times and rushed only 19, Oregon State's traditional pro set offense with running backs
Malcolm Agnew
ans
Storm Woods
will look and feel like a smash-mouth team from the leather helmet days.
"They run powers and they run lead draws and split bellies and isos and stretches and inside and outside zone," Mora said. "Real live run plays so we have to be on it. Against these backs, arm tackles are not going to do it. It's definitely a point of emphasis for us this week."
So far this season, the run games UCLA has faced have mostly come in the form of one-back spread formations. The Bruins are No. 95 in the nation against the run, having allowed an average of 191 yards rushing per game, but a closer look at those statistics reveals that they haven't been too bad against traditional run plays.
Quarterbacks
Taylor McHargue
of Rice,
Taylor Martinez
of Nebraska and
David Piland
of Houston combined for 278 yards rushing against UCLA. In comparison, the running backs from those teams have rushed for a combined 295 yards. Additionally, 218 of those quarterback rushing yards have come on three plays -- a 92-yard touchdown by Martinez, an 86-yard touchdown by Piland and a 40-yard run by McHargue.
Take away those three plays and UCLA is giving up 118.3 yards per game on the ground and in the top 40 in the nation in run defense.
"Our run defense has been outstanding except for quarterbacks, which I don't consider real runs," Mora said. "When teams have tried to run real runs against us, we've been pretty good."
September, 11, 2012
9/11/12
4:51
PM PT
In a game that has all the makings of a classic trap, the No. 22
UCLA Bruins
will try to avoid a letdown when they face the winless
Houston Cougars
on Saturday night at the Rose Bowl. The game starts at 7:30 p.m. and will be televised by the Pac-12 Network.
The Bruins (2-0) are coming off of an upset victory over Nebraska that put them in the Associated Press Poll for the first time since 2008, when they were ranked No. 23 during a bye week and then dropped out before even playing a game.


They face a pass-happy Houston (0-2) that is hungry after losing its first two in the post-Case Keenum era. Keenum, the NCAA all-time leader in passing yards and touchdowns, used up his eligibility last season, but not before directing a 38-34 victory over UCLA in the season opener last year.
Coach Kevin Sumlin is also gone, having left for Texas A&M, but Houston is still taking to the skies for most of its offense under new coach Tony Levine. Keenum's replacement,
David Piland
, passed 44 times in a 30-13 loss to Texas State and passed 77 times last week in a 56-49 loss to Louisiana Tech.
"They are pretty explosive on offense," UCLA coach Jim Mora said. "They are a pretty dynamic offense. We're going to have to do a good job on defense."
Presumably, that will include the first half. UCLA's defense has started slow in each of the last two weeks, allowing 24 points in the first half against both Rice and Nebraska only to adjust and shut out Rice in the second half and limit Nebraska to two field goals in the second half.
"I'd like to see us come out and start a little faster on defense, especially against the quarterback runs than we have in the first two weeks," Mora said.
September, 7, 2012
9/07/12
9:53
AM PT
UCLA faces No. 16 Nebraska on Saturday at 4:50 p.m. at the Rose Bowl. The game will be televised by Fox. Here are five things to watch:
[+] Enlarge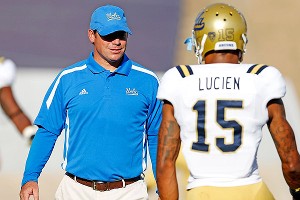 Scott Halleran/Getty ImagesSaturday's home opener against the Cornhuskers also marks the home debut for UCLA coach Jim Mora. He inherits a successful tradition at the Rose Bowl; the Bruins won 21 of 26 nonconference home games since 1998.
1. Home cooking
It's the 2012 home opener for
UCLA
and that can mean only good news for a team that went 5-1 at the Rose Bowl last season, has a five-game home win streak and has won six of its last seven home openers. UCLA has had success in nonconference home games, having won 21 of 26 such contests since 1998. This also will be the home debut for coach Jim Mora and quarterback
Brett Hundley
, who are coming off impressive college debuts at
Rice
. They will play in a Rose Bowl that looks a little different thanks to
an ongoing renovation project
. (Note: Fans are reminded all restrooms on the west side of the stadium are closed. Portable facilities will be available.)
2. Coming back to Cali
Eight
Nebraska
players went to high school in Southern California and several will be making their returns to the Golden State. Five of those players started for the Cornhuskers last week, most notably quarterback
Taylor Martinez
, who passed for a career-high 354 yards and five touchdowns against
Southern Miss
. Martinez is better known for his running ability. He may have extra motivation to play UCLA because he was a fan of the Bruins growing up and at Centennial High in Corona but did not receive a scholarship offer from them. Leading receiver
Quincy Enunwa
is another Californian (Rancho Verde High in Moreno Valley) who did not draw interest from the local schools. Defensive end
Cameron Meredith
(Mater Dei High in Santa Ana) and safety
Daimion Stafford
(Norco High) were defensive standouts for Nebraska last week.
3. Spreading it around
It's called the spread offense because it stretches across the width of the playing field. But the Bruins and Cornhuskers, both of whom run versions of the spread, might take it to mean spreading the ball to numerous receivers. Nebraska had 10 players catch a pass last week and UCLA had nine. The running games will draw ample attention, with the Bruins'
Johnathan Franklin
(Pac-12 offensive player of the week after rushing for 214 yards and three touchdowns) and Hundley having put up big numbers against the Owls and Nebraska's running attack able to gain 278 yards against the Golden Eagles despite an early injury to leading rusher
Rex Burkhead
. But the ability to work so many different weapons into the passing attack will put a lot of pressure on each defense.
4. Getting defensive
UCLA defensive coordinator Lou Spanos and his Nebraska counterpart, John Papuchis, are probably putting in some overtime after looking at what this week's opponents did in their respective debuts. The teams are Nos. 3 and 4 in the nation in total offense after putting up a combined 1,278 yards last week. Neither defense was particularly impressive against Conference USA competition, as UCLA gave up 24 points at Rice and Nebraska allowed nearly 200 yards rushing to Southern Miss; so the defensive schemes will require some tinkering against offenses that proved they can rack up some fairly impressive numbers.
5. Size matters
A lot has been made about Nebraska's perceived size advantage over UCLA on the offensive and defensive lines, but a closer inspection of the depth charts reveals they match up pretty evenly. Nebraska averages 6-foot-4 and 304 pounds on the offensive line and 6-4 and 279 on the defensive line. UCLA averages 6-4 and 299 on the offensive line and 6-3 and 295 on the defensive line. Nebraska has a big advantage in experience, however, with 16 juniors and seniors among the top two on the depth chart on the lines. UCLA has eight upperclassmen in the two-deep on the lines and will start three freshmen on the offensive line.
September, 6, 2012
9/06/12
4:32
PM PT
LOS ANGELES --
UCLA Bruins
coach Jim Mora talked to reporters after the team wrapped up its practice week Thursday. He talked about what it means to play a nationally-ranked opponent, the concerns he has in trying to defend a potent
Nebraska Cornhuskers
offense, what he hopes to see out of his young offense with five freshmen starters, the comparisons between Nebraska quarterback
Taylor Martinez
and UCLA's
Brett Hundley
and addresses what uniforms UCLA will wear for the home opener.
September, 6, 2012
9/06/12
9:41
AM PT
LOS ANGELES -- In the eyes of the
UCLA
players and coaches, Saturday's game against
Nebraska
is just another game.
In the eyes of many others following the plight of Bruins football, facing the Cornhuskers at 4:50 p.m. at the Rose Bowl is quite a bit more than
just another game
.
A strong outing against Nebraska can put to rest the talk that the Bruins' opening-week victory over Rice was merely a product of playing a weak opponent. A good showing against a traditional power would answer a lot of questions about the direction of the program under first-year coach Jim Mora. A solid game against the No. 16 team could help inch the Bruins closer to the national relevance they so desperately seek.
"It's a great opportunity," offensive lineman
Xavier Su'a-Filo
said. "I think every college football player looks forward to big games with big teams, but we just have to focus on Nebraska like they are another team and don't get all worked up. We have to prepare for them the same way we're been preparing."
A victory over the Cornhuskers, of course, would be the ultimate answer, but it won't necessarily take a win to show that the team is on the right track. A UCLA team that stands toe-to-toe with one of the traditionally toughest teams in America would be a good start.
Last year, the Bruins faltered in just about every game during which they had a chance to make a statement; they were blown out by 25 points or more in just about all of them. Mora came in and brought a new attitude that produced a shiny result last week, but an outcome that still might not have been enough to convince skeptics UCLA is turning a corner. A blowout loss against Nebraska would be a major setback to program hoping for a new direction.
Right now the jury is still out. UCLA's 49-24 victory over
Rice
last week looked impressive and the numbers don't lie: UCLA put up 646 yards in offense, including 343 rushing, and had all kinds of other gaudy stats. But doubt still lingers over the quality of the opponent. That won't be an issue this week.
"Going against great competition like Nebraska, you are certainly going to learn a little bit more about yourself," Mora said.
September, 5, 2012
9/05/12
6:04
PM PT
LOS ANGELES -- UCLA coach Jim Mora met with reporters after practice Wednesday and talked about facing Nebraska, some of the challenges facing his young team in a big environment, why he compares Nebraska quarterback
Taylor Martinez
to former NFL quarterback Jeff Garcia and the arrival of defensive lineman Eli Ankou, who joined the team Wednesday after he had originally planned on greyshirting:
September, 4, 2012
9/04/12
7:02
PM PT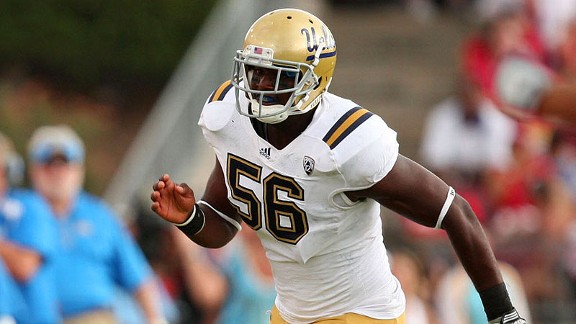 Thomas Campbell/US PresswireDatone Jones, shown last season, had a monster start to his season in 2012 against Rice and hopes to keep it going.
LOS ANGELES -- A year later,
Datone Jones
had the type of impact everyone thought he would.
Jones, looking to rebound from a forgettable 2011 season, wasted little time in doing just that by playing one of the best games of his career in the
UCLA Bruins
' season-opener last week at Rice.
A 6-foot-4, 275-pound defensive lineman, Jones equaled his career high with six tackles, including a sack, and made a game-changing play by forcing a fumble just before halftime of a 49-24 victory over the Owls.
It was a far cry from his start to last season, when he had only five tackles through the first five games and made it the entire season without forcing a fumble.
"I just wanted to go out there and dominate," Jones said. "It didn't have anything to do with stats. I just wanted to dominate my man every play and every chance I got."
He made an almost immediate impact. Four plays into the game, Jones sacked quarterback
Taylor McHargue
and two plays later the Owls punted. Then, with UCLA clinging to a 29-24 lead near the end of the first half, Jones burst through the line and disrupted the backfield enough to force a fumble.
Damien Holmes
scooped up the ball and ran it 44 yards for a momentum-shifting touchdown that gave the Bruins a 35-24 halftime lead.
These were the types of plays expected out of Jones last season, who looked unstoppable during camp then didn't record a sack until Week 6. He disappeared for games at a time, twice registering zero tackles in a game. In one game Thursday, he had more tackles (six), sacks (one) and tackles for a loss (two) than he had through the first five weeks last season.
Jones said he spent the offseason of soul searching. He watched game films over and over and saw a selfish player. He had missed the season before because of a broken foot so maybe he was trying to make up for lost time. He has been touted as an NFL prospect, so maybe he was trying to live up to the hype. Whatever it was, Jones didn't like what he saw.
"I was chasing stats," Jones said. "My biggest thing was making plays and chasing down quarterbacks and my ego and that was one thing I had to let go. I had to check my ego at the door. I was worried about the quarterback so much, I was looking in the backfield instead of playing the block and I wasn't making the plays I should have been making."
September, 4, 2012
9/04/12
12:12
AM PT
UCLA
gets a stiff test for its home opener Saturday, when No. 17
Nebraska
visits the Rose Bowl for a 4:50 p.m. PT game that will be televised by Fox.
The Cornhuskers (1-0) will come in with a national ranking and high expectations for their second season in the Big Ten, having just rolled up 632 yards in total offense during a 49-20 victory over
Southern Miss
.
Those are pretty impressive numbers for a team that sputtered down the stretch offensively last season, with only 18.4 points per game over the last five. And they are numbers that certainly have the attention of a UCLA defense that looked a bit shaky for the first half of its season-opening victory at
Rice
.
"I thought they were explosive and they're physical and well-coached and disciplined and they play hard," UCLA coach Jim Mora said. "You don't see many holes in that team, that's for sure."
On paper, the game has all the makings of an offensive shootout. As impressive as Nebraska's numbers were on offense, UCLA can match them stat for stat. Nebraska is No. 4 in the nation in total offense at 632 yards and UCLA is No. 3 with 646. Both teams scored 49 points against a Conference USA opponent and showed balance in their offensive attacks.
Duplicating those numbers against a BCS-caliber opponent will be difficult for either team, and if UCLA is going to prevent the Cornhuskers from doing so, stopping quarterback
Taylor Martinez
will be paramount.
Martinez, know more as a running quarterback last season in Nebraska's spread option offense, passed for 354 yards and five touchdowns in the season opener against the Golden Eagles as he showed great improvement in the throwing game. Still, he remains a threat with his legs after running for 874 yards and nine touchdowns a year ago.
"Their quarterback was dynamite," Mora said. "Going into the game I know there were questions about his ability to stand in the pocket and throw, and I think he put all those doubts to rest with that showing he had Saturday."
Nebraska might be short-handed in the running game after tailback
Rex Burkhead
left Saturday's game with a sprained MCL.
Burkhead is questionable for the UCLA game
and would be missed by the Cornhuskers if he doesn't play. He ran for 1,357 yards and 15 touchdowns last season and was No. 18 in the nation in rushing.
Whether or not Burkhead plays, Nebraska showed tremendous depth on offense Saturday, with nine players getting a carry and 10 players finishing with a reception. Burkhead had 68 yards and a touchdown in three carries before his injury; he was one of three ball carriers to top 60 yards rushing.
Receiver
Quincy Enunwa
, a 6-2, 215-pound junior, is the top returning receiver and he lived up to that billing with six receptions for 70 yards in Nebraska's opener. Six Cornhuskers had two catches or more in the game.
On defense, the Cornhuskers run a 4-3 base defense with a front four that averages a stout 277.5 pounds. Tackle
Baker Steinkuhler
(6-6, 290) heads that unit while middle linebacker
Will Compton
(6-2, 230) is the leading returning tackler from last season.
Nebraska showed some vulnerability against the run by giving up 185 yards rushing against Southern Miss, but new defensive coordinator John Papuchis' aggressive blitz-heavy scheme also produced eight tackles for a loss, including three sacks.
Nebraska gave up only three points in the second half last week and only 13 points for the game as Southern Miss scored one of its touchdowns on a kickoff return.
2013 TEAM LEADERS
| TEAM | RUSH | PASS | TOTAL |
| --- | --- | --- | --- |
| Offense | 196.6 | 251.6 | 448.2 |
| TEAM | PF | PA | MARGIN |
| Scoring | 36.5 | 24.1 | 12.4 |