September, 14, 2014
Sep 14
2:31
AM PT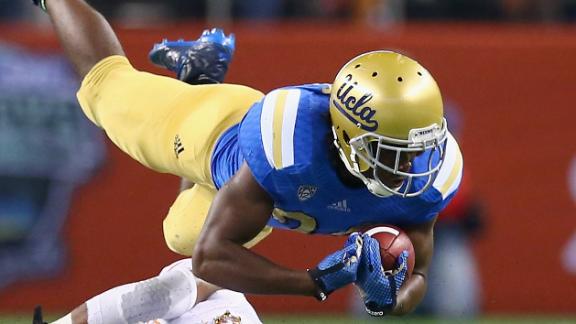 ARLINGTON, Texas -- Without quarterback
Brett Hundley
, UCLA could not win. It didn't matter that Texas was beaten up and beaten down. It didn't matter that Hundley was just one guy. He was The Guy, the face of the Bruins, the biggest reason some touted them in the preseason as national title contenders. Moreover, to put it gently, the depth chart behind him was unpromising.
Backup
Jerry Neuheisel
? Son of Rick Neuheisel, the guy who was fired before Jim Mora built the Bruins into contenders? The guy who some suspected got a scholarship only because his dad was the head coach? No way.
So when Hundley was surrounded by trainers after going down with an apparent elbow injury in the first quarter against the Longhorns, you could sense impending doom. You could sense the Bruins, who had struggled to beat Virginia and Memphis with Hundley, joining teams such as Ohio State, Clemson, South Carolina, Georgia and Michigan State on the slag heap of exposed contenders.
[+] Enlarge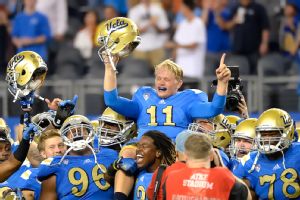 Richard Mackson/USA TODAY SportsBackup quarterback Jerry Neuheisel got a hero's exit after leading No. 12 UCLA to a come-from-behind 20-17 victory over Texas.
Texas thought the same thing.
"[Neuheisel and Hundley] are two different quarterbacks," Texas cornerback
Quandre Diggs
said. "One guy is up for the Heisman and the other guy is someone we've never heard of."
Yet there was Neuheisel eyeballing Diggs' cornerbacking counterpart,
Duke Thomas
, in man coverage against receiver
Jordan Payton
with three minutes left in the game, sensing his moment had arrived.
"As soon as I saw [Thomas'] eyes, I thought, 'Oh, my God, this might just work,'" Neuheisel said.
The Bruins were down four on Texas' 33-yard line and pretty much hadn't allowed Neuhiesel to throw downfield since he came off the bench, but offensive coordinator Noel Mazzone expected man coverage and decided Payton might get free with a double move.
In fact, Thomas appeared to bite on Neuheisel's pump fake, and the ball arrived soft and sweet into Payton's hands. Touchdown. After the defense forced a four-and-done, the Bruins hoisted Neuheisel onto their shoulders. They'd won 20-17 without Hundley to improve to 3-0.
"I felt like it was going to be a little bit of a defining moment for us," UCLA coach Jim Mora said of when Hundley went down.
While it might seem to some like an ugly 3-0 for the nation's No. 12 team, it was a dream come true for Neuheisel. Literally. He told his teammates that at halftime. He grew up dreaming of following in his dad's footsteps as the UCLA quarterback, imagining throwing winning touchdowns in his backyard. The general expectation from fans and media, however, was the redshirt sophomore would remain on the bench behind Hundley, holding for field goals and then backing up whoever won the job next year when Hundley was off to the NFL.
Yet a point of emphasis from Mora and the Bruins after their victory was never doubting Neuheisel.
"We all expected it," Payton said.
Said Mora, "His team fricken' loves him. There was never any doubt."
Well, there was and is some doubt. What's next, for one, is a big issue. Hundley's status is questionable, to say the least. Mora would only say Hundley would be evaluated by UCLA team doctors back in Los Angeles. While beating a struggling Texas team with a backup QB is one thing, the Bruins visit Arizona State on Sept. 25 after a bye week. That's an entirely different deal, a critical South Division showdown. Of course, in an unfortunate twist of fate, both teams could be without their starting quarterbacks, as
Taylor Kelly
suffered a foot injury against Colorado on Saturday.
Neuheisel, who completed 23 of 30 passes for 178 yards with two touchdowns and no interceptions, could square off with Sun Devils backup
Mike Bercovici
in a game with major Pac-12, and even national, implications. The Bruins, however, were still operating inside the 24-hour rule Saturday, which means their primary concern is enjoying the present, not refocusing on the next foe.
Neuheisel is his father's son. He looks and sounds like Rick Neuheisel, and he's quick with a quip like his dad. When he walked into the postgame interview room, he noted, "Holders don't get this kind of publicity." After the elder Neuheisel led the Bruins to an upset of Illinois in the 1984 Rose Bowl, he cracked wise during a postgame interview about the Fighting Illini band blasting music behind him.
"I just talked to my dad," Jerry Neuheisel said. "He said, 'You did it. It's kind of a Neuheisel thing.'"
On a day when UCLA's crosstown rival, USC, wilted at Boston College, the Bruins found a way to dig deep, overcome adversity and win. UCLA might not be a beautiful 3-0, but it is 3-0 and that's what matters.
"They never flinched," Mora said. "They never blinked. That's kind of what we are trying to become. And we're getting closer and closer every day."
September, 11, 2014
Sep 11
11:00
AM PT
UCLA coach Jim Mora began his weekly spot on the Pac-12 coaches teleconference with a grumble and two harrumphs. Some might say there also was a dismissive snap or two. This was Grumpy Jim.
He was asked about his Bruins appearing on the Pac-12 Network series, "The Drive."
"I've never said the words, 'The Drive,' to our team," he said. "I've never heard our players talk about it. They've never asked me a question about it. It's a complete nonentity to us."
He was asked about his team not playing up to expectations.
"How do you know we haven't played up to our own expectations?" Mora said, adding that he's not going to "talk about what he talks to the team about."
He was asked about Texas' pursuit of him last year before he re-upped with UCLA and the Longhorns hired Charlie Strong.
[+] Enlarge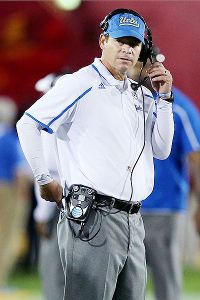 Stephen Dunn/Getty Images"It's up to us to prove that we are a competitive, good football team to be reckoned with," Jim Mora said. "In the first two weeks, we haven't necessarily done that."
"You'll have to ask them if they considered me," he said. "I'm just excited to the coach at UCLA."
That's all he would say, even though a day later a story would appear on ESPN.com in which
he provides great detail about the interview with Texas representatives
.
A grumpy football coach isn't unusual, just as a coach who doesn't want to talk about his team's struggles or his flirtation with an other job isn't either. Yet after these tense initial three minutes, Mora transformed. He loosened up and became pleasant and expansive. His 10 minutes of allotted time stretched to 15. When he fielded a last question about changing a program's culture, you got the distinct feeling he was smiling while answering.
Call the analogy facile, but Mora showed that a quick turnaround is possible, and that's what he's hoping he gets from his team as it prepares to play Texas on Saturday in AT&T Stadium in Arlington, Texas. That transformation with reporters included significantly more insight about his and his team's thinking after some folks turned up their noses following unimpressive UCLA wins over Virginia and Memphis.
"We enjoy the role of underdog," he said. "We feel like we're kind of back to where we want to be, which is people are doubting us. There's a reason for that and we're OK with that. It's up to us to prove that we are a competitive, good football team to be reckoned with. In the first two weeks, we haven't necessarily done that."
Then Insightful Jim apologized for his insightful answer, "I hope you can get something out of that."
We can. Mora is even more aware than critical reporters that the Bruins first two games haven't yet matched reasonable expectations for his depth chart. The good news is his team is 2-0. It's entirely valid to question, however, whether his team will prove to be the national title contender it was projected to be in the preseason. The early returns suggest not.
Mora went even further with his beat reporters Tuesday, admitting his players were "tight" the first two weeks. "I think we let the outside expectations become a little bit of a burden to us," he said.
In Game 1, the offensive line looked over-burdened by Virginia, yielding five sacks and producing little running room. In Game 2, that line surrendered four sacks, but the running game was better and the Bruins scored 42 points and gained 540 yards. Yet the defense yielded 35 points and 469 yards.
While it would be easy to say that if you combine the defense from Game 1 and the offense from Game 2, UCLA would be fine, the real issue is improvement on the offensive line, the team's most questionable area. This is not a new thing.
UCLA has surrendered 97 sacks since the beginning of the 2012 season, tied for second-most in the FBS, according to ESPN Stats & Information. It's particularly concerning that this isn't about blitzes. QB
Brett Hundley
has been sacked 51 times in his career on plays in which opponents have sent four or fewer pass-rushers, the most for any Power 5 quarterback in the last three seasons. Bruins QBs have been pressured (hurried or knocked down) on a Pac-12-high 24 percent of their dropbacks the last two seasons, including 24 percent this season.
And it's not just about pass blocking. UCLA is averaging 71.0 yards before contact per game this season, second-worst in the Pac-12 behind Washington State. The Bruins produced 130 plays the last two seasons that lost yards, third-most in the FBS.
Despite these worrisome numbers, Hundley and the Bruins have managed to score a lot of points, as they've averaged 36.7 points per game the past two seasons. But unreliability up front is where UCLA's 2014 great expectations might get the Miss Havisham treatment.
As for Mora and the Bruins, who have tumbled from No. 7 to No. 12 in the AP poll, the reality is being grumpy at 2-0 isn't such a bad thing. He noted that the worst thing that can happen to a team is its locker room becoming permeated with self-satisfaction.
So while a few gritty harrumphs for Texas on Saturday and Arizona State on Sept. 25 might quell the doubters, that grumpiness shouldn't ever completely go away.
May, 21, 2014
May 21
12:00
PM PT
Last week the Pac-12 blog discussed some
dream nonconference matchups
that we'd like to see someday. But the Pac-12 blog is firmly rooted in reality, none of this dream stuff (unless we feel like writing about it). So, let's talk real-world, actually-happening, nonconference matchups.
So Kevin Gemmell and Chantel Jennings will take to that topic this week.
What nonconference match up are you most looking forward to in 2014?


Chantel Jennings
: Easy. Has to be
Michigan State
-
Oregon
in Week 2. I grew up in Big Ten territory and before moving west this spring to cover the Pac-12, the Midwest was the only place I had ever lived. I attended the University of Michigan and saw my fair share of interesting (read: meh) nonconference games during my four years there. As a freshman, my first game was Michigan-Appalachian State. For those who don't remember, the Wolverines lost -- that was my introduction as a student to Wolverines football. As a result, I sold my ticket for the following weekend to Oregon-Michigan (the Wolverines lost that one, too). Despite that, I'm a big fan of the historical relevance of Big Ten-Pac-12 matchups, and having closely covered the Spartans last season, I'm very excited to see what these two teams bring to the table.
Oregon QB
Marcus Mariota
isn't going to have to face the vaunted "No Fly Zone" of the Spartans defense next season, but there's plenty of talent on that side of the ball for Michigan State and there are few coordinators who are better than Michigan State's Pat Narduzzi. Plus, reigning Big Ten Defensive Lineman of the Year
Shilique Calhoun
will have Mariota's number. On the flip side, reigning Rose Bowl Offensive MVP
Connor Cook
is going to have to face the Oregon defense, which is no easy task. Cook lost his top receiver, but running back
Jeremy Langford
is back for the Spartans.
And as a side note: Michigan State has one of the best tweeters in the country in punter
Mike Sadler
(he's also a tremendous punter). Between his ability to regularly get responses from Arby's and Faux Pelini (the fake Twitter account for Nebraska coach Bo Pelini) and his wit, Sadler has one of the better athlete
Twitter timelines
that I've seen. With the Spartans playing the Ducks, there will be plenty of pre-game fodder for Sadler, and I'm looking forward to seeing how that plays out.


Kevin Gemmell
: It's a good thing you found your way West, Chantel. The Pac-12
neeehhhvvveeerrr
loses to FCS teams (cough, cough).
Your pick makes sense -- not only because you're the Oregon writer, but because that is going to be the marquee nonconference game in the Pac-12 this season. Oregon wants a seat at the playoff table, and Michigan State's Rose Bowl win is still fresh in a lot of minds. A win will definitely strengthen Oregon's national profile.
But I think the same can be said for
UCLA
, which faces
Texas
Sept. 13 in Arlington, Texas. Granted, the Longhorns are a former super-power transitioning from Mack Brown to Charlie Strong. But Strong's presence gives Texas a renewed sense of national credibility, and a victory would open some eyes of folks still straddling the Bruins' fence. Despite its recent shortcomings, Texas is still a
name
program.
Like Oregon, UCLA is a team expecting big things in 2014. That makes their Oct. 11 showdown at the Rose Bowl awfully interesting.
But before the Bruins get there, they have the Texas matchup, followed by a bye week, and then a Thursday night showdown with defending South champ Arizona State in Tempe. A win over Texas gives the Bruins a ton of momentum heading into a game that has essentially decided the South Division the last two seasons. A loss could send them tumbling down the rankings and stunt any forward progress heading into league play.
The Pac-12 is traditionally ambitious with its nonconference scheduling. There are three showdowns with Notre Dame this season -- ASU, USC and Stanford -- and that always makes for entertaining football. I think Utah at Michigan has some intrigue -- given Kyle Whittingham's success over Brady Hoke when their teams sparred in the Mountain West. I also think it's interesting that for the second straight season, a Pac-12 team will face its bowl opponent from the previous year in the season opener (Washington-Boise State in 2013, USC-Fresno State in 2014).
But in terms of games that could boost the national standing of the conference, it probably doesn't get bigger than Michigan State-Oregon and UCLA-Texas.
December, 18, 2013
12/18/13
11:30
AM PT
He puzzled and puzzed till his puzzler was sore. Then the Grinch thought of something he hadn't before. Maybe Christmas, he thought ... doesn't come from a store. Maybe Christmas, perhaps ... means a little bit more!
September, 28, 2011
9/28/11
11:02
PM PT
Is quarterback
Richard Brehaut
good enough to save UCLA coach Rick Neuheisel's job?
While it would be an exaggeration to say Neuheisel has gone all-in with Brehaut, it appears that Brehaut has put some distance between himself and
Kevin Prince
since Prince threw three first-quarter interceptions against Texas.
"He is our starting quarterback at this time," Neuheisel said. "There is no question about that."
Not a ringing endorsement? Well, how about this.
[+] Enlarge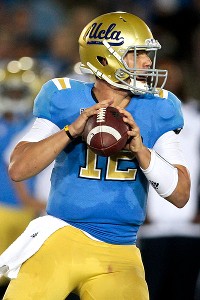 AP Photo/Bret HartmanUCLA will need a big game out of Richard Brehaut if it hopes to upset Stanford.
"He's been terrific," Neuheisel said.
But Neuheisel, who has long been known to be hard on quarterbacks, and particularly hard on Brehaut, then added, "I still think he can continue to develop his understanding of how defenses play and how to get us to the right plays."
Still, Brehaut has given the Bruins -- and Neuheisel -- a chance. They are 2-2 after winning at Oregon State and a bowl game is not an unreasonable expectation.
Of course, Saturday's visit to No. 6 Stanford looks like a place where newfound momentum might peter out. The Cardinal beat the Bruins 35-0 last year in the Rose Bowl and are coming off a bye week.
"They were more physical than us a year ago and we're going to have to answer the bell this week to have a chance," Neuheisel said.
The Cardinal defense, in particular, has been stout and physical against the run. Stanford ranks No. 1 in the nation against the run -- 36 yards per game -- though this will be its first contest without stalwart inside linebacker Shayne Skov.
That suggests that Brehaut and the Bruins won't be able to rely primarily on their pistol running game. Brehaut will have to throw, and he's been solid if unspectacular doing that thus far. He's completing 55.7 percent of his passes with four TDs and, most importantly, no interceptions. He ranks 38th in the nation in passing efficiency.
Neuheisel said he's seen growth, particularly on the mental side of things. Brehaut previously was known for interrupting several good plays with an inexplicable gaffe. In fact, Brehaut often was unable to tell Neuheisel why he did something when he screwed up, which was not a good way to endear himself to his coach, who also oversees the QBs.
"His poise is at his best right now," Neuheisel said. "He kind of understands what we're trying to do. He's doing a nice job of keeping the ball away from opponent defenses."
Still, Brehaut probably won't have much luck throwing 50 times. The Bruins need some running threat, and they've been solid running the ball this year, with 214 yards rushing per game, which ranks second in the Pac-12. That's a critical strength-on-strength matchup. And for the pistol to work best, Brehaut has to be a threat to keep the ball.
"I wouldn't call him a running threat, but the thing is you still have to account for him," Stanford coach David Shaw said. "If you don't, he'll pick up a first down. He's athletic enough to pull the ball out and get positive yards."
Brehaut has rushed 27 times for 140 yards with two TDs. Solid but unspectacular numbers, not unlike his passing stats. Brehaut's improvement as a runner has been a big reason that he's eclipsed the more athletic, though injury-prone, Prince.
There are plenty of concerns for Neuheisel and the Bruins beyond quarterback play. For one, the defense has been mostly awful. It played better at Oregon State, but Stanford is no Oregon State. Further, the Bruins have a banged-up secondary -- five defensive backs are nursing injuries -- which is not a good thing when you're facing quarterback
Andrew Luck
.
Neuheisel is effusive -- as most coaches are -- when asked about Luck.
"A really, really complete and wonderful player. He's got it all," Neuheisel said.
It's obvious that Neuheisel doesn't have a QB on his roster who has it all (at least not yet; see talented true freshman
Brett Hundley
, who may still see action this year). But the question is whether he has a quarterback who has
enough
. And is that Richard Brehaut?
A lot depends on the answer for Neuheisel.
2014 TEAM LEADERS
| TEAM | RUSH | PASS | TOTAL |
| --- | --- | --- | --- |
| Offense | 199.4 | 268.5 | 467.9 |
| TEAM | PF | PA | MARGIN |
| Scoring | 32.9 | 27.5 | 5.4 |