November, 10, 2011
11/10/11
7:37
AM PT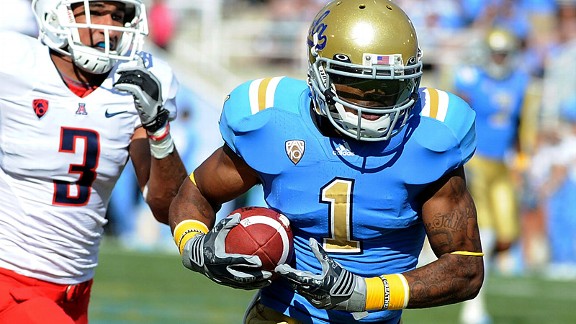 Lisa Blumenfeld/Getty ImagesRandall Carroll, now a corner, has speed and a unique perspective on the action.
Randall Carroll
has gradually worked his way from one side of the ball to the other over the past couple of weeks, switching from receiver to defensive back, but he'll take a giant leap in that regard Saturday at Utah, where he is expected to start at cornerback.
Carroll will replace
Aaron Hester
, suspended for the first half for comments he made criticizing officials last weekend, meaning Carroll will need to make a quick transition from the situational defensive back he was last week to starter. But if there's anything Carroll is good at, it's being quick.
He's a former state high school champion in the 100 meters and also sprints for the UCLA track team, placing sixth in the 100 in the Pac-10 championships last spring.
He was also a two-way standout in high school, so making the transition to defensive back has come naturally to Carroll, who had one tackle while playing as a third down nickel back last week against Arizona State.
"I'm very comfortable [at defensive back]," Carroll said. "I'm just a confident player so anywhere I can play, I just want to play with confidence. That's the first step anyway because when you don't play with confidence you're already beat at any position on the field."
September, 21, 2011
9/21/11
3:56
PM PT
Inoke Breckterfield hasn't checked into Facebook during the last few days, partly because he's been too busy and partly because he's afraid of what he mind find there.

"I'm sure there is something there, but I'm not sure I want to look," Breckterfield said.

That's because Breckterfield, UCLA's defensive line coach, is returning to Oregon State this weekend for the first time as an enemy. Breckterfield played for the Beavers from 1995-98 and returned there as an assistant coach from 2006-08. He still has a lot of friends and connections in the Corvallis, Ore., and within the Beavers' football program.

"It's going to be different," he said. "It's definitely going to be different. It's going to be weird being on the opposite sideline and in the visitors locker room. But, it's going to be fun."

Breckterfield remains close with the coaching staff at Oregon State. Head coach Mike Riley was his head coach as a player and as an assistant and defensive coordinator Mark Banker was also there during Breckterfield's playing and coaching careers at Oregon State.

And he is very close with Beavers' defensive line coach Joe Seumalo and offensive line coach Mike Cavanaugh--all three of their families have vacationed together the past few summers.

"My son coach Joe's son are best friends so we always make sure we get back there and reconnect," Breckterfield said. Camping, staying at a summer house. We're already planning our summer trip for next year. We've been back every summer since I left."

Last summer, Breckterfield's first as a member of the UCLA staff, he went back wearing some UCLA gear. He remembers stopping by one of his favorite restaurants and getting some funny looks.

"That was a little weird," he said. "I stopped in and had some lunch at a Hawaiian restaurant and they recognized me. It was kind of a weird deal."

Weirdness aside, the is a bit of an advantage to having Breckterfield on staff. Because the coaching staff is the same, so are the schemes meaning Breckterfield has some additional insight. Also, some of the players that are starting for the Beavers now were on Breckterfield's scout team when he was a graduate assistant.

"I know personnel and I know players and I know the defensive philosophy, but I don't know how much of an edge that give us," he said. "It's just means I'm familiar with them."

Breckterfield isn't the only Bruins coach making a homecoming. Offensive coordinator Mike Johnson had his first coaching job at Oregon State when he was wide receivers coach under Riley in 1997 and 98 and quarterbacks coach under Dennis Erickson in 1999.

He said he hasn't been back to Corvallis since he left, but it still holds a special place in his heart.

"Both my kids were born in Corvallis," he said. "It's the place where I started my coaching career. So I know exactly what we're up against and how tough of a place it is to play."

UCLA defensive backs coach Tim Hundley also has Oregon State roots. He was defensive coordinator there from 1984-89.

But, as Breckterfield says, the time for reconnecting all those past relationships will come after the game is over.

"This is a business trip," he said. "Our main focus is to try and go up there and get W."

And if UCLA does win, maybe then Breckterfield will get around to checking that Facebook page.
August, 15, 2010
8/15/10
10:40
AM PT
By the way some UCLA football players have been talking, true freshman defensive back Tevin McDonald is the best player you've never heard about.

Junior safety Rahim Moore thinks so.

"He's one of my favorites, he reminds me of Brandon Meriweather when he was at Miami, that same stature," Moore said. "He knows the game. He's polished."

Sophomore cornerback Aaron Hester thinks so, too.

"He's ready to play, I'm going to put it like that," Hester said. "Whether he plays or not is up to the coaches, but just seeing him in drills, he's ready to play. He was born and bred to be a DB."

Secondary coach Tim Hundley isn't ready to be as bold.

"I don't know," Hundley said. "His movement is good, somewhere between what a corner might have and what a safety might have. We'll see how he does, but until the bullets start flying, it's hard to say."

McDonald, the brother of USC sophomore safety T.J. McDonald, credits his preparation at Edison High School (Fresno, Calif.) for allowing him to pick up Chuck Bullough's defense.

"Most of this is about what you know," McDonald said. "When you get to this level, everyone has the same amount of talent. We ran a lot of similar stuff in high school, we had the same verbage."

McDonald has seen time at free safety, but acknowledged he could also be used as a corner in nickel packages.

"I'll go in wherever I fit in, as long as I get on the field," he said.
August, 13, 2010
8/13/10
12:51
PM PT
UCLA is getting bigger and faster. Look no further than true freshman safety Dietrich Riley for proof.

"He's physically strong, just naturally that way," secondary coach Tim Hundley said. "He'll be much stronger, much more physical when (strength coach) Mike Linn gets working with him. He's an instinctive guy. In the future, I believe he's going to get faster and more flexible -- all things that help you as you grow. He'll be a really fine player here."

There's talk that Riley and a number of other freshmen will be able to contribute right away. It's by design, according defensive coordinator Chuck Bullough.

"In the springtime this year, we made a concerted effort to stay in touch with them and push them in terms of lifting," he said. "We can't work them out at that time but we were on them every day more than in the past. We knew that this class could be special, so we wanted to make sure that when they came in they weren't coming in totally out of shape."
2014 TEAM LEADERS
| TEAM | RUSH | PASS | TOTAL |
| --- | --- | --- | --- |
| Offense | 199.4 | 268.5 | 467.9 |
| TEAM | PF | PA | MARGIN |
| Scoring | 32.9 | 27.5 | 5.4 |