August, 14, 2012
8/14/12
7:01
PM PT
SAN BERNARDINO -- UCLA came on to the field in full pads for its training camp session Tuesday at Cal State San Bernardino, but about halfway through coach Jim Mora had everyone shed their shoulder pads and the Bruins practiced that way for the final hour or so.

Temperatures were again soaring during the late-morning practice, but taking off the pads had nothing to do with the heat, Mora said. It was a planned move to give the team a live, goal-line drill early on and then have a lighter practice the rest of the way.

"It's getting to the point in camp -- this is our 13th day in the heat -- I wanted to give them a chance to recover a little bit," Mora said. "That's why we came out early and we'll come out tomorrow and have two."

The live goal-line drill was only the second time Mora has had a fully live session during camp and he said there probably won't be many more. He's hoping to stay as healthy as possible for the Aug. 30 season opener at Rice and will not have any live scrimmaging before then. There is no fall scrimmage planned this year.

It's a major shift from spring football, when the Bruins were going live on a regular basis.

"The design was to have a physical, intense, lot of live in spring and kind of set the tempo that way and then come out here and be physical, but not necessarily take guys to the ground," Mora said. "When you say live to a football player, it's hard to say live but don't cut block, don't tackle low, don't take a shot on your teammate. Your mindset changes when you say live."

The idea is to avoid injuries, but it comes with the risk of being rusty when the games begin. Mora said the "thud periods" are all about trying to find a balance of proper tackling technique, while staying safe.

"The term 'thud' for us indicates that we're going to stay on our feet, try to finish with our chest on you, backs know you are going to get hit so get in a position where you can deliver a blow or accept a blow and protect the football, but we're trying to stay on our feet as much as we can," he said.

"I don't think you necessarily have to take a guy to the ground to put yourself in position to finish the tackle ... I think that if we do a good job of focusing through the end of the play, necessarily taking a guy to the ground, we're going to get the best of both worlds right there."

Other notes from Tuesday:


August, 11, 2012
8/11/12
11:14
PM PT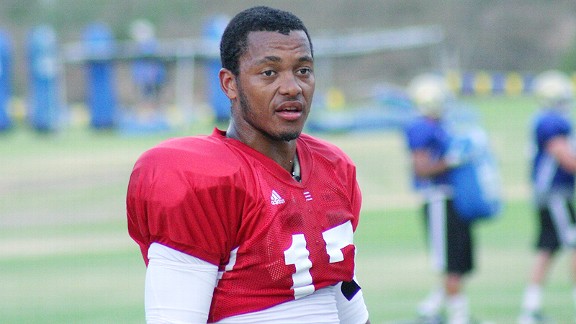 Peter Yoon/ESPNLosAngeles.comOn his first day of practice after being named the starting quarterback, Brett Hundley led the Bruins during a spirited session.
SAN BERNARDINO -- UCLA shed some light on who its starting quarterback will be, but the Bruins were literally in the dark at the end of practice Saturday night.
Coach
Jim Mora
moved the practice start time back a half hour to 6 p.m. and there was very little daylight left by the time
newly-named starting quarterback
Brett Hundley
was finishing up his first day as the official starter two hours later. The facility they are using at Cal State San Bernardino has no lights so the team ran two-minute drills in conditions that made it very difficult to see.
"That was a lot of fun," Mora said. "I think the guys enjoyed it. I think it took some guys back to when they were younger and playing on the streets and you went until your mom called you in, it didn't matter how dark it was."
The session had an energy level that had been missing the last few days as UCLA has fought through temperatures of 105 and higher. It was 96 at the start of practice Saturday night and was in the low 90s by the time the session was over. Plus, nearby storms left a cloud layer that blocked the sun and kept things even cooler.
"I think the combination of having yesterday off and it was cooler and they are young, they're kids," Mora said of the increased energy level. "They like to play ball. They like to go out in the yard and play ball and tonight probably took them back to when they were younger. It was a good energy."
Because of expected high temperatures again Sunday, Mora moved practice to 4 p.m., rather than taking the field at the previously scheduled 11:45. The cooler temperatures Saturday night had a major impact as no players left because of heat-related symptoms for the first time in six practices.
August, 8, 2012
8/08/12
9:37
PM PT
SAN BERNARDIO -- The Bruins' offensive line had questions coming in to camp and Thursday the biggest question was: Where's the beef?

The Bruins were down to nine offensive linemen by the end of practice Thursday, when Alberto Cid left because of a head injury and Greg Capella tweaked his calf. They joined Jeff Baca (heat), Simon Goines (heat), Brett Downey (heat), Chris Ward (back) Tre Hale (heat), Colby Cyburt (back) and Torian White (chest pains) on the sideline, giving the Bruins as many injured linemen as healthy at the end of Wednesday's session.

The players out because of heat symptoms should return in the next day or two and so, too, should Cyburt, but this group still has to fill some holes before it starts making them.

Xavier Su'a-Filo is guaranteed to be starting at left tackle and Baca will be starting somewhere, but the other three slots are open. Jake Brendel seems to have taken a stronghold on the center spot and Capella is the early favorite for left guard, but the coaches are still searching high and low for a right tackle.

"It's wide open," offensive line coach Adrian Klemm said. "You can come right in off the street right now and start at right tackle."

White, Goines and Downey were getting the right tackle reps before they were injured and Ben Wysocki is there now with Will Oliver backing him up. If none of them can win the job, Baca will likely move from right guard to right tackle, where he played last season.

Klemm says he prefers to have Baca at guard because that's where Baca will play should he get drafted by an NFL team, but Baca is open to playing tackle if another player is better suited for right guard.

"I don't have a preference," Baca said. "I just like being out there and I'll play any position. I just like to have some time to practice that position."


August, 7, 2012
8/07/12
9:33
PM PT
SAN BERNARDINO -- UCLA linebacker Patrick Larimore missed practice Tuesday after suffering a recurrence of concussion symptoms, coach Jim Mora said.

Larimore left practice Monday with what was at first thought to be heat-related illness, but Mora said it was a concussion. Larimore, a senior starting middle linebacker, had a concussion earlier this year and sat out the latter part of spring practice.

"We really have to be careful with that given the fact that he had the concussion at the end of spring," Mora said. "He didn't come to meetings yesterday, we rested him all day, we'll re-evaluate him in the morning and see how he is."

Running back Malcolm Jones and receiver Joseph Fauria also did not suit up Tuesday. Jones has a mild groin strain and is expected to return this week. Fauria felt tightness in his hips and is day to day. Linebacker Anthony Barr suffered a hand injury at the end of practice and was going to be examined Tuesday evening and defensive back Randall Goforth was also carted off at the end of practice because of an unknown injury.

Additionally, Cassius Marsh and Jeff Baca left practice because of heat-related symptoms. Tre Hale, Simon Goines, Brett Downey, Dalton Hilliard and Jordan Zumwalt did not practice because of heat-related symptoms from Monday. Kenny Walker, who had an asthma attack Monday, was back on the field Tuesday.
August, 6, 2012
8/06/12
8:59
PM PT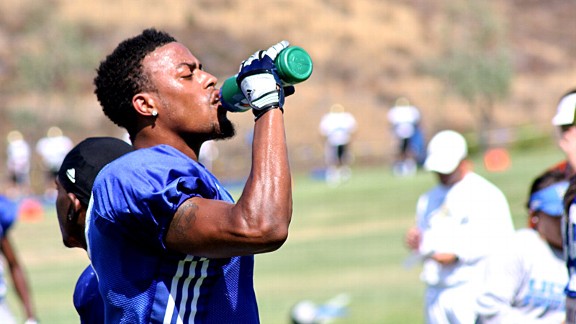 Peter Yoon / For ESPNLosAngeles.com
Receiver Jerry Johnson takes a water break during camp, when temperatures soared to 106.
SAN BERNARDINO -- After two days of relatively mild conditions, the Inland Empire temperatures soared Tuesday during UCLA's training camp and so, too, did the number of players affected by the heat.
Five Bruins players were taken off the field during practice because of reactions to the heat at Cal State San Bernardino, where the temperature reached 106 degrees -- about 10 degrees hotter than the first two days.
Add in the fact that UCLA was in shoulder pads for the first time and it's no wonder linebacker
Patrick Larimore
and offensive linemen
Tre Hale
and
Simon Goines
were carted back to the UCLA locker room for treatment while offensive linemen
Brett Downey
and
Greg Capella
received treatment at the practice field.
In addition, safety
Tevin McDonald
sat out of practice because he was suffering from dehydration issues -- the same thing that kept
Eric Kendricks
and
Cassius Marsh
out of practice Sunday.
"You have to anticipate when you get in this environment some of those bigger guys are going to have some problems," coach
Jim Mora
said. "And we're doing the right thing in terms of taking the helmets off and getting them cooled down and getting them water and being precautionary with anybody that is on the edge."
Mora originally said that the heat-related issues wouldn't mean any changes in practice start times, but he later changed his mind and announced that Tuesday's practice would start at 4 p.m., an hour and 15 minutes later than previously scheduled.
As you might expect, the offensive line was particularly vulnerable to the heat and by the end of practice only 11 linemen were working with the unit. Still, offensive line coach
Adrian Klemm
had his guys doing up-downs and other conditioning drills in the middle of the field even as the defensive linemen sought a shady area under some trees for their drills.
"I look at it like if my guys can take it and want to get better and do whatever it takes to get mentally tough and physically tough then we'll go through it," Klemm said. "If I see guys kind of struggling and not performing to their abilities because of the conditions, then I'll change things. I personally think it's tough, but it's not unbearable."
Klemm, who coached at Southern Methodist before coming to UCLA, said his teams there practiced in similar conditions every day. He said his goal was to get his unit to a point where they don't even notice the temperatures.
"We're not making a big deal about it," he said. "We're going hard trying to build some mental toughness. No one is complaining about it. People are just going and working hard. We're being smart."
Mora has tried to ensure the team has plenty of water -- the training staff carrying water to the players is working just as hard as the team -- and breaks have been plentiful. Toward the end of practice Tuesday, he had everyone remove their helmets and shoulder pads and ran drills in shirts and shorts.
"You just have to be able to work your way through it and work your way around it and be very proactive in treating the guys who have symptoms," Mora said. "I told the team 'I know you guys are all tough, but if you are starting to feel it, let me know so we can get you cooled down before we have any big-time issues.'"
That's easier said than done, though.
"You don't really want to pull yourself out and admit you're defeated," offensive lineman
Jeff Baca
said. "Nobody wants to admit they are defeated like that, but sometimes it's not your fault. Your body reacts differently in different conditions."
July, 27, 2012
7/27/12
11:34
AM PT
With UCLA training camp set to begin Aug. 4 at Cal State San Bernardino, we're taking a preseason look at the roster and breaking down the Bruins, position-by-position.
We started with
quarterbacks
and now move to the guys expected to protect the quarterback: The offensive line.
DEPTH CHART AT THE END OF SPRING PRACTICE:
Left Tackle
Xavier Su'a-Filo (6-4, 295, So.)
Michael Padovese (6-5, 310, Fr.)
Left Guard
Wade Yandall (6-4, 315, So.)
Alexandru Ceachir (6-5, 305, So.)
Ben Wysocki (6-4, 295, Fr.)
Center
Greg Capella (6-4, 292, Jr.) OR
Jake Brendel (6-4, 295, Fr.)
Tre Hale (6-1, 308, So.)
Kody Innes (6-3, 291, So.)
Right Guard
Jeff Baca (6-3, 290, Sr.)
Alberto Cid (6-3, 310, Jr.)
Chris Ward (6-4, 305, Jr.)
Right Tackle
Torian White (6-5, 285, Fr.)
Will Oliver (6-7, 290, Fr.)
Brett Downey (6-6, 305, Sr.)
PROJECTED OPENING DAY DEPTH CHART:
Left Tackle
Xavier Su'a-Filo (6-4, 295, So.)
Simon Goines (6-7, 324, Fr.)
Michael Padovese (6-5, 310, Fr.)
Conor McDermott (6-8, 247, Fr.)
Left Guard
Alberto Cid (6-3, 310, Jr.)
Alexandru Ceachir (6-5, 305, So.)
Ben Wysocki (6-4, 295, Fr.)
Center
Jake Brendel (6-4, 295, Fr.)
Carl Hulick (6-2, 300, Fr.)
Tre Hale (6-1, 308, So.)
Kody Innes (6-3, 291, So.)
Right Guard
Greg Capella (6-4, 292, Jr.)
Chris Ward (6-4, 305, Jr.)
Colby Cyburt (6-4, 265, Fr.)
Right Tackle
Jeff Baca (6-3, 290, Sr.)
Torian White (6-5, 285, Fr.)
Brett Downey (6-6, 305, Sr.)
Will Oliver (6-7, 290, Fr.)
KEY LOSSES
Mike Harris, 14-game starter at tackle. Graduated
Kai Maiava, 13-game starter at center. Graduated
Sean Sheller, Started 13 games the last two years. Graduated
Wade Yandall, Projected starter at guard took a medical retirement (concussion).
April, 14, 2012
4/14/12
5:45
PM PT
LOS ANGELES -- The big story out of the first two weeks of UCLA's spring practice has been the up-tempo offense the Bruins are running.

It's a fast-paced, no-huddle attack with a blink-and-you'll-miss-it flair that has brought a higher energy level, lots of exciting scoring plays and dozens of cheers from the Bruins' faithful who have come out to watch practice.

But the dizzying pace has also made the UCLA defense look a little shaky at times, because guess who is giving up all of those big plays and thrilling scores?

"It's definitely a tough pace to match," said linebacker Patrick Larimore. "It definitely blew our minds when we first saw it. We kind of knew it was coming, but we didn't know how hard it was going to be with pads. We're starting to get a feel for it, but we're not doing good enough yet."

The defense has been getting better as time has gone on and the players have been exposed more and more to the up-tempo pace. One of the keys to solid defense is being able to react within the scheme without thinking too much. Forcing the players into action quickly has put a premium on knowing the schemes well enough that thinking is not required.

"At this pace, you really have to know your assignment," lineman Datone Jones said. "By them going so fast, you don't want to slip up or get out of your gap because you'll mess up the defense. You can't be thinking about where you are supposed to be, you just have to know how to do it and just play."

But while the offense might be a step ahead of the defense thus far, the faster pace certainly has a fringe benefit for the defense in that many teams in the Pac-12 play an up-tempo style. Last year, the Bruins played a much slower tempo with an offense designed to control the ball and the clock. The UCLA defense suffered against high-tempo teams, however, and ended up giving up 38 points or more in six games.

The Bruins were No. 92 in the nation in scoring defense, giving up 31.36 points per game.

"Houston tempoed us last year," safety Tevin McDonald said. "Arizona State tempoed us last year. Oregon. A lot of teams were just go-go-go and we weren't preparing against that kind of pace so we were a little behind."


2014 TEAM LEADERS
| TEAM | RUSH | PASS | TOTAL |
| --- | --- | --- | --- |
| Offense | 208.5 | 278.2 | 486.6 |
| TEAM | PF | PA | MARGIN |
| Scoring | 35 | 27.2 | 7.8 |