February, 25, 2014
Feb 25
7:15
PM PT
Our look at position groups in the Pac-12 continues.
Arizona:
With
Ka'Deem Carey
off to the NFL, figuring out Arizona's running back situation requires a bit of guesswork. Backups
Daniel Jenkins
and
Kylan Butler
are out of eligibility and rising junior
Jared Baker
tore his ACL in the regular-season finale. That leaves no running backs who had a carry last season. Those competing for carries will be redshirt freshmen
Pierre Cormier
and
Zach Green
, and true freshmen
Jonathan Haden
, an early enrollee, and
Nick Wilson
.
[+] Enlarge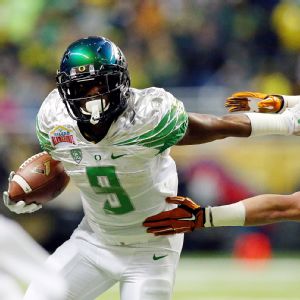 Ronald Martinez/Getty ImagesByron Marshall will be the Pac-12's leading returning rusher in 2014.
Arizona State
: The torch was passed from
Marion Grice
to
D.J. Foster
toward the end of last season, and Foster will have a full offseason to prepare to be the No. 1 guy. He showed impressive flashes in spot playing time in the past two seasons, and ran for 318 yards (6.2 yards per carry) in three starts after Grice was lost to injury.
California:
Much was made about
Brendan Bigelow
's talent during his career in Berkeley, but it never materialized the way many expected it would. He was beaten out by true freshman
Khalfani Muhammad
a year ago, then opted out of his final year of eligibility for a shot at the NFL -- and subsequently was not invited to the combine. Getting a feel for how coach Sonny Dykes would like to use his running backs is tough considering the lopsided nature of most of the games last year, but Muhammad showed all the signs that he would develop into a good Pac-12 running back.
Colorado:
Christian Powell
and
Michael Adkins II
will both be back after combining for 1,097 yards rushing in 2013. With receiver
Paul Richardson
off to the NFL, there's the need for added production on offense, and while coach Mike MacIntyre showed at San Jose State he'd prefer that to come through the air, it could add up to more opportunities for Powell and Adkins.
Oregon
: Does it even matter who the Ducks hand the ball to? Sometimes it doesn't seem like it, but, regardless, Oregon remains loaded with speed and talent at running back.
Byron Marshall
(1,038 yards rushing) and
Thomas Tyner
(711 yards) will both see plenty of carries when quarterback
Marcus Mariota
(715 yards) isn't running on his own. The team does lose
De'Anthony Thomas
, who opted to leave early for the NFL, but Thomas turned into a relative afterthought last season anyway.
Oregon State:
It shouldn't be hard to improve the Beavers' running game after they ranked 115th in the country in rushing yards per game last season. Their top two backs --
Terron Ward
and
Storm Woods
-- return and figure to see more use under new offensive coordinator John Garrett. There was a glimpse of what could be against Boise State in the Sheraton Hawai'i Bowl as the Beavers unleashed a more balanced approach. Woods ran for 107 yards on 16 carries and Ward added 54 yards on nine carries in a comfortable 38-23 victory.
Stanford:
The Cardinal's running back situation is
outlined here in more detail
, but it should be noted that the competition between
Remound Wright
,
Barry J. Sanders
and
Ricky Seale
-- competing to replace
Tyler Gaffney
-- will also include
Kelsey Young
. Young was recruited to Stanford to play running back, but was switched to receiver and is now back at running back. Sanders has the name recognition, but all signs point to Wright getting the first crack at being the primary back. However it plays out, it would be a complete shock if one back was used as much as Gaffney was in 2013 and Stepfan Taylor the two seasons before that.
UCLA
: If things play out the way UCLA coach Jim Mora hopes they will, linebacker
Myles Jack
will be just that … a linebacker. After winning Pac-12 Offensive and Defensive Freshman of the Year, the Bruins would ideally keep him on defense. For that to happen, someone needs to step up. That conversation still includes
Jordon James
and
Paul Perkins
, while
Craig Lee
, a four-star recruit who redshirted last year, also factors into the equation.
[+] Enlarge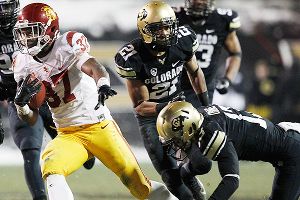 AP Photo/David ZalubowskiBuck Allen will likely head up USC's running back committee next season.
USC
: After watching Bishop Sankey turn into one of the nation's premier backs under the tutelage of new coach Steve Sarkisian, USC's deep stable of running backs has to be intrigued. The Trojans will return four of their top five leading rushers from a year ago --
Javorius "Buck" Allen
,
Tre Madden
,
Justin Davis
,
Ty Isaac
-- when they were predominantly a run-first team. Allen, who was named the team MVP in 2013, figures to get the first crack at being the starter, but that could be just in name only as a
running-back-by-committee scenario seems likely
.
Utah
: Another season, another new offensive coordinator for the Utes. This time it's
Dave Christensen's job
to invoke life in the Utah offense, which will return leading rusher
Bubba Poole
(607 yards) and
Lucky Radley
(284 yards). The Utes averaged just 4.1 yards a carry as a team last year, which is partially to blame for the change from Dennis Erickson to Christensen after just one year.
Washington:
The NFL combine taught us that
Bishop Sankey
might have been the most physically gifted running back in the country last year. It's not as simple as plugging in another guy to replace him, but the Huskies are still in good shape. Senior
Jesse Callier
(48 carries, 213 yards in 2013), who was slated to be the starter before an ACL tear in the season opener in 2012, is intriguing and will compete with fellow senior
Deontae Cooper
(43 carries, 270 yards) and sophomore
Dwayne Washington
(27 carries, 332 yards).
Washington State:
Considering quarterback
Connor Halliday
had three single-game passing totals that were more than leading rusher
Marcus Mason
ran for in entire season (429), any discussion about the Cougars' running game is tough to take seriously. Yes, there will still be running backs on the roster. No, they probably won't combine to run for 1,000 yards as a team.
Previous positions
Quarterback
November, 5, 2013
11/05/13
9:00
AM PT
Just cause it's the mailbag doesn't mean I mail it in.
Trojan Nation in (Downtown LA) writes:
For the mailbag ... Kevin! You picked
USC to lose against Oregon State
. You Picked
USC to lose against Utah
. When are you going to show us Trojans some love and admit that we're a good football team with great talent who are WINNING despite going through what no other college team in college football has to. Would any other team in college football be doing as well as SC is if it had the same restriction put unfairly upon them??? I think not!
[+] Enlarge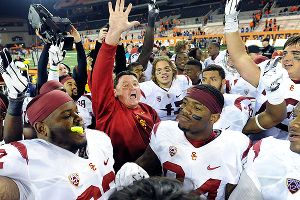 Steve Dykes/Getty ImagesEd Orgeron's Trojans have managed to overcome plenty of obstacles this season.
Kevin Gemmell
: I did, and I did. But I'll say the same thing to you that I said to the ASU fan
who berated my Washington pick
a couple of weeks ago: Where were the mailbag notes thanking me for my support when I picked
USC over Notre Dame
and
Washington State
or
Utah State
? Though I will admit, your note was far more polite and playful, which is appreciated.
Color me egg-faced, because you're right, USC is doing some pretty incredible things considering the roller coaster ride the program has been on with the sanctions and the coaching change and the injuries it has sustained.
When it comes to close games, I tend to lean toward the home team. And given USC's lack of recent success in Corvallis, I took the best data I had available and made a decision. I was wrong. Ted was right, so a tip of the cap to him.
What impressed me most about USC was the power running game. Getting
Silas Redd
back has obviously helped, but
Justin Davis
goes down,
Tre Madden
exits and
Buck Allen
steps in and absolutely throttles Oregon State. Say this for USC's depth, it's bad in a lot of places, but it's freaking awesome at tailback.
Now the Trojans are 3-1 since the coaching change, playing inspired defense and pushing people around on the lines. So yes, you are a good football team with great talent who is winning.
I'm not sure what to expect from USC down the stretch. But here's a spoiler alert, I'm going to go out on a limb and pick you guys this week.
---
Ryan in New York writes
: Kevin,
Nice article on the new coach at CU
. I wish them well this weekend and for the rest of the season. Snarky and spiteful? Ouch. I'll try and get back to my playful self. Let's be clear: I don't love UCLA, but Jim Mora's done a nice job and has handled himself admirably. I just think the media loves to over-hype sometimes, and given the Bruins' most impressive performances have been close losses, I do believe they need to win a meaningful game to earn so much praise. Keep up the good work and give your partner-in-crime a shout out, too.
Kevin Gemmell
: This is why Ryan is one of my favorite mailbaggers.
He flew off the handle a bit last week
. I called him on it and had to reel him back in. And he comes right back with another note. The dedication is appreciated.
First, thanks for the kudos on the Mike MacIntyre story. I know the wins and losses aren't there. And I don't think anyone expected a massive swing in the win column in just one season. But he's a proven rebuilder and recruiter, and I think he's got the program moving in the right direction.
Regarding UCLA, I still consider the win in Nebraska to be a meaningful game. Not just because of the tragic circumstances that led up to it, but simply for how explosive UCLA looked in that second half when everything was clicking. We got a glimpse of a team with remarkable offensive and defensive potential and saw firsthand that when it's clicking, it can hang with anybody.
Now, it wasn't clicking the past couple of weeks, and it clicked off and on against Colorado. A lot of that has to do with youth and injuries.
Right now ASU looks like the team to beat in the South. But I'm not banking on anything in this final month. With USC yet to play UCLA, and the Bruins and Sun Devils yet to play Arizona, a lot can, and probably will, happen.
---
Mahalo in Honolulu writes
: Hey Kevin, most of us Buff fans are happy with the new coach, yet are still skeptical on the outlook for the future -- primarily because of recruiting. High school kids don't have any memory of the glory days, the facilities are bleh, and the product on the field is, well, you know. What would you do to sell CU to the kids that can come here and help Mac build the Buffs to a contender?
Kevin Gemmell
: Your skepticism is valid. You've been jilted a few times over the past five or six years.
I don't know Mike MacIntyre as well as I do some of the other coaches. We've met a few times and speak on the phone every week during the teleconference. And for the story last week, he was gracious with his time and gave me an extended phone interview.
But there is a sense when talking to the man that he's going to at least get the program back to respectability or go down with the ship trying. He's a no-excuses guy. His pedigree is phenomenal, and there is no question about his dedication to the program.
That's what you sell. You buy into the man, not the facilities or the school's record 25 years ago. Take, for example, linebacker
Addison Gillam
. He had committed to MacIntyre at San Jose State. And when Mac changed to Colorado, Gillam followed. Here's a young man who had a chance to go to an 11-win team, ranked in the Top 25 and moving into the Mountain West, a very respected non-AQ conference. But he followed MacIntyre because he believes in the man and the vision. He wants to be a part of something special -- building up a program from scratch and restoring it.
There is something admirable about that. And I think that's MacIntyre's greatest asset in recruiting.
And though the wins aren't there yet, I think we definitely see a fiery, competitive team on the field. One playing with much more confidence than we've seen the past couple of seasons.
---
Daniel in Pittsburg writes
: Hey Kevin, as a diehard Stanford fan and family member, I'm curious to know what your projected BCS standings would be if Stanford beats Oregon? I would also like to know if a Baylor victory would also play a role? Thanks Kevin.
[+] Enlarge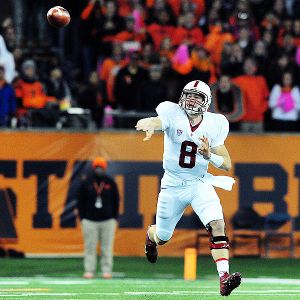 Steve Dykes/Getty ImagesEven if Stanford and Kevin Hogan beat Oregon, the Cardinal may need help from some other teams.
Kevin Gemmell
: Everything plays a role. A butterfly flaps its wings in Uzbekistan and the Colley Matrix blue screens.
I think Stanford would still need help, even if it beat Oregon, for the obvious reason that there are still undefeated teams in front of the Cardinal. If Florida State and Ohio State were to lose, then we could see the Cardinal jump into that No. 2 spot if they were to beat Oregon. And if Alabama loses, obviously the rest of the field moves up. So Stanford's best chance is to beat Oregon and hope for an assist from a Syracuse or Florida, an Indiana or a Michigan, or an LSU or Auburn.
Assuming everyone else wins, Stanford beating Oregon would further supplant Florida State as the No. 2 team and strengthen Ohio State even more as one of the few undefeated teams. Perhaps Stanford gets a couple of No. 2 or No. 3 votes in either of the human polls, but I'm not sure voters would spring them over an Ohio State team that hasn't lost in almost two seasons.
As for Baylor, I think it would enjoy a nice bump if it beat No. 10 Oklahoma. But I don't think it would be enough to vault the Bears over Stanford if the Cardinal beat Oregon. If Stanford loses, it's moot, because it will drop. If Baylor loses, it's moot, because the Bears will drop. Both teams need to win to keep pace, and I think Stanford's win would be viewed as more significant, so I don't see Baylor jumping the Cardinal.
---
Joe Bruin in Westwood writes
: Hey Kev ... Joe Bruin here. As a fan (and a mascot), I seem to be a little too worried about my team, especially after the games against Stanford and Oregon. I concur with Coach Mora when he said the team seemed to have a "hangover" from those games. Is it just me, or did the win against Colorado not look too impressive? Should I be worried about this team? Or will the Bruins get back in the swing of things?
Kevin Gemmell
: I'd be concerned about this game coming up. The Bruins haven't won in Tucson since 2003, Karl Dorrell's first season, and
Ka'Deem Carey
is obviously one of the nation's most elite playmakers. I know a lot of focus is on the Nov. 23 date with Arizona State -- and rightfully so -- but the Bruins still have a couple of tough tests in Arizona and Washington before that showdown.
However,
Brett Hundley
actually turned in the best quarterback performance of the week, per ESPN's Adjusted QBR rating (note, adjusted reflects opponent's strength).
Here's the other side of it. As I said earlier, Colorado is a better team than it was last fall so give those guys a little credit for coming in and not being intimidated.
I think Colorado provided a nice little test (when was the last time we typed that?) for UCLA to knock off some of the rust from the back-to-back losses. The Bruins figured a few things out, and the offensive line got some more experience.
And Mora has shown that he can rally the troops when they are down. And I wouldn't call the Bruins down right now. I'd just say they have a tough November ahead of them.
2013 TEAM LEADERS
| TEAM | RUSH | PASS | TOTAL |
| --- | --- | --- | --- |
| Offense | 196.6 | 251.6 | 448.2 |
| TEAM | PF | PA | MARGIN |
| Scoring | 36.5 | 24.1 | 12.4 |