November, 18, 2013
Nov 18
11:00
AM PT
Taking stock of Week 12 in the Pac-12.
Team of the week:
USC started with a great plan against Stanford. Then it played smart, disciplined football and executed that plan. And when Stanford looked like it was asserting itself, the Trojans persevered, making clutch plays at the end to beat the Cardinal
20-17
. USC is now 5-1 under interim coach Ed Orgeron, looking nothing like the sloppy, uninterested team from the beginning of the season.
[+] Enlarge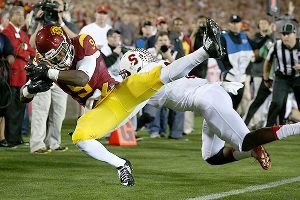 Jeff Gross/Getty ImagesMarqise Lee caught six passes for 83 yards in USC's upset win over Stanford.
Best game:
On a mostly ho-hum weekend, USC-Stanford wasn't decided until the final moments. Moreover, the stakes were high. Stanford was knocked out of the lead spot in the North Division and the Trojans are now squarely in the South race.
Biggest play:
Was it the athletic interception from freshman
Su'a Cravens
that set up the final USC drive? Or was it the fourth-and-2 completion from
Cody Kessler
to
Marqise Lee
for 13 yards to the Stanford 35-yard line on the game-winning drive? Or the 47-yard field goal from
Andre Heidari
? Each was critical in the final turn toward USC in the fourth quarter.
Offensive standout:
Colorado WR
Paul Richardson
caught 11 passes for 140 yards in the Buffaloes'
41-24 win
over California, which gave them their first Pac-12 win since September 2012. Richardson broke the school's single-season receiving record, eclipsing the record previously held by Charles E. Johnson. He sits at 1,201 receiving yards, which ranks second in the Pac-12.
Defensive standout:
Stanford OLB
Trent Murphy
had eight tackles, with four coming for a loss, two sacks and a forced fumble against USC. The Cardinal lost, but it sure wasn't Murphy's fault. He now leads the Pac-12 in both sacks (12) and tackles for a loss (18).
Defensive standout 2:
Arizona State safety
Robert Nelson
had two interceptions -- one he returned 23 yards for a touchdown -- and a fumble recovery in the Sun Devils'
30-17 win
over Oregon State. He also had five tackles.
Special teams standout:
It has been a long season for Heidari, but he was the difference for the Trojans in their upset win over Stanford. He kicked a 47-yard field goal with 19 seconds to play that provided the winning margin. He also kicked a 23-yard field goal and was 2-for-2 on PATs.
Smiley face:
We'd gush more about Orgeron's leadership at USC, but there at least needs to be a hat tip to Washington State and coach Mike Leach going to Tucson and grabbing a much-needed victory with some late-game heroics from QB
Connor Halliday
. His 25-yard TD pass to Isiah Myers for the tiebreaking touchdown with 2:15 to play gave the Cougars a
24-17 win
, keeping their bowl hopes alive.
Frowny face:
As impressive as USC's win over Stanford was, it probably wasn't very popular among 10 other Pac-12 teams. Oregon, of course, is thrilled. The Ducks now control their North Division destiny and Rose Bowl hopes. But Stanford's losing makes it unlikely the conference will have two BCS bowl teams, which means every conference team lost about $500,000 when the Cardinal went down. It will be the first time since 2009 conference ADs won't enrich their coffers with that extra check.
Thought of the week:
Arizona State and UCLA have a recent history of disappointing their fans and falling short of expectations. But guess what? Both teams are 8-2 and ranked heading into their critical showdown Saturday. They are about where optimistic preseason expectations placed them after 10 games. Both have showed resolve under second-year head coaches. No matter who wins Saturday, both programs seem to be on a decided uptick.
Questions for the week:
Who salvages their season? Several Pac-12 teams' seasons are on the brink, and two games in particular are of note: Washington visits Oregon State and Washington State plays host to Utah. As far as the Huskies and Beavers, the loser of that game will officially be able to call its season a disappointment. The Huskies would then face the specter of another 7-6 season -- or worse -- and that could make Steve Sarkisian's seat pretty hot. The Beavers would be set up to lose their final five regular-season games after a 6-1 start, pending the result of the Civil War against Oregon. Utah needs to win in order to keep its bowl hopes alive, and failing to reach a bowl game for a second consecutive year would have folks getting chippy in Salt Lake. The game is not a must-win for the Cougars' bowl hopes, but they'd probably rather not hang their hopes on the Apple Cup the following week.
November, 12, 2013
Nov 12
1:00
PM PT
Some Pac-12 numbers for your review.
Number to the left is national rank.
Scoring offense
3. Oregon, 51.7 points per game
8. Arizona State, 43.7
T24. Oregon State, Washington, 37.2
Total offense
2. Oregon, 596.6 yards per game
10. Washington, 515.9
17. Arizona State, 490.4
25. Oregon State, 474.2
Rushing offense
7. Oregon, 301.5 yards per game
12. Arizona, 271.3
17. Washington, 229.0
Passing offense
2. Oregon State, 404.8 yards per game
7. Washington State, 365.0
8. California, 345.3
18. Arizona State, 304.8
20. Oregon, 295.0
25. Washington, 286.9
Note
: Oregon's numbers took a dramatic fall after the loss at Stanford. The Ducks entered last week averaging 55.6 ppg., 632.1 ypg and and 331.5 rushing yards per game. Arizona State also went down after its tough win at Utah, but Washington used a blowout win against Colorado to perk up considerably.
Scoring defense
10. Oregon, 17.9 points per game
18. Stanford, 19.4
19. USC, 19.6
27. Washington, 21.8
Total defense
14. Arizona State, 332.7
17. USC, 339.5
20. Stanford, 348.8
Yards yielded per play (FBS foes only)
7. Oregon, 4.45 yards per play
11. Stanford, 4.75
20. USC, 4.93
23. Washington, 4.99
25. UCLA, 5.01
29. Arizona, 5.08
31. Arizona State, 5.10
35. Utah, 5.12
Pass-efficiency defense
8. Oregon
12. Washington
18. Arizona
20. Arizona State
21. USC
Note
: The defensive numbers continue to be strong in the conference, with eight teams ranked in the nation's top 35 in yards per play, a great measure of a defense's efficiency. Further, five top-21 pass efficiency defenses is pretty incredible when you think about the QBs in the conference.
Rushing
2.
Ka'Deem Carey
, Arizona, 152.6 yards per game
3.
Bishop Sankey
, Washington, 145.0
17.
Tyler Gaffney
, Stanford, 115.9
T23.
Byron Marshall
, Oregon, 102.8
Note
: Carey lost the nation's lead because Boston College's
Andre Williams
piled up 295 yards at woeful New Mexico State. Gaffney has become the go-to guy in Stanford's offense, as the Cardinal has reclaimed its hard-nosed, run-first mentality.
Pass efficiency
7.
Marcus Mariota
, Oregon
14.
Sean Mannion
, Oregon State
18.
Brett Hundley
, UCLA
20.
Keith Price
, Washington
Note
: Interesting that Arizona State's
Taylor Kelly
, as well as he is playing, is ranked 34th in passing efficiency. He's 11th in ESPN.com
Total QBR
.
Receiving yards per game
1.
Brandin Cooks
, Oregon State, 149.3
5.
Paul Richardson
, Colorado, 117.9
Note:
Lots of guys have fallen off among the national leaders here. Are these two the first-team All-Pac-12 receivers?
Sacks per game
T3.
Trent Murphy
, Stanford, 1.1
T15.
Tony Washington
, Oregon, 0.8
20.
Devon Kennard
, 0.8 (in 10 games)
T21.
Trevor Reilly
, Utah, .08
Note
: Reilly is an underrated guy who is making a push for first-team All-Pac-12. Funny that picking the All-Pac-12 defense might be more challenging than the offense.
Random notes
Eight Pac-12 QBs are ranked in the top 44 of ESPN.com's total QBR: 2. Mariota, 11. Kelly, 13. Hundley; 17. Kevin Hogan, Stanford; 28. B.J. Denker, Arizona; 29. Mannion; 36. Price; 44. Travis Wilson, Utah.
With three regulars season games to play, a conference title game and bowl games ahead, nine Pac-12 players presently have at least four interceptions. Last year, nine players had at least four interceptions at season's end.
California has run 894 plays this year, most in the nation.
Washington has just five turnovers this year, tied for seventh fewest in the nation. Washington State's 27 turnovers ranks 122nd in the nation and last in the Pac-12.
Utah has just two interceptions. Only Kentucky has fewer.
USC and Arizona have recovered just three fumbles this year.
UCLA's Anthony Barr is tied for the nation's lead with Colorado's Chidera Uzo-Diribe with five forced fumbles.
October, 28, 2013
Oct 28
11:00
AM PT
Taking stock of Week 9 in the Pac-12.
Team of the week
: UCLA had a good plan and played with fire at Oregon, but the Ducks owned the second half, scoring 28 unanswered points in a 42-14 blowout that seemed like a potentially tight game at halftime. Oregon made another strong statement for its national title candidacy.
Best game
: Stanford seemed in control with its dominant defense owning an 11-point lead late in the fourth quarter over Oregon State, but a fumble and a failed third-and-1 conversion gave the Beavers new life, and they nearly forced overtime before yielding 20-12. About a quarter of the Beavers crowd was headed for the gates with five minutes left, but many of them did an about-face and joined the hopeful frenzy that didn't die until the very end.
Biggest play(s)
: The Beavers had a first-and-goal on the Stanford 7-yard line in the final minute, needing a touchdown and a 2-point conversion to force overtime. They got four shots at the end zone, but each
Sean Mannion
pass fell incomplete, including a fourth-down attempt that, for a moment, seemed to have a chance.
[+] Enlarge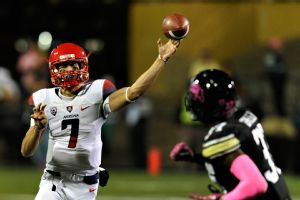 Karl Gehring/The Denver Post/Getty Images B.J. Denker had a big night against Colorado.
Offensive standout:
There have been and probably will continue to be doubts about Arizona QB
B.J. Denker
, but you have to credit him for showing grit in the face of criticism and, by golly, for improving. He accounted for 457 total yards in the 44-20 win at Colorado. He completed 21 of 32 passes for 265 yards with a TD and interception and he also rushed for 192 yards on 15 carries.
Offensive standout II
: Just like Denker, Washington RB
Bishop Sankey
put up big numbers against a Pac-12 bottom-feeder, but you can't ignore the numbers: a career-high 241 yards on 27 carries -- which works out to 8.9 yards per rush -- with two touchdowns in a 41-17 win over California.
Defensive standout
: Stanford outside linebacker
Trent Murphy
had 2.5 sacks and 3.5 tackles for loss among his eight total tackles in Stanford's win over Oregon State. He also broke up a pass and blocked another as the Cardinal defense held the Beavers to just 288 total yards. And he was a disruptive force well beyond the stats. There seemed to be six Murphys on the field, and the Beavers didn't block any of them.
Defensive standout, team editions
: USC, Oregon and Stanford each deserve special note for playing outstanding team defense. USC held Utah to three points and 201 total yards, Oregon pitched a second-half shutout and Stanford held the most potent passing attack in the nation to 271 yards.
Special-teams standout
: Washington K/P
Travis Coons
was 2-2 on field goals in the Huskies 41-17 win over California, making kicks of 46 and 42 yards. He was perfect on five PATs and had three of his eight punts downed inside the California 20-yard line, as well as a 46-yard effort.
Smiley face
: Stanford and Oregon both took care of business against ranked teams, setting up a marquee matchup of national interest on Thursday, Nov. 7. While the Cardinal's loss at Utah reduces the overall wow factor of the Pac-12 showdown that was circled in red in the preseason to some extent, these are still teams in the top five of the BCS rankings, and the Pac-12 North Division is likely at stake. It's good for the Pac-12 as a whole to have the big stage to itself. And both teams get extra time to prepare, so THERE WILL BE NO EXCUSES!
[+] Enlarge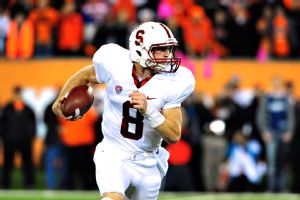 Steve Dykes/Getty ImagesStanford needs more offense from Kevin Hogan & Co. to keep up with Oregon.
Frowny face
: Stanford will have no chance against the Ducks without some passing game, and the one the Cardinal brought to Oregon State won't cut it against the Ducks defense, which might have the nation's best secondary. QB
Kevin Hogan
completed just 8 of 18 passes for 88 yards (4.9 per completion), with a QBR of 27.0 -- 50 being average -- against an inspired Beavers defense. Stanford coach David Shaw said as much about his offense after the game. The Cardinal needs receiver
Devon Cajuste
to get healthy, if that's even possible.
Thought of the week
: Let the bowl scramble begin! Oregon, Stanford and Oregon State are already bowl-eligible, with Oregon and Stanford both in position to obtain BCS bowl berths. Arizona, Arizona State, UCLA and Washington each have five wins, needing one more to become bowl-eligible. Of course, the South Division winner also has a shot of getting a Rose Bowl berth in the Pac-12 championship game. USC, Utah and Washington State need two more wins to become bowl-eligible. Only Cal, at 1-7, is out of the running, though Colorado getting three wins is a decided long shot. After the BCS bowls, things will get pretty interesting in the rush for the best bowl slots -- Alamo and Holiday -- compared to the other choices. There might be some hurt feelings -- "Hey, we beat them and have the same record and they got a better game!"
Questions for the week
: Where are the road warriors (other than Oregon)? Go through the Pac-12 schedule: There have been few impressive or surprising road wins this year. Arizona lost at USC and Washington. Arizona State lost at Stanford and to Notre Dame in AT&T Stadium. UCLA lost at Stanford and Oregon. USC lost at Arizona and Notre Dame. Utah lost at Arizona and USC. Stanford lost at Utah. Washington lost at Stanford and Arizona State. The best road wins? Stanford over Oregon State on Saturday. Oregon over Washington on Oct. 12. Washington State over USC on Sept. 7, perhaps the most surprising win. UCLA over Utah on Oct. 3. And Oregon State over Washington State on Oct. 12. That's about it. A program goes from good to great by learning how to consistently win on the road -- see Oregon and Stanford
October, 14, 2013
Oct 14
11:30
AM PT
Bristol apparently felt the Pac-12 reporters weren't getting enough hate mail, so they asked us to rerank our top 10 players from the
preseason top 25 ranking
at the midway point. No easy task, mind you. Things change. Perceptions change. Rosters change (
No. 20
, for example, is no longer playing).
[+] Enlarge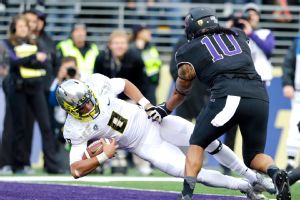 AP Photo/Elaine ThompsonMarcus Mariota is not only the No. 1 player in the Pac-12, but he might be the top player in the nation.
So both halves of the Pac-12 blog banged their heads together and came up with a midseason ranking that is flawless and immune to criticism. Non-skill players are always tough to evaluate, but even tougher with a reduced body of work, so keep in mind that the postseason list will have linemen, defensive backs, etc., and will be a stronger reflection of the conference as a whole. Consider this an appetizer to the surf-and-turf postseason list.
1. Marcus Mariota, QB, Oregon (preseason ranking: No. 1):
We're pretty confident we got this one right. He's thrown for 17 touchdowns, run for eight more and has zero turnovers. He's deserving of his Heisman front-runner status and leads all quarterbacks in adjusted QBR.
2. Bishop Sankey, RB, Washington (preseason: No. 15):
The workhorse back leads the Pac-12 with 149.8 yards per game and 899 yards on 159 carries. He's had 100-plus yards in five of six games this season.
3. Sean Mannion, QB, Oregon State (preseason: unranked):
He wasn't even the clear starter when we first put the preseason list together. Now he leads the nation with 2,511 passing yards and 25 touchdowns to just three interceptions.
4. Anthony Barr, LB, UCLA (preseason: No. 4):
With 26 tackles, including four sacks and a league-high 10 tackles for loss in five games, Barr has made his case as the league's premier defender thus far.
5. Brandin Cooks, WR, Oregon State (preseason: No. 22):
When Mannion is throwing, Cooks is usually catching. He leads the nation in catches (63), receiving yards (944) and receiving touchdowns (11). Phenomenal first half.
6. Trent Murphy, LB, Stanford (preseason: No. 7):
He has emerged as one of the most dynamic defensive playmakers in the country. He's tied for the league lead in sacks with five, backed up by eight tackles for a loss. He also has an interception returned for a touchdown.
7. Brett Hundley, QB, UCLA (preseason: No. 5):
He's completing 68 percent of his passes with 12 touchdowns in the air and three on the ground. More importantly, he has the Bruins 5-0 and playing confident football.
8. Ka'Deem Carey, RB, Arizona (preseason: No. 6):
Despite missing the first game of the season for disciplinary reasons, the nation's leading rusher from last year has kept up his form. He's averaging 142.2 yards per game with 569 yards on 115 carries while rushing for five touchdowns.
9. Keith Price, QB, Washington (preseason: unranked):
The question with Price was whether he'd return to his 2011 form. He has done that and then some. He's the league's most accurate passer at 69.3 percent with 12 touchdowns to four interceptions.
10. Ty Montgomery, WR, Stanford (preseason: unranked):
It was a toss-up here between Montgomery and Colorado's
Paul Richardson
, who could be No. 10B. Richardson has more yards, but they both have five receiving touchdowns. The difference has been Montgomery's special teams contributions the past two weeks. He's returned kicks of 99 and 100 yards for touchdowns and leads the Pac-12 in all-purpose yards per game with 196.5 -- 20 yards per game more than Cooks, Sankey and Carey.
October, 7, 2013
Oct 7
2:15
PM PT
The Pac-12 has named Oregon quarterback
Marcus Mariota
the offensive player of the week, Stanford linebacker
Trent Murphy
its defensive player of the week and Stanford receiver
Ty Montgomery
the special teams player of the week.
Some more on the trio, per the Pac-12's release:
Mariota, a sophomore from Honolulu, set a school record with 42 points accounted for in Oregon's 57-16 win at Colorado on Saturday. He completed 16 of 27 passes for 355 yards and five touchdowns. Mariota also ran for an additional 43 yards and two more scores. He is eighth in the country in passing efficiency (176.30 QB rating) and ninth in total offense (339.20 ypg), helping Oregon to a No. 2 national ranking in total offense (630.40 ypg).

Murphy, a senior from Mesa, Ariz., recorded six tackles, including 2.5 tackles for loss and two sacks, in Stanford's narrow 31-28 win over Washington at home on Saturday night. He also deflected a pass that led to a Stanford interception that ended a Huskies' drive late in the fourth quarter. The forced turnover proved to be pivotal in the Cardinal's three-point victory.

Montgomery, a junior from Tahlequah, Okla., set a school record with 204 kickoff return yards that included a 99-yard kickoff return for a touchdown to open the game against Washington. He added a 39-yard touchdown reception and ended the game with 290 all-purpose yards on nine carries (32.2 yards per touch). Montgomery currently ranks sixth in the nation in all-purpose yards (176.6 ypg).

Also nominated for offensive player of the week honors were quarterbacks Brett Hundley of UCLA and Connor Halliday of Washington State; and wide receivers Jaelen Strong of Arizona State, Chris Harper of California, and Dres Anderson of Utah. Also nominated for defensive player of the week honors were linebackers Addison Gillam of Colorado, Eric Kendricks of UCLA and Jared Norris of Utah; safety Deone Bucannon of Washington State; and defensive back Damarious Randall of Arizona State. Also nominated for special teams player of the week honors were kickers Zane Gonzalez of Arizona State, Ka'imi Fairbairn of UCLA and Andy Phillips of Utah.
September, 30, 2013
Sep 30
11:00
AM PT
Taking stock of Week 5 in the Pac-12.
Team of the week
: Arizona State's home victory over USC was an announcement to the rest of the country that the Sun Devils deserve to be ranked, and the country responded by putting ASU back in the Top 25 at No. 22. More important than national perception, however, is that the Sun Devils didn't fall to 0-2 in conference play, which would have been devastating for the team's season-long goals. They picked up a South Division win and are still in control of their destiny in the division. One last nonconference game next week against Notre Dame and then it's all league games the rest of the way -- including a pivotal Oct. 19 game against Washington and the all-important No. 23 game at UCLA.
Best game
: In a week where the average margin of victory was 29 points in the five games, the "closest" was Washington's 18-point victory over visiting Arizona. But there was a sense Washington was in control all 60 minutes. Oregon was fun to watch simply for the fact that not even Mother Nature could play defense against the Ducks. Stanford was fun to watch because the Cardinal looked explosive. Oregon State was fun to watch because it was a complete performance. But the ASU-USC game probably had the most drama. We had an idea of what was at stake, and even when USC cut it to 48-34 with 9:54 left in the game, there was still that lingering thought that maybe it wasn't over. Of course, ASU scored two more touchdowns to put it away. And the end result was Lane Kiffin's dismissal.
[+] Enlarge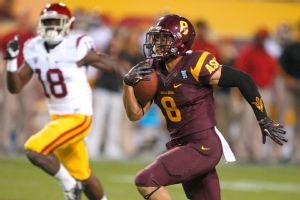 AP Photo/Rick ScuteriD.J. Foster played a part in Arizona State's offensive explosion against USC.
Biggest play
: After USC took a 21-20 lead in the opening minute of the second half, the Sun Devils responded 21 seconds later with a 74-yard touchdown from
Taylor Kelly
to
D.J. Foster
. But that wasn't the biggest play. On USC's next series, less than a minute later,
Alden Darby
jumped a
Cody Kessler
pass and returned it 46 yards for a score, giving the Sun Devils a 34-21 lead less than two minutes into the third quarter. He had two picks on the day, and the pick-six was a massive momentum swing, and it happened while Pat Haden and USC decision-makers were huddling to decide Kiffin's future.
Offensive standout
: Tough to ignore the kind of numbers
Sean Mannion
is putting up. After matching a school record two weeks ago at Utah with five touchdown passes, he surpassed the record by throwing for six touchdowns and 414 yards in the blowout win over Colorado. He did have an interception, but only because his receiver's hands and chest got in the way and it was tipped in the air. Mannion now has 21 touchdowns on the year to just two picks.
Defensive standout
: Has to be Darby, who totaled seven tackles to go with his two interceptions and a fumble recovery. Defensive standout 1B goes to Stanford's
Trent Murphy
. Is there any outside linebacker with better hands? Or does he only show them off at CenturyLink Field? Saturday he intercepted a point-blank pass in the backfield from
Austin Apodaca
and returned it 30 yards for a touchdown. If that looked familiar, he did the same thing last year at the CLink against Washington.
Special teams standout:
With four games in the Pacific Northwest Saturday, weather was dominant storyline when it came to special teams. We saw numerous fumbles, bad snaps and weather-induced wackiness. But there was nothing wacky about Oregon's
Bralon Addison
, who returned two punts for touchdowns. The first was a 75-yard return in the second quarter that was pure sideline speed. The second, a 67-yard return, required a little more dancing and cutting -- and avoiding being knocked down by his teammate before the play even got started.
Smiley face:
The Pac-12 once again has five teams ranked in the Top 25 in both polls with ASU's victory over USC. And Oregon State is receiving votes in the coaches poll.
Frowny face:
Injuries always get a frowny face -- and Saturday saw two of the league's superstars go down with injuries. Oregon's De'Anthony Thomas was injured on the kickoff and didn't return. And USC wide receiver
Marqise Lee
suffered a knee injury that hopefully looked worse than it really is.
Thought of the week:
The Beavers are back, sort of. Oregon State finally strung together a game where its defense matched the offense. And Colorado is a much-improved team from last season. Are the Buffs bowl bound? Probably not. But they aren't the Buffs of last year, which gives a little credence to Oregon State's dominating performance. The initial thought was that the Beavers would be 7-0 or 6-1 heading into their Oct. 26 showdown with Stanford. And they might still be (though Washington State isn't going to make it easy). Not suggesting you go all-in on the Beavers. Remember, they are only a week removed from a miraculous win over San Diego State. But don't sell just yet, either.
Question of the week
: The Trojans have a bye week to patch holes and put "Operation: Changing Lanes" in action. Do they look to an NFL name or a college name? UCLA is showing that a former NFL coach can have success in Los Angeles, even if he's not an alumnus. USC is an attractive gig, and you can bet there were a lot of back-channel phone calls going out over the past 72 hours.
2013 TEAM LEADERS
| TEAM | RUSH | PASS | TOTAL |
| --- | --- | --- | --- |
| Offense | 196.6 | 251.6 | 448.2 |
| TEAM | PF | PA | MARGIN |
| Scoring | 36.5 | 24.1 | 12.4 |