June, 19, 2012
6/19/12
9:19
PM PT

UCLA's season came to an end with a 4-1 loss to Florida State in an elimination game at the College World Series Tuesday in Omaha. Here's a quick look at the game:

OVERVIEW: Florida State struck early, tagging UCLA starter Zack Weiss for two runs on three walks and a hit in only 1/3 of an inning before he got pulled.

Both of the Florida State first-inning runs came on bases loaded walks as reliever Grant Watson walked the first man he faced after coming in with the bases loaded.

The Seminoles (50-16) consistently worked long at-bats, forcing UCLA pitchers to make 94 pitches through the first four innings. They left eight runners on base over that stretch but struck for two more runs in the fourth when cleanup hitter Joyce Boyd laid down a surprise bunt with the bases loaded and one out on the first pitch by UCLA reliever Ryan Deeter.

Third baseman Kevin Kramer charged the ball and tried to grab it, but overran the ball. As the it sat on the infield grass, Florida State's Devon Travis motored from second and scored giving Boyd a two-run bunt single that traveled about 50 feet.

Florida State pitchers Scott Sitz, Hunter Scantling and Robert Benincasa did the rest. Sitz, the starter, pitched 6 2/3 innings and gave up only one run and five hits with eight strikeouts. Scantling and Benincasa closed out the game with 1 1/3 perfect innings.

TURNING POINT: Things started looking up for UCLA in the sixth inning when Kevin Williams walked, Beau Amaral doubled, Tyler Heineman got hit by a pitch and Cody Keefer singled in a run to make the score 4-1.


June, 14, 2012
6/14/12
10:28
PM PT
The name on the front of their jerseys is the same and if UCLA had names on the backs of their jerseys, many of those would be the same, too.

But make no mistake, the UCLA baseball team that takes the field against Stony Brook for the College World Series opener Friday at 2 p.m. Pacific in Omaha, Neb., is a much different Bruins team than the 2010 version.

This team relies on balanced across all three phases of the game rather than a pitching staff that was among the best ever assembled in college baseball. This team has veteran leadership and experience rather than a staring lineup that included mostly freshmen and sophomores.

And while the 2010 team was the upstart program making only the third College World Series appearance since 1969, this team comes in as a national power with something to prove after coming up short in the 2010 national championship series.

"We got left at the altar last time," coach John Savage said. "There are some guys left saying 'hey, we came that close to winning the national championship.'"

There are seven of those players, to be exact. Seven current juniors who were on the team that advanced through the College World Series bracket only to get swept by South Carolina in the best-of-three championship series.

Outfielders Beau Amaral and Jeff Gelalich, designated hitter Cody Regis and infielder Trevor Brown all either started or played regularly during that 2010 post season run. Outfielder Cody Keefer was a starter that season until a leg injury knocked him out of the last 20 games. Catcher Tyler Heineman did not play in the College World Series, but he was there to experience the loss as was closer Scott Griggs, who pitched an inning of relief in Omaha that season.

For those players, a shot at redemption and a chance to complete some unfinished business is before them, but the Bruins know they have to keep those thoughts in check.

"It's always disappointing to come that close and to lose," Gelalich said. "But it's a different team, a different group of guys, a different ball park. We're not going to try to make one game bigger than it needs to be."


June, 9, 2012
6/09/12
11:21
PM PT

LOS ANGELES -- Reservations for 27 in Omaha, please.

Put it under the name Bruins.

UCLA clinched a spot in the College World Series by defeating Texas Christian, 4-1, Saturday night to complete a sweep in the best-of-three Super Regional.

The Bruins (47-14) are headed to the biggest stage in college baseball for the second time in three seasons thanks to an opportunistic, selfless approach on offense and clutch pitching in key situations--a formula that could serve the Bruins well as they try to make a run deep into the College World Series.

In typical UCLA style Saturday, the Bruins scored twice on sacrifice flies, once on a passed ball and once on a safety squeeze. Starter Nick Vander Tuig and reliever David Berg handled the rest, with the only TCU damage coming via a Brance Rivera solo home run in the third inning. The Horned Frogs (40-22) scored three runs in the two games--all on solo homers.

"We just chipped away," coach John Savage said. "This was a typical game for us. We don't blow anybody out. We hang around. We made everything count."

It's an approach that UCLA has used to great success this season. The Bruins are seeded No. 2 nationally because they find ways to win games. They have won nine consecutive games and 19 of the last 21. Not many of those games go to double digits, either. UCLA has held 16 of those last 21 opponents to three runs or fewer.

"We're not a power hitting team," said shortstop Pat Valaika. "Our game plan is just to grind pitchers down. Grind for nine. That's our approach at the plate. We try to see a lot of pitches. We work hard to pass the baton and get the next guy to the plate."


June, 8, 2012
6/08/12
11:27
PM PT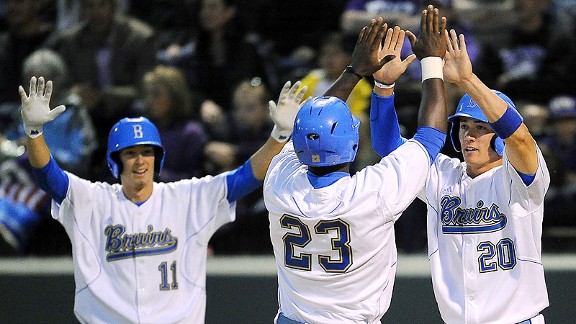 Jayne Kamin-Oncea/US PresswireBrenton Allen (23) scores as teammates Trevor Brown, left, and Jeff Gelalich welcome him home.
LOS ANGELES -- The primal scream
Cody Regis
let out when he reached second base told you all you need to know about the kind of week he has had.
Regis brought his roller-coaster week to a high when he cleared the bases with a three-run double in the sixth inning of UCLA's 6-2 super regional victory over Texas Christian on Friday night at Jackie Robinson Stadium. His clutch hit helped get the Bruins to within one victory of a return trip to the College World Series, so yeah, Regis was excited.
But the raw emotion he let out came from much deeper than giving his team a comfortable lead that starting pitcher
Adam Plutko
and reliever
David Berg
easily made stand up. Regis had a week's worth of pent up frustration because the Major League Baseball draft came and went without his name being called.
[CLICK HERE TO SEE GAME 1 HIGHLIGHTS]
Regis, a junior first baseman with a .284 career batting average, 16 home runs and now 117 RBIs, took that as a personal slight and then took it out on TCU.
"It was a bitter pill to swallow," Regis said. "It was really hard. It was disappointing for me, but it kind of motivated me a little bit. It put a chip on my shoulder."
Things looked grim for UCLA (46-14) as Texas Christian (40-21) took a 2-1 lead on solo home runs by
Josh Elander
in the first and
Kyle Van Tungeln
in the third, and TCU pitcher
Brandon Finnegan
had retired 10 consecutive Bruins after
Kevin Kramer
's two-out RBI single in the second inning.
But
Tyler Heineman
drew a walk to start the sixth, and two TCU pitchers loaded the bases by hitting
Cody Keefer
and
Jeff Gelalich
with pitches.
Trevor Brown
tied the score at 2 with a single, and
Pat Valaika
gave UCLA a 3-2 lead with a run-scoring groundout.
An intentional walk to
Brenton Allen
loaded the bases again and set the stage for Regis. On his 21st birthday, he delivered a three-run present to the Bruins by blasting a liner that skipped through the gap in left-center field, hit off the wall and propelled UCLA to a Game 1 victory in the best-of-three super regional.
"When I made contact, I knew I got it well," Regis said. "And when the play was finally over, the adrenaline really hit. I got to second and the emotion of everything just overcame me and I just let it go."
June, 5, 2012
6/05/12
9:30
PM PT
UCLA baseball players Beau Amaral, Tyler Heineman, Scott Griggs, Trevor Brown, Eric Jaffe and Cody Keefer were selected Tuesday during the second day of the Major League Baseball draft.

They joined Jeff Gelalich, taken in the supplemental first round Monday, to give UCLA total of seven players drafted in the first 15 rounds--tied for most in school history.

"We are thrilled to see seven of our players selected in the first 15 rounds," coach John Savage said. "This is both a reflection of their very hard work and our team's success. It's an exciting time in their lives, knowing that they have a chance to begin a pro baseball career. We couldn't be any more proud of their accomplishments."

Amaral, a center fielder, went to the Cincinnati Reds in the seventh round. Heineman, a catcher, and Griggs, the closer, went in the eighth round to the Houston Astros and Dodgers, respectively. The San Francisco Giants used a 10th-round pick on Brown, who has versatility to play any infield position including catcher.

Jaffe, a seldom-used reliever, went to the Chicago White Sox in the 11th round and Keefer, the UCLA left fielder, went to the Miami Marlins in the 15th round.

The draft concludes Wednesday with rounds 16-40.
June, 3, 2012
6/03/12
11:48
PM PT
LOS ANGELES--Yes, UCLA can hit a little bit, too.

And the Bruins do, indeed, have a solid bullpen.

Dominant starting pitching had been the story for UCLA the first two days of the NCAA regional at Jackie Robinson Stadium, but the Bruins broke out the bats in a big way Sunday and thumped Creighton, 13-5, to win the regional and advance to a Super Regional for the second time in three years and third time in six.

UCLA, seeded No. 2 nationally, will face the winner of Monday's elimination game between Texas Christian and Mississippi next weekend. If the Bruins continue to play the way they did in the regional, they should have no trouble winning that best-of-three series and making a return trip to Omaha for the College World Series.

The Bruins (45-14) simply steamrolled through the regional, displaying dominance in all facets of the game. Right fielder Jeff Gelalich keyed the Bruins charge Sunday, blasting two home runs off the hitting facility beyond the right field fence to lead the offensive outburst.

The 11-hit attack came on the heels of dominant outings by starters Adam Plutko and Nick Vander Tuig, who combined to give up only three hits and no earned runs in 17 combined innings on Friday and Saturday. Zack Weiss started Sunday and wasn't quite as effective, but the offense and the bullpen -- which hadn't gotten much work this weekend -- carried the day.


May, 28, 2012
5/28/12
12:02
AM PT
LOS ANGELES -- At some point the UCLA baseball team might figure out how to win a conference title without so much drama, but until that day arrives the Bruins will just have to take what they can get.

The Bruins won a share of the Pac-12 title when they completed a three-game sweep over crosstown rival USC with a 7-6 victory Sunday in the regular-season finale at Jackie Robinson Stadium. It is the second consecutive conference title for the Bruins, who have won both by overcoming long odds on the final weekend.

This year, the Bruins trailed Oregon by two games and Arizona by one heading into the final weekend, but Oregon got swept by Oregon State and Arizona lost two of three to Arizona State, leaving the Bruins (42-14, 20-10) in a tie with Arizona (38-17, 20-10) atop the final standings. The conference crowns co-champions so no tiebreakers are used to determine a champion.

Last year, UCLA entered the final weekend a game behind Oregon State, but won the title outright when Oregon State got swept by Oregon.

"We feel very fortunate," coach John Savage said. "That's why you play 30 games. Until the last pitch is thrown, there is anybody in this conference that can beat anybody and it just goes to show you that. I don't know what to say other than the credit goes to the players and sometimes you get a little lucky how things fall and today we were a little fortunate."

It is the 1oth conference title in baseball for UCLA, but it is the first time the Bruins have won titles in consecutive seasons and completed a season in which the Bruins won 40-plus games for the eighth time in school history. It also continued a run of domination over USC (23-32, 8-22) as UCLA defeated the Trojans for the 19th time in the last 24 meetings.

"When you're at UCLA, you always want to beat SC and sweeping them is extra sweet," said shortstop Pat Valaika, whose two-run single in the bottom of the eighth broke a 5-5 tie. "And to sweep them to win the conference title is even sweeter."

It certainly wasn't easy. UCLA was seemingly coming from behind the whole game as USC took a 2-0 lead in the second, a 3-2 lead in the fourth and a 4-3 lead in the sixth before Trevor Brown delivered a two-run single in the sixth to give UCLA a 5-4 lead.

USC tied it in the top of the eighth when James Roberts struck out with two outs and the bases loaded, but reached first when the third strike hit the dirt and scooted to the backstop for a wild pitch.

The Bruins loaded the bases in the eighth on a hit batter, a walk and an error, bringing Valaika to the plate to face USC reliever Martin Viramontes. Valaika struck out against Viramontes on Saturday with the bases loaded in the ninth, so Valaika said he was extra focused for his eighth-inning at bat Sunday.

"I wanted a little bit of revenge," Valaika said. "I hit a curve ball, which he was throwing a lot of those yesterday, so I was just sitting on it and trying to do my job and it worked out."

The hit not only got Valaika some revenge, but it got UCLA the conference title. If they had lost to USC, the Bruins would have finished a game behind Arizona, which had already finished playing by the time Valaika came to bat in the eighth.

It completed a remarkable closing stretch of the season for UCLA, which won 11 of its last 12 games and 14 of 16 to end the regular season.The Bruins were rewarded by the NCAA for that effort when they were chosen as one of 16 hosts for the regionals which begin Friday.

It is the third consecutive year the Bruins have been selected as a regional host and on Monday morning, they are expected to earn a top eight national seeding for the playoffs.

"We're excited with where we are," Savage said. "All the credit goes to the players. They stayed together all season with one of the toughest schedules in the country and in one of the toughest baseball conferences in the country."

And a conference in which UCLA is the champion.

"It means a lot to everybody in the program," Savage said. "To be able to say that we're back to back, it's special. I think everybody in our room feels that way."

Especially with how unlikely it seemed when the weekend began.

"Definitely coming into it a lot of it wasn't in our hands," center fielder Beau Amaral said. "We just knew that we had to take care of our side of it and hope for the best and we're all pretty proud of the accomplishment. It says a lot about our team and our coaches and our program."
May, 26, 2012
5/26/12
7:31
PM PT


LOS ANGELES--UCLA erased a four-run, sixth-inning deficit then got a bases-loaded walk by Cody Regis with two out in the bottom of the ninth inning for a 6-5 victory over USC that kept the Bruins alive in their efforts to repeat at Pac-12 champions.

The Bruins (41-14, 19-10 Pac-12) are tied with Oregon (42-16, 19-10) and left Jackie Robinson Stadium Saturday afternoon a half game behind Arizona (37-16, 19-9). The Wildcats played Arizona State in a night game in Tucson.

It's a familiar position for the Bruins, who last year entered the final weekend of the regular season a game out of first, but ended up winning the ninth conference title in school history and the first outright since 1986. So even though USC (23-31, 8-21) is struggling this season, the Bruins say Saturday's victory was important.

"It put us in position to possibly win the conference," coach John Savage said. "That's the most important thing. Winning the series is a big deal, but there is still baseball to be played in the conference and it's still yet to be determined who is going to win this league."

In order for UCLA to claim a share of the title, Arizona would have to lose either Saturday or Sunday and UCLA must win on Sunday. If UCLA loses Sunday, the Bruins have to hope Arizona loses Saturday and Sunday and Oregon loses to Oregon State on Sunday.

Regardless, the Bruins are a lock for a NCAA tournament berth and will likely be one of the 16 hosts of the regionals when the NCAA announces them Sunday. But winning the conference is first and foremost on the minds of the Bruins, who know anything is possible after unexpectedly winning the conference last year.

"I think that's helping us," Savage said. "We've been there. And even though you're focusing on your game, you're hearing those scores and now it's gotten interesting."

It wasn't looking good early Saturday for the Bruins. USC got single runs in the third and fourth and then got two more in the fifth to take a 4-0 lead. UCLA finally got to USC starter Andrew Triggs in the bottom of the sixth, when the Bruins scored three times. A two-run triple by Jeff Gelalich keyed the rally.

UCLA tacked on two more in the seventh to take a 5-4 lead, but USC would not go down without a fight. The Trojans put runners at first and third with one out and tied the game when Kevin Swick hit a slow bouncer to shortstop and the Bruins couldn't turn a double play.

The Bruins rallied in the bottom of the ninth, though they nearly blew a chance to win it when, after a Cody Keefer double and an intentional walk to Gelalich, Trevor Brown launched a high fly to deep left field. Instead of going half way between second and third, Keefer tagged up at second. When the ball hit the wall, Keefer could only advance to third instead of scoring the winning run.

"He should have been about two thirds of the way to third base," Savage said. "That was poor base running. Everybody thinking the game is over and he's darn near standing on second base. We were fortunate because that was poor base running."

What turned out o be a single for Brown loaded the bases with one out. Pat Valaika appeared to get the winning run across when he leaned into a curve ball and was hit by the pitch, but the umpire ruled that he failed to make an effort to get out of the way.

Valaika ended up striking out, but Regis followed with a four-pitch walk for the game winner and emphatically flung his bat toward the UCLA dugout before trotting to first base as the UCLA dugout spilled on to the field in celebration.

"Just winning that type of game at this time of the year late in the year, were getting excited with the playoffs coming up," Regis said. "And obviously its always fun to beat USC in that type of fashion."
May, 22, 2012
5/22/12
11:09
PM PT
IRVINE, Calif.--If coach John Savage and the UCLA baseball team had any say in the matter, they'd like to move the entire college baseball season to Tuesdays.

And if they could play the games on the road, that would be even better.

The Bruins finished the midweek and road portions of their schedule with a 6-2 victory Tuesday at UC Irvine and ended the season a perfect 11-0 in Tuesday games and 20-4 away from home.

It's a testament to the tenaciousness of the No. 10 Bruins (39-14), who finish the regular season with a three-game series against USC Friday through Sunday at Jackie Robinson Stadium.

"We just put high value on midweek games," Savage said. "In terms of RPI and total wins, they're very important. They aren't conference games, but at the end of the day, they are highly important and this year we took care of business."

These aren't cupcake teams the Bruins are scheduling on Tuesdays, either. Long Beach State, Cal State Fullerton, Pepperdine and UC Irvine are all traditional powers who have fallen victim to the Bruins in midweek games this season.

"It was nice to come out and get a win and finish it and go undefeated on Tuesdays," said shortstop Pat Valaika, who had two hits and two RBIs Tuesday. "It's a testament to our team. We don't take games off. We take every game like it's our last. We don't want to just give up any games. That's not the way we play and we proved it by coming out every Tuesday and doing our thing."

Another thing the Bruins seem to do is win on the road, which might prove more important come NCAA tournament selection time. With a 19-4 road record and 1-0 neutral site record, the Bruins are among the top two in the nation with an .833 winning percentage away from home.

"That's pretty impressive and all the credit goes to the players being ready and having discipline on the road," Savage said. "We just feel comfortable on the road. Some teams don't, but I just feel like it's a credit to our guys having and anytime, anywhere mentality."

The Bruins have played their last nine games on the road and have won eight of them, but now need that mentality at home. UCLA conclude the regular season this weekend at Jackie Robinson Stadium with quite a bit at stake. They are two games out of first in the Pac-12 title race, in the running to host an NCAA tournament regional and could also get a top-eight national seeding for the NCAA tournament. Oh, and they are playing the crosstown rival who would certainly like nothing better than to spoil those things for the Bruins.

"We've been embracing the fact that we're playing on the road and I think we all thrive on it," said catcher Tyler Heineman. "But there is a lot of stuff going on this weekend and I think we just need to focus on our series with USC so we can continue to thrive at home."
June, 12, 2010
6/12/10
11:34
PM PT
Apparently I missed
quite the game at Jackie Robinson Stadium
while I attended my English graduation Saturday night.
With an out separating UCLA from elimination, sophomore
Tyler Rahmatulla
cranked a go-ahead, two-run home run that sent shockwaves through the college baseball world. Here's the call (or non-call) from John Ramey of the UCLA radio network:
One more video, this one courtesy of UCLA Athletics:
Meanwhile, they don't even hand out diplomas at graduations. Can you believe that?
Anyway, Rahmatulla's dramatic blast was just the start of the craziness. Cal State Fullerton tied it with a run in the bottom half of the ninth before UCLA scored four two-out runs in the 10th thanks to a bases-loaded single off the bat of freshman pinch hitter
Trevor Brown
. More from Ramey:
The third and deciding game is Sunday night, with the winner earning a trip to Omaha. No graduations tomorrow, so follow me at twitter.com/bangulo and look here for reaction following what promises to be another thrilling contest.
March, 30, 2010
3/30/10
9:54
PM PT
The UCLA baseball team found yet another way to emerge victorious on Tuesday night. This time, the Bruins extended their best-ever win streak to 21 games thanks to -- what else -- a pair of bunt singles.
With the game scoreless in the fifth inning,
Trevor Brown
laid down a bunt that bounced off third base
for a single to load the bags. After a ground out scored a run,
Cody Regis
laid down a bunt of his own, this one to the right side of the infield
for another single and another run
.
UCLA Athletics Garett Claypool earned his third win of the season Tuesday night. He has an ERA of 1.03 as a starter this year.
That's all UCLA's offense could muster against Pepperdine's
Aaron Gates
. That's all UCLA's
Garett Claypool
and the bullpen needed.
Claypool, a senior right-hander, allowed an unearned run on two hits and a walk in six and two thirds innings. He struck out nine.
"I just like pitching," Claypool said. "So if it's on Tuesdays, it doesn't really matter."
Claypool could very well start on weekends if he was on another team. But since head coach
John Savage
has
Gerrit Cole
,
Trevor Bauer
and
Rob Rasmussen
in his weekend rotation, Claypool has had to fill the midweek role.
He may be the best midweek starter in the nation.
"Every time out I attack hitters," he said. "I like to compete and like to do well."
So far he has. Claypool (3-0) touts an ERA of 1.03 in four starts and has walked four and struck out 30.
No. 6 UCLA begins Pac-10 play Thursday against Stanford.
2014 TEAM LEADERS
| TEAM | RUSH | PASS | TOTAL |
| --- | --- | --- | --- |
| Offense | 199.4 | 268.5 | 467.9 |
| TEAM | PF | PA | MARGIN |
| Scoring | 32.9 | 27.5 | 5.4 |