May, 23, 2014
May 23
12:00
PM PT
Over the last two weeks
we've been taking a look at some players who had big springs for their respective teams. Some are upperclassmen finally coming into their own, some are younger guys taking advantage of open spots on the depth chart, while others are leap frogging some older players and making a name for themselves. Regardless, there were plenty of impressive performances in the Pac-12 this spring. All of these players are going to play a big part for their teams this fall, but which player do you think will be the most crucial to his team's success in 2014?
Rank them 1-12 here
.
Here's a breakdown of the players we've profiled over the past two weeks:
Arizona: WR Cayleb Jones
-- The Wildcats might have the deepest wide receiver group in the entire conference, but could a Texas transfer become the most important one of the bunch? With a year spent studying the offense and learning from the sideline, Jones could be a major factor.
Arizona State: LB D.J. Calhoun
-- The early enrollee ended the spring listed as a starter with
Antonio Longino
at the weakside linebacker position. With the Sun Devils trying to replace three starting linebackers, could Calhoun become a significant contributor as a true freshman? Seems likely.
Cal: RB Daniel Lasco
-- Lasco found himself taking some extra reps this spring as
Khalfani Muhammad
(last season's leading rusher) split time between the Cal track and football teams this spring. During his career he has been slowed by injury, but now that he's finally healthy and taking more reps, could he battle Muhammad for the lead spot this fall?
Colorado: WR Bryce Bobo
-- Colorado fans should feel encouraged by Bobo's spring game performance (five catches, 132 yards) as they head into the summer wondering who can replace
Paul Richardson
's yardage. It's highly unlikely that it'll be one single player, but could Bobo carry a large part of it?
Oregon: WR Devon Allen
-- When he wasn't running for the Oregon track team this spring he was running circles around some Ducks defensive backs. The redshirt freshman could prove to be a huge player for Oregon as they look to replace last season's top-three receivers as well as injured
Bralon Addison
's production.
Oregon State: WR Victor Bolden
-- Could Bolden be a possible replacement for some of the yardage lost by Biletnikoff Award winner
Brandin Cooks
? He has seen most of his time on special teams, but could step up as a big contributor in the fall as QB
Sean Mannion
looks to have another very big season for the Beavers.
Stanford: DL Aziz Shittu
-- The sophomore, who can play every spot on the defensive line for the Cardinal, has received high praise this spring. Coach David Shaw said Shittu was, "probably the player of spring for us." If it's good enough for Shaw, is that good enough for you?
[+] Enlarge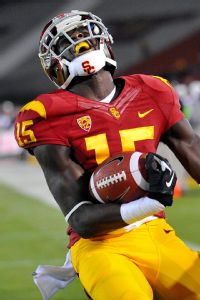 Gary A. Vasquez/USA TODAY SportsHow will USC wideout Nelson Agholor follow up his stellar 2013 season and excellent spring?
UCLA: CB Fabian Moreau
-- He was a big contributor to the Bruins last season but during this spring season Moreau became a better leader for UCLA. Coach Jim Mora has given Moreau high praise and if the Bruins are able to take the South Division title next season, a bit part could be because of the breakout year Moreau could have.
USC: WR Nelson Agholor
-- Chances are if you're a USC fan, you know who Agholor is. If you're not -- then he was the guy who played opposite
Marqise Lee
. But this spring Agholor took the steps to go from good WR to great WR, and next fall, the fruits of his labor could be on display for the entire conference to see.
Utah: RB Devontae Booker
-- Booker is right on the heels of RB
Bubba Poole
, as displayed by his spring game performance (2 touchdowns, 19 carries, 103 yards). But between Booker, Poole and
Troy McCormick
, the Utes could have a three-headed monster at running back that Pac-12 teams would not enjoy having to face.
Washington: LB/RB Shaq Thompson
-- He was the second-leading tackler for the Huskies last season so it wasn't a defensive breakout spring for him. But considering he started getting offensive reps, it was a breakout spring for him as a running back. UW needs to replace
Bishop Sankey
's yardage, could Thompson's spring give him a jump start to do so?
Washington State: WR Vince Mayle
-- The converted running back had a big spring for the Cougars. This spring Mayle got close to becoming quarterback
Connor Halliday
's safety net. Considering Halliday threw for more than 4,500 yards last season, being his safety net would mean major, major yardage next fall.
April, 28, 2014
Apr 28
9:00
AM PT
Here's a quick look at some of the highlights of the three spring games in the Pac-12 this past weekend.
California

Quarterback
Jared Goff
completed 14 of 23 passes for 170 yards and a touchdown as the Bears wrapped their spring session in front of approximately 2,500 fans at Memorial Stadium.
Daniel Lasco
and
Jeffrey Coprich
each made 1-yard touchdown runs and Goff connected with
Kenny Lawler
on an 8-yard touchdown strike. Lawler finished with four catches for 30 yards and the score.
Bryce Treggs
had two catches for 47 yards.
Goff said the Bears are looking to move beyond last season's horrific 1-11 showing, in which they failed to beat an FBS team.
"We're done with last year," Goff said. "We're done with everything that had to do with last year. We're a brand new team now and we're ready to go. …
"We're two or three deep at every [wide receiver] position that I think honestly have NFL potential. I'm just so fortunate to have that receiving corps out there willing to make plays. They all want the ball and they all want to make plays. It's really, really lucky for me."
Austin Hinder
, who is competing with
Kyle Boehm
to be Goff's backup, was 6-of-12 for 46 yards and interception. Boehm was 1-of-2 for three yards.
You can see the full stats
here
.
UCLA

Offensive coordinator Noel Mazzone guided his Blue team to a 28-0 victory over defensive coordinator Jeff Ulbrich's White team behind two rushing touchdowns from
Jordon James
at the StubHub Center in Carson, Calif.
Paul Perkins
and
Steven Manfro
also scored rushing touchdowns.
Quarterback
Brett Hundley
only played in one offensive series and was 4-of-5 for 30 yards.
Jerry Neuheisel
completed 14 of 22 passes for 180 yards, but threw interceptions to
Ishmael Adams
and
Adarius Pickett
.
Asiantii Woulard
was 4-of-13 for 42 yards and
Mike Fafaul
was 7-of-16 for 116 yards.
"I like the way they competed," head coach Jim Mora
told the Pac-12 Network
. "I like the fact that nobody got seriously injured. I'm sure there's some nicks. I thought they came out and competed well. I thought we protected the ball fairly well. It's good to be in a game environment. It will help us going down the road."
Three defensive players each recorded two sacks -- linemen
Owamagbe Odighizuwa
and
Zach Vinci
and linebacker
Deon Hollins
.
You can see the full stats
here
.
Washington State

Quarterback
Connor Halliday
completed 25 of 41 passes for 326 yards and three touchdowns and the Crimson team topped the Gray squad 23-19 in front of 6,233 fans at Joe Albi Stadium in Spokane, Wash.
Vince Mayle
caught six balls for 92 yards and a touchdown to lead the Crimson group, while freshman
Calvin Green
led all players with eight catches for 101 yards.
"Spring went well," Halliday
told the Pac-12 Network
. "Spring games are always a little frustrating. We've got the team split in half and we have some O-linemen that haven't played together and the receivers are split in half. We had a real good spring before today. Today was a little sloppy here and there. But it went well."
DaQuawn Brown
hauled in two of the five interceptions. Redshirt freshman
Jamal Morrow
rushed for 44 yards on five carries and
Gerard Wicks
added two scores on the ground.
Drew Loftus
had a pair of touchdown receptions.
You can see the full stats
here
.
April, 25, 2014
Apr 25
12:00
PM PT
Three more Pac-12 spring games are slated for Saturday. Here's a look at what to watch in all three.
California

Where
: Memorial Stadium
Kickoff
: 11 a.m. PT
TV
: Pac-12 Network (Replays throughout the week)
What to watch
: The Bears have a new defensive coordinator … again …
so watching them adjust
to Art Kaufman's 4-3 vs. Andy Buh's 4-3 will be of note. Though a
depth chart
was recently released, there are still a few positions up for grabs. There are some questions about the right side of the offensive line and backup quarterbacks can usually make an impression in the spring. The depth chart lists an "or" between
Austin Hinder
and
Kyle Boehm
, so expect those two to jockey for position behind incumbent starter
Jared Goff
. The event is free and there will be giveaways and kids' activities.
Click here for details
.
UCLA

Where
: StubHub Center, Carson, Calif.
Kickoff
: 5 p.m. PT
TV
: Pac-12 Network (Replays throughout the week)
What to watch:
As has been the case with UCLA the last couple of years, youth and injuries make for some mixing and matching on the offensive line. This spring has proven no different, so look for the right tackle spot to be highly competitive beyond Saturday's game. The running backs are intriguing as well. Offensive coordinator Noel Mazzone said
Jordon James
has evolved into the one-cut runner that he wants him to be, but
Paul Perkins
,
Steven Manfro
and touted redshirt freshman
Craig Lee
will push for carries. Finding a suitable backup for
Brett Hundley
, be it
Asiantii Woulard
or
Jerry Neuheisel
, is also a top priority, and the spring game could create some separation. Note, tickets are $5 in advance, $10 day of (free for UCLA students and children 2 and younger). Parking is $15. Players will be available for autographs between 3 and 3:45.
Click here for details
.
Washington State

Where
: Joe Albi Stadium, Spokane, Wash.
Kickoff
: 1 p.m. PT
TV
: Pac-12 Network (Replays throughout the week)
What to watch
: This is the fourth year the Cougars will be holding their spring game in Spokane. All reports are that quarterback
Connor Halliday
has shown a strong command of the offense and wide receiver
Vince Mayle
has been outstanding
. However, the big question mark still lies in the secondary, where definitely three -- maybe four -- positions are still up for grabs. The spring depth chart has
Charleston White
and
Daquawn Brown
at the corner spots and
Isaac Dotson
and
Taylor Taliulu
as the safeties. But those won't be set in stone for a while. There are other position groups of interest, naturally. But defensive coordinator Mike Breske
told the Pac-12 blog
, while he likes his front seven, the back end of the defense, without question, has been the biggest point of emphasis this spring.
April, 22, 2014
Apr 22
5:30
PM PT
Welcome to the mailbag, where no question is dumb. Except for the dumb ones.
Jaime in Los Angeles writes
:
Your poll was interesting
about anointing a quarterback. Where do you come down?

Kevin Gemmell
: If you can, you should, without question. Coaches, however, don't always have that luxury.
This is an interesting season for Pac-12 quarterbacks because there are potentially 10 starters returning. That's pretty rare for a conference. But it's also a relief to 10 coaches who don't have to deal with Ted texting them at 2 a.m. inquiring who their starting quarterback is going to be. (Now he just texts me).
To have a starting quarterback in place post-spring --
if
it's the
right
quarterback -- can be a blessing. He'll lead the way in the weight room. He'll call his receivers up to go throw for no other reason than he wants to throw. He'll bond with his guys and they'll start to respect him off the field.
Now for the two schools that don't have a starter coming back -- Arizona and Washington -- there is no reason to rush things. During this time, Chris Petersen and Rich Rodriguez will be getting feedback from their strength coaches about how the quarterbacks interact with the other players. Who is stepping up and being a leader? Who do the guys respect? Who do they respond to? It's not just about the Xs and Os.
So while I wholeheartedly endorse the idea of anointing a quarterback, I also know that if you don't have one in place you shouldn't force the issue.
---
Tim in Salt Lake City writes
: Kevin, Which Pac-12 programs do you expect to benefit the most from new rules allowing coaches to work with players over the summer?
Kevin Gemmell:
I could give you the "duh" answer, and that's all of them. Because obviously it's going to benefit every team. But if you're looking for the impact on just this upcoming season, I think it's a huge asset to every team with a young or new quarterback. An Arizona, California, Colorado, Washington, etc.

The rule offers an additional eight hours per week (assuming student-athletes hit certain academic benchmarks) and up to two of those hours can be spent in the film room. That means extra time studying formations, cutups, etc. It gives a
Sefo Liufau
and
Jared Goff
extra time to review what they did right and wrong in 2013. And it allows one of Arizona's 17 quarterbacks to gain that little extra knowledge that might make the difference. It could either be catch-up for
Cyler Miles
or the difference between starting or sitting on the bench for
Jeff Lindquist
or
Troy Williams
.
The physical aspect of it is important, also. It's a way to make sure guys are sticking with their regimen. And for a team like, say, Colorado, which has dramatically needed to improve its physical strength (and made strides in 2013), it's another few hours of supervised work.

Since you're writing from SLC, this will be especially helpful as the Utes adjust to their third offensive coordinator in three years. Even for
Travis Wilson
(assuming he's the guy), it's a similar system in terms of concepts, but with probably just enough tweaks from the previous one that a little extra film time would be beneficial.
There isn't a coach out there who thinks more time during the summer is a bad thing. If for no other reason than just to remind them to do the right thing when they go out at night. I remember a conversation I had once with Mike Leach about players getting into to trouble in the offseason, but because of limited contact, coaches can't always babysit. Will this new rule stop players from getting into trouble? No. But maybe it stops one from having one too many pops and creating a ruckus.
This is a good thing developmentally for all parties involved on and off the field.
---

Ryan in NYC writes
: Kevin, saw your
interview of the UCLA DC
. You looked pretty sharp in that coat and tie. But seriously, aren't you guys getting a little tired of the relentless "happy, happy and more happy" spin coming from the UCLA camp? I mean, isn't it pretty clear that they've assumed this position that they won't say anything negative or even something not deemed positive about their program? I mean come on man. I can understand their energy and focus. They have a chance at a really good year. But everybody has concerns and questions, let's be fair. Finally, I think the way they ended recruiting is a reason why they need to be careful. They did a poor job of managing expectations and fell on their faces. Yes, college football fans are passionate, but we're not stupid. Be frank and candid. We know they have a shot at something special, but nothing is perfect, right? Just an observation, not a question. Peace out.
Kevin Gemmell
: I found it interesting, Ryan, that you opted to chime in this week regarding the UCLA coverage. Because since I visited both LA schools last week, there was an equal amount of USC stuff -- yet you're choosing to focus on UCLA. Fascinating.
First, thanks for the kudos. But as someone kindly mentioned in the comments section, I could stand to drop a couple of pounds. So that was appreciated.
As for the message, I got a lot of the same positive thinking at USC as I did at UCLA. Heck, Steve Sarkisian essentially said
USC is historically due for a big run
. That seemed pretty positive.
Except for maybe the Week 1 news conferences, you won't find a time when players and coaches are as optimistic about their programs as they are now. Same goes for fans, who are scanning the schedules right now and checking off perceived wins. This is, of course, a dangerous exercise (see Utah-Stanford/Oregon-Arizona etc.). But it's fun to do.
Yes, I happen to think UCLA is going to be pretty darn good in 2014. And though we haven't filled out our preseason ballots yet, I'm strongly considering the Bruins as the No. 1 team in the South.
But you're right. Every team has questions and concerns. The Bruins still need to figure out what's going to happen at right tackle. They need to find a way to replace
Anthony Barr
's production. They need to settle on the running back situation and see just how much the secondary has grown up from last season.
I have no problem with players and coaches putting a positive spin on their team in April. But if a team is 0-5 in October, then the happy-go-lucky chatter gets a little old.
---

Cougar Brian in Stumptown writes:
Hey Kevin, any word on the status of
Gabe Marks
and
DaQuawn Brown
in Pullman? Mum seems to be the word, and both are touching the three pillars of Coach Leach's no-nos. Hope all is well, friend!
Kevin Gemmell:
As of right now, both guys are practicing with the team. Leach hasn't addressed it much, other than when he was asked about Brown during his pre-spring news conference and he offered up this:
We're going to have to wait and see how everything unfolds. I mean, right now it's appearing most of what's come out and been spewed around has been greatly embellished so we'll just have to see how all that comes out.
Marks was limited for the first couple of practices, but has been full go the rest of the way. Though he didn't participate in the scrimmage on Saturday. I talked to someone in the know Monday and they said they didn't think that was because of disciplinary reasons.
My guess is that when the legal side of everything gets worked out in the coming weeks, we'll have a clearer picture of what punishments await. And don't forget that Leach has already booted a few guys from the team in his two-and-a-half-year tenure.
Worth noting that, from the folks up there I've talked to,
Connor Halliday
is having a great spring, along with receivers
Vince Mayle
and
Dominique Williams
. Mayle has leaned up and is "running around and through people," according to one person I talked to. So if Marks isn't able to go, the corps is looking pretty good. And so is the quarterback.
2014 TEAM LEADERS
| TEAM | RUSH | PASS | TOTAL |
| --- | --- | --- | --- |
| Offense | 159 | 288 | 447 |
| TEAM | PF | PA | MARGIN |
| Scoring | 30 | 24 | 6 |