August, 16, 2012
8/16/12
12:22
AM PT
SAN BERNARDINO, Calif. -- Mere hours after making his team start practice over, UCLA coach
Jim Mora
threw in the towel early.
The second session of a double day came to an abrupt end when an irate Mora sent the entire team back to the locker rooms at Cal State San Bernardino. He did not allow players to stay after for additional work or meet with their position coaches. No players spoke with reporters.
Afterward, Mora would not address specifics of what made him so upset, but acknowledged some of the general things that make him upset as a coach.
"Lack of effort, lack of focus, lack of discipline," Mora said.
The morning session got off to a rocky start when the Bruins showed a lack of focus during a walkthrough. Mora
restarted practice
, making the players re-do warm-ups and stretching. He then went back to the walkthrough.
"The start of practice we had to kick it in a little bit," Mora said Wednesday morning. "These are young men and they are still developing, still learning and still maturing. Sometimes they just need a little push to get going."
He pushed the team right off the field as the evening session was winding down. The practice had become physical with several shoving matches and lots of trash talking. The coaches tried to control it; they even sent one player off the field after a skirmish.
But the lack of discipline continued and Mora launched into a explicative-filled tirade and halted practice in the middle of the 11th period. The team normally goes 12. Mora huddled the team together for more scolding before sending the players to the showers.
It was the penultimate practice at Cal State San Bernardino for the Bruins, who have been in the Inland Empire for 12 days and were at the end of their 15th practice. It's been unusually hot, with temperatures routinely reaching 105 or higher, so the players may be starting to wear down. Wednesday, however, was the first day in the last 10 when temperatures did not hit triple digits.
"It's been great to be out here, but I think it's time to get back to Westwood," Mora said. "The players are excited to get home, sleep in their own bed, get in familiar surroundings. It's been a great two weeks out here, but I think it's time to go back. We're two weeks away from Rice and it's time to go home."
Other practice notes:
August, 15, 2012
8/15/12
2:14
PM PT
SAN BERNARDINO--Jim Mora employed the old if-at-first-you-don't-succeed method when UCLA's practice didn't get off to a particularly sharp start Wednesday morning at Cal State San Bernardino.

About 20 minutes in to the session, Mora pushed control-alt-delete and had the players start over from the pre-practice warm up. He said it was a bit of a fun hangover after a team bowling trip the night before and implored the team to learn how to re-focus after a fun experience.

"Sometimes they just need a little push to get going," Mora said. "What I think they are starting to understand is that every time you step on the field, regardless of the circumstances, you have to focus in. I thought they responded well."

Safety Dalton Hilliard also noticed a lack of focus during the early portion of practice with some guys standing on the sideline holding various conversations and not paying attention to what was going on in practice. He fully supported Mora's decision to restart.

"We needed it," Hilliard said. "Whenever we have success and come off of a big win or having fun, we have to be able to flip the switch and put work in."

Hilliard, a senior, said he later regretted not taking action himself and had a meeting with some other seniors about making sure they take the initiative in those situations.

"That's not something [Mora] should have to do," Hilliard said. As seniors, we have to take it upon ourselves to be like 'hey guys, let's focus up.' As seniors we have to take that a little more seriously especially these next two days with guys focusing on getting back to Westwood. We can't have our guys lose focus and we have to really make sure the guys finish strong."

O-Line adjusting: The offensive line, down more than a handful of players because of injuries and heat-realted issues, is starting to get some players trickling back into action.

Alexandru Cheachir returned Wednesday morning after sitting out several days with heat issues while Simon Goines, Michael Padovese and Will Oliver were all in attendance. They did not dress, but getting outside is a strong indication that they are close to a return from their heat issues.

The falloff of lineman that ran rampant early in camp seems to have halted, thanks in large part to an adjustment of how they are practicing. Early on, the linemen spent the entire time in the sun, even doing conditioning drills in between periods.

Now, the linemen get frequent breaks in the shade and rest even while the skill players run pass patterns.

"When you're down numbers and you go at the tempo that we go at, you have to be careful with those guys, Mora said. "They're the biggest guys, it takes them the longest to cool off so we modified how we practice them strictly because of numbers."

Center Jake Brendel, one of the few linemen who has not had heat problems during camp, said the extra rest has made a big difference.

"It's really helped," Brendel said. "We're getting back to full rest, getting back to as rested as we can be to get to the next team period. Lowering the heart rate down and regrouping because this offense can be really intense."

Injury updates: Offensive lineman Torian White will have a procedure later this month to correct a heart rhythm problem. He is cleared to practice until then and is not expected to miss time after the minor procedure...Receiver Devin Lucien sat out of practice for the second consecutive day with a concussion. There is no timetable for his return...running back Damien Thigpen, who has a history of hamstring issues, did light work on the side after feeling tightness in his lower body, Mora said.


August, 9, 2012
8/09/12
9:05
PM PT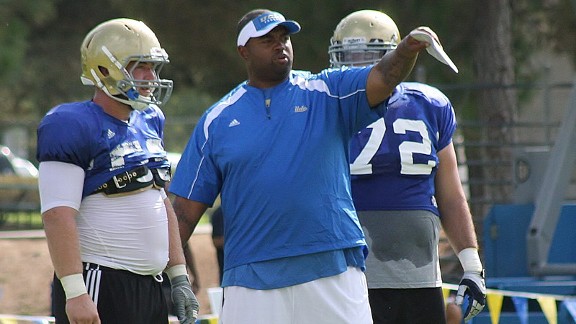 Peter Yoon/ESPNLosAngeles.comUCLA offensive line coach Adrian Klemm had to do some juggling Thursday when his unit had only eight players in practice. Carl Hulick (52) and Alberto Cid (72) are also pictured.
SAN BERNARDINO -- UCLA's offensive line situation went from bad to worse as the Bruins were down to eight active linemen Thursday during training camp at Cal State San Bernardino.
Heat-related illness, concussions and some nicks and dings have taken a toll with
Will Oliver
and Alexandru Cheachir the latest victims. Both became woozy during the break between practices on the first day of two-a-days, and did not come out for the afternoon session.
It made for some interesting rotations for offensive line coach
Adrian Klemm
as the line did not even have a two-deep for substitutions as every offensive player with a number in the 70s was sidelined.
"It's like a puzzle," coach
Jim Mora
said. "Coach Klemm is back there and he's moving guys in and out. Hopefully this is the last day we have to do it because it's not fun. It's tough on those guys and it's not an ideal situation. You kind if hope the worst of it is over. Hopefully we can get some of those guys back."
Greg Capella
, who sat out the latter part of practice Wednesday because of a calf injury, was back Thursday and Mora said some of the players out because of heat-related illness could return Saturday after UCLA takes a day off on Friday.
Brett Downey
did some light work Thursday morning but did not practice in the afternoon.
One player probably not coming back soon is
Jeff Baca
, the senior who is slated to start either at right guard or right tackle. What was at first thought to be heat illness is now being treated as a concussion and Baca will go back to UCLA on Friday for further tests.
Alberto Cid
will join Baca in Westwood for those tests. Cid, competing for a starting guard spot, suffered a head injury Wednesday and did not practice Thursday. Mora said the team is simply not taking any unnecessary risks with concussions or heat-related illness.
"The things that I don't think you should ever mess with at any level of football is head injuries and heat illness," Mora said. "Those things can be deadly and you just have to be really, really careful. If it's close, we're going to hold them out and get somebody else the work."
There are fewer and fewer guys available for that work, however.
Ben Wysocki
, among the linemen still standing at the end of Thursday's afternoon session, estimated that he was on the field for 90-100 reps. A redshirt freshman, Wysocki entered camp No. 2 on the depth chart at left guard, but has been the right tackle with the first team the last few days.
"I didn't imagine this at all," Wysocki said. "The door opened up and I took advantage of it."
August, 8, 2012
8/08/12
9:37
PM PT
SAN BERNARDIO -- The Bruins' offensive line had questions coming in to camp and Thursday the biggest question was: Where's the beef?

The Bruins were down to nine offensive linemen by the end of practice Thursday, when Alberto Cid left because of a head injury and Greg Capella tweaked his calf. They joined Jeff Baca (heat), Simon Goines (heat), Brett Downey (heat), Chris Ward (back) Tre Hale (heat), Colby Cyburt (back) and Torian White (chest pains) on the sideline, giving the Bruins as many injured linemen as healthy at the end of Wednesday's session.

The players out because of heat symptoms should return in the next day or two and so, too, should Cyburt, but this group still has to fill some holes before it starts making them.

Xavier Su'a-Filo is guaranteed to be starting at left tackle and Baca will be starting somewhere, but the other three slots are open. Jake Brendel seems to have taken a stronghold on the center spot and Capella is the early favorite for left guard, but the coaches are still searching high and low for a right tackle.

"It's wide open," offensive line coach Adrian Klemm said. "You can come right in off the street right now and start at right tackle."

White, Goines and Downey were getting the right tackle reps before they were injured and Ben Wysocki is there now with Will Oliver backing him up. If none of them can win the job, Baca will likely move from right guard to right tackle, where he played last season.

Klemm says he prefers to have Baca at guard because that's where Baca will play should he get drafted by an NFL team, but Baca is open to playing tackle if another player is better suited for right guard.

"I don't have a preference," Baca said. "I just like being out there and I'll play any position. I just like to have some time to practice that position."


July, 27, 2012
7/27/12
11:34
AM PT
With UCLA training camp set to begin Aug. 4 at Cal State San Bernardino, we're taking a preseason look at the roster and breaking down the Bruins, position-by-position.
We started with
quarterbacks
and now move to the guys expected to protect the quarterback: The offensive line.
DEPTH CHART AT THE END OF SPRING PRACTICE:
Left Tackle
Xavier Su'a-Filo (6-4, 295, So.)
Michael Padovese (6-5, 310, Fr.)
Left Guard
Wade Yandall (6-4, 315, So.)
Alexandru Ceachir (6-5, 305, So.)
Ben Wysocki (6-4, 295, Fr.)
Center
Greg Capella (6-4, 292, Jr.) OR
Jake Brendel (6-4, 295, Fr.)
Tre Hale (6-1, 308, So.)
Kody Innes (6-3, 291, So.)
Right Guard
Jeff Baca (6-3, 290, Sr.)
Alberto Cid (6-3, 310, Jr.)
Chris Ward (6-4, 305, Jr.)
Right Tackle
Torian White (6-5, 285, Fr.)
Will Oliver (6-7, 290, Fr.)
Brett Downey (6-6, 305, Sr.)
PROJECTED OPENING DAY DEPTH CHART:
Left Tackle
Xavier Su'a-Filo (6-4, 295, So.)
Simon Goines (6-7, 324, Fr.)
Michael Padovese (6-5, 310, Fr.)
Conor McDermott (6-8, 247, Fr.)
Left Guard
Alberto Cid (6-3, 310, Jr.)
Alexandru Ceachir (6-5, 305, So.)
Ben Wysocki (6-4, 295, Fr.)
Center
Jake Brendel (6-4, 295, Fr.)
Carl Hulick (6-2, 300, Fr.)
Tre Hale (6-1, 308, So.)
Kody Innes (6-3, 291, So.)
Right Guard
Greg Capella (6-4, 292, Jr.)
Chris Ward (6-4, 305, Jr.)
Colby Cyburt (6-4, 265, Fr.)
Right Tackle
Jeff Baca (6-3, 290, Sr.)
Torian White (6-5, 285, Fr.)
Brett Downey (6-6, 305, Sr.)
Will Oliver (6-7, 290, Fr.)
KEY LOSSES
Mike Harris, 14-game starter at tackle. Graduated
Kai Maiava, 13-game starter at center. Graduated
Sean Sheller, Started 13 games the last two years. Graduated
Wade Yandall, Projected starter at guard took a medical retirement (concussion).
August, 5, 2011
8/05/11
4:17
PM PT
With UCLA preparing to open fall camp on August 8, we will break down the depth charts at each position in order to look at how the Bruins stack up heading into this season. We've previously looked at
quarterbacks
and
defensive line
. Now we move to the offensive line.
Current depth chart:
TACKLE
Sean Sheller (Sr., 6-5, 304)
Connor Bradford (Jr., 6-6, 275)
GUARD
Jeff Baca (Jr., 6-4, 305)
Casey Griffiths (So., 6-4, 284)
CENTER
Kai Maiava (Sr., 6-1, 318)
Greg Capella (So., 6-3, 292)
Kody Innes (Fr., 6-4, 291)
GUARD
Chris Ward (So., 6-4, 330)
Wade Yandall (Fr., 6-4, 328)
TACKLE
Mike Harris (Sr., 6-5, 326)
Brett Downey (Jr., 6-7, 290)
2013 TEAM LEADERS
| TEAM | RUSH | PASS | TOTAL |
| --- | --- | --- | --- |
| Offense | 196.6 | 251.6 | 448.2 |
| TEAM | PF | PA | MARGIN |
| Scoring | 36.5 | 24.1 | 12.4 |