April, 18, 2014
Apr 18
9:00
AM PT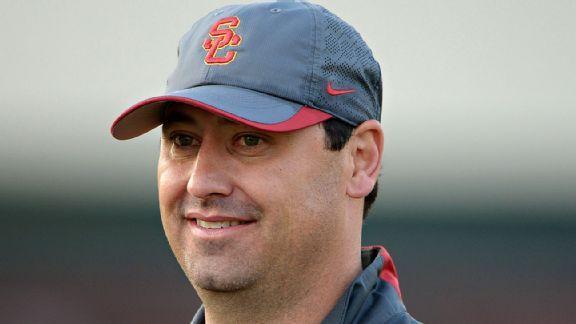 LOS ANGELES -- When the day comes that
USC
football needs a culture change, touchdowns will be worth 10 points, swine will take to flight and I'll win a Brad Pitt look-alike contest.
USC football is a culture unto itself. It knows what it is with its 11 national championships, 32 bowl wins and six Heisman Trophy winners. Changing coaches doesn't have to be synonymous with changing culture, especially after you won 10 games the previous season.
[+] Enlarge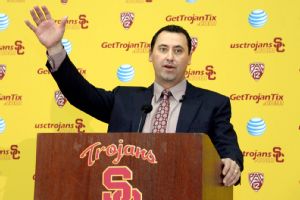 Kirby Lee/USA TODAY SportsNew USC coach Steve Sarkisian is embracing the school's standard for winning.
Perhaps a culture restoration might be in order, however, following a tumultuous 2013 that fractured the fan base and divided the devout.
Enter Steve Sarkisian, a top lieutenant of the Pete Carroll era who left to make his mark in the Pacific Northwest and returns to Troy unfazed by the championship-or-bust mentality.
"All of these guys come here to be the best, and that reminded me why I came back here. I want to be the best," Sarkisian said. "This place breeds that environment, that culture. That jumps out at you the moment you are on campus.
"You can go back 50 years of USC football. Every decade they have gone on a run: The 2000s and the run that Pete [Carroll] had; the 90s and what Coach [John] Robinson was able to do; The 80s, the era there with Rodney Peete and everything, and the early 80s what they were doing into the 70s with Coach [John] McKay and the run that he had and into the 60s, and it goes on. I just feel like now is our time. We're about due for another run. Here we go, and we've got half the decade left to do it. I have a firm belief that we can because history tells us that we should."
Of course, that run can't start until the Trojans officially kick off the 2014 season on Aug. 30 against
Fresno State
. In the meantime, there is only so much the new coaching staff can do to win back the hearts and minds of skeptics still smarting the final mediocre months of the Lane Kiffin era.
Public opinion was already down following a massively disappointing 7-6 season in 2012. It crested when Kiffin was fired following a blowout loss to
Arizona State
in the fifth game of last season. That begat the brief Ed Orgeron era, which included a 6-2 record -- though losses to rivals
Notre Dame
and
UCLA
were contributing factors to Orgeron not getting the job. After Sarkisian was announced as coach, Orgeron stepped down and Clay Helton led the Trojans to a
45-20 win
over Fresno State in the Royal Purple Las Vegas Bowl. Helton was retained as offensive coordinator, and, at least for now, there is stability in the football office.
With crippling sanctions in the past, Sarkisian & Co. made a huge national statement by landing the
league's top-ranked recruiting class
, which included lauded prospects
Adoree' Jackson
,
Juju Smith
and
Damien Mama
. Sarkisian has opened up spring ball to the public and done everything possible to reunite the fan base.
"Ultimately, it's going on the field and performing and doing what we're here to do and that's win football games," Sarkisian said. "Are we going to try to win them all? There's no doubt we are. Are we going to win them all? I don't know. I don't know. The football is shaped a funny way for that very reason. It bounces in funny directions sometimes. But you have to put yourself in position to be successful, and I think we're doing that."
Helton, one of just two holdovers from the Kiffin era (along with receivers coach Tee Martin), understands the expectations from his time on campus. Even defensive coordinator Justin Wilcox, who was Sarkisian's defensive coordinator at
Washington
, is prepared for the fact that a 10-win season might not be good enough for USC's standards. In his mind, those expectations shouldn't be daunting. They should be embraced.
"If that's what you're worried about, then you don't come here," Wilcox said. "That's what you sign up for. We expect to win. We should be good. We should win championships. I don't think about like that [as daunting]. If I did, or if any of us did, we shouldn't come here. But every one of us jumped at the opportunity to come here. The expectations are extremely high, but that doesn't change how we operate. That wouldn't say much about you as a coach: 'Now you're really going to work hard because you're at USC.' It shouldn't matter if it's Division III or high school or USC. You coach to be the best you can be."
April, 17, 2014
Apr 17
2:30
PM PT
Love is a burning thing, and it makes a fiery ring;
Bound by wild desire, I fell into a ring of fire.
April, 17, 2014
Apr 17
10:00
AM PT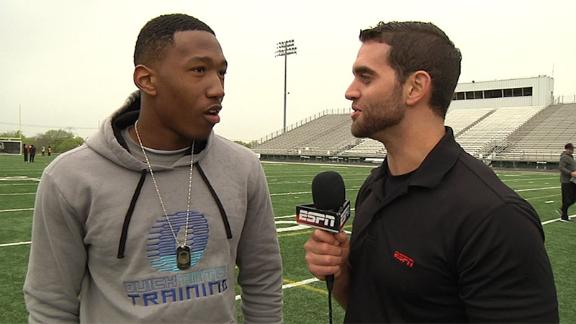 Throughout this recruiting cycle, RecruitingNation will profile a number of ESPN 300 prospects in the 2015 class, including an inside look at the prospect, his recruitment, a scouting report and what college program could benefit when he ultimately makes his decision
.
DESOTO, Texas -- With all the multiple camps, combines and special events happening each spring,
DaMarkus Lodge
chooses not to be a regular on the circuit.
It's not that Lodge is against them, or that he thinks he's above them. The ESPN 300 receiver has simply prioritized his life as a student-athlete. The camp circuit happens to be a middle-of-the-pack priority.
To continue reading this article you must be an Insider
April, 16, 2014
Apr 16
7:00
PM PT
What is your team's best quarter? Worst? And what does it mean?
While it's probably a mistake to read too much into how a team does quarter by quarter -- the final score is what counts -- it might provide some tidbits of insight.
The baseline, of course, is this: Good teams are going to win most every quarter and bad teams will lose most every quarter. But what does it mean if your team starts fast or slowly? Or owns the third quarter? Or sputters in the second?
The conventional wisdom is teams that do well in the third are good at making halftime adjustments, but coaches often snort at such talk.
Former Arizona State coach Dirk Koetter once painstakingly walked reporters through the halftime process to help them understand the small window for making significant schematic changes. Former Oregon coach Chip Kelly was at his snarky best -- even as he was being flattered -- when asked about "halftime adjustments."
Kelly, however, would admit that the occasional slow start by his offense was due to a feeling out period, where he and his assistants were taking the measure of what a defense was trying to do. That's the nature of football -- punching and counterpunching, reading and reacting.
Still, you probably shouldn't read too much into these numbers. While it's interesting that UCLA and Washington were very good in the third quarter last year while Arizona State -- curiously -- was not, the salient fact is the Sun Devils beat both.
Arizona, Oregon, UCLA and Washington were the only Pac-12 teams to win every quarter.
California was the only Pac-12 team outscored in all four quarters. The Bears gave up 181 points in the first quarter, the worst defensive quarter in the conference.
The highest scoring quarter belonged to Arizona State, with 192 points in the second. Washington had 184 points in the third and Oregon 182 points in the first.
The best defensive quarter was USC in the first, holding foes to 37 points. Washington yielded 44 in the first and UCLA gave up 44 in the third.
Arizona State was dominant in every quarter, other than the third, when it was outscored 109-99.
Stanford was dominant in every quarter other than the fourth, which it lost 85-92, suggesting the Cardinal didn't fight for a large margin of victory.
Oregon was dominant in all four quarters and, despite that, posted the best fourth-quarter margin of 78 points (137-59), suggesting the Ducks enjoyed producing a large margin of victory.
Stanford yielded 60 or fewer points in each of the first three quarters. Oregon did so in the third and fourth (47 points and 59 points). Only three other teams produced even a single quarter with 60 or fewer points: UCLA in the third (44), USC in the first (37) and Washington in the first (44).
Colorado was outscored in the first three quarters but won the fourth decisively, 130-70. That suggests Mike McIntyre's team didn't quit.
USC won 10 games last year despite being outscored in both the third and fourth quarters. Only Cal and Washington State matched that dubious distinction.
Utah was outscored only in the fourth quarter. Oregon State was outscored only in the first.
Washington's 119-point margin (184-65) in the third was the largest for any quarter. Oregon's 109-point margin in the first quarter was second (182-73). Arizona State had the largest second-quarter margin at 77 points (192-115).
April, 16, 2014
Apr 16
2:30
PM PT
It is a truth universally acknowledged, that a single man in possession of a good fortune, must be in want of a wife.
April, 16, 2014
Apr 16
10:30
AM PT
The spring evaluation period kicked off Tuesday, and the
USC Trojans
didn't have to leave campus to recruit two of their top 2015 targets.
To continue reading this article you must be an Insider
April, 16, 2014
Apr 16
11:45
AM PT
This recruiting cycle represents a huge year for talent in California, which means the Pac-12 should be able to put together some very healthy recruiting classes. In looking at the top five targets for the conference in the
2015 ESPN 300
, it's no surprise that three come from Southern California. But if the Pac-12 wants to have a better overall finish in the recruiting rankings next year -- USC at No. 14 overall was the highest finish in 2014 -- the conference will need to reel in several out-of-area standouts, which is why the first two names on the list are here.
To continue reading this article you must be an Insider
April, 15, 2014
Apr 15
7:26
PM PT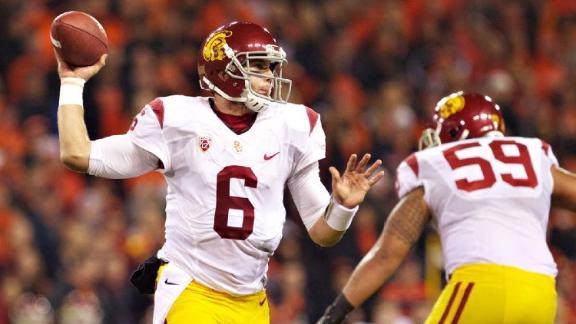 It wasn't a dramatic decision accompanied by great fanfare, but it was still notable that USC coach Steve Sarkisian named
Cody Kessler
the
Trojans' starting quarterback
after Tuesday's practice.
[+] Enlarge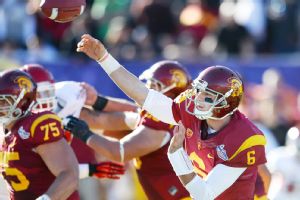 Ethan Miller/Getty ImagesCody Kessler, who threw for 2,968 yards and 20 TDs last season, will once again be running the USC offense after being named the starter on Tuesday.
Sarkisian had said last week that he was getting close to a decision and would likely make the announcement before the end of spring practice. There had been hints throughout the spring that Kessler would be keeping the job he held for the 2013 season, including when Sarkisian said that Kessler was improving at a faster pace than the top challenger, redshirt freshman
Max Browne
.
Considering that Kessler was the incumbent starter, if he was improving at a more rapid rate than Browne it was a fairly clear sign that Kessler was in the lead position to be named the starter. Still, until the actual word came down from Sarkisian there was always going to be a slight bit of uncertainty.
It wasn't a huge surprise that Sarkisian made the announcement at this time. Even though the Trojans coach was clear to say that the players will still compete throughout the summer and into fall camp, Sarkisian has long stated a preference to have his starting quarterback in place by the end of spring, in large part to help that player transition into the leadership role in summer workouts.
For Kessler, being named the starter now is a contrast to what happened last year when Lane Kiffin didn't name a starter until the third game of the season. Both Kessler and
Max Wittek
later admitted that was difficult for both quarterbacks.
One of the variables in the competition this spring was that the quarterbacks were learning a new up-tempo system that Sarkisian was installing, one that could run up to 120 plays each day in practice. Both players had worked out of the shotgun in similar systems in high school so there was some familiarity, but Sarkisian wanted to see them on the field with no preconceived expectations.
Kessler, who was told of the decision early Tuesday by offensive coordinator Clay Helton, went out and had one of his best practices of the spring later in the day. Sarkisian mentioned several reasons he chose Kessler, ranging from decision-making to his presence in the locker room to his strong arm.
It was the natural choice to make as Kessler is simply more advanced than Browne is at this point, although it's clear that Browne has a bright future. For now, though, Browne will have to continue to wait his turn as Kessler will hold on to his job as the starting quarterback of the Trojans.
April, 15, 2014
Apr 15
6:44
PM PT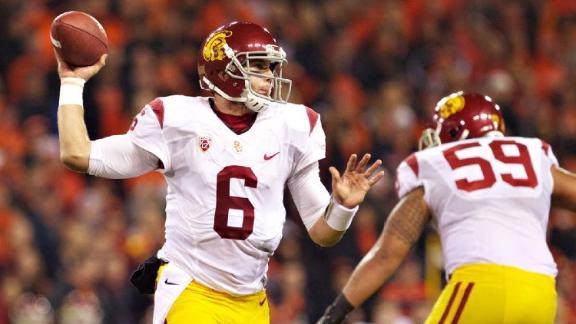 LOS ANGELES -- Cody Kessler, USC's incumbent starting quarterback, needed just 12 practices to convince new coach Steve Sarkisian that he should keep his job.
Prior to spring practice No. 13 on Tuesday, Sarkisian met with Kessler and backups Max Browne and Jalen Greene to inform them that Kessler would be the starter.
"I think he's extremely decisive from where he was in Week 1 in a new system to where he performed today," Sarkisian said. "He knows where he's going with the football. Are there some fundamentals and techniques we're going to continue to work on? Sure. But I think he's got a great deal of confidence. I love his leadership in the locker room with the players. He can throw the deep ball extremely well and he has enough athleticism to buy himself some time to create some plays down the field."
Kessler was locked in a quarterback competition in 2013 that spilled into the regular season before he finally claimed the job over Max Wittek. Kessler completed 236 of 361 passes for 2,968 yards with 20 touchdowns and seven interceptions. He posted a raw QBR of 59.7 with an adjusted QBR of 66.7 in guiding the Trojans to a 10-4 record and a victory in the Las Vegas Bowl, where he was named the game's MVP.
"I went in knowing that I have a year of experience and I know what it takes in big games to win and be successful," Kessler said. "I used that confidence and applied it to practice and treated every practice like a game."
April, 15, 2014
Apr 15
11:30
AM PT
2013 TEAM LEADERS
| TEAM | RUSH | PASS | TOTAL |
| --- | --- | --- | --- |
| Offense | 174.2 | 218.1 | 392.3 |
| TEAM | PF | PA | MARGIN |
| Scoring | 28.5 | 21.3 | 7.2 |