July, 22, 2014
Jul 22
3:15
PM PT
By
WeAreSC staff
| ESPNLosAngeles.com
With Pac-12 media day coming up on Wednesday the WeAreSC staffers give their preseason rankings for the conference along with title game participants and projected winner.

Garry Paskwietz

North
July, 22, 2014
Jul 22
2:30
PM PT
I'm never gonna look back, Whoa-Oh
Never gonna give it up, No-Oh
Just don't wake me now
(Ooh, Ooh-Ooh, Ooh)
This is gonna be the best day of my life.
July, 22, 2014
Jul 22
11:00
AM PT
By
WeAreSC staff
| ESPNLosAngeles.com
WeAreSC staffers look back on the USC summer workouts.
One player who stood out (offense/defense)
Garry Paskwietz:
Running back
Buck Allen
on offense. The first thing you notice about Allen is how much he has bulked up in the upper body over the offseason. Then you notice the leadership, the once quiet kid from Tallahassee has become a vocal team leader, and he has the kind of respect that comes when other players know you have a unique talent.
Leonard Williams
on defense. The All-American is at the peak of his game right now and the defense feeds off his energy, which always seems to be positive.
Johnny Curren:
On offense,
Nelson Agholor
picked right up where he left off after an outstanding spring and shined throughout the summer. Leading the wide receivers through their drills each day, he was remarkably consistent, and he certainly appears poised to take his place as the next great USC pass-catcher. On defense, Williams looks better than ever after post-season shoulder surgery. With incredible physical tools to go along with outstanding technique, he was flat-out dominant at times during the 11-on-11 periods.
[+] Enlarge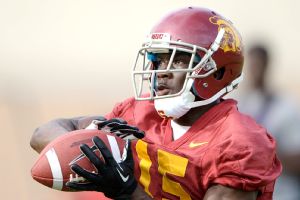 Kirby Lee/USA TODAY SportsReceiver Nelson Agholor picked up where he left off after an outstanding spring and put his leadership on display during summer workouts.
Greg Katz:
Since there is virtually no real skill position contact in the summer, I would say Agholor stood out for me on offense. Not only was he running the routes of an experienced player, he was consistent in catching the ball and very explosive once he caught it. Like one should be shocked or surprised, but with renewed confidence following successful shoulder surgery, it appears Williams looks even quicker and more intense. His spin and swim moves and explosion past determined offensive linemen was at times breathtaking.
Most Improved (offense/defense)
GP:
Max Browne
on offense. Don't get me wrong, this is still Cody Kessler's football team, but Browne continues to make the kind of progress that you want to see from a talented backup. There is a lot of talk about the possibility USC is looking at more of a dual-threat quarterback for the future, but at some point you still need to throw the ball and Browne does that extremely well. On defense, I'll go with
Leon McQuay
. There was plenty of focus on
Su'a Cravens
last season as a star freshman safety -- deservedly so -- and the Trojans could be looking at their next big-time pair of safeties with the way McQuay looked this summer. He is filling out on his long frame, yet he is so fluid with the way he moves, we really saw him emerge as a guy making plays on a lot of balls.
JC:
Building off an excellent spring,
Zach Banner
continued to develop throughout the summer and I'm impressed with where he is these days. He is more flexible and noticeably quicker out of his stance, and he also emerged as a real leader. Defensively, I thought
Claude Pelon
really showed he is ready to take on a big role in the fall.
GK:
Given his youth and inexperience, the offensive player that seemed to really make improvements was true freshman offensive tackle
Chris Brown
. Although he is young and inexperienced, he was very coachable and seemed to improve each time I saw him. The least heralded of the new offensive linemen, he really showed me something. It certainly wouldn't be considered an insult to an experienced player to be called most improved, but I liked what I saw from senior
J.R. Tavai
on defense. In voluntary workouts, he seemed to know exactly where he should be, did what he was supposed to do, and looked extremely quick and agile. I was impressed with his overall improvement.
Biggest surprise
GP:
How good
Adoree' Jackson
looked on offense. If you would have asked me a month ago, I would have said his main position would be in the cornerback rotation while getting spot duty on offense if possible. After seeing him in workouts, however, I think his role is going to be bigger on offense this season. The starting receivers will be Nelson Agholor and
Darreus Rogers
, but if you're judging by what we saw on the field this summer, I would put Adoree' next on the list of receiver options, because he is just so dynamic with the ball in his hands.
JC:
He wasn't one of the highly publicized prizes of the Trojans' most recent recruiting haul, but arguably no incoming freshman was more consistent throughout the summer than
Ajene Harris
. A high school quarterback and defensive back, he looked remarkably at home at wide receiver. Showcasing sure hands and a high level of athleticism, he provided reason to believe that he just might be able to earn some playing time right off the bat.
GK:
The player that was the biggest surprise to me was true freshman Ajene Harris. A former quarterback at L.A. Crenshaw, his transition to wide receiver caught my eye immediately. His potential is very intriguing, and it would appear he has a very bright future. He could be the most overlooked freshman of this incoming class.
Keep an eye on ...
GP:
The offensive guard spots. There was anticipation coming into the summer to gauge the health of
Aundrey Walker
(ankle) and
Jordan Simmons
(knee). Though both saw limited action in workouts, it wasn't enough to know for sure what their status is going to be for fall camp. The other options might be inexperienced, but there is talent to choose from with
Khaliel Rodgers
,
Toa Lobendahn
,
Viane Talamaivao
and
Damien Mama
. At some point, however, those 18 starts under Walker's belt would be welcome for a young line, particularly with an opponent like Stanford waiting in Week 2.
JC:
The USC tailback corps. With Allen,
Tre Madden
and
Justin Davis
all in the fold, the Trojans have a uniquely talented group. So long as they stay healthy, all three members have shown they are ready to put up some big numbers, especially with USC head coach Steve Sarkisian having expressed a desire to pound the ball. Allen, in particular, looks to be in phenomenal shape.
GK:
This question could be best answered by the offensive line, namely its young group of very talented true freshmen. In Lobendahn, Talamaivao, Brown, and Mama, it was surprising to see how well they were able to hold their own against an experienced group of returning defensive linemen. The freshmen offensive linemen might be inexperienced, but they didn't back down one bit to their older teammates.
July, 22, 2014
Jul 22
1:00
PM PT
Pac-12 media days start Wednesday at Paramount Studios in Hollywood, California, and your entire Pac-12 gang -- we're going by either #4pac or #pac4, we haven't decided yet -- will be there soaking in the evasive and cliched quotes while plumbing for revealing and interesting nuggets to share only with you.
There are plenty of topics to cover, from the perhaps unprecedented quality and experience at quarterback, to two new coaches who have familiar faces, to the new four-team College Football Playoff.
Arizona, California, USC, Oregon, Washington State and Utah will appear on Wednesday, while Arizona State, Oregon State, UCLA, Washington, Stanford and Colorado follow up on Thursday. You can see
the players on hand and the schedule here
. Yes, this is the first time the Pac-12 has spread out its preseason media event over two days.
The preseason media poll will be released Wednesday, and the Pac-12 blog is going out on no limb guaranteeing you that Oregon will be picked to win the North and UCLA will be picked to win the South.
As a public service, we've decided to provide you a cheat sheet so you can contemplate the world as a reporter might. Below, for each of the conference's 12 teams, are questions that are sure to be asked, less warm-and-fuzzy questions that should be asked and idle bits of whimsy that the Pac-12 blog wishes would be part of the proceedings.
(Unless otherwise noted, the questions are intended for the head coach).
Arizona Wildcats
What will be asked: Can you give us an idea of your pecking order at quarterback?
What should be asked: What did Wildcats fans say to you this summer about being 0-2 against Arizona State?
Whimsical interlude: If Todd Graham and Donald Sterling were being attacked by wolves, whom would you save?
Arizona State Sun Devils
What will be asked: Who will step up on your rebuilding defense?
What should be asked: You turn 50 in December: Do you expect to retire as the Sun Devils head coach?
Whimsical interlude: If Rich Rodriguez and Justin Bieber were being attacked by wolves, whom would you save?
California Golden Bears
What will be asked: What's your team's attitude after going 1-11 in your first season?
What should be asked: What are specific mistakes you made last year that contributed to your team's struggles?
Whimsical interlude: Compare and contrast your hometowns of Big Springs and Lubbock, Texas, to Berkeley.
Colorado Buffaloes
What will be asked: Is your team ready to take the next step in the Pac-12?
What should be asked: What is your program's chief deficiency and how are you addressing that in recruiting?
Whimsical interlude: Just thinking out loud here but, Ralphie, are you certain she has no remaining eligibility?
Oregon Ducks
What will be asked: How is quarterback
Marcus Mariota
going to be better this season compared to last?
What should be asked: What were some of the challenges and transitionary pains you've learned from after replacing a larger-than-life coach in Chip Kelly?
Whimsical interlude: Marcus, here are five loaves and two fishes. There are a lot of hungry reporters here. So, you know, do your thing.
Oregon State Beavers
What will be asked: How does the offense change without wide receiver Brandin Cooks?
What should be asked: Is it possible for the Beavers to catch up with Oregon without the kind of support the Ducks get from Nike founder Phil Knight?
Whimsical interlude:
Sean Mannion
, please recreate for us the worst temper-tantrum you've ever seen Coach Riley throw.
Stanford Cardinal
What will be asked: Who is going to step up to lead your rebuilding defense?
What should be asked: The media has again picked Oregon to eclipse you, the two-time defending Pac-12 North champions. Is that a slight to your program and if not how do you interpret it?
Whimsical interlude:
Jordan Richards
, you are a
public policy major
.
Please compare and contrast the deontological perspectives of Kant, Mill and Rawls.
UCLA Bruins
What will be asked: How do you manage all the hype and high expectations that surrounds your team and quarterback
Brett Hundley
?
What should be asked: What do you need from the UCLA administration to maintain and build on your present advantage in your rivalry with USC?
Whimsical interlude: Jim, what does your dad think of the new college football PLAYOFFS?
USC Trojans
What will be asked: How will your up-tempo offense work while you have depth issues due to scholarship limitations?
What should be asked: What mistakes did you make at Washington that you'll avoid at USC?
Whimsical interlude: Steve, what would be the most interesting revelation if you, Pete Carroll, Jim Mora and Lane Kiffin went out for drinks?
Utah Utes
What will be asked: Explain how your quarterback situation sets up with
Travis Wilson
and Kendal Thompson and how each fits in new coordinator Dave Christensen's offense?
What should be asked: Have Utah fans underestimated how difficult it would be to move up from the Mountain West to the Pac-12?
Whimsical interlude: You've had
six offensive coordinators in six years
. Please match each with one of Snow White's seven dwarfs, assuming that this stupid question automatically makes you Grumpy.
Washington Huskies
What will be asked: What was it about Washington that lured you away from Boise State?
What should be asked: What did quarterback
Cyler Miles
tell you about
his role in two separate fights
that occurred after the Super Bowl?
Whimsical interlude: OT
Ben Riva
: You are the only offensive lineman here. There are eight quarterbacks, three receivers and a bunch of defensive guys. First, what's the worst prima donna behavior you have witnessed? And, second, is this pretty much an offensive lineman's seventh level of hell?
Washington State Cougars
What will be asked: With a veteran quarterback and a deep corps of receivers, what's your expectations for your offense this fall?
What should be asked: Did your job get more difficult or easier with the hiring of Chris Petersen at Washington?
Whimsical interlude:
Connor Halliday
&
Darryl Monroe
: Here is a 10 question quiz on
your coach's book about Geronimo
, which I'm sure you've read. You have two minutes. Go!
July, 21, 2014
Jul 21
6:17
PM PT
The USC Trojans are currently sitting in the No. 17 spot in the ESPN Class of 2015 rankings with 12 verbal commits, including six members of the ESPN 300. With this being the first full signing class of the post-sanction era for the Trojans, Steve Sarkisian and his staff are not even halfway to the 25-man limit they can sign.
Here is a position-by-position look at who has given a verbal commit, how many scholarships the Trojans may use for each position, and what the outlook is for each spot.
To continue reading this article you must be an Insider
July, 21, 2014
Jul 21
2:30
PM PT
Eventually, all things merge into one, and a river runs through it. The river was cut by the world's great flood and runs over rocks from the basement of time. On some of the rocks are timeless raindrops. Under the rocks are the words, and some of the words are theirs.
July, 21, 2014
Jul 21
10:00
AM PT
The running back position for the Trojans this year would appear to be one of the strengths of the team. Not only is there a trio of proven backs available in
Buck Allen
,
Tre Madden
and
Justin Davis
, but there are also a pair of big fullbacks capable of carrying the ball in
Soma Vainuku
and
Jahleel Pinner
.
As fall camp approaches, however, there will be a couple additions to the group that bring the unique element of speed.
D.J. Morgan
is returning from a knee injury that has limited his on-field work over the summer, while
Anthony Brown
is transferring over from the cornerback position for his final year of eligibility. There's a deep logjam ahead of them on the depth chart but the fact that they bring speed to the table could be a big factor in their favor.
It's well known that Steve Sarkisian will be bringing the up-tempo style to the USC offense this year and he is promising a run-first attack, one that will rely heavily on the explosive abilities of his skill players. At the very least, there could be a role for Morgan or Brown as change-of-pace backs late in the game, to provide that spark of fresh legs when the defense is tiring. Or there is always a chance they earn bigger roles or contribute on special teams. Regardless, the situation gives Sarkisian even more options with which to design his game plan to take advantage of their speed.
Morgan was a youth group world champion in the hurdles during high school and, after redshirting due to a knee injury suffered during the playoffs of his senior year, showed enough promise early in his USC career to start the first two games of his redshirt freshman year. Fumbling issues eventually landed him in Lane Kiffin's doghouse, and another knee injury in fall camp last year cost him the 2013 season. Morgan has 83 carries for 364 yards and a touchdown in his Trojan career.
Brown ran for 1,681 yards as a senior in high school (8.5 average per carry) so he has shown ability with the ball in his hands. He came to USC as a corner and had six career starts, including a promising stint as a redshirt freshman when he was inserted into the lineup due to an injury to Torin Harris, but a broken ankle against Cal kept him out the remainder of the season and he never really got back in the groove of the corner rotation.
This isn't the first time Brown has brought up the issue of moving to running back, it's something that was discussed after the 2012 season as well. With a deep group of young talent at corner for the Trojans, Brown decided it was worth another shot and this time the move will be made.
July, 21, 2014
Jul 21
1:00
PM PT
Every year, the Pac-12 polls media members on how they predict the season will turn out. Sometimes there is a pretty strong consensus. Sometimes there is not. The Pac-12 blog expects there to be strong unanimity this go-around, as our four ballots suggest.
All four of us picked Oregon and UCLA to win their respective divisions. All of us picked Oregon as the Pac-12 champion. Kevin's and Ted's ballots are exactly the same, which might be a good thing for Ted, considering that
Kevin's 2013 ballot correctly predicted the finish of all 12 teams
.
By the way, Kevin has never, ever, ever brought that up since the end of the 2013 season, notwithstanding his voicemail celebrating that fact, his copywriting "Mr. Pac-12 Perfect Predictor" and the giant billboards he erected in all Pac-12 towns and cities.
To quote Uriah Heep
, Kevin remains "the 'umblest person going."
For those believing the Pac-12 blog merely goes with the flow, recall that the 2013 Pac-12 media poll picked Oregon and UCLA as the division winners, while Kevin and Ted went with Stanford and Arizona State.
(
Insert smug look
).
There are some differences here between your Old Men and the New Blood, most notably the bottom two finishers in the South. There also are some differences in the placement of Oregon State, Washington and Washington State in the North, and USC and Arizona State in the South.
Here's Ted Miller's (
You can follow him on Twitter here
).
North Division
1. Oregon
2. Stanford
3. Washington
4. Oregon State
5. Washington State
6. California
South Division
1. UCLA
2. USC
3. Arizona State
4. Arizona
5. Utah
6. Colorado
Champion:
Oregon
Here's Kevin Gemmell's (
You can follow him on Twitter here
).
North Division
1. Oregon
2. Stanford
3. Washington
4. Oregon State
5. Washington State
6. California
South Division
1. UCLA
2. USC
3. Arizona State
4. Arizona
5. Utah
6. Colorado
Champion
: Oregon
Here's Chantel Jenning's (
You can follow her on Twitter here
).
North Division
1. Oregon
2. Stanford
3. Oregon State
4. Washington
5. Washington State
6. Cal
South Division
1. UCLA
2. ASU
3. USC
4. Arizona
5. Colorado
6. Utah
Champion
: Oregon
And here's Kyle Bonagura (
You can follow him on Twitter here
).
North Division
1. Oregon
2. Stanford
3. Washington
4. Washington State
5. Oregon State
6. Cal
South Division
1. UCLA
2. USC
3. Arizona State
4. Arizona
5. Colorado
6. Utah
Champion
: Oregon
July, 19, 2014
Jul 19
11:04
AM PT
USC now holds commitments from a pair of ESPN 300 quarterbacks following
Sam Darnold
's decision. Read on to see what traits Darnold brings to the Trojans' future positional battle under center:
To continue reading this article you must be an Insider
July, 18, 2014
Jul 18
6:00
PM PT
Happy Friday. Welcome to the mailbag.
You can follow me on Twitter here
.
To the notes.
Michael from Anniston, Alabama, writes:
You credit the CF playoff for the Bama-USC match-up? Hogwash. Bama has been scheduling such opening games ever since Nick Saban became head coach.
Ted Miller
: You make a fair point. Unlike a lot of SEC teams, Alabama (and LSU) have not been cowards with their nonconference scheduling.
While the
Alabama Crimson Tide
's matchup with West Virginia to open the 2014 season hardly scintillates, the Mountaineers are a "name" opponent. And the Tide's list of nonconference foes since Saban took over is impressive: Virginia Tech (2013 and 2009), Michigan (2012), Penn State (2010-11), Clemson (2008) and Florida State (2007).
That's a strong list, no doubt. But USC is different. Trust me.
Of that group, only one team finished with fewer than four defeats -- 10-3 Virginia Tech in 2009, which finished ranked 10th. Despite five defeats, Michigan finished ranked 24th in 2012, and the Wolverines are the only other team on that list that finished the season ranked. Three of those seven teams finished with six losses.
You need to know that, just as in everything else in big-time FBS football, there's strategy involved in scheduling, and that includes nonconference games. There's scouting. There's projecting forward. There's seeking out a "name" foe that seems manageable.
What do I mean? Well, remember in Rocky III when Rocky gets worked up over Clubber Lang ruining the ceremony dedicating a statue of himself in front of the Philadelphia Museum of Art. But of course you do. Afterwards, Mickey tries to explain to Rocky that he shouldn't schedule USC/Clubber Lang. He should continue to schedule Virginia Tech. Rocky really wants to fight USC/Clubber Lang, though.
Mickey: No, he ain't just another fighter! This guy is a wrecking machine! And he's hungry! Hell, you ain't been hungry since you won that belt.

Rocky Balboa: What are you talkin' about? I had ten title defenses.

Mickey: That was easy.

Rocky Balboa: What you mean, "easy"?

Mickey: They was hand-picked!

Rocky Balboa: Setups?

Mickey: Nah, they wasn't setups. They was good fighters, but they wasn't killers like this guy. He'll knock you to tomorrow, Rock!
Now, we're not saying the
USC Trojans
are going to knock Alabama into tomorrow in 2016. In fact, I'd guess the Trojans are likely to be underdogs on a neutral field. But I'd also project that the Trojans will start and finish the 2016 season with a national ranking closer to No. 10 than No. 25. This is not a hand-picked game for the Crimson Tide. Or for USC, for that matter.
My prediction for the game? Pain.
---
Michael from Moscow writes:
Dear Ted, on behalf of the American expat community in Moscow i wanted to thank you for the terrific insight into a game we left behind when we moved to the ice fields of Russia. With the exception of a few games (kick-off often at 4am local time here), we rely on the internet for information about CF. Finally, my observation and question: it seems that every day i check ESPN another player is: 1) transferring to another school; 2) has been dismissed for a crime or disciplinary infraction or 3) has been declared academically ineligible. Is it me, or is this an evolving epidemic?
Ted Miller
: You are addressing two different issues.
First, discipline and academic problems. As for news stories about that, I hear you. It does seem like almost a daily issue somewhere, but I don't think it's an epidemic. My feeling is the number of these sorts of incidents and problems has been pretty consistent over the 17 or so years I've covered college football.
You have 5,440 scholarship football players, plus or minus, on Big Five conference teams. With that many male 18-to-23-year-olds, you're going to have guys getting into trouble. I'd bet the "trouble" rate for football players isn't much higher than the trouble rate for the average 18-to-23-year-old males nationwide, whether that's about discipline or poor academics.
Should we be outraged by bad behavior, particularly violence? Absolutely. But my perception of college football players is more positive than negative. For every Dorial Green-Beckham, you have a handful of Marcus Mariotas or an Obum Gwachams --
see here on the latter
.
As for transfers, I support that: If a guy wants to leave, he should be able to. While you could score a valid point about finishing what you started and redoubling the competitive effort, such talk often sounds better as a coaching cliche than as practical advice for a young man with dreams of playing time and, perhaps, a shot at the NFL.
There are plenty of stories about transfers making good. And there are plenty of stories about guys sticking around -- like Arizona State quarterback Mike Bercovici. I don't think there is anything wrong with transferring. When Alabama opens against West Virginia, both starting quarterbacks will be Florida State transfers who didn't want to sit behind
Jameis Winston
. That seems like a perfectly reasonable decision to me, one that is obviously paying off.
---
Bill from Denver writes:
Ted... which PAC-12 power is most susceptible to a CU upset? (It's going to happen this year!)
Ted Miller
: If I were to guess two Pac-12 games when the
Colorado Buffaloes
could pull a surprising upset, I'd go with a pair of home dates in the first half of the season: Sept. 13 versus the
Arizona State Sun Devils
and Oct. 4 versus the
Oregon State Beavers
.
The Sun Devils are going to be tough to stop on offense, but their defense might still be finding its footing in Week 3. As for the Beavers visit, you start with the not unreasonable projection that the Buffs could be 4-1 at that point and feeling pretty confident. Further, Oregon State will be coming off what is sure to be a challenging road date at USC. This game has the classic "overlook" feel to it.
Am I picking Colorado to beat either team? Not at this point. But I wouldn't be shocked if they got an upset in one or the other.
---
Asa from Eugene writes:
Ted, I need a good read. You have great taste in books, so what am I reading next?
Ted Miller
: I just finished "Fourth of July Creek" from Smith Henderson. It's not particularly uplifting, but the writing is consistently engaging. Henderson is a major young talent.
And he's a Portland guy
. I might stalk him when I'm next up there.
If you like BIG BOOKS! I'd recommend Donna Tartt's "The Goldfinch." Not exactly an obscure novel, seeing it won the Pulizter, but it's emersion fiction in a Dickens vein from one of our finest writers.
Both are dark, but both also allow readers to distill a message on why we, despite everything, choose to endure, which I appreciated.
And, as always, I recommend that everyone read everything from Daniel Woodrell. He's just so... good.
---
Blake from Phoenix writes:
As I was stopped at a red light on my way to work this morning, I looked at the car next to me and I could have sworn that it was non other that Pac-12 blogger Ted Miller. While being next to Mr. Miller would seem exiting enough, what put it over the top was seeing that he was driving a little red convertible, likely from the late 90s. Alas as I stared more at the man driving I realized that it wasn't Mr. Miller. However, I was left pondering for the rest of my drive to work, what type of car would the Pac-12 Blogger drive? Whatever it is, I hope it's as good as a little red convertible.
Ted Miller
: While I certainly appreciate red convertibles,
I don't need one
.
July, 18, 2014
Jul 18
2:48
PM PT
USC Trojans
coach coach Steve Sarkisian added yet another solid recruiting piece to his 2015 class after San Clemente quarterback
Sam Darnold
committed to USC on Friday.
To continue reading this article you must be an Insider
July, 18, 2014
Jul 18
12:44
PM PT
LOS ANGELES -- USC fourth-year junior quarterback
Cody Kessler
made the trek to Thibodaux, Louisiana, last weekend to take part in the Manning Passing Academy, where he not only served as a camp counselor to the throng of high school players in attendance, but also to interact with and compete against a host of other top-notch college quarterbacks, including Florida State's
Jameis Winston
, UCLA's
Brett Hundley
and Oregon State's
Sean Mannion
among others.
"It was a great experience," said Kessler, who started all 14 games for the Trojans in 2013. "There were a lot of other great quarterbacks there which was really cool -- You know, getting to throw against guys from across the country."
[+] Enlarge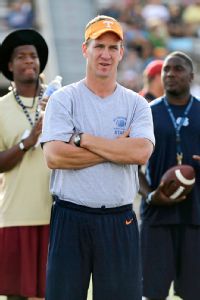 AP Photo/Gerald HerbertUSC QB Cody Kessler (not pictured) got pointers from Peyton Manning himself at the Manning Passing Academy.
And it's safe to say that Kessler, who completed 65.4 percent of his passes for 2,968 yards and 20 touchdowns with seven interceptions last season, more than held his own. In the main event of the camp, the Air-It-Out Challenge on Saturday night, Kessler advanced all the way to the semifinals. Mannion eventually won the competition.
To continue reading this article you must be an Insider
2013 TEAM LEADERS
| TEAM | RUSH | PASS | TOTAL |
| --- | --- | --- | --- |
| Offense | 174.2 | 218.1 | 392.3 |
| TEAM | PF | PA | MARGIN |
| Scoring | 28.5 | 21.3 | 7.2 |