December, 21, 2013
Dec 21
8:23
PM PT
A look at the positives and negatives from No. 25 USC's 45-20 victory over No. 20 Fresno State in the Royal Purple Las Vegas Bowl.
THREE UP
1. USC defense

Clancy Pendergast's defense came up with one its most dominating performances of the season, limiting a Bulldogs passing offense that entered the contest averaging an FBS-best 409.8 yards per game, to just 217 yards. With the Trojans defensive front applying constant pressure, Fresno State quarterback
Derek Carr
never quite got in a rhythm, completing just 55 percent (29-of-54) of his passes -- well below the 70.1 completion percentage that he came into the game with. Cornerbacks
Josh Shaw
and
Kevon Seymour
, meanwhile, were both solid in coverage for the most part. Shaw made his fourth interception of the season, while Seymour racked up a team-high seven stops. Also deserving mention is Safety
Dion Bailey
, who was a disruptive force that Carr and Co. had to be mindful of throughout the game.
2. USC passing game
Trojans signal-caller
Cody Kessler
came out on fire, finishing the day having completing 22 of 30 passes for a career-high 344 yards and four touchdown passes -- all of which came in the first half -- with one interception. A healthy
Marqise Lee
had his most impressive outing of the year in what might have been his final game as a Trojan, pulling down seven passes for a season-high 118 yards and two touchdowns. Fellow receiver
Nelson Agholor
had two scores of his own, and the outstanding pass-blocking effort by the USC offensive line shouldn't be ignored either, and it was spearheaded by sixth-year senior center
Abe Markowitz
.
3. Javorius Allen
Recently named the Trojans' team MVP for the 2013 campaign, Allen capped his season off with another strong showing, highlighted by two rushing touchdowns. Compiling 87 yards on the ground, the third-year sophomore tailback amassed an additional 33 yards on four receptions. His one-yard scoring run with under five minutes remaining in the contest sealed the win for the Trojans.
THREE DOWN
1. USC second-half lapse
Leading 35-6 at halftime, USC appeared to be on the verge of sending the subs in early in this one, but then Fresno State stormed back, making it a 38-20 ballgame early in the fourth quarter. The comeback was made possible, in part, by a Trojans offense that appeared out of sync for much of the second half, as well as a series of mistakes which included a lost fumble by Nelson Agholor on a punt return, a sure-fire interception dropped by Seymour in the end zone and a pick-six thrown by Kessler. Fortunately for the Trojans, they eventually regrouped, with a 12-play, 80-yard scoring drive late in the fourth quarter serving as the exclamation point, they emerged with the victory.
2. Penalties
Committing an average of 6.5 penalties per game as a team heading into Saturday's contest, the Trojans far exceeded that number against the Bulldogs, drawing 11 flags for 98 yards. George Uko's unsportsmanlike conduct foul and resulting ejection for contact with an official was the most perplexing and avoidable infraction.
3. USC run blocking
USC finished with a somewhat respectable 143 yards on the ground, but they averaged just 3.2 yards per carry -- a direct reflection of the production of the offensive line. While they did a more-than solid job of protecting Kessler in the passing game, the Trojans line struggled to open up rushing lanes against a very physical Bulldogs defensive front, making it difficult for Allen,
Ty Isaac
and
Soma Vainuku
to find room to run.
December, 21, 2013
Dec 21
7:09
PM PT
Las Vegas -- Notes, quotes, and anecdotes from Sam Boyd Stadium after the Trojans (10-4) defeated Fresno State (11-2).
USC interim head coach Clay Helton comments:
Opening statement:
The Trojans pride and family: "I am just really proud of our football team, proud for the Trojans family. We came into this game wanting make the Trojans family proud, and I can't tell you how excited I am about the accomplishments they made."
Defensive dominance: "(Defensive coordinator) Clancy Pendergast and the defense, to hold that offense to 254 yards when it averages 570 a game with a tremendous quarterback and receiving corps, is really something. We came into this game with a game plan to being ultra aggressive in all three phases of the game. It didn't all work, but we wanted that mindset form the start."
[+] Enlarge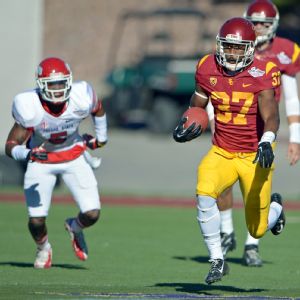 Kirby Lee/USA TODAY SportsBuck Allen had two touchdowns in USC's Las Vegas Bowl win.
The offensive line: "I was very nervous coming in about the amount of pressure they (Fresno State defense) bring on, especially when you have two back-up linemen playing. It was just an unbelievable job by the offensive line."
Fresno State head coach Tim DeRuyter comments:
The evaluation: "Clearly early in the game we didn't make enough plays to get into rhythm. Defensively, we didn't make enough tackles. We have a lot of respect for USC. They've got really good players and they're very well-coached and they played very inspired today."
"Physically, they were the most impressive team we've played the last two years. They play inspired; they played very, very well. Early on we had a couple of opportunities on third down to get off the field, it could have changed the game and they converted. I think we were beaten by a better team."
The Trojans defense: "They did a good job covering our receivers. It was a combination of things."
More notes and anecdotes:
Key(s) to victory: Trojans sophomore quarterback
Cody Kessler
threw for four touchdowns and 243 yards in the first half as the Trojans won their 10th game of the season.
The thermometer: It was 55 degrees at kickoff in Sam Boyd Stadium.
The offensive above scoring average: The Trojans scored 45 points against Fresno State. Prior to the game with the Bulldogs, the Trojans were averaging 28.5 points per game.
Player of the Game, Trojans quarterback Cody Kessler said, "We want this team to be remembered forever. Hopefully, the team and the players before us will be proud of us. Even though we won 10 games, we still lost four. Next year we want to go undefeated and win the Pac-12."
The defense at scoring average: "It was a great game today and it is 100 percent due to the offensive line. They studied film all week and worked so hard. It is due to them and our receiver who are freak athletes. They make plays. That is why they come to SC. They get the ball and make plays. That is my job just to get the ball to them and let them make plays."
Defensively average: The Trojans defense allowed 20 points to Fresno State. Prior to the Bulldogs, they were allowing 20.2 points per game.
Defensive evaluation: Junior safety
Josh Shaw
said, "My hat goes off to our front seven. I have been in college football for four years now and have had a different coordinator every year. Coach Pendergast is second to none."
Offense above average: Prior to the Fresno State game, the Trojans were averaging 392.3 yards per game in total offense. Against the Bulldogs, the Trojans had 487 total yards on offense.
More Kessler: "This season speaks for itself. The guys bought into Coach O and his one heartbeat and one-team philosophy. I will talk with him later."
Offensive MVP: The award went to sixth-year center
Abe Markowitz
. Receiving the award on the podium, his teammates started chanting, "Four more years, four more years."
Defense stars: Prior to the Fresno State game, the Trojans were allowing an average of 341.5 total yards on defense. Against the Bulldogs, the Men of Troy allowed 254 total yards.
Power of 10: Regarding how important this 10th win was for the Trojans, All-American defensive tackle
Leonard Williams
said, "It was important to get this 10th win for Coach Orgeron. We have gone through so much adversity that this is really special."
Below the rush: Prior to the Fresno State game, the Trojans were averaging 174.2 yards per game rushing. Against the Bulldogs, the Men of Troy rushed for 143 net yards.
The words of John: Trojans senior offensive guard
John Martinez
was especially introspective on the bowl victory. Martinez said, "Coming off the UCLA loss, this was our redemption. We played the way we are supposed to play. I am now satisfied with the season. We all are. "
Rushing wall: Prior to the bowl, the Trojans defense was allowing 127.1 yards rushing per game. Against the Bulldogs, they allowed 37 net yards rushing.
Ejected: Standout defensive junior tackle
George Uko
was ejected in the first half for a second personal foul. Uko said, "Somebody had me by the shoulder and I sort of swayed my shoulder away and unfortunately is wasn't another player but the ref. It was one of those things. I don't go hitting other players and getting tossed out."
Passing the test: Prior to the Fresno State game, the Trojans were averaging 218.1 passing yards per game. Against the Bulldogs, the Cardinal and Gold passed for 344 yards.
Tears of pride: With great emotion and tears in his eyes, senior starting offensive right tackle
Kevin Graf
said, "This win means a lot. Running the ball the way we did was amazing and to hold them to 20 points. I am proud of my team. I can't believe it's over. This last season has meant so much. The will to leave with a win meant a lot to all the seniors."
Air contain: Prior to the Fresno State game, the Trojans were allowing 214.5 passing yards per game and allowed 217 passing yards to the Bulldogs.
The flag is up: Prior to the Fresno State game, the Trojans were averaging 54.6 penalty yards per game, but had 11 penalties for 98 yards in the Las Vegas Bowl.
Top tacklers: Corner
Kevon Seymour
, who was the Defensive Player of the Game, led the Trojans defense. Seymour recorded seven tackles.
Seymour speaks: "Coach Pete (Clancy Pendergast) told us it's all about disruption. Disruption of the quarterback, disruption of the wide receivers. We had to get them out of their mindset, especially the receivers."
Sark talk: Incoming Trojans head coach Steve Sarkisian said, "I can't wait to get with these guys. I want them to enjoy this win and stay out of the way. It was unique being up in the suites watching the team. I can't wait to coach them."
Second best: Game attendance was 42,178, which marks the second-largest crowd in Sam Boyd Stadium history and also the second-largest crowd in Royal Purple Las Vegas Bowl history.
Next season: The Trojans open the 2014 season against Fresno State on Aug. 30 in the Los Angeles Memorial Coliseum.
December, 21, 2013
Dec 21
6:56
PM PT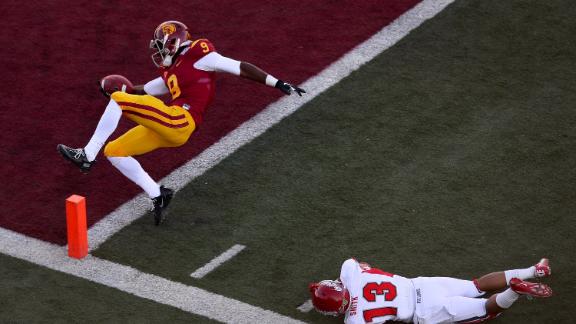 LAS VEGAS -- It was an appropriate setting for USC's unforgettable, unpredictable and altogether crazy season to end.
After all, what city encapsulates extreme highs and lows better than Las Vegas?
USC's season played out like a maddening night at the tables where you wade through one dealer after another, hoping to settle on one who will finally make you a winner.
In USC's case, the Trojans are hoping the magic number is four.
Since 1889, USC has never had more than one head coach in a single season. Over the past four turbulent months to finish out this season, the Trojans have had four head coaches.
On Saturday, USC's third head coach, Clay Helton, led the Trojans to a 45-20 win over Fresno State in the Royal Purple Las Vegas Bowl, while USC's fourth head coach, Steve Sarkisian, watched in the press box, anxiously waiting to take the reins of the team after the game was over. Somewhere in Louisiana, USC's second head coach, Ed Orgeron, watched the game that USC players dedicated to him, and somewhere in California, USC's first head coach this season, Lane Kiffin, watched as the players he recruited beat his alma mater.
Saturday's game not only ended the most unusual and tumultuous season in USC history, but also ended an odd three-week stretch in which Helton attempted to be the team's third head coach this season while Sarkisian was around the team and players, preparing to take over as soon as the game was finished.
Sarkisian was not only around the team during practices at USC the past two weeks, but was also a constant presence this weekend at the team hotel and bowl practices. He even met with the players' parents in a hotel ballroom to discuss his philosophy and plans for next season.
December, 21, 2013
Dec 21
7:48
PM PT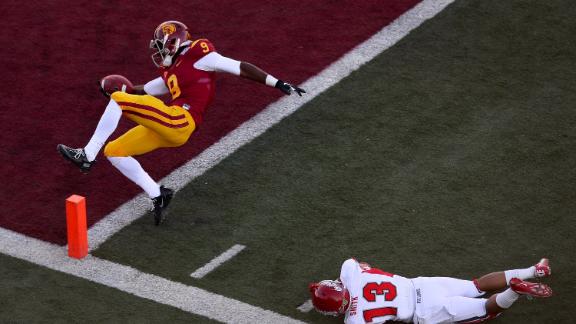 The
USC Trojans
defeated the
Fresno State Bulldogs
45-20 in the Royal Purple Las Vegas Bowl.
It was over when:
Buck Allen
crossed the goal line on a 1-yard run with 4:44 left to put USC up 45-20. The Trojans had taken a 35-6 lead at halftime before Fresno State made a brief run to close the gap, but Allen provided the finishing touch with his second touchdown of the day.


Game ball:
Cody Kessler
. The USC quarterback set a career high, and a Las Vegas Bowl record, with four touchdown passes, and he had those in the first half alone. Kessler ended the day by completing 22 of 31 passes for 344 yards, along with one interception that was returned for a touchdown. Kessler also earned hometown bragging rights with longtime friend and fellow Bakersfield native
Derek Carr
from Fresno State.
Key stat:
Marqise Lee
with seven catches for 118 yards and two touchdowns. Those are the type of numbers that were routine for Lee in his 2012 Biletnikoff Award-winning year, but a pair of injuries in 2013 curtailed his performance. If that was his final game in a USC uniform, as it is widely expected he will declare for the NFL draft, it was a fitting ending for one of the best playmakers in school history.
Key stat 2:
Fresno State came in averaging a nation-leading 409 passing yards per game. USC held the Bulldogs to 217.
Unsung hero:
Dion Bailey
. The Trojans' slot defender in their nickel package was all over the field posing problems for Carr. He had a pair of key tackles for loss and got in passing lanes to help thwart the short passing game of the Bulldogs.
What it means for Fresno State:
It means the Bulldogs won't reach their goal of a program-record 12 wins but that doesn't take away from what was accomplished this year. Not only did they tie the record for most wins, but also they captured the first-ever MWC title game and had one of the top passing offenses in the country, led by a likely first-round draft choice in Carr. And, to top it off, they won't have to wait long to get a shot at revenge, as they face the Trojans in the 2014 season opener.
What it means for USC:
The goal for these players and coaches was to reach 10 wins in what was a season of adversity and change. It also was a resounding performance from those who wondered about the sense of motivation for the team, especially after last year's effort in the Sun Bowl. Clay Helton hands off the Trojans on a good note, and now the Steve Sarkisian era begins.
To watch the trophy presentation of the Royal Purple Las Vegas Bowl,
click here
.
December, 21, 2013
Dec 21
2:50
PM PT
2013 TEAM LEADERS
| TEAM | RUSH | PASS | TOTAL |
| --- | --- | --- | --- |
| Offense | 174.2 | 218.1 | 392.3 |
| TEAM | PF | PA | MARGIN |
| Scoring | 28.5 | 21.3 | 7.2 |