September, 15, 2014
Sep 15
11:09
AM PT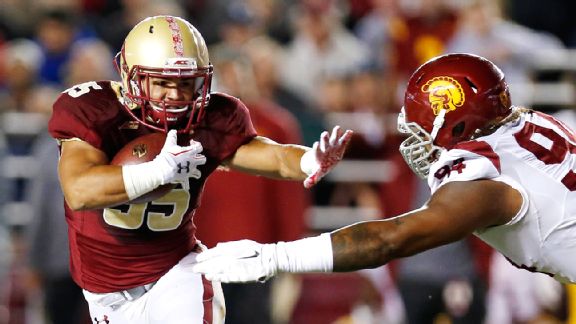 Winslow Townson/Getty ImagesNot even Leonard Williams could slow the Boston College running attack on Saturday.
The
USC Trojans
entered last Saturday night as one of the Top 10 teams in the country. Although it was early in the season, it seemed as if Steve Sarkisian's first year as USC's coach was destined to reach the College Football Playoff with a schedule that had the Trojans playing just one ranked team at home before a late November date with UCLA.
Those expectations, however, changed quickly after USC's 37-31 loss to unranked Boston College. Now we are left to wonder how good the Trojans really are this season. Sure, USC beat Fresno State, 52-13, to start the season but the Bulldogs are now 0-3 and have given up over 50 points in each one of their games. USC was thrilled to beat Stanford 13-10 at "The Farm" but the Cardinal got inside USC's 35-yard line in each one of their nine drives. If Stanford doesn't shoot themselves in the foot in seven of those nine drives, Stanford wins that game and USC is 1-2.
USC's deficiencies were finally on display against Boston College where they were manhandled at the line of scrimmage and dominated for much of the game in suffering their first loss of the season.
Passing attack
Cody Kessler
's numbers were perhaps the lone bright spot in an otherwise forgettable game for USC. He was 31-for-41 for 317 yards, four touchdowns and no interceptions. When he was finally allowed to throw the ball down field, USC's offense looked alive again, but by that time it was too little, too late. Running back
Javorius Allen
was USC's leading receiver on the night with nine receptions for 118 yards and one touchdown.
Rushing attack
USC tried and tried and tried some more to establish the running game against Boston College and ended up running into a wall each time. USC finished with just 20 yards on 29 carries for a paltry 0.7 yard per rush average. It was USC's worst rushing performance since rushing for one yard against Utah in the 2001 Las Vegas Bowl.
In the trenches
What made USC's lack of a running game even worse was that Boston College ran at will on the Trojans. The Eagles ran for 452 yards and five touchdowns against USC. Boston College's 452 rushing yards were the most given up by a USC team since Texas A&M gained 486 yards in the 1977 Bluebonnet Bowl. USC also gave up five sacks, each one coming on a crucial third down, and USC converted just five of 16 third downs.
Defense
USC's defense probably deserves an F for giving up over 500 yards with most of that coming on the ground but they get some credit for holding Boston College to just 54 yards passing.
Chris Hawkins
also intercepted a
Tyler Murphy
pass as USC jumped out to a 17-6 lead to start the game. USC was also able to hold Boston College to just 2-for-11 on third down conversions. That's the extent of the positives for USC's defense, however, as Boston College did whatever they wanted on the ground and finished the game with a back-breaking 66-yard touchdown run by Murphy in the fourth quarter when USC was mounting a late comeback.
Special teams
Andre Heidari
nailed a 52-yard field goal early in the game and
Kris Albarado
escaped a near blocked punt to down a kick inside the 10-yard line. Albarado had 10 punts on the night with a 37.5-yard per punt average.
Nelson Agholor
wasn't able to do much with his five punt returns, totaling just 15 yards.
Coaching
Sarkisian's offense looked like a revelation in the season opener when it ran a school-reocrd 105 plays. It was understandably scaled back for the second game against Stanford but his inability to open up the passing attack when the rushing game was shut down against Boston College was puzzling. It wasn't until USC was down 30-17 with less than seven minutes left that Sarkisian finally opened up the offense. USC's offense, however, is probably the least of its worries after giving up over 400 yards on the ground despite having the best defensive lineman in the country in
Leonard Williams
. As bad as USC was against Boston College, the Trojans should be able to win when they put up 30 points and hold their opponents to just 54 yards passing.
2014 TEAM LEADERS
| TEAM | RUSH | PASS | TOTAL |
| --- | --- | --- | --- |
| Offense | 151 | 292 | 443 |
| TEAM | PF | PA | MARGIN |
| Scoring | 32 | 20 | 12 |