February, 6, 2014
Feb 6
5:30
AM PT
The Early Offer is RecruitingNation's regular feature, giving you a daily dose of recruiting in the mornings. Today's offerings: Alabama's 2014 class is special, but is it the best class ever? Who were my biggest winners Wednesday, and what can we look forward to with the class of 2015?
Special class for Bama
To continue reading this article you must be an Insider
February, 5, 2014
Feb 5
5:30
AM PT
The Early Offer is RecruitingNation's regular feature, giving you a daily dose of recruiting in the mornings. Today's offerings: The Class of 2014 will go down as one of the wildest recruiting rides in recent memory. With so many players switching commitments and some elite prospects still left on the board, here are five things to keep an eye on heading into recruiting's biggest day.
Does Bama have the best class ever?
To continue reading this article you must be an Insider
November, 13, 2013
11/13/13
6:00
AM PT
Welcome to Flip Week. What's Flip Week, you ask? Read on.
Kevin Gemmell
: You know those reality shows where husbands and wives swap houses for a month and hilarity ensues? We're doing something a little bit like that this week at ESPN.com. We're married to our blogs, and as a Pac-12 reporter, I know how this league can be a fickle mistress.
So for one weekend, the Pac-12 and I are breaking up and I'll be looking for a little Southern comfort. I'll be heading East to see South Carolina host Florida to witness firsthand what all of the SEC hype is about.
SEC reporter Chris Low will be coming out to Los Angeles for a UCLA/USC doubleheader.
As a career Left Coaster (California for the last 33 years of my life and Southern California for the last 15) my knowledge of the South is limited. I'm told the hospitality is outstanding and the barbecue is as good as it gets. I often hear Chris say y'all on our blogger conference calls.
I can't wait to dig into the pageantry of SEC football. Despite 17 years in this business, my travels have never taken me to an SEC football game in an SEC stadium. The Cock Pit seems like a great place for my initiation. And I'm told I absolutely need to see something called a Cockaboose?
C-Low, you're one of the resident SEC experts. What can I expect when I roll into Columbia? What's a SoCal guy like myself to do when I'm in town? What's the over/under on y'alls I get from the airport to the rental car to my hotel?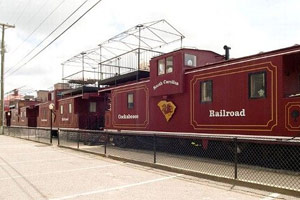 Courtesy of South CarolinaTailgating takes a unique twist aboard a 'Cockaboose' at South Carolina.
Chris Low
: First off, Kevin, if you think my accent is ripe with a Southern twang, you're in for a treat when you get to Columbia East. I have to designate the "East" part because we now have two Columbias in the SEC. Missouri is obviously located in Columbia West.
And, yes, you haven't lived until you've done a little tailgating on a Cockaboose. They're old cabooses that have been renovated into gameday condos and sit right outside Williams-Brice Stadium. You never know who you might see partaking in a little pregame festivities on one of the Cockabooses. PGA golfer Dustin Johnson stopped by prior to the Alabama game in 2010, and if you get down on the field prior to the game, take a look around and see if pro wrestler Ric Flair is in the house. The "Nature Boy" goes back a ways with Steve Spurrier and is a frequent visitor to South Carolina games.
We all agree that tailgating in the South is an art form, and the folks at South Carolina are pros. Be sure and tour the Fairgrounds area on the downtown side of Williams-Brice Stadium. They've really spruced up that area over the years, and the cuisine is excellent. I can't promise that anybody will offer you any fish tacos, but there will be all the barbecue, burgers and ice-cold adult beverages that you can stomach. Also, be sure to sample a true South Carolina delicacy while you're in town -- boiled peanuts.
Enough about the South. Any chance I can rent a helicopter while I'm in Los Angeles and avoid the freeways? Seriously, I can't wait to tour the UCLA and USC campuses. I've been to the Rose Bowl for several games but never to the Coliseum. Any pointers and/or suggestions? I sure hope Wally World isn't closed while I'm out there.
Kevin Gemmell:
First off, please feel free to send a note to Chris' mailbag if you have "Holiday Road" stuck in your head for the next 72 hours. I know I will.
Since you're pulling double-duty, we'll start with the Friday night game. Since you've been to the Rose Bowl, you won't be overwhelmed by the history, tradition and beauty of the historic venue. And even if you are, that's OK. The Rose Bowl is a shrine to college football. Not a visit goes by when I don't stand on the sidelines and do a quick 360. It's an amazing place.
Just like every sporting event known to man, there will be tailgating. Soak it up. Visit some of trailers just outside of the stadium, or take a stroll through the Brookside Golf Course, which becomes the overflow parking lot.
The Los Angeles Memorial Coliseum is also a pretty special venue. Super Bowls, two Olympiads and a World Series -- along with some pretty darn good football -- has been played out within its walls. You can even see the Hollywood sign from the pressbox. While you're there, be sure to check out the Court of Honor, which honors those who have had an impact on the Coliseum. Pretty neat to see Knute Rockne and Vin Scully honored alongside JFK.
And don't be surprised if there are a few celebrity sightings on the sidelines. Will Ferrell and Snoop Dog (or is it Snoop Lion these days?) are big fans.
A hop and a skip over Exposition Boulevard and you're on USC's campus. Heritage Hall is still getting a makeover. But be sure to check out the new John McKay Center.
I can't help you with traffic. That's part of the charm we Southern Californians put up with. I suggest renting Steve Martin's "L.A. Story" before coming out here.
OK, one last question from me: What can I expect from SEC football up close and personal? Is it every bit as dominating as y'all (see what I did there) make it out to be?
Chris Low
: Listen, there's something special about college football no matter what part of the country you happen to reside in -- the pageantry, tradition and school pride that's on display every week.
But one of the things that separates the SEC, other than all the national championship rings the league has collected over the last decade, is the way college football is woven so deeply into the very fabric of people's lives here. You might be able to insult somebody's wife and get away with it in these parts. Good luck in trying that with somebody's football team. Generations of families have been flocking to games at Alabama, Georgia, LSU and South Carolina for years, and in many cases, sitting in the same seats and tailgating in the same spots. And I'm sure you've heard, too, but football season never ends in the SEC. There's always some debate, some recruiting battle, some scandal.
Or some championship to defend. The streak is at seven and counting.
That's not making anything out to be dominant. It simply is dominant, and more precisely, the most dominant run by one conference (four different schools have won national titles) that we'll ever see.
Obviously, Florida has been decimated by injuries and is struggling to stay afloat this season. In general, though, get ready to witness -- up close -- freakish athletes on the defensive line, massive guys who move and run like linebackers. Get ready to witness speed all over the field and not just at the skill positions. Get ready to witness the Head Ball Coach drawing up a few of his patented ball plays, and most of all, get ready to witness a religious experience. It's a lot more than just a football game.
One other thing. When that rooster starts crowing ... cover your ears.
Kevin Gemmel
l: Speed, I've seen. There is no shortage of that in the Pac-12. And I think you'll be pleasantly surprised by the amount of speed you see on the field. You'll see the reigning Biletnikoff winner in
Marqise Lee
and one of the most athletic quarterbacks in the country in
Brett Hundley
.
We've got some pretty good defense, too. I know you SEC folks don't buy that, but it's true. You're going to see up close and live the top two outside linebackers in the country in
Anthony Barr
and
Trent Murphy
.
The SEC and Pac-12 are the top two conference in college football. So when it comes to pure talent, there isn't going to be much of a difference from what we see on the field.
But the experiences will be exciting and unique. And yes, the traffic stinks.
Kevin Gemmell and Chris Low want to hear your suggestions as they jet set to another part of the country. What should they see when they are town?
Send comments and thoughts to
Kevin Gemmell
and
Chris Low
.
September, 13, 2012
9/13/12
10:43
AM PT
By
ESPN Stats & Information
1.
Matt Barkley
has thrown 119 consecutive passes against five or more pass-rushers without an interception -- a streak that dates to Sept. 24 of last season. During that time, Barkley has thrown 18 touchdowns when opponents blitz, including four games with at least three touchdown passes.

The first of those four games was against Stanford last year in Week 7, Barkley's second career three-touchdown game against the Cardinal blitz. Overall, Barkley has thrown 37 touchdowns and three interceptions against blitzes since the start of his sophomore season.
2. UL Monroe faces Auburn on Saturday after pulling off a stunning upset of Arkansas last week. In the process, the Warhawks can achieve something that hasn't been done in 24 years. The last team not currently in a BCS-AQ conference to beat SEC opponents in consecutive games was Tulane in 1988. In 1988, the Green Wave beat Ole Miss on Nov. 5 and then knocked off Mississippi State. Memphis pulled off a similar feat just a few weeks earlier in 1988, beating Mississippi State and Florida in consecutive games.
3. Alabama begins its SEC slate this week at Arkansas. On the field, Alabama has won 20 straight SEC openers, with its last loss coming in 1991 to Florida. (Note: Some of those games have since been vacated or forfeited.)

How impressive is that? Not only is it the longest current win streak in conference openers, but it beats the next highest by eight. Boise State has won 12 straight conference openers dating to 2000, accomplishing that in three different conferences. The Broncos open their 2012 conference schedule on Sept. 29 at New Mexico.
4. Last week against Air Force,
Denard Robinson
had more total yards (426) than the entire Michigan team (422). One big reason for this was Robinson's 218 rushing yards. The remainder of the team had minus-4. While this seems like it would be a rarity, it isn't. In fact, he wasn't even the only player to accomplish this last week (Temple's
Chris Coyer
). Since 2004, it's happened 25 times, and the only player to do it twice over that stretch? Indiana's Kellen Lewis in 2007.
5. Michigan State soared into the AP Top 10 this week, and that could be bad news for its opponent this week.

Notre Dame has lost nine straight games against AP Top 10 teams by an average of more than 15 points per game. The last time the Fighting Irish beat a team in the top 10 was 2005, when they knocked off No. 3 Michigan. The nine-game losing streak is the longest in Notre Dame history. The previous longest was seven games spanning 1984-86.
2013 TEAM LEADERS
| TEAM | RUSH | PASS | TOTAL |
| --- | --- | --- | --- |
| Offense | 174.2 | 218.1 | 392.3 |
| TEAM | PF | PA | MARGIN |
| Scoring | 28.5 | 21.3 | 7.2 |