September, 21, 2013
Sep 21
7:00
PM PT
LOS ANGELES -- Notes, quotes, and anecdotes from the Coliseum after the Trojans (3-1, 0-1 Pac-12) defeated Utah State (2-2, 1-0 MWC) by a score of 17-14.
USC head coach Lane Kiffin
Opening statement:
"We knew it was a really good team we were going to play. Anytime you have a great player at quarterback (
Chuckie Keeton
) like they do, it's going to be hard to take him out of the game. Their defense has played really tough and really physical."
To continue reading this article you must be an Insider
September, 21, 2013
Sep 21
6:29
PM PT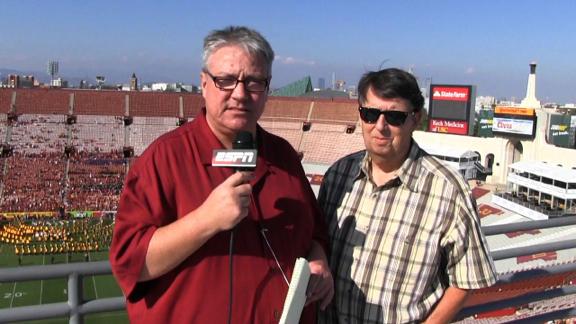 LOS ANGELES -- USC was hoping to use the game against Utah State as a way to build some positive momentum, but the 17-14 victory over the Aggies showed that the Trojans still have a long way to go.
Make no mistake, it's always nice to get the win but this is a game where the Trojans had a huge advantage in field position and also got the usual solid game from the defense. Unfortunately, the USC offense couldn't take advantage of the opportunities to put the game away in the second half and, if not for some special teams miscues by Utah State, the result could have been very different.
"It was a very hard fought game today," USC coach Lane Kiffin said. "Very much like what we anticipated. I felt like there was a rhythm early on when we were able to run the ball, but obviously we wanted to finish better in the second half."
USC started off strong with a
Tre Madden
touchdown run on the second series of the game to go up 7-0. The Trojans defense put good pressure early on Utah State quarterback
Chuckie Keeton
, primarily with defensive linemen
Leonard Williams
and
George Uko
as well as outside linebackers
Devon Kennard
and
Morgan Breslin
. USC dodged a bullet when Utah State clanged a first-quarter field goal off the upright, a miss that would loom large.
[+] Enlarge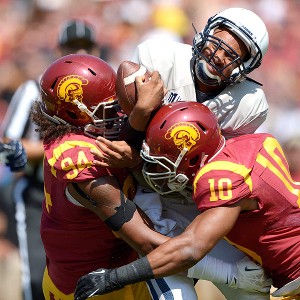 Kirby Lee/USA TODAY SportsLeonard Williams (left) and the USC defense put the crunch on Utah State on Saturday.
Each team added a touchdown in the second quarter, and as the second half started it was clear it was anyone's ball game.
The Trojans had their chances with the Aggies playing an eight-man front, leaving the USC receivers against man coverage. Normally, that would spell a big day for
Marqise Lee
and/or
Nelson Agholor
, but there were some dropped passes and some pressure on
Cody Kessler
which prevented the Trojans from capitalizing. Lee ended the day with six catches for 72 yards, while Agholor had two catches for 38 yards. Neither player reached the end zone.
"I missed some throws and we had some drops, but they are things we can fix," Kessler said. "Thanks for the job our defense did, we were able to come away with the win."
The USC defense is rapidly becoming known as the side of the ball which will win games for this team. Williams led the team in tackles with eight and added three tackles for loss. Uko had five tackles and a sack, Breslin had two sacks and Kennard added a sack. They did a terrific job of limiting Keeton -- who came into the game completing 78 percent of his passes -- to a rather pedestrian stat line of 21-of-39 passing for 179 yards and a pair of scores. Good numbers to be sure, but not enough to get it done against the Trojans.
"We had a good game plan from Coach O (Orgreon) the whole week," Uko said. "We just wanted to angle in and rush tight and keep them in the box"
The battle for field position really started to impact the game in the second half, as the Trojans' average starting field position was the Utah State 45, while Utah State started at its own 16. It didn't help the Aggies that their punter had a shanked 12-yard kick at the end of the third quarter that led directly to a 25-yard
Andre Heidari
field goal, which proved to be the winning margin. There was also a strange fake punt from the Aggies on a fourth-and-11 from their own 34-yard line in the fourth quarter, resulting in an incomplete pass from tight end
D.J. Tialavea
.
If you're looking for bright spots for the Trojans, look no further than punter
Kris Albarado
, who pinned five punts inside the Aggies' 20-yard line to help win the field position battle. Little things like that are big on a day when the two teams are basically even in total yards (285 for USU to 282 for USC).
Madden fell short in his bid for a fourth-straight 100-yard rushing day but did run for 93 yards on 24 carries and a touchdown. Kessler completed 13 of 27 passes for 164 yards and a touchdown, but he was also sacked three times and took several big hits.
Now the Trojans turn their attention to a big road game next week in Tempe against Arizona State. There was hope that things would be clicking after a four-game opening stretch that included three games at home but at this point the offense can best be described as a work in progress. Thankfully the Trojans have their defense, a unit which once again put the team on their shoulders to come away with a tougher-than-expected win.
September, 19, 2013
Sep 19
3:16
PM PT
The dominating performances put on by the USC defense through the first three weeks of the season have been the undeniable highlight so far for a Trojans team that currently sits at 2-1 and looks to be headed in the right direction after an impressive 35-7 bounce-back victory against Boston College last weekend.
With
Hayes Pullard
, a team captain with 28 starts and 201 career tackles to his credit, serving as the leader at middle linebacker, the entire unit has taken off in their first year playing in new defensive coordinator Clancy Pendergast's aggressive 5-2 scheme.
[+] Enlarge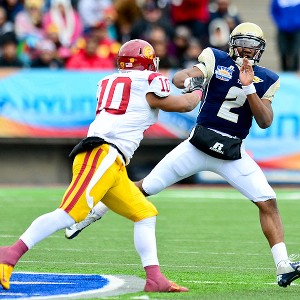 Matt Kartozian/US PresswireMiddle linebacker Hayes Pullard has taken a leadership role on USC's aggressive defense.
A fast and swarming bunch, the first-team Trojans defense has yet to give up a touchdown in 2013 and currently ranks in the top 10 nationally in a slew of categories, including No. 2 in rushing defense (allowing 43.7 yards per game), No. 3 in sacks (four per game), No. 6 in passes intercepted (six) and No. 4 in total defense (allowing 212.3 yards per game).
"I give all the credit to Coach Pendergast, coach [Ed] Orgeron and coach [Mike] Ekeler," said the 6-foot-1 and 230-pound Pullard, who has compiled 13 tackles in 2013. "They put us in the position to be able to play fast. I'm enjoying it so much. It's spread around where people are making plays on the perimeter, in the middle, we're forcing turnovers. ... It's just a fun atmosphere when we're out there. Everybody is just focused on doing their assignments and doing everything they can to achieve our goal -- to be a dominant defense."
And so far at least, it's mission accomplished. But neither Pullard nor his teammates have yet to face an offense this season that resembles anything close to what Utah State (2-1) will bring to the Coliseum this Saturday. The Aggies average a whopping 49.3 points and 550.3 total yards per game, and it's their dual-threat Heisman candidate at quarterback,
Chuckie Keeton
, who engineers it all. Running USU's spread offense to perfection this season, the 6-2, 200-pound junior has completed 78.1 percent of his passes for 923 yards and 12 touchdowns with just one interception, while also leading the team with 187 rushing yards.
"I guess the closest thing would be Oregon as far as how they can hurt you in all aspects," said USC head coach Lane Kiffin earlier this week when asked if there is another team that showcases an offense similar to Utah State's. "They run the ball really well, [Keeton] throws the ball really well, and then he takes off and runs it. So, I guess that would be the closest. ... It's a little bit of a different style, but at the same time they're really explosive, and they have really good players around him, too. ... Good receivers [and] a very veteran offensive line that returns five starters. This is a top-25 team."
And Kiffin isn't alone in his line of thinking, particularly when it comes to Keeton, who led the Aggies to a breakthrough 11-2 record in 2012.
"Oh my gosh, watching him on film, he's a great player," Pullard said. "He can pass, he loves to run [and] he loves to attack defenses. I can't say anything bad about him."
But if there is a defense out there that appears to have the potential to contain Keeton -- which according to Pullard, is all you can hope to do -- it just might be USC. After all, on top of the talent the Trojans have, Pendergast has made a name for himself as an architect of defenses that are geared to shut down uptempo, spread attacks.
And while it remains to be seen exactly how the USC defense does, in fact, plan to slow Keeton and the rest of the Utah State offense down, so long as Pullard and his teammates perform at the same high level that they have all season long up to this point, while also staying disciplined and following the game plan put in place by Pendergast, there's little reason to doubt that they'll be more than up for the challenge.
"We talked about it on Monday, and everybody is taking the initiative, and everybody is being accountable for themselves," Pullard said. "It's just about being responsible for your duty when you're out there and making sure that you do your assignment, and then we'll go from there."
2013 TEAM LEADERS
| TEAM | RUSH | PASS | TOTAL |
| --- | --- | --- | --- |
| Offense | 174.2 | 218.1 | 392.3 |
| TEAM | PF | PA | MARGIN |
| Scoring | 28.5 | 21.3 | 7.2 |