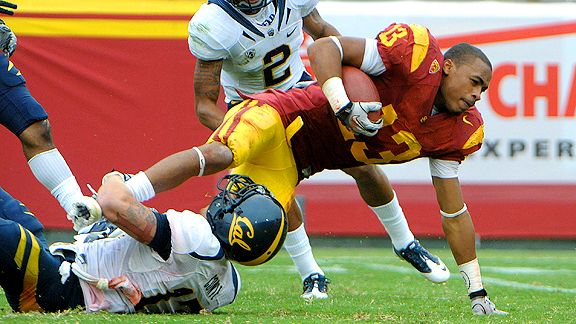 Kirby Lee/Image of Sport/US Presswire
With seven catches for 116 yards and two touchdowns against Cal, Robert Woods became the first freshman to have back-to-back games of over 100 yards at USC since Dwayne Jarrett in 2004.
LOS ANGELES -- Before every game, Robert Woods sits in front of his locker, looks down at the white tape wrapped around his wrists and takes out a black marker. He first draws a large circle and then a smaller circle inside, making a bold block "O" large enough for anyone on the field to see.
"I write this for my sister, Olivia," Woods said. "I play for her every snap and I pretty much live for her."
Olivia Woods died of cancer on April 19, 2007, when she was 17. Robert, who is a year younger than her, was a sophomore at Serra High in Carson, Calif., when she succumbed to her five-year battle with the disease.
As Woods stood in the center of the field at the Coliseum after USC's 48-14 win over Cal on Saturday, he looked down at his wrists and smiled. One week after catching 12 passes for 224 yards and three touchdowns against Stanford, Woods caught seven passes for 116 yards and two touchdowns against Cal.
"Losing my sister was hard but when I'm out on the field I have a smile on my face because I know she's looking down on me when I'm on the field and I want to give her my best," said Woods, who became the first freshman to have back-to-back games of over 100 yards since Dwayne Jarrett in 2004. "She's my inspiration. I play for her."
Woods became one of the top prep players in the Southland during his sophomore year at Serra, catching 43 passes for 801 yards and seven touchdowns while making eight interceptions as a defensive back. While Olivia was ailing and being home schooled at the time, she would go to Robert's games and cheer for her brother as loud as she could.
"Some of my high school games would be really loud but she would be the only voice I would hear in the crowd cheering for me," Woods said. "She was in the stands and she would yell, 'Let's go, Robert!'"
There seems to be a constant smile on Woods' face on the field when he's in the game. Even when he got his helmet ripped off in the third quarter by Cal cornerback Marc Anthony after a 40-yard reception, he got up and flashed a big grin as he put his helmet back on.
"My dad always told me it's a game and I just think of this as a game," Woods said. "Sometimes when I have a big play I'll look up and smile."
Olivia's last words to Robert were to "be a role model." She could see what kind of player he was going to be but she never wanted him to forget what kind of person he was. Despite being a freshman, Woods has started to lead by example on a team searching for an identity.
A week before the Stanford game, Woods recorded no catches or carries against Washington. He shrugged his shoulders and smiled when asked how any game plan could not call for him to touch the ball once, considering how he has played the last two weeks.
"My role in that game was to block and set up some good runs for our running backs," Woods said. "It just wasn't my role in that game to get the ball in my hands."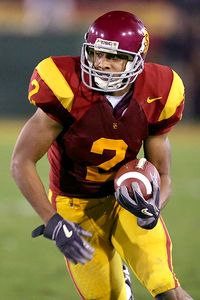 Lisa Blumenfeld/Getty Images
Trojans coach Lane Kiffin has compared Robert Woods to former USC receiver Steve Smith, above.
Whenever the ball is in Woods' hands, good things seem to happen. This might explain why Matt Barkley is throwing him the ball more, why he's being used as the primary kick returner and why Lane Kiffin would like Woods to play some defensive back soon. In fact, Woods, who had 96 tackles and eight interceptions last season for Serra, took practice reps at cornerback last week and welcomed the challenge of making an impact in all three facets of the game.
"I played defense in high school and I know it's different and a lot more physical but I think I am fit for the role," Woods said. "I'd like to get the opportunity and I think I would do well."
Kiffin has compared Woods to former USC receiver Steve Smithsince he arrived on campus. So much so that Woods, currently No. 13, will switch to Smith's old No. 2 next season. Kiffin has also talked to Woods about becoming a Charles Woodson type (another No. 2) for USC over the next couple of seasons by becoming a playmaker on offense, defense and special teams.
"He's Stevie Smith but he's faster," Kiffin said. "Their style is the same route running. What he's been able to do the last two weeks is amazing and it does take time. We just haven't given him the ball enough. When we've gotten him the ball, he's done a great job. He's played great whenever we've given him a chance."
While the Smith comparisons make sense size-wise for the 6-foot-1, 185-pound receiver, his breakout performances as a freshman are more comparable to Mike Williams. In 2002 Williams didn't break out as a go-to receiver for the Trojans until the fifth game of his freshman season, when USC lost on an overtime field goal at No. 17 Washington State and dropped to 3-2. Williams had over 100 yards and two touchdowns for the first time in his career in the loss and followed that with another 100-plus yard performance at home in a win against Cal.
The rapport between Williams and Carson Palmer helped Palmer win the Heisman Trophy and helped USC go to the Orange Bowl. While that won't be possible for this year's quarterback-receiver tandem, it's certainly something to shoot for with Barkley being a true sophomore.
"He continues to work hard and he's not just satisfied with good," Barkley said. "He's always searching to find something in his game that he can work on and he's trying to get better. He played great today and made a lot of clutch catches and he always seems to find the open window. He has a lot of work to do and I have a lot of work to do but I like what I see so far."
As Woods put his on his backpack and began to walk out of the Coliseum, the white tape he wore on his wrists was gone but he smiled when he thought about what his sister would say about how he's playing right now.
"I don't know but I always smile when I think of her," he said. "Because I know she's smiling down on me right now."
Arash Markazi is a columnist and reporter for ESPNLosAngeles.com. Follow him on Twitter.