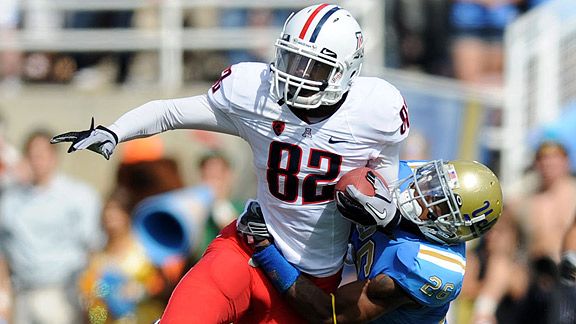 Kelvin Kuo/US Presswire
Juron Criner is one of the Pac-10's top receivers, but Arizona occasionally has him run the ball too.
Juron Criner is a bit of a marked man among USC's defensive backs this week.
Not that he wouldn't be any way, since he's the Pac-10's leading receiver and he plays for Saturday's opponent, No. 18 Arizona. According to the leader of the Trojans' secondary, it's more personal than that. Criner caught the winning touchdown in last season's 21-17 Arizona win that ended USC's season on a sour note.

On the play, which covered 36 yards, USC's popular sixth-year senior cornerback Josh Pinkard, tore a ligament in his knee, an injury he's only just recovering from.
"I'll make sure I do my best to defend that guy, just personally because Josh is a real good friend of mine and it sucked to see him go down like that," Shareece Wright said.
Pinkard's NFL career was cast into doubt by the injury, though he apparently has come all the way back. He was activated by the Seattle Seahawks on Tuesday.
Criner (6 feet 4, 215 pounds) would stand out even if he hadn't broken the Trojans' hearts last year. He's the perfect guy for Arizona's short-passing game because he's big and physical enough to break tackles after the catch. Missed tackles have been the bane of USC's defense this season.
Criner, a junior from Las Vegas, caught nine touchdown passes his sophomore season and he's already snatched seven this year. He leads the conference in receptions (58) and receiving yards per game (98.2). Wright said the Arizona receivers will be the best USC plays all season and the Trojans' are last in the conference in pass defense.
Coach Lane Kiffin said Criner stands out from the crowd.
"He's just special with the ball in his hands," Kiffin said. "He's just one of those unique guys, NFL-type guys, who get the ball in their hands and are so dangerous with it. And he can make so many plays on the ball when it's in the air."
The Wildcats (7-2, 4-2 in the Pac-10) occasionally just hand Criner the ball to see what he can do. He had 50 yards rushing Saturday against Stanford, a game Arizona lost 42-17. Criner caught nine passes for 98 yards, including a 41-yard touchdown in the first quarter, in the loss.
Three others to watch:
QB Nick Foles, JR: He looked a little rusty against Stanford, but he is probably the fourth-best quarterback in the Pac-10 and, this year, that's pretty impressive. Due in part to Arizona's short passing game, he's completing nearly 72 percent of his passes.
DE Brooks Reed, SR: He combines with Ricky Elmore to give the Wildcats one of the most effective pass rushing tandems in the nation.
RB Keola Antolin, JR: He's only 5-foot-8, 195 pounds, but he can be elusive. He's taken advantage of an ankle injury to Nic Grigsby to become the Wildcats leading ground threat.