A few weeks ago, it was all about trash talk. Some USC players predicted an upset of No. 1 Oregon and one, Jurrell Casey, went so far as to call the Ducks "not that good."
Now, it's all about mutual respect, at least where one key matchup is concerned. One of USC's challenges will be blocking Oregon State defensive tackle Stephen Paea, one of the strongest men in college football and a likely first-round NFL draft pick.
"He's got great pad level. He's really strong," Trojans center Kristofer O'Dowd said. "He's a great defensive tackle, probably one of the best in the country and I can't wait to go up against him. It's going to be a battle and I'm ready for it."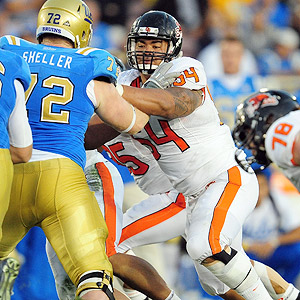 Gary A. Vasquez/US Presswire
The Trojans offensive line will have its hand full with the Beavers' Stephen Paea.
Said Paea, "They have the best offensive linemen we're going to face as far as their size and athletic ability. They're really good up front."
The banter may not be as lively this week, but Saturday's game between 20th-ranked USC and struggling Oregon State could come down to that battle in the middle of the line. USC has built its identity around between-the-tackle running lately and Paea will be looking to end that.
He's come a long way in a short time. Paea had never played football until he moved with his family from Tonga to Provo, Utah when he was 16. He said he had seen one game on TV, the 2002 Super Bowl between the Oakland Raiders and Tampa Bay Buccaneers. Born in Auckland, New Zealand, he grew up playing rugby.
After he joined the football team at Timpview High, he noticed that linebackers and safeties were bench-pressing more than him. He begged his mom to buy him a weight set and he began lifting weights after every meal. The habit stuck. Now, he's the strongest player at Oregon State and one of the strongest in the nation: He benches 550 pounds, squats 650 and cleans 365.
He may not have as much experience as other players, but he clearly has tools. Paea is 6-foot-1, 311 pounds and he can jump 30 inches vertically. He also has surprising agility while shedding blocks and chasing running backs and quarterbacks.
"I don't know. You name it, I'm pretty much blessed with that: strength, speed, all the fundamental things you need to bring to the game," Paea said. "All I needed is someone like my coach [Joe Seumalo] to show me how to play the game. That's basically what got me here."
Paea could be playing for money already, but he changed his mind and decided to return for his senior season. In ESPN.com draft expert Todd McShay's first mock draft, Paea is going No. 13 overall to the St. Louis Rams. Now, he's got mouths to feed. He became a father last month with the birth of his daughter, Leimana Fungani Losehina Leiataua Taylor Paea.
His draft status might work out fine, but it hasn't been the triumphant senior season he was looking for. The Beavers just lost to last-place Washington State at home and now must win two of three games against the top three teams in the conference to reach a bowl game.
One of Paea's fondest college memories was Oregon State's 2008 upset of USC in Corvallis, Ore., the one that knocked the Trojans off-track for the national title.
"Watching the fans' eyes running onto the field, it was memorable," Paea said.