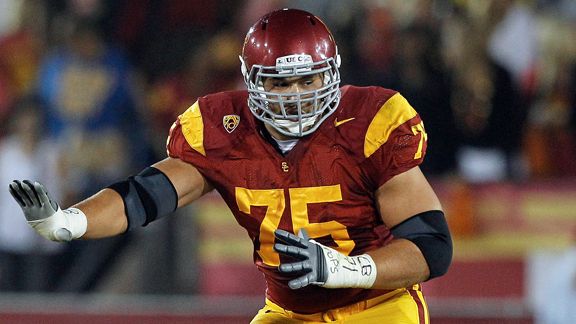 Ric Tapia/Icon SMI
Matt Kalil is the class of this offensive line, a 6-7, 295-pound athlete who clearly projects to the next level.
There are four Mondays left until spring practice officially kicks off for USC on March 22. On each of those Mondays, we'll preview one-sixth of the Trojans' depth chart and eye potential risers and fallers during the monthlong springtime. We began two weeks ago with quarterbacks and running backs and last week with receivers and tight ends. This week, offensive linemen:
Left tackle
1. Matt Kalil, redshirt junior
2. Martin Coleman, redshirt senior
Kalil is the only starter on the line who is expected to start 2011 at the same position he finished 2010. He's the class of this offensive line, a 6-7, 295-pound athlete who clearly projects to the next level. He had rough patches as a first-year starter last season but closed the year out with a few good performances. Coleman's been, frankly, a disappointment at USC, a scholarship player who's been in and out of the trainer's room and hardly ever on the field. With only six linemen with game experience available this season, the Trojans will need him to be at least a capable backup either at this spot or right tackle.
Left guard
1. David Garness, junior
2. Giovanni DiPoalo, redshirt freshman
3. Cyrus Hobbi, freshman (won't enroll until fall)
Garness is a junior-college transfer from City College of San Francisco who also spent a season grey-shirting at Hawaii. He played tackle in college, but he's got good size for the guard spot. DiPoalo redshirted last season while gaining strength and appears to have done just that, so he could be a darkhorse candidate to start at either of the guard spots. He practiced at center last season behind senior Kristofer O'Dowd.
Hobbi won't be on campus for a while, but it's not hard to envision a scenario where he could come in and seize the starting spot right away. He's smart, athletic and well-developed physically already for the position.
Center
1. Khaled Holmes, redshirt junior
2. Abe Markowitz, redshirt junior
3. Cody Temple, freshman (won't enroll until fall)
Holmes was the right guard last season but is almost a sure bet to start at center. Lane Kiffin hinted at it a number of times last season, and Holmes' mind-set is exactly what you'd expect for the center spot. Markowitz is a former walk-on who has played himself into a scholarship and lead backup role, although he missed much of last season with a broken foot.
Temple will likely redshirt.
Right guard
1. John Martinez, redshirt sophomore
2. Jeremy Galten, junior
3. Marcus Martin, freshman (won't enroll until fall)
Martinez hasn't been on Kiffin's good side much in the past year, but he's the most experienced player the Trojans have at the guard spots -- at least as far as experience at USC is concerned. He spent his freshman season, 2009, as a center before switching to guard last season. Galten played guard in junior college and will likely play guard at USC. Martin will likely redshirt.
The battle between Martinez and Galten could be an interesting one -- the most interesting one on the offensive line in spring, for sure -- because it appears to be so close. Martinez has the system experience, but Galten has the on-field experience.
Right tackle
1. Kevin Graf, redshirt sophomore
2. Aundrey Walker, freshman (won't enroll until fall)
Graf will probably start somewhere on the offensive line, although he'll be missing spring practice because of a shoulder injury. Right tackle's simply the best guess at this point in time. He is an option at the guard spots too, which could very well end up happening in fall camp if Walker comes in and impresses the coaching staff.
Speaking of Walker, he told reporters after he signed his letter of intent to attend USC that he was being looked at as a right tackle by the Trojans. That would make a lot of sense: playing Walker as a right tackle for a year or two and moving him over to the left side when Kalil leaves. Of course, things don't always go as planned.
It's important to note that backups at other slots will be filling in all over the line during spring practice. Think about it: USC will have only eight scholarship players available in the spring anyway, with four freshman and Graf out for the month-long session.
We'll be back next week with a look at the defensive linemen.