Thursday, December 2, 2010
USC rivalry moment No. 4: Chad Morton's guarantee

---
By Mark Saxon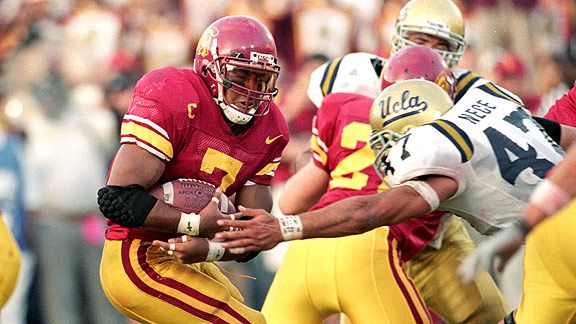 Tom Hauck/Allsport

Chad Morton guaranteed a victory over UCLA in 1999 and backed up his words with 143 yards rushing in a 17-7 win.


UCLA-USC games always find a way to dig out raw emotions. In 1999, feelings were more inflamed then usual around USC's practice field. The Bruins had dominated the rivalry throughout the '90s, carrying an eight-game winning streak into the game.

Trojans tailback Chad Morton, normally a quiet guy, had roiled things further by guaranteeing a USC win. That raised a few eyebrows, not only across town in Westwood, but among USC players who were already dealing with the pressure of snapping the streak.




Cornerback Darrell Rideaux stepped into that flammable mix at the tender age of 18. What was even tougher, he was replacing a seriously ill teammate. Antuan Simmons had undergone an MRI exam on his injured back and doctors found tumors in his chest. It would take him two years to return.

In Rideaux's first college start, he had to cover Freddie Mitchell, a player USC defenders called "Fast Freddy," not because of his foot speed but because of how much he talked. Right off the bat, Rideaux tried to jump a route on play action and Mitchell beat him for a big gain. Rideaux recalls Mitchell turning to the USC sideline.

"He said, 'You guys better get somebody who can cover me. I'm about to serve this kid up,' " Rideaux said. "I was almost like a deer in the headlights. My nerves started racing so much."

But Rideaux settled down and USC took advantage of five UCLA turnovers to win the game 17-7. It wasn't the most artful meeting of the two teams. They were both using backup quarterbacks, with the Trojans' Carson Palmer and the Bruins' Cory Paus out with injuries, and the teams combined for 25 penalties.

The Trojans bottled up DeShaun Foster, holding him to 59 yards on 17 carries, while Morton ran wild, picking up 143 yards and taking the pressure off quarterback Mike Van Raaphorst. In other words, he backed up his words. Maybe he knew something others didn't.

"He wasn't outspoken or boisterous," Rideaux said. "The fact that came from him was very uncharacteristic. He had the confidence of understanding the talent we possess and seeing the chemistry build at the end of the season."

Freshman receiver Kareem Kelly scored both of USC's touchdowns.

It didn't matter if it wasn't pretty. The Trojans, bound for a 6-6 season that year, felt as if they'd just won the Rose Bowl. Fans at the Coliseum stormed the field and carried Morton off on their shoulders. Rideaux recovered the fumble that sealed it for USC.

"The adrenaline and emotions after that game were like nothing I'd ever experienced," he said. "If we had had to play another game the next week, I don't know what would have happened. We were so exhausted and left so much out there on the field."


---