October, 25, 2013
10/25/13
8:00
AM PT
Five things to watch for USC in the upcoming game against Utah:


Injuries:
The long list of injuries for the Trojans is mind-numbing these days and three more players were lost for the season this week; linebacker
Lamar Dawson
(knee), tailback
Justin Davis
(ankle) and offensive guard
Jordan Simmons
(knee). These are not inconsequential losses as Dawson was fourth on the team in tackles and Davis was second on the team in rushing. At the end of Tuesday's practice, only one scholarship receiver was available --
Darreus Rogers
-- and there were no scholarship tight ends. How the USC injury list stands on Saturday may be as important to the outcome of the game as anything.
USC O-line vs Utah D-line:
It was a rough night for the Trojans O-line against the Irish and it doesn't figure to get a whole lot easier this week against a defensive line that paves the way for the conference lead in sacks. The Utes have 22 sacks on the year and 16 come from the line. They are a strong and aggressive group, led by a pair of outside pass rushers in
Trevor Reilly
and
Nate Orchard
. Under normal circumstances the Trojans would use the tight ends to help with blocking assignments so this is yet another area where injuries could come into play.
USC corners vs. Utah pass game:
The Trojans pass defense has been a struggle for the past three games and interim coach Ed Orgeron has decided to address things with a position change.
Josh Shaw
will move from safety to corner, the position he played earlier in the season. Orgeron is confident that the presence of Shaw will help to correct things, noting that the problems were not there earlier when Shaw was at corner. The ability of Utah to attack USC is the passing game will depend largely on the health of Utes quarterback
Travis Wilson
, who suffered a hand injury last week against Arizona but is expected to play on Saturday.
Kicking competition:
After
Andre Heidari
missed two of three field goals against Notre Dame, Orgeron announced that the place-kicker job would be open for competition this week. Heidari, who has been the starter since his freshman year, admitted after Wednesday's practice that he is in "a funk" with his kicking but he is confident he can work out of it.
Alex Wood
and
Craig McMahon
are being given longer looks in practice with a decision expected Friday after Orgeron meets with special teams coach John Baxter.
How do Trojans respond:
It was an emotional scene in the USC locker room after the game in South Bend and it was obvious that was a game the players really wanted. They had fought hard but just weren't able to pull it out. What made it even more interesting is how many players talked about how they wanted to win it for Orgeron. The interim coach has put a much-needed focus on the players, on keeping their spirits up, and that energy will need to continue because there is no time for a letup against Utah. Don't forget that the Utes are the one team this year that has defeated Stanford.
October, 23, 2013
10/23/13
1:15
PM PT
One of the biggest topics for USC fans in the aftermath of the loss to Notre Dame was the impact of the game on the job status of interim coach Ed Orgeron.
It wasn't that fans pinned the loss on Orgeron but the general consensus was that the loss did great damage to his long-term hopes of getting the permanent job. There were some who thought the damage was too much to overcome while others thought there was still a chance Orgeron could go a run to keep the job. There is still time to compete for a spot in the Pac-12 title game although there is very little wiggle room left. The Trojans would simply have to go on an amazing run through the rest of the season and there couldn't be a repeat of what was seen on Saturday.
[+] Enlarge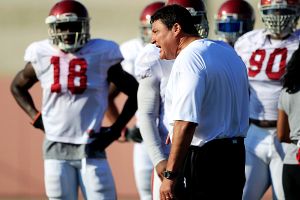 AP Photo/Damian DovarganesUSC interim coach Ed Orgeron has brought some positive energy to the Trojans.
That will be a daunting task for Orgeron to achieve when you consider the schedule that lies ahead for the Trojans, but he seems bound and determined to keep things positive. His postgame quotes following a crushing loss to the Irish were nothing more than gratitude for the players. And that could be the thing that matters as much as anything for Orgeron and athletic director Pat Haden during the remainder of this season.
It's not like the Trojans got blown out or embarrassed in any way. They lost a tough game on the road where the realities of this particular team were on full display -- injuries, penalties, key mistakes, etc. at the wrong time.
One of the consistent praises you heard after the game, however, was for the effort from the team. Even in the face of one of those nights where so many bounces of the ball went against them, the Trojans fought to the end. And that's where Orgeron wants to keep them. He wants to build upon the good energy he has brought during his tenure and not let one defeat put a halt to that momentum.
Kicking open the door of competition
Orgeron announced on Monday that he would be opening up the kicking competition this week in practice after
Andre Heidari
-- for the second time this year -- missed two field goals that could have provided the margin of victory in a game.
Other candidates in the competition will include
Alex Wood
and
Craig McMahon
, both of whom have seen action with extra points and kickoffs but have yet to attempt a field goal for the Trojans. The odds are that Heidari will end up keeping his job at the end of this week but it doesn't hurt to have a little competition to get things kick-started, no pun intended.
Injury woes
There isn't any way to sugarcoat what is going on with the Trojans and injuries right now. A look at the offensive side of the ball during the Tuesday practice showed a veritable MASH unit of sidelined players and a whole lot of walk-ons sprinkled among the active players.
At wide receiver, the Trojans ended the practice with only one scholarship receiver --
Darreus Rogers
-- but that must have seemed like a bonus to the tight end spot, where no scholarship players were available. Add to that a running back position that is dealing with the news that freshman sensation
Justin Davis
will be out for the remainder of the regular season with an ankle injury and you have the makings of a real depletion of talent at the skill positions.
Position switch
It appears as if
Josh Shaw
is on the move again. After beginning his USC career at safety in 2012, Shaw got moved to corner midway through last season and played well. In spring 2013, however, he moved back to safety and seemed to have found a home in a spot where he was comfortable. But injuries and inconsistent play have reversed that course and this week Shaw finds himself back at corner.
It's no secret that the cornerback position has been hit-and-miss this year and for the last three weeks it has been mostly a miss. Opposing offenses have found a recipe for success with attacking the Trojans cornerback spot no matter who was there from
Kevon Seymour
to
Torin Harris
to
Anthony Brown
. No matter how much the coaches preferred to keep Shaw at safety, this latest move is one that makes sense because the other options weren't working. With Shaw now out of the safety rotation, look for
Leon McQuay III
to steadily get more time. McQuay has looked solid lately on the practice field, particularly on special teams as a kick blocker.
October, 21, 2013
10/21/13
1:45
PM PT
USC
will open up the placekicking competition after
Andre Heidari
missed two field goals in the
14-10 loss to Notre Dame
.
USC interim head coach Ed Orgeron announced that they will open up the kicking competition in practice this week.

— USC Trojans (@USC_Athletics) October 21, 2013
Heidari has been successful on 6 of 11 field-goal attempts this year, with two key misses in the loss to Washington State as well.
As a freshman in 2011, Heidari was named All Pac-12 first team after hitting 15 of 17 field goals and all 50 extra points. An early season knee injury in 2012 slowed him a bit and he ended the year by connecting on 10 of 16 field goals and 39 of 41 extra points.
There was hope within the USC program that the knee injury would be behind Heidari in 2013 and that he would get back to the form he showed in 2011. With the news that his job will now be open for competition, other candidates will include junior
Craig McMahon
-- who has 39 kickoffs in his USC career -- and sophomore
Alex Wood
, who connected on all eight extra points while subbing for the injured Heidari last season in games against Syracuse and Stanford.
October, 11, 2012
10/11/12
7:17
PM PT
By
Pedro Moura
| ESPNLosAngeles.com
LOS ANGELES --
USC Trojans
freshman offensive lineman
Zach Banner
is redshirting this season, so he has been left at home for each of the Trojans' three trips this year.
But coach Lane Kiffin is throwing him a bone this week and putting Banner on the travel squad for the team's game against Washington. Banner grew up in Tacoma, Wash., 30 miles from Seattle, where the game will be played, and was raised a Huskies fan.
Banner was elated to find out he'd be accompanying the team, even though he won't be playing unless something drastic happens.
"If I was gonna pick any trip, it'd be this one," he said this week.
The mammoth 6-foot-9, 335-pounder expects about 30 family members to attend and anticipated he'll be giving out a "a lot of love pats and I-miss-you's" on the field afterward.
Teams are allowed to take 70 players on conference road trips. Kiffin said NCAA-mandated scholarship limitations and normal injuries have left the Trojans with less than 70 available players who they could count on in a game.
"We're not at that point," Kiffin said. "So we take some guys that never play and so that's the good thing about the sanctions. ... Zach gets to go on a trip home and go up there.
"Hopefully we won't be doing that for many years."
Banner, the son of former NFL lineman Lincoln Kennedy, said he was stressing to himself that it was a business trip, regardless of the game's location. The fact that he went to several Huskies home games as recently as last season doesn't matter anymore, he said.
"One thing that's cool about it is Coach Kiff is giving me the opportunity not only to go home and see the family, something I'm not able to do because I'm not from around here, but he's also giving me the experience of what it's like to travel," Banner said this week. "Next year, for my real freshman year, I'm gonna know what it's like to travel and not have it phase me."
September, 22, 2012
9/22/12
2:57
PM PT
By
Pedro Moura
| ESPNLosAngeles.com
LOS ANGELES -- We're just about set to go here at the L.A. Memorial Coliseum for No. 13
USC
against Cal. Here are some last-minute updates as we approach the 3 p.m. PT kickoff:
It looks as if USC's offensive line will be assembled differently this week than it was against Stanford. Khaled Holmes, who missed last week's game, was announced as the starting center on the Coliseum video board and also warmed up there in pregame drills. Abe Markowitz practiced as the left guard pregame and appears to be the starter there this week.
Here's something interesting: Andre Heidari warmed up before the game and looked like his normal self, converting kicks from 50 yards with ease and knocking down consecutive 40 yarders with Matt Barkley serving as the holder. Heidari has missed the last two games. Alex Wood, who has kicked in his place, is wearing a different number for the third straight week, now sporting No. 8 after beginning with No. 6 and then switching to No. 48 against Stanford.
Receiver George Farmer, defensive end J.R. Tavai and linebacker Scott Starr are not in uniform for today's game, according to USC's official site. That means the Trojans will be shorthanded on the defensive line once again, with Tavai now out for his second straight contest.
The lower half of the student section at the Coliseum filled up well before kickoff, but the rest of the seats were largely empty as the start of the game approached. A game-time temperature of 87 degrees might have something to do with that.
We'll have extensive postgame coverage after today's game on ESPNLA.com.
September, 20, 2012
9/20/12
1:38
PM PT
By
Pedro Moura
| ESPNLosAngeles.com
LOS ANGELES --
Alex Wood
, USC's walk-on replacement kicker, likes to say he's in his range whenever he's on the football field.
And he might be right: He missed only two field goals in his senior season of high school in Washington, including a 51-yarder.
On fourth-and-2 from the Stanford 13-yard line Saturday, facing a 30-yard field goal, Trojans coach Lane Kiffin brought Wood onto the field, but used him as a decoy for a
Matt Barkley
pass to
Soma Vainuku
that went incomplete in the end zone.
That was the closest Wood has come to kicking a field goal in two games as USC's primary place-kicker. The week before, against Syracuse, Kiffin again opted to go for it when presented with a similar opportunity to try for three points.
Wood, a freshman who came to USC last month as a preferred walk-on, is 8-for-8 on point-after attempts since stepping in for the injured
Andre Heidari
after the season opener.
In practice this week, Wood said, the Trojans were backing up all the way to the 40-yard line, and he knocked in a 50-yarder in live drills.
"So I feel comfortable whenever I'm in the game," he says. "If I'm on the field, then it's in my range."
Now it just has to be in what Kiffin believes is his range. The coach said the decision to go for it on fourth down against Stanford was influenced by the left-hash placement of the ball, indicating that Wood isn't as good coming from that side as he is straight down the middle.
September, 16, 2012
9/16/12
12:31
PM PT
The USC Trojans certainly had their chances with several opportunities to take control before Stanford really seized things in the second half in a 21-14 victory.
USC benefitted early when Stanford missed scoring chances in the kicking game. A long return on the opening kickoff set the Cardinal up for a quick field-goal attempt, but it hit the upright and bounced away. The USC defense had a nice goal-line stand to force another field-goal attempt, which simply missed wide left. Finally there was the blocked field goal by
T.J. McDonald
.
There were a pair of key third-down swings. In the middle of the third quarter with the Trojans leading 14-7, Stanford was stopped on a third-and-long run play deep in their end, and a resulting punt would likely have given USC the ball near midfield. Instead there was a personal foul penalty against
George Uko
and the drive continued. On the final Stanford scoring drive,
Josh Nunes
– not known for his running ability – ran for 12 yards on a third-and-10 with the ball at midfield. A stop there would have given the Trojans the ball in a tie game. Instead, Stanford took the lead and never gave it up.
In the third quarter, USC was faced with a fourth-and-1 from the Stanford 13-yard line. There was no
Andre Heidari
to rely on, but you have to imagine a 30-yard attempt would have been in
Alex Wood
's range. There was also the option to go for it, which the Trojans did, and
Matt Barkley
ended up lofting a pass in the direction of
Soma Vainuku
, who got his hands on the ball despite good coverage from the defender. As they came to the ground, however, the defender was able to dislodge the ball and the pass was ruled incomplete. The Trojans had a real chance right there to extend the 14-7 lead but they came away empty.
September, 15, 2012
9/15/12
4:32
PM PT
By
Pedro Moura
| ESPNLosAngeles.com
STANFORD, Calif. -- We're just about set to go here at Stanford Stadium for No. 2
USC
against No. 21
Stanford
. Here are some last-minute updates as we approach the 4:50 p.m. PT kickoff:
In true John Baxter fashion, USC backup kicker Alex Wood has switched numbers this week from No. 6 to No. 48 -- which happens to be the number that starting kicker Andre Heidari wears normally. Heidari did not make the trip to the Bay Area.
Center Khaled Holmes, who went down in the fourth quarter of last week's Syracuse game because of an apparent ankle injury, suited up and participated in warmups. He did not appear severely limited but was wearing a brace on his right ankle. Backups Abe Markowitz and Cyrus Hobbi were also snapping the ball in warmups.
Defensive end Wes Horton warmed up pregame despite missing the second half of Syracuse because of an unspecified injury. Fellow end J.R. Tavai, who also missed the second half last week, was not warming up with his teammates. It could really hurt USC to not have him against the Cardinal, considering he has proven adept at run-stopping in his USC career.
The weather at Stanford Stadium is a perfect 72 degrees, with temperatures set to drop into the high 50s by the second half. Fans began to pile in an hour and a half before kickoff.
We'll have extensive postgame coverage after today's game on ESPNLA.com.
September, 8, 2012
9/08/12
9:55
PM PT
By
Pedro Moura
| ESPNLosAngeles.com
EAST RUTHERFORD, N.J. -- Here are notes and quotes from the
USC Trojans
' 42-29 win over the
Syracuse Orange
on Saturday at MetLife Stadium that won't make it into our other coverage from the day:
Woods makes a comeback
Robert Woods
was explosive Saturday -- really explosive, the way he hadn't been in a while.
There was the diving catch that got called back because of a holding penalty on
Marcus Martin
. There were the 10 catches that stood, including two touchdowns, for 93 yards. And there was the electrifying 76-yard run on a reverse that got the Trojans right near the goal line.
Last week, in USC's season opener,
Marqise Lee
was the star. This week, it was clearly Woods.
"It does feel pretty good to finally make some explosive plays," Woods said afterward. "That's just what I want to do every week, and I'm just waiting for another opportunity to do it again."
On his second touchdown catch, in the third quarter, Woods fell on his right shoulder and reaggravated an injury from earlier in the game, when he was sandwiched among three Syracuse players and had his shoulder pad dented by one of them.
He said it was only a "quick pain" the second time around.
Some of the short screen plays from
Matt Barkley
to Lee that worked so well against Hawaii weren't working at all against Syracuse. So USC coach Lane Kiffin reversed course, and had Barkley target Woods again and again.
On the drive on which he hurt his shoulder the second time, Woods accounted for 39 of USC's 57 yards on four catches. He was the only player Barkley targeted on the eight-play drive.
"Robert really stepped it up today," Kiffin said.
The delay
Everybody found out about it at different times -- or not at all -- but some of USC's camp knew a severe weather delay was likely at some point Saturday.
Kiffin found out from a stadium official before the game that it was "probably going to happen," and Barkley heard the same thing from a referee on the field before kickoff, although he didn't inform his teammates. Both Kiffin and Barkley thought it would happen a little later, though, and Barkley thought the Trojans might even be able to finish the game before the thunderstorm came in over East Jersey.
They weren't. A couple of minutes after USC and Syracuse players returned to the field following an abbreviated halftime break with the Trojans up 14-3, play was halted and both teams were directed back to their locker rooms.
The delay ended up lasting about 70 minutes, with pouring rain falling on the field for most of it. USC spent some of that time preparing for the second half and some of it trying to regroup physically during an unusual situation.
September, 8, 2012
9/08/12
5:12
PM PT
By
Pedro Moura
| ESPNLosAngeles.com
EAST RUTHERFORD, N.J. -- The No. 2
USC Trojans
fought through an hour-long severe weather delay to top Syracuse, 42-29, at MetLife Stadium on Saturday. Here's a report card for how the Trojans performed in their second game of the 2012 season:
PASSING ATTACK
It might've been the sneakiest six-touchdown game in history. This wasn't A-quality work from
Matt Barkley
, and that shows how high expectations for him this season. He had a nice streak going in the second and third quarters, but that was ruined by a bad deep throw to
Robert Woods
that was picked off.
RUSHING ATTACK
This was a significant improvement over Week 1, but, still, that's the best USC could do?
Silas Redd
and
Curtis McNeal
, two 1,000-yard rushers in 2011, gained more than six per rush, but they got only a combined 25 carries. Maybe some run calls could've replaced those boring bubble screens.
IN THE TRENCHES
USC's offensive line was downright poor for much of this game, as evidenced by Lane Kiffin's repeated avoidance of anything that required Barkley to stay in the pocket for more than three seconds. But the Trojans' defensive line played well for the second straight game, even though two key ends were out in the second half.
DEFENSE
Considering Syracuse put up 41 points a week ago, USC did OK to hold the Orange to 29 points Saturday.
Dion Bailey
and
Morgan Breslin
were difference-makers all game, but the Trojans' defensive backs were not. Monte Kiffin really needs to find a suitable second corner sometime soon.
SPECIAL TEAMS
Kyle Negrete
averaged 50 yards on his three punts and downed all three inside the 20-yard line -- that's elite punting. Woods boosted the Trojans with a big second-half punt return, and walk-on kicker
Alex Wood
knocked down all five of his point-after attempts. This unit really helped USC today.
COACHING
Lane Kiffin's playcalling was clearly not at its best, but he did enough in the fourth quarter to get things going. USC had its players take their pads off during the 70-minute delay, and that appeared to help keep them fresh late in the game. And he didn't go for two at all.
2014 TEAM LEADERS
| TEAM | RUSH | PASS | TOTAL |
| --- | --- | --- | --- |
| Offense | 158.2 | 294.6 | 452.8 |
| TEAM | PF | PA | MARGIN |
| Scoring | 35.1 | 23.8 | 11.3 |