November, 15, 2012
11/15/12
6:45
PM PT
By
Pedro Moura
| ESPNLosAngeles.com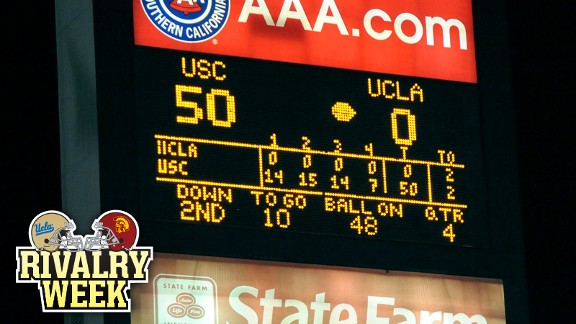 Kirby Lee/Image of Sport/US PRESSWIREPlayers from both UCLA and USC remember last season's game with different perspectives.
LOS ANGELES -- When
USC
's
Robert Woods
and
Dion Bailey
were youngsters in Carson, Calif., their Pop Warner team was among the best in the state.
Then, one Saturday morning, they suffered a crushing loss to a team from Carlsbad, quarterbacked by an older prodigy named Tate Forcier. Bailey, now a sophomore linebacker for the Trojans, says he still remembers everything about it vividly today: the first touchdown they allowed, when he knew it was over, when he knew how badly he wanted to forget it and how hard he found he would work to do so.
"That," he says now, pausing for effect, "is the worst I've ever lost."
Bailey and Woods lost 28-6 to a team they never saw again. Take the margin of that loss and more than double it against your biggest rival, and that's about how badly
UCLA
lost to USC last Thanksgiving weekend: 50-0.
Bailey said he couldn't imagine facing his classmates after a loss of that magnitude.
"Here, at this school, with our tradition, if we lost 50-0, I probably wouldn't show up to school," Bailey said this week. "We didn't have any games after, we weren't bowl-eligible. That was our last game.
"I'd probably just show up for finals, keep my head down and avoid eye contact with everybody."
Of course, UCLA's players had to go to school the week after their devastating loss to USC last season. And they had to play in the conference championship game six days later, too -- against
Oregon
, the fifth-ranked team in the country.
Given all that, USC receiver
Marqise Lee
understands what has happened to the UCLA football team since that fateful night at the Coliseum.
"I'd change my mindset, too," Lee said. "Play harder. Play better. That's what they're doing."
UCLA safety
Andrew Abbott
, a Bruins captain and a former receiver of
Matt Barkley
's in high school at Mater Dei, said this week that the game was partially responsible for the drastic change he and his teammates made sometime in between December and September.
"It's something that kind of drove players individually," Abbott said. "The team remembers it, and we thought about it and it helped us in the offseason. But it wasn't something like we were like, 'We lost 50-0, let's go get extra work in.' We didn't do that."
November, 15, 2011
11/15/11
8:42
PM PT
By
Pedro Moura
| ESPNLosAngeles.com
USC senior fullback/linebacker Ross Cumming was announced Tuesday as one of 50 FBS players nominated for the Bulsworth Trophy, an annual award given out to players who began their college careers as walk-ons.

Cumming is one of seven Pac-12 players among the nominees, including UCLA cornerback Andrew Abbott, Stanford receiver Griff Whalen and Colorado defensive back Travis Sandersfeld.

The 24-year-old Cumming spent two years at Naval Academy preparatory school in 2006 and 2007 before being medically discharged, then earned preferred walk-on status at USC in the summer of 2008 to enroll at the school. He played on special teams his first two seasons with the Trojans and then, as he picked up some duties as a backup linebacker, earned a scholarship in August 2010.

This year, he has taken significant snaps at fullback and on special teams. He leads the Trojans with 15 special-teams tackles and has also recorded two catches for 16 yards on offense.

The Burlsworth Trophy, in its second season of existence, is named in honor of former Arkansas offensive lineman Brandon Burlsworth. He walked on to the Razorbacks squad without a scholarship offer and became a three-year starter and all-American by the time his college career was done.

He was then selected as the 63rd overall pick by the Indianapolis Colts in the 1999 NFL draft but killed in a car
accident 11 days later.

The first-ever award went to Georgia Tech center Sean Bedford after the 2010 season.
2014 TEAM LEADERS
| TEAM | RUSH | PASS | TOTAL |
| --- | --- | --- | --- |
| Offense | 158.2 | 294.6 | 452.8 |
| TEAM | PF | PA | MARGIN |
| Scoring | 35.1 | 23.8 | 11.3 |