July, 24, 2012
7/24/12
2:44
PM PT
By
Pedro Moura
| ESPNLosAngeles.com
UNIVERSAL CITY -- USC was picked to win the Pac-12 championship by more than 80 percent of the voting media in the 2012 Pac-12 media poll, it was announced Tuesday at the conference's annual media day.

117 of 123 voters (95 percent) picked the Trojans to win the Pac-12 South and 102 of those picked them to win the championship. The other teams to receive votes were Oregon and Arizona State.The preseason media poll has correctly picked the conference champion 28 of 51 times in total and 11 of the last 12 years.

USC is being picked to win the league for the 31st time. The Trojans have proven that prognostication correct 18 times.

Here are this year's full results, with much more information from the media day festivities coming later:

NORTH DIVISION
1. Oregon (117) 732
2. Stanford (5) 533
3. Washington 502
4. California (1) 382
5. Washington State 228
6. Oregon State 205

SOUTH DIVISION
1. USC (117) 729
2. Utah (1) 514
3. UCLA (2) 435
4. Arizona 385
5. Arizona State (3) 353
6. Colorado 164

PAC-12 TITLE GAME CHAMPION: USC (102 votes)
Others receiving votes: Oregon (18), Arizona State (3)
September, 24, 2011
9/24/11
7:34
AM PT
Welcome to Week 4: Trojans Live!
ESPNLA.com's interactive chat from Tempe, Saturday, 7 p.m. PT.
Swing by and talk to our staff covering the game against Arizona State.
The game is televised on ESPN and ESPN3.com.


Welcome to Week 4: Trojans Live! Set your reminders
ESPNLA.com's interactive chat from Tempe, Saturday, 7 p.m. PT.
Swing by and talk to our staff covering the game against Arizona State.
The game will be televised on ESPN and ESPN3.com.


September, 17, 2011
9/17/11
10:58
PM PT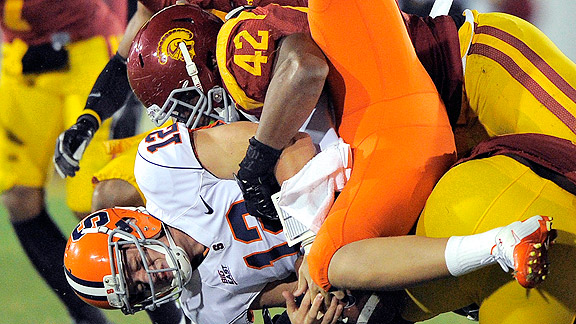 AP Photo/Mark J. TerrillSyracuse QB Ryan Nassib is tackled by USC's Devon Kennard (42) and Lamar Dawson, top.
LOS ANGELES -- It's amazing how little we've learned about this USC football team through the first three games.
Matt Barkley
and
Robert Woods
are good. The early-season schedule, not so much.
This coaching staff and USC's collective fandom sit and hope this team grows into a personality. It has an offensive identity -- those two guys. "Barkley to Woods" figures to be the phrase of 2011, maybe the only memorable connection when it's all said and done.
But there is another group on this team that has the potential to take over games, to help carry this team back from the morass of mediocrity to a potentially dominant position in college football again. Thus far, we've only seen glimpses and furtive glances.
Some of the most talented guys on this roster teased us again in Saturday's close-but-not-quite-dominant 38-17 win over Syracuse. The USC defensive line isn't what it should be yet, but it's getting close. It has seven days before it absolutely has to arrive or this season might unravel slowly, the way it did a year ago.
"I'm waiting to see it. I really am," said defensive coordinator
Ed Orgeron
. "It hasn't happened yet. We've shown spurts, but obviously we've got a lot of ball left to play."
Syracuse quarterback
Ryan Nassib
is an efficient guy and he was beginning to get comfortable Saturday, far more at-home than a quarterback from a rebuilding program ever should look playing in the Coliseum -- a place that once had the power to unnerve. Nassib was so rattled, he completed all 11 of his passes in the first quarter.
By the third, it looked as if he and his Orange teammates were actually starting to believe they could do what five of the previous 12 USC opponents had done here: win.
Then things started to cave in.
March, 9, 2011
3/09/11
7:55
AM PT
Schedule of game for this week's Pac-10 Tournament at Staples Center:
Game 1 -- Wednesday: No. 8 Stanford vs. No. 9 Oregon State , 6 p.m. TV: FSN
Game 2 -- Wednesday: No. 7 Oregon vs. No. 10 Arizona State, 8:30 p.m. TV: FSN
Game 3 -- Thursday: No. 4 USC vs. No. 5 California, Noon TV: FSN
Game 4 -- Thursday: No. 1 Arizona vs. Game 1 winner, 2:30 p.m. TV: FSN
Game 5 -- Thursday No. 2 UCLA vs. Game 2 winner , 6 p.m. TV: FSN
Game 6 -- Thursday: No. 3 Washington vs. No. 6 Washington State, 8:30 p.m. TV: FSN
Game 7 -- Friday: Game 3 Winner vs. Game 4 winner 6, p.m. TV: FSN
Game 8 -- Friday: Game 5 Winner vs. Game 6 winner , 8:30 p.m. TV: FSN
Final -- Saturday: Pac-10 Tournament Championship, 3 p.m.. TV: CBS
July, 29, 2010
7/29/10
12:18
PM PT
By
Pedro Moura
| ESPNLosAngeles.com
The defending Pac-10 champion Oregon Ducks beat USC by a narrow margin in the annual conference media poll released today, ending the Trojans' seven-year streak of earning the top spot every July.

USC earned 12 first-place votes from the 35 West Coast voters participating in the poll this time around, while the Ducks received 15. The margin between the two schools -- just three points (314 to 311) -- equals the second-closest poll ever after the 1989 edition, when the Trojans were picked to beat UCLA by two points.

Oregon State finished third in the voting, 49 points behind USC, and got three first-place votes. Four other Pac-10 squads received at least one first-place vote: Stanford, Arizona, Washington and UCLA.

The conference release notes that the poll has correctly selected the conference champion in 26 of 49 previous years, including nine of the last 10.

The full results, with first-place votes in parentheses:

1. Oregon (15): 314

2. USC (12): 311

3. Oregon State (3): 262

4. Stanford (1): 233

5. Arizona (2): 222

6. Washington (1): 209

7. California: 175

8. UCLA (1): 134

9. Arizona State: 81

10 Washington State: 39
March, 4, 2010
3/04/10
9:10
PM PT
By
Pedro Moura
| ESPNLosAngeles.com
The Trojans played hard enough Thursday. They shot well enough. And they defended well enough. But they still didn't win, as USC (16-13, 8-9) fell 59-54 to Arizona State (21-9, 11-6) in Tempe, Ariz.

The Sun Devils' Rihards Kuksiks provided a lot of his team's offense, shooting eight of 13 from the field and scoring 24 points. Only Derek Glasser joined him in double figures with 11.

USC's Mike Gerrity and Marcus Simmons had 11 points each.

With 11 minutes to go, USC led 39-38, but consecutive 3-pointers by Kuksiks and Glasser gave the Sun Devils a five-point lead they would never relinquish.

The Trojans did get as close as 55-54 with 18 seconds to go after a dramatic 3-pointer from Marcus Johnson, but Kuksiks nailed two big free throws and Dwight Lewis missed a misguided shot attempt to clinch the ASU victory.

Now, USC must end its four-game losing streak and win Saturday morning at Arizona to salvage a .500 Pac-10 season, while the Sun Devils must beat UCLA and see Cal lose to Stanford to grab a share of the regular-season Pac-10 title.
March, 4, 2010
3/04/10
6:31
PM PT
By
Pedro Moura
| ESPNLosAngeles.com
5:30 p.m. tip-off tonight in Tempe, Ariz., for the Trojans and Sun Devils.
It's a big game for both teams — USC (16-12, 8-8) needs to win to avoid spiraling further downward as its season ends; ASU (20-9, 10-6) needs to win to keep the chance to share the Pac-10 title with Cal.
The last time these schools met in Arizona, former USC coach
Tim Floyd
was ejected in the final minute of play after a controversial foul call on then-Trojan
Daniel Hackett
. ASU's
Derek Glasser
had a career-high 18 points in that game. He's averaging 10 points and five assists per contest this year as the Sun Devils' leader on the floor, but ASU has also received solid production from guard
Ty Abbott
(12.3 points per game) and
Rihards Kuksiks
(11.4).
For the Trojans, scoring has been at a premium over their last three games. USC has scored a total of 135 points over its last three games — an average of 45. Leading scorers for the Trojans in that span:
Dwight Lewis
with an average of 11 and
Nikola Vucevic
with seven.
USC coach
Kevin O'Neill
said Wednesday after practice that the Trojans would have a similar game plan to the usual one: defending well and letting the offense flow from there. They did that successfully when Arizona State came into town in January, holding the Sun Devils to 37 points in a 47-37 win.
Only time will tell whether USC can do it again. We'll have a postgame report.
Notes
: Yesterday, USC athletic director Mike Garrett began
blogging
on USCRipsIt. Today, he created a
Twitter
account. ...
John Baxter
has been
officially announced
as the Trojans' next special teams coordinator and associate head coach.
March, 3, 2010
3/03/10
7:07
PM PT
By
Pedro Moura
| ESPNLosAngeles.com
The Trojans left the Galen Center just after 5 p.m. today en route to Arizona, where games against Arizona State and Arizona await them.
The Sun Devils come first — at 5:30 p.m. Thursday. USC coach
Kevin O'Neill
told reporters during today's Pac-10 teleconference that he would be "interested" to see how his players respond to being out of conference title contention this weekend.
"Until this past weekend we were playing for something of a tangible goal of some sort," O'Neill said. "
I don't know how we will react over these last two games being that we really have nothing to play for like the Pac-10 Tournament or anything like that."
O'Neill expanded on that after practice today among other topics:
And after an intense one-on-one matchup with walk-on
Davis Rozitis
, forward
Nikola Vucevic
discussed defending ASU's
Eric Boateng
, the final Galen Center practice of the season, and Pac-10 award season:
We'll have more in advance of Thursday's game.
February, 22, 2010
2/22/10
8:39
PM PT
By
Pedro Moura
| ESPNLosAngeles.com
All the news in the world of USC that's fit for reading on what was a spectacular 70-degree Monday in Los Angeles:
USC's spring practice dates have been announced. The Trojans begin on Thursday, March 30 and will have practices every Tuesday, Thursday and Saturday until the Trojan Huddle on Saturday, May 1. Including the Huddle, USC's annual spring game, that makes for 15 practices. Tuesday and Thursday practices are scheduled for 4 p.m.; Saturdays will be at 11 a.m. It is not yet known whether spring practices will be open to the public under new coach Lane Kiffin.
In basketball news, the game times for the final two men's games in Arizona were also announced today. The Thursday night game against Arizona State will be at 5:30 p.m. PST; the Saturday game against Arizona will be at 10:30 a.m.
It's a big week for non-revenue sports teams at USC. The No. 6 men's volleyball team hosts No. 5 Cal State Northridge on Wednesday at the Galen Center. Both teams had been ranked No. 1 for sizable portions of the season, but the Trojans have lost four of their last six matches and the Matadors have lost three of their last five. CSUN has beat USC 15 straight times. And the USC baseball team has a chance to give head coach Chad Kreuter a .500 record with a win against Loyola Marymount on Tuesday. Kreuter's team has gone exactly 28-28 each of the last two seasons. The Trojans also have an exhibition with a Japanese university on Wednesday at Dedeaux Field.
And, as speculation continues concerning USC's appearance at an NCAA hearing over the weekend, The Los Angeles Times reports that USC coach Kevin O'Neill was not with his team Friday night as they prepared to face Washington State. O'Neill was reportedly instead still in Seattle, on a conference call with the NCAA infractions committee in Tempe, Ariz. Says guard Dwight Lewis in the article: "It was different, but I don't think it affected us in the game. It had nothing to do with who was there or who wasn't there."
And a little bit of a link dump: a USC student profile on TE signee Xavier Grimble and former USC receiver Jamere Holland was kicked off the Oregon team after angry status updates on his Facebook concerning the fate of linebacker Kiko Alonso, who was cited for a DUI last week and later suspended for the 2010 season. Holland, has yet to make his Facebook profile private and continues to post frequent updates.
2013 TEAM LEADERS
| TEAM | RUSH | PASS | TOTAL |
| --- | --- | --- | --- |
| Offense | 174.2 | 218.1 | 392.3 |
| TEAM | PF | PA | MARGIN |
| Scoring | 28.5 | 21.3 | 7.2 |