May, 21, 2012
5/21/12
6:57
PM PT
By
Pedro Moura
| ESPNLosAngeles.com
Two former USC Trojans were officially named to the 13-man USA Men's Select Team roster on Monday, meaning they'll practice against the U.S. Olympic squad for six days in July to help train the eventual international competitors.

Chicago Bulls forward Taj Gibson and Toronto Raptors swingman DeMar DeRozan were the two ex-Trojans selected. They join a roster of young NBA players like New York Knicks guard Jeremy Lin and Cleveland Cavaliers guard Kyrie Irving, as well as former USC nemesis Klay Thompson, now coming off his rookie year for the Golden State Warriors.

Gibson, who will turn 27 before the July 6-11 camp in Las Vegas, is the oldest of the 13 players. He just finished his third season with the Bulls and averaged 7.7 points and 5.2 rebounds as a reserve forward.

DeRozan put up 16.7 points per game for the Raptors last season, second on the squad. He also just finished his third season, as both players were drafted in the first round of the 2009 NBA draft -- DeRozan ninth and Gibson 26th.

Gibson will be up against established NBA forwards like LaMarcus Aldridge, Kevin Love and Blake Griffin in camp; DeRozan will be matched up with the likes of Kobe Bryant, Carmelo Anthony and Andre Iguodala.

Getting named to the US Select Team is often considered the first step to eventual consideration for the Olympic team.
March, 31, 2011
3/31/11
7:33
AM PT
By
Pedro Moura
| ESPNLosAngeles.com


We went over all of USC's Pro Day happenings yesterday in a general recap post, a post focusing on the two Trojan top prospects and former QB Mitch Mustain. Now we present two of the better video interviews from the day: receiver Ronald Johnson (above) and tight end Jordan Cameron (below), with a highlight quote from each of the two to entice your viewing:

"Everyone talks about it. It's Blake Griffin -- everyone wants to know about him, what he's doing. Thankfully he's a good friend of mine, so it helps get my name out there a little bit. We play pick-up together in the summer and we were joking about making a video to showcase my athleticism. He was all for it and it kinda evolved into this skit with Mars Blackmon and that whole thing. And he was funny -- if you watch it, he's a pretty funny guy." -- Cameron on his dunk video with Griffin of the Los Angeles Clippers

"With a 40, you can mess up anywhere -- from the beginning to the middle to the end. I don't think that really matters as much, but when you're on the field and you're running past guys, I don't think it really matters." -- Johnson on the meaning of a 40-yard dash to NFL teams


February, 25, 2011
2/25/11
12:17
AM PT
By
Pedro Moura
| ESPNLosAngeles.com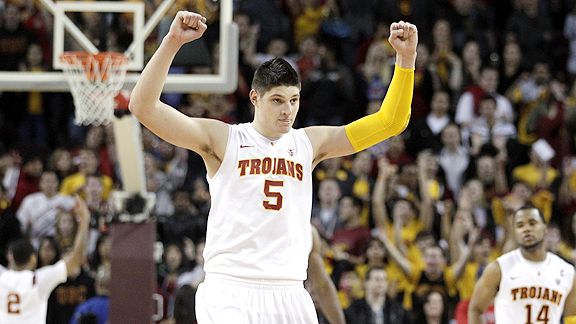 AP Photo/Jae C. HongNikola Vucevc raises his arms in triumph after USC's upset win over No. 10 Arizona.

LOS ANGELES -- Nine days ago, at his team's first practice after a disappointing home loss to Oregon that put the Trojans just above .500, USC coach Kevin O'Neill held court with reporters and reasoned that there was no possible way his team would win 18 or 19 games this season.

Now, three games later, it looks as if they're going to do just that.

Thursday, O'Neill's Trojans (16-12, 8-7 in the Pac-10) put together what he termed their most complete game of the season and beat No. 10 Arizona, 65-57, behind 25 points from Nikola Vucevic and 21 points from Jio Fontan and stifling defense on the Wildcats' Derrick Williams and Lamont Jones. With the win, USC moves within two games of the mark O'Neill thought they'd never reach, with at least four games left this season.

It also puts the Trojans once again in the mix -- as a longshot, surely, but still in the mix -- for an at-large bid to the NCAA tournament, assuming they do win at least two of their three remaining Pac-10 games and get a game or two in the Pac-10 conference tourney. And it sets Arizona quite a bit back in its race for a top seeding in the tourney and gives UCLA a chance to take over the top spot in the conference, or at least share it, with a win over the Wildcats on Saturday.

For his part, O'Neill was focused on what his team did well Thursday -- meaning, most areas of the game, especially in the second half. He also had an eye clearly focused on Saturday's game against Arizona State and next weekend's trip to Washington when speaking about what worked against the Wildcats.

"It's a huge confidence builder," O'Neill said afterward. "We played well tonight, we played hard. We controlled the tempo and we played with poise and confidence down the stretch."

"I hope we can keep this going Saturday."


2013 TEAM LEADERS
| TEAM | RUSH | PASS | TOTAL |
| --- | --- | --- | --- |
| Offense | 174.2 | 218.1 | 392.3 |
| TEAM | PF | PA | MARGIN |
| Scoring | 28.5 | 21.3 | 7.2 |