November, 5, 2012
11/05/12
3:19
PM PT
What:
USC Trojans
(6-3 overall, 4-3 Pac-12 South) vs.
Arizona State Sun Devils
(5-4 overall, 3-3 Pac-12 South)
When:
Saturday, November 12, 12 p.m. PT
Where:
Los Angeles Memorial Coliseum
[+] Enlarge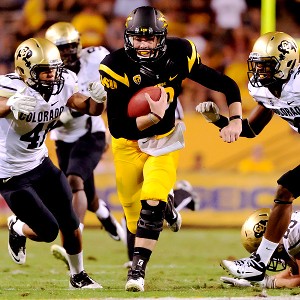 Cal Sport Media via AP ImagesDual-threat QB Taylor Kelly will provide another challenge for the USC defense.
TV:
Pac-12 Network
Radio:
ESPNLA 710
Scouting ASU:
Arizona State, guided by first-year coach Todd Graham, lost its third consecutive game when it fell at Oregon State, 36-26, last Saturday. The Sun Devils are ranked high in the national statistics on both sides of the ball. ASU is 20th nationally in passing efficiency (153.5, third in Pac-12) and tied for 22nd in scoring offense (37.0, second in Pac-12), while it is second in both sacks per game (4.2, second in Pac-12) and tackles for loss per game (9.1, second in Pac-12), seventh in pass defense (161.6, first in Pac-12), 13th in pass efficiency defense (105.9, first in Pac-12) and 24th in total defense (333.3, second in Pac-12).
Dual-threat sophomore QB
Taylor Kelly
(169 of 258, 65.5 percent, 2,161 yards, 20 TD, 6 INT in 2012, plus 97 carries for 383 yards) is 19th nationally in passing efficiency (156.8, third in Pac-12). His top receiver is junior H-back
Chris Coyle
(43 receptions, 501 yards, 11.7 avg, two TD), along with senior WRs
Jamal Miles
(23 receptions, 245 yards, 10.7 avg, plus 10 kick returns for 211 yards and 18 punt returns for 144 yards) and
Rashad Ross
(21 receptions, 335 yards, 16.0 avg, one TD in 2012, plus 13 kick returns for 341 yards and one touchdown.
Top runners, who double as effective pass catchers, include freshman RB
D.J. Foster
(72 carries, 393 yds, 5.5 avg, two TD, plus 31 receptions for 463 yards, 14.9 avg, 4 TD), senior TB
Cameron Marshall
(96 carries, 391 yards, 4.1 avg, six TD, plus 10 receptions, 72 yards, 7.2 avg, one TD) and junior TB
Marion Grice
(62 carries, 316 yards, 5.1 avg, six TD, plus 28 receptions, 331 yards, 11.9 avg, seven TD).
Key ASU defenders include senior LB
Brandon Magee
(70 tackles, 7 for loss, 5.5 sacks, two INT, one fumble recovery, one forced fumble), senior FS
Keelan Johnson
(61 tackles, one for loss, two INT), junior LB
Chris Young
(60 tackles, 13.5 for loss, two sacks, four passes defensed, one forced fumble), sophomore LB
Carl Bradford
(51 tackles, 12 for loss, 7.5 sacks, one fumble recovery, two forced fumbles in 2012) and junior DT
Will Sutton
(42 tackles, 15 for loss, 9.5 sacks, two forced fumbles). Sutton is the Pac- 12's leader in sacks per game (1.2, sixth nationally) and tackles for loss (1.9, fourth nationally), while Young is 20th nationally in sacks per game (1.5, fifth in Pac-12) and Bradford is tied for 23rd nationally in tackles for loss per game (0.8, tied for fifth in Pac-12).
October, 25, 2012
10/25/12
11:30
AM PT
Last weekend, Arizona's
Matt Scott
and USC's
Matt Barkley
led their teams to victory and played well. And, of course, you heard a lot more about Barkley than Scott.
For one, Barkley was brilliant and Scott was just very good. Barkley completed 19 of 20 passes for 298 yards with six touchdowns and no interceptions against Colorado. It was the most efficient performance in the country this year and the most efficient in the history of the Pac-12. And, oh by the way, he now has 102 career TD passes, a Pac-12 record.
[+] Enlarge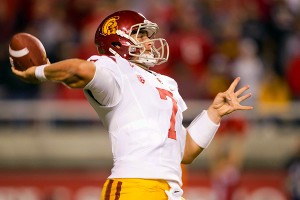 Russ Isabella/US PresswireSenior QB Matt Barkley has the Trojans sitting at 6-1 (4-1 Pac-12) entering Week 9.
Scott, who leads the Pac-12 in passing yards per game with 336.4, played a more supporting role while throwing for 256 yards and four touchdowns and rushing for 43 yards and a score in the blowout win over Washington.
Yet it surely felt familiar. USC is always big news, even when it's not winning championships. And Barkley is the most famous college quarterback in the country, even if he's not going to win the Heisman Trophy.
Scott? His outstanding numbers and notably quick adoption of new coach Rich Rodriguez's offense resonates only regionally, if at all. At least that's the case today.
That might change. These two seniors meet for the first time Saturday in Tucson, with Barkley, a four-year starter, trying to lead the Trojans back into the national title picture, which obviously means not overlooking Scott and the Wildcats because of the Nov. 3 date with Oregon.
Check that. These two did meet before, and let's hope this one is as fun as the first time: Oct. 4, 2007.
That's when Barkley, a junior at top-ranked Mater Dei in Santa Anna, Calif., and already highly celebrated, met Scott, a senior at No. 2 Centennial High of Corona, first clashed in front of roughly 10,000 fans in the Santa Ana Bowl.
[+] Enlarge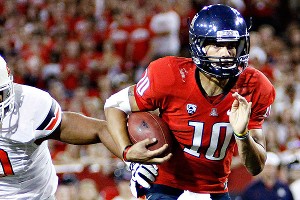 AP Photo/Wily LowSenior QB Matt Scott and the Wildcats are 4-3 (1-3 Pac-12) entering Week 9.
Mater Dei
won 51-37
in a game that lasted three hours and 15 minutes and featured 58 first downs and 1,295 yards of offense, a California high school record that only fell this season.
"The fans definitely got their money's worth," Mater Dei coach Bruce Rollinson told reporters after the game. "That was some show."
Scott passed for 176 yards and rushed for 178. Barkley was 21 of 31 for 364 yards and two touchdowns. The Centennial defense, by the way, featured Vontaze Burfict,
Brandon Magee
, Shelly Lyons and
Will Sutton
, who all signed with Arizona State. In a joint interview in 2011, the Pac-12 blog once asked Burfict, Magee and Lyons about this game, and they all became just a bit grumpy. It's fairly well-known that Barkley and Burfict
are not exactly close
.
Barkley was a five-star prospect in 2008, the nation's highest-rated quarterback. He signed with USC, which at that point was on a dynastic run atop the then-Pac-10, with a 6-1 record in BCS bowl games over the previous seven years and two national titles.
So, what does Rodriguez think of Barkley?
"He's obviously been one of the best quarterbacks in the history of the Pac-12," he said. "He's likely to be the first pick in the NFL draft. We're facing one of the all-time greats and also a tremendous leader."
Scott, a year ahead of Barkley, was a three-star prospect who picked Arizona over California, Boise State and Utah. The Wildcats went 5-7 in 2007, their ninth consecutive non-winning season. He beat out Nick Foles for the starting job in 2009, but then lost out to Foles three games into the season. When Foles was hurt in 2010, he came off the bench and played well, but he opted to redshirt in 2011 so he could finally inherit the keys to the offense as a fifth-year senior.
When asked about Scott, USC coach Lane Kiffin's first word is, "Wow."
"I think he's a phenomenal player," he said. "I didn't realize he is as fast as he is -- accurate, arm strength. He's playing great, doing an unbelievable job with the system."
So there's plenty of mutual admiration for both QBs.
Scott said he and Barkley know each other from football camps and recruiting and get along well. But, yes, it would be meaningful to best Barkley on Saturday.
"Yeah, they are the No. 9-ranked team, so it's going to mean a lot more," Scott said. "It's a big stage, a great quarterback is coming in here. It would mean a lot to outplay him."
If Take 2 is anything like Take 1 in 2007, this one figures to be pretty interesting.
September, 25, 2011
9/25/11
1:03
AM PT
By
Pedro Moura
| ESPNLosAngeles.com


TEMPE, Ariz. -- Arizona State was missing three starting defenders due to injury and a fourth played only some of the game.

But it didn't matter on Saturday against USC. The Sun Devils, led by dynamo middle linebacker Vontaze Burfict, produced four turnovers and appeared to perfect the bend-but-don't-break defense the Trojans themselves attempt to employ.

"They found a way to play great defense with the guys in there," Trojans coach Lane Kiffin said. "They didn't make many mistakes, didn't give us many chances."

"Even with their injuries on defense, once again they showed up."

The Sun Devils were missing linebacker Brandon Magee, defensive end Junior Onyeali and cornerback Omar Bolden, all out for extended periods of time. Safety Eddie Elder didn't start, either. And USC actually outgained ASU, 402-392. But Burfict was at times dominant and the Sun Devils secondary was better than advertised.

Meanwhile, the Trojans' D, playing by far the best offense it's faced this year, struggled, unable to produce pressure on Arizona State quarterback Brock Osweiler and unable to prevent the Sun Devils from big gainers on a regular basis.

It was a bad combination.

"Obviously this is the first time that we were really challenged," said middle linebacker Chris Galippo, who played every meaningful defensive snap. "We were in a hostile environment. Before in this season, we had only been down for about two minutes. So this was the first time we were really down and we had to deal with some adversity."

Arizona State coach Dennis Erickson's game plan was simple: Have Osweiler throw the ball early to prevent USC's talented defensive line from affecting the game. The Trojans got just one sack in the game, in first half, ands hardly pressured the 6-8 signal-caller in the second half.

"They completely eliminated our pass rush," Galippo said. "We were talking before the game about how big a game it was gonna be for our defensive line, and I think they knew that too.

"The quicker that you get the ball out of the box was the better for them, really, and they did a good job of making us miss in the open field."

On the fourth play from scrimmage, Arizona State running back Cameron Marshall broke through the USC front seven and then blew by safety Jawanza Starling in a one-on-one open-field situation, running into the end zone for a touchdown and putting the Trojans behind from the start.

Those tackling issues, reminiscent of USC's 2010 season, came up again and again throughout the game.

"There were a lot of quick passes, and we just had to come up and make tackles," Starling said. "But I think we missed too many tackles and didn't do our keys right and gave them all their plays."

And, like last year, the USC defense didn't produce a single turnover. With the Sun Devils' four, that was more than enough to make the difference -- combined, of course, with the Trojans' 87 penalty yards, 45 of which were assessed to safety T.J. McDonald.

"Turnovers and penalties," Erickson said when asked how his team won the game. "That is about what it boils down to in every football game. Tonight was not any different because they had chances.

"They were moving the ball down two or three different times and turned it over."
September, 23, 2011
9/23/11
9:17
AM PT
By
Pedro Moura
| ESPNLosAngeles.com
1. The whole road thing
: It's USC's first road game, and that's the focus of the week for the squad. Last week's focus -- it's all about us, not about Syracuse -- worked out well. Will this one? That depends on a few factors: (1) how a young offensive line responds to constant crowd noise at Sun Devil Stadium, (2) how freshmen linebackers
Dion Bailey
and
Hayes Pullard
keep up against a sharp, smart quarterback and (3) how USC's young offensive targets
Marqise Lee
,
Xavier Grimble
and
Randall Telfer
do in a new environment. In general, the Trojans need to avoid rookie-type and mental mistakes, as Kiffin has preached all week. The problem is that they've been making those mistakes all year thus far. It doesn't matter how well the team plays in general if USC commits too many penalties. Those have a way of messing things up.


2. The Tempe temperature
: Weather.com projects it to be 99 degrees at kickoff and at least 87 until midnight. Compare that to USC's mid-70s temperatures for the Trojans' first three games. The heat is going to be a factor, as it'll likely force USC to use more substitutes than usual and rotate players in and out on a frequent basis. It could mean cramping and all that, but it could also mean
Marc Tyler
will get the chance to run over a run-down Sun Devils defense late in the game, just as he did in Tucson last year against Arizona. ASU also has a lot less depth on its defense than was expected heading into the year, with long-term injuries sidelining defensive end
Junior Onyeali
, linebacker
Brandon Magee
and cornerback
Omar Bolden
.
3. Barkley
: USC's quarterback, junior
Matt Barkley
, hasn't had his best games against Arizona State in the past and actually had his worst-ever collegiate game in Tempe as a freshman, when he passed for only 112 yards while completing just 7-of-22 attempts. That game, he said this week, was "terrible." In retrospect, he said he didn't know if he was "sick," "tired," "lethargic," or "dead." The Trojans barely won that game, getting big boosts from former safety
Will Harris
and receiver
Damian Williams
, who boosted Barkley's passing totals with a 75-yard catch-and-run for a touchdown.
4. Burfict
: Is there a more exciting opposing player the Trojans will go against all year than ASU's
Vontaze Burfict
? Maybe Stanford's
Andrew Luck
or Oregon's
LaMichael James
-- that's really it. Burfict is a lightning bolt of a defender, a guy who tends to make things interesting. USC's players -- and coaches, actually -- have talked all week about the junior middle linebacker, trying to rile him up via the press so that he will presumably take action early on in the game and get called for a personal-foul penalty. Here's the thing, though: The Trojans might be just as likely as he is to get a foul called on them.
Matt Kalil
straight-up said
he plans to drill Burfict.
5. A 6-8 quarterback
: You know how it's fun to watch a top-flight offense go against a top-flight defense? That's sort of what this game will be like, only on a much more minute level. Arizona State quarterback
Brock Osweiler
is tall, very tall, and surprisingly mobile, which typically allows him to get off passes in unusual situations. But USC's defensive line is particularly adept at reaching up and knocking down passes at the line. Who will win this battle within the battle? The safe money's on the 6-8 Osweiler, but
Nick Perry
and Co. will put up a fight. And USC's defense will likely have some trouble with Osweiler all around, as the junior has made significant strides this year and posted a dominating performance two weeks back against Missouri.
September, 20, 2011
9/20/11
1:48
PM PT
By
Pedro Moura
| ESPNLosAngeles.com
USC freshman linebacker Lamar Dawson sat out of practice Tuesday because of a sprained left ankle originally suffered late in the fourth quarter of the Trojans' 38-17 win over Syracuse last week.

Dawson, the backup to Chris Galippo at middle linebacker, wore a walking boot to practice Tuesday, just as he did when leaving the Coliseum on Saturday. He said he planned to play Saturday against Arizona State and is calling himself day-to-day for the time being.

In other injury news, senior defensive tackle DaJohn Harris sat out of practice because of an undisclosed ailment. He declined to tell reporters after practice what his injury was but said he'd be back shortly. Redshirt freshman receiver Kyle Prater also sat out of practice because of an undisclosed injury, and junior pass-catcher Brice Butler joined him on the sidelines late in the practice session as well.

Guard Martin Coleman, no longer wearing the shoulder sling that kept him out of practice last week, also sat out. Guard Abe Markowitz was limited -- he has not practiced fully since the week of the season opener.

Kiffin indicated that all six of the players could be ready to play by game-time Saturday. Harris has been a starter through three games and one of USC's most pleasant surprises thus far; Butler and Dawson are key reserves.

Of course, USC's injury list pales in comparison to that of Arizona State, who has lost four starters on its defense alone since spring practice. Coach Dennis Erickson announced Tuesday that talented defensive end Junior Onyeali has a torn meniscus and will miss the USC game and potentially the rest of the 2011 season. The Sun Devils will also be without end James Brooks, cornerback Omar Bolden and linebacker Brandon Magee.

Onyeali, listed at 5 feet 11, 245 pounds, was the Pac-10 defensive freshman of the year in 2010 after he posted 6.5 sacks in just five starts.
November, 7, 2010
11/07/10
11:40
PM PT
By
Pedro Moura
| ESPNLosAngeles.com
Video interviews with USC's Marc Tyler and Nickell Robey, plus several quotes that stood out from after USC's 34-33 win over Arizona State on Saturday at the Coliseum:

USC coach Lane Kiffin, on the Sun Devils sometimes-dominant defense: "There's a reason why they're the No. 1 third-down defense in the conference. There's a reason why Oregon was forced to punt 11 times (against them), and there's a reason why Washington State ran for only four yards. It's a really good defense. They played really, really good defense and have really, really physical players. With so many California players on their roster, they came in here with a lot of emotion and energy."

Arizona State linebacker Brandon Magee, on his thoughts after losing a close one to USC -- the Sun Devils' third loss by three points or less this season: "It hurts. You've just got to learn from it. We've got three more games. I think we executed the game plan very well. The whole team wanted to beat them real bad."

USC quarterback Matt Barkley, on his confidence that kicker Joe Houston would convert his third field-goal attempt on the night after missing his first two: "I've believed in Joe this whole year. Even with those two misses early on, I just said that's in the past and we worry about the present. Just focus on the task at hand. I just knew he was going to get it in. I'm so proud of my special teams overall, and Joe coming through for us. It was awesome. That PAT that went for two pretty much sealed the game for us."

USC safety T.J. McDonald, on the performance of the Trojan defensive backs: "You gotta be able to cover and we were really aggressive today. You have to have that swagger. For us to be able to come out there and have people like Marshall step up, it was really big for our defense a big confidence booster for us."

USC linebacker Chris Galippo, on the unusual special teams day, with two blocked punts, a blocked PAT, three missed field goals, a kick return touchdown and unusual punts to boot: "Yeah, it was crazy. For us to block a punt and obviously block that big [PAT] and do what we did out there and for them to run back a kick -- their return game, both punt and kick return, they have a heck of squad -- so, special teams, a lot of people that aren't really involved don't really get it, but it determines a lot of outcomes of a lot of games."

***

Despite not starting, Tyler's performance against Arizona State was -- in terms of yards, at least -- his second-best of the 2010 season. After picking up for first-time starter Dillon Baxter, he gained 151 yards, including 119 on the ground, and also scored a touchdown on a pass from Matt Barkley.

See what Tyler had to say afterward about his game and about the Trojans' performance as a whole in this video interview:



***

In a one-on-one video interview on the Coliseum field after the game, Robey analyzed what he said was a great matchup between the Trojans and Sun Devils.

"They played hard, but we played harder," he said. "End of discussion."

Added Robey, when asked about his game-ending interception of Steven Threet on a Hail Mary attempt: "Great way to end the game -- crush everything they wanted to have happen. We got it done."

See all of what the freshman cornerback had to say Saturday:


2013 TEAM LEADERS
| TEAM | RUSH | PASS | TOTAL |
| --- | --- | --- | --- |
| Offense | 174.2 | 218.1 | 392.3 |
| TEAM | PF | PA | MARGIN |
| Scoring | 28.5 | 21.3 | 7.2 |