December, 21, 2010
12/21/10
6:58
AM PT
By
Pedro Moura
| ESPNLosAngeles.com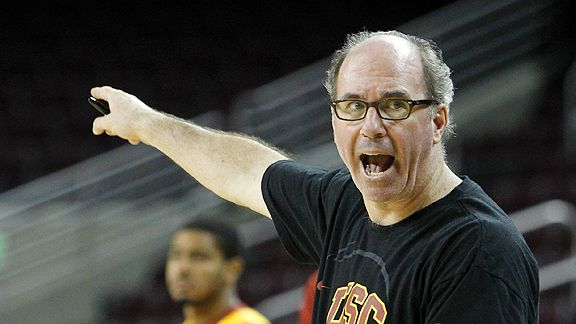 AP Photo/Danny MoloshokKevin O'Neill coaches Tennesee for three seasons in the early 90's and compiled a 36-47 record.
What do
Lane Kiffin
and
Kevin O'Neill
have in common?
Well, first of all, they are friends. And they're colleagues at USC, where O'Neill coaches basketball and Kiffin football.
But they're also fellow escapees of the University of Tennessee, with both men jumping ship with years left on their contracts to coach another school.
The similarities pretty much end there. While Kiffin left in January to replace Pete Carroll and take his "dream job" at USC, O'Neill fled UT for Northwestern in 1997 after a feud with his athletic director.
At 4 p.m. PT today, O'Neill returns to Knoxville for the first time since his departure, but it doesn't exactly sound like it's the first thing on his mind -- "I don't have any feelings one way or another," he said last week, before admitting that he felt he had improved the program dramatically during his three years there -- considering the circumstances.
Those circumstances? O'Neill's team lost in heartbreaking fashion on the road to Kansas on Saturday and now faces the prospect of heading back to Los Angeles with a 0-2 road trip, 6-6 overall record and little-to-no qualifications for an NCAA Tournament bid.
December, 1, 2010
12/01/10
11:25
PM PT
By
Pedro Moura
| ESPNLosAngeles.com
Notes, quotes and video from Wednesday's practice:
Matt Barkley took another step forward in his recovery from the high-ankle sprain he suffered 11 days ago against Oregon State. Mitch Mustain continued to take the majority of the quarterback reps in team drills as Barkley sat out for that period, but the sophomore signal-caller made good throws earlier in practice. "Hopefully it stays at this rate every day, and three days from now it'll be three times better," Barkley said afterward. "I felt a lot better than yesterday and was able to do a lot more movements. Added Coach Lane Kiffin: "He continues to look better every day. He's throwing the ball fine and his movement is coming around. I would anticipate him playing."
Injury report: defensive tackle DaJohn Harris, safety T.J. McDonald (shoulder) and cornerbacks Brian Baucham (neck/shoulder) and Torin Harris (shoulder) did not practice. Right tackle Tyron Smith (knee), fullback Stanley Havili and Barkley (ankle) were limited. Smith returned to the practice field after missing all of last week's practices and the Notre Dame game, but Butch Lewis continued to take the majority of first-team snaps.
Kiffin was asked quite a bit about UCLA and the nature of the rivalry between the two schools. In his opening statement, he made a great point in saying that "records mean nothing in [the game,] as we have seen before." He also remarked he was indeed surprised by UCLA's lack of success this season: "I would have thought that they would have with the coaching staff and their ability to recruit," he said. "But I think this sport, you just can't plan everything out. When I look at their roster, they have a lot of young guys and a really bright future."
December, 20, 2009
12/20/09
7:54
PM PT
By
Pedro Moura
| ESPNLosAngeles.com
LOS ANGELES — Anything more, and it might have qualified as a miracle.

Under new coach Kevin O'Neill, unranked USC had struggled to earn closer-than-expected wins over teams like UC Riverside and Idaho State.

But Saturday, with the help of a secret weapon of sorts — point guard Mike Gerrity, making his USC debut — the host Trojans (5-4) handily upset No. 9 Tennessee, 77-55.

The 6-foot-1, 180-pound Gerrity was forced to sit out the 2008-2009 season, and the first eight games this season, after transferring from Charlotte last year. Tennessee coach Bruce Pearl said his team hadn't seen any tape of the Southern California native.

It showed. Gerrity circled around the Volunteer defense all afternoon, scoring 12 points and dishing out 10 assists in 39 minutes of play in what became Pearl's worst loss at Tennessee.

"Obviously Mike Gerrity makes a huge difference in our basketball team," O'Neill said. "He hasn't had any game-time experience, but he's a savvy player. He's great with the ball. He can get to the basket. He's unselfish. He makes great decisions."

Senior guard Dwight Lewis poured in 21 points on 6-of-11 shooting for the Trojans, who shot 56 percent as a team. Senior forward Alex Stepheson added 19 points and 15 rebounds for his fourth double-double, and sophomore center Nikola Vucevic had another double-double with 15 points and 10 rebounds.

Stepheson said the credit went to Gerrity's offensive acumen.

"He handles pressure real well," Stepheson said. "And he's able to penetrate and kick it out to me or Nikola, and he's able to create shots for himself."

The tempo change was undeniable.

USC had been utilizing combo guard Donte Smith at the point guard spot, but O'Neill admitted that was never a perfect fit. Gerrity, who found out Friday he would be eligible, broke the vaunted Tennessee press consistently and proved effective as a creator, despite his six turnovers.

"If you watched our games beforehand and then watched this game, it would look like we were playing in fast-forward compared to the way we were playing before," O'Neill said.

Only two players were in double figures for the Volunteers (8-2), who came in on a four-game winning streak, averaging 84 points per game.

"I wouldn't have dreamed we'd be able to beat this team by that amount," O'Neill said.

Sophomore guard Scotty Hopson scored 16 points on 7-of-11 shooting while senior forward Tyler Smith was held to a season-low three points. Backup guard Melvin Goins added 10 as Tennessee shot just 34.5 percent from the field — including 2-of-22 from three.

"We were able to make them shoot contested shots," Stepheson said. "We didn't give them any easy lay-ups, and we packed the middle and tried to match their pressure."

The Trojans have been without a number of key contributors for much of the season. Gerrity missed the first eight games. Stepheson and forward Marcus Johnson missed the first two, and O'Neill often had to make do with one or two substitutes.

Now, sophomore forward Leonard Washington is expected to become academically eligible, just in time for the team's first game in the Diamond Head Classic tomorrow against Western Michigan.

"Once we get Leonard back, we'll have everybody that we need, and we're gonna be a really good team," Stepheson said. "It'll give people time to rest on the bench, catch their breath, and we're gonna have a nice rotation."
2014 TEAM LEADERS
| TEAM | RUSH | PASS | TOTAL |
| --- | --- | --- | --- |
| Offense | 158.2 | 294.6 | 452.8 |
| TEAM | PF | PA | MARGIN |
| Scoring | 35.1 | 23.8 | 11.3 |