March, 20, 2013
Mar 20
9:39
AM PT
The Trojans are navigating through their share of injuries this spring. But at this time of year, as long as the injuries are not serious, they can offer a mixed blessing of sorts.
When one player is forced to sit on the sideline, it gives another player the chance for extended reps with the hope of showing the coaches he is ready for a bigger role. For the injured player, there is still plenty of time to return either in spring or in fall camp before the season begins. As quarterback
Max Wittek
noted after a recent knee injury, "you never want this to happen, but if it's going to happen, better to have it happen now."
[+] Enlarge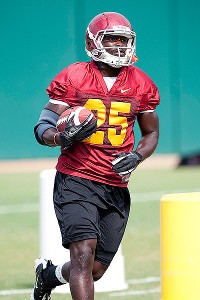 AP Photo/Grant HindsleySilas Redd's knee injury opens the door for other USC tailbacks to impress this spring.
Wittek is perhaps the most notable USC injury right now, primarily because he is engaged in a battle for the starting quarterback spot. Wittek suffered the knee sprain on March 9 prior to a scrimmage at the Coliseum and has been out ever since. He is expected to return when the Trojans practice on March 26.
Cody Kessler
has played well with Wittek out and any small gains by either player can end up meaning a lot in a competition that is so close.
On the same day that Wittek got hurt,
Marqise Lee
also went down with a "minor" knee injury and has been held out as well. There isn't as much of an impact here as Lee certainly isn't in any competition for his starting job. If anything, his absence gave the other receivers a chance to step up and the overall group is doing well from top to bottom. Right now,
Nelson Agholor
appears to be the clear leader for the starting spot opposite Lee.
A recent loss came with the news that
Silas Redd
would undergo surgery this week for a torn meniscus. Redd is the established senior starter at tailback, but he has only been on the USC campus for eight months, so any time spent on the field was beneficial. Instead, Redd will be out until fall camp and the Trojans are further limited at tailback with
Tre Madden
still not cleared for full contact due to his knee rehab. That means the remaining spring practices will be huge for guys like
D.J. Morgan
,
Buck Allen
and maybe even
Justin Davis
, although it remains to be seen how much a recent broken finger will hamper him.
The offensive line had been fairly healthy until the news that
Chad Wheeler
will miss the rest of spring with a knee injury. Wheeler had added bulk and was progressing nicely as the No. 2 left tackle.
On the defensive side of the ball, injuries are really impacting the interior depth on the line and the safety positions.
There are three linemen who have missed all of spring:
J.R. Tavai
,
Greg Townsend
and
Cody Temple
. All three figure to provide important depth at the three interior spots of the 5-2 defense, so it's vital to get them back on the field. Right now, the Trojans have
Kenny Bigelow
as a legit reserve at nose tackle, but the other spots are being manned by players out of position such as
Charles Burks
.
Scott Starr
is also out of action until fall, and he is expected to be a key reserve behind
Morgan Breslin
.
[+] Enlarge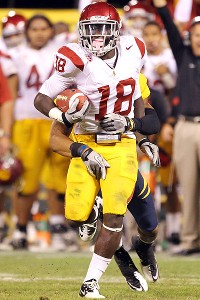 Ezra Shaw/Getty ImagesAs Dion Bailey recovers from shoulder surgery, the question of whether he'll play safety or linebacker in 2013 remains unanswered.
In the secondary, the Trojans have a lot of talent but not much is going to be settled until the coaches figure out where to put
Dion Bailey
. Most speculation centers around Bailey ending up at safety rather than linebacker, but he won't be available for spring after recent shoulder surgery. So
Josh Shaw
,
Demetrius Wright
and
Su'a Cravens
are auditioning for starting spots.
Gerald Bowman
could also be in that mix, but he is also out this spring. This means it's likely the safety rotation won't be determined until well into fall camp.
At corner, the top player through the early part of spring was
Kevon Seymour
, but he has missed the last couple of days with an ankle injury.
Devian Shelton
is also out with a foot injury. That means extended reps for
Torin Harris
,
Anthony Brown
and
Ryan Henderson
, as well as the freshman
Chris Hawkins
.
USC coach Lane Kiffin said after Saturday's scrimmage that the time off for spring break this week was coming at a good time for a team looking to get a few bodies back. The Trojans return to the practice field next Tuesday and having some of those injured players on the field will go a long way toward helping to determine starting spots.
Kiffin also acknowledged that the extra hitting in practices so far this spring -- done to achieve his goal of returning to a more physical style of play -- has played a part in having so many injuries. He said the team will continue to practice with full hitting for the rest of spring but gave no word on if there will be any changes in philosophy beyond that point.
March, 15, 2013
Mar 15
7:23
AM PT
The Trojans put an emphasis on the offensive line during the Thursday full-pads practice, and coach Lane Kiffin liked what he saw.
"I thought the offensive line responded well today," Kiffin said. "We had some issues on Tuesday with fumbled snaps and false starts, but the players came out today with good energy along the line of scrimmage."
Kiffin also noted the continued strong play of quarterbacks
Cody Kessler
and Max Browne, who have been forced to take extra snaps this week as the only two available players at the position.
[+] Enlarge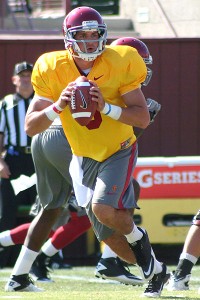 Erik McKinney/WeAreSC.comWith Max Wittek sitting due to injury, Cody Kessler continued to impress in Thursday's practice.
"I thought both the quarterbacks did some good things today," Kiffin said. "Cody [Kessler] is really doing a great job and really comes alive in those team settings. Max [Browne] is moving around probably better than we thought this early from pocket movements and getting out of trouble for a tall, young guy."
Kessler hit
Nelson Agholor
against coverage from
Morgan Breslin
and the play went for a long gain. Browne had his best practice of spring and it included a pair of touchdown passes to Darreus Rogers. There was also a nice sequence for Browne where he had a pass attempt broken up by Leon McQuay III but he came right back on the next play for a nice completion to Buck Allen.
Mr. Rogers' Neighborhood
It was a breakout day for Rogers. The first touchdown from Browne came on a short throw that he caught and put a spin move to get away from
Ryan Dillard
for a 20-yard score. The second touchdown was the highlight play of the day on a 40-yard pass reception at the goal line. He also had an impressive play with a sideline catch where it took multiple defenders to bring him down.
"Darreus Rogers had an unbelievable day," said Kiffin.
Bucking the trend
Buck Allen hasn't made a ton of noise during his USC career so far, but he's quietly put together a pair of strong practices in a row. Allen finished the practice off right, first with a 4-yard TD run and then with a 20-yard touchdown dash off the left side on the final play of the day.
Injury update
Marqise Lee
and
Max Wittek
continued to sit out practice with the knee injuries they suffered last weekend, and Kiffin said both will wait until the first Tuesday practice after spring break (March 27) to get back on the field.
Silas Redd
and
Chad Wheeler
both left the Thursday practice with knee injuries, while
George Farmer
had a shoulder injury. There was no word on the status of those three.
Kevon Seymour
sat out with an ankle injury and is day to day.
MVP
Xavier Grimble
was named the MVP of the day with Rogers a close second. Kiffin gave a lot of praise to Grimble as a guy who is on his way to becoming a potentially great player. Grimble wasn't even supposed to practice due to a rib injury but he went out and performed well, most notably in a blocking drill against the safeties.
Other highlight plays
Anthony Sarao
and
Lamar Dawson
both had pass deflections. Dawson also added a big hit on Justin Davis. Kiffin said Dawson has put together five great practices in a row after changing his body in the off-season.
Sarao,
Devon Kennard
and
Charles Burks
each had a sack.
Leonard Williams
had a pass deflection.
Notables in attendance
Nico Falah, Damien Mama, Rey Maualuga and several players from Upland HS including safety Jeff Farrar, QB Tyler Hilinski and incoming ninth-grade receiver Nathan Telfer (no relation to TE Randall).
Quotebook
"The competition between Xavier Grimble and
Randall Telfer
is good, no issues between the two of them. It's kind of like how it was with Robert (Woods) and Marqise. They are really close, and they just push each other. They are almost exactly the same size, Randall is five pounds heavier and tests better." -- Lane Kiffin
"This has probably been my best day here, but obviously still making a few mental errors. We slowed it down today and didn't install that much, so I was able to go out there and play. I felt like today I was the most comfortable and I think it showed in our offense as a whole." -- Max Browne
November, 20, 2012
11/20/12
4:57
PM PT
By
Pedro Moura
| ESPNLosAngeles.com
LOS ANGELES --
USC
center
Khaled Holmes
and quarterback
Matt Barkley
were named to the Pac-12 all-academic teams Tuesday.
Holmes, a fifth-year senior starting his final home game for the Trojans this weekend against No. 1
Notre Dame
, earned a 3.31 GPA and is now pursuing a post-graduate degree at USC. He earned first-team honors; Barkley has registered a 3.21 GPA in his communications major and was named to the second team.
Two other Trojans, special-teams contributor
Charles Burks
and punter
Kyle Negrete
, earned honorable mention with GPAs over 3.0.
Football players have to post at least a 3.0 GPA and contribute to their teams to earn Pac-12 all-academic honors.
USC's four players on the 108-man list was the second-lowest in the conference.
Oregon
and
Colorado
each had 16 players earn academic honors,
Utah
had 14 and
Stanford
had 12.
Only
Arizona State
, with just one player, had fewer honorees than the Trojans.
August, 27, 2012
8/27/12
6:11
PM PT
By
Pedro Moura
| ESPNLosAngeles.com
USC released its
season-opening depth chart
Sunday night. Here are our brief takeaways, position by position:
Quarterback
As expected,
Cody Kessler
and
Max Wittek
are still listed as co-backups to starter
Matt Barkley
. We should have a resolution soon, according to
Lane Kiffin
, who said Sunday he'd have something to say on the subject on "Tuesday morning."
For what it's worth, Kessler was listed first at the end of spring and Wittek was listed first this time. But they still had an all-caps "OR" in between their names both times.
Running back
This might be the biggest surprise on the depth chart.
Curtis McNeal
was expected to be the for-sure starter heading into camp, and that didn't change much when
Silas Redd
was added just days before. McNeal has done very little wrong over the last few weeks, yet, somehow, Redd's listed as his co-starter on the depth chart.
As the third-string running back,
D.J. Morgan
cannot afford to fumble this season. A turnover or two and his carries will be going to redshirt freshman
Buck Allen
, who has improved in camp.
Fullback
Soma Vainuku
is the starter here. There was never any doubt.
Freshman
Jahleel Pinner
is listed as the second-stringer, but it's likely he'll redshirt, so third-stringer
Charles Burks
is probably bound for the backup role. Walk-on
Hunter Simmons
gets on the depth chart after re-joining the team this year.
August, 7, 2012
8/07/12
10:48
AM PT
By
Pedro Moura
| ESPNLosAngeles.com
LOS ANGELES -- USC opened its 2012 fall camp under the lights last night at Howard Jones Field. We had
video of Lane Kiffin's post-practice press conference
last night, as well as stories on
Silas Redd's USC debut
and what
his new teammates thought
of it.
Now, we look at other news that emerged from the camp opener, including injury updates and other personnel changes. Later today, we'll have more from last night's session before resuming coverage after tonight's 7:30 p.m. PT practice.
Receiver Robert Woods proclaimed himself "100 percent" healed from the right ankle injury that has caused him problems for 16 months now, but he did not participate in the team portions of practice. Kiffin said his handling of Woods could change daily. We'll have more on this shortly.
Freshman Nelson Agholor practiced at receiver and will be there "permanently." That's his natural position, but Kiffin made a bit of a stir at Pac-12 media day by saying that Agholor was going to play running back unless the Trojans developed more depth there. Redd alleviated that need. We'll have more on this later this week, including details on Agholor's early performance, which included a few drops in team drills Monday.
Sophomore receiver George Farmer left practice early because of a hamstring strain, an injury that bothered him for most of the spring. We'll have more on this later today.
Defensive ends Wes Horton and DeVante Wilson left practice early with cramp issues as a result of dehydration. Center Khaled Holmes exited for unknown reasons, and cornerback Brian Baucham sat out with what Kiffin termed a "health issue." Abe Markowitz replaced Holmes at center.
Cornerback Isiah Wiley and linebacker Marquis Simmons did not practice while USC waits to receive notification of their summer-school grades. Also on the academic front, incoming receiver Darreus Rogers has not yet qualified to enroll at USC but was at practice on Monday in street clothes.
There were three interesting position changes made official Monday night -- or one position change and one position switch involving two players. Defensive end Charles Burks moved from defensive end to fullback, and freshman Leonard Williams debuted at defensive tackle and sophomore J.R. Tavai at defensive end. Williams and Tavai were supposed to be at opposite spots, but Kiffin and defensive line coach Ed Orgeron evidently decided that the 6-5, 270-pound Williams is better suited for three-technique tackle than end.
Final notes: Redd wore No. 25, which was originally supposed to be safety Gerald Bowman's. Bowman wore No. 27 instead . . . Freshman linebacker Jabari Ruffin practiced at weakside linebacker. He was listed as a middle linebacker on the Trojans' end-of-spring depth chart . . . Hayes Pullard picked off walk-on John Manoogian and Jawanza Starling intercepted Matt Barkley . . . Anthony Brown got most of the first-team reps at corner opposite Nickell Robey.
February, 11, 2012
2/11/12
7:42
PM PT
By
Pedro Moura
| ESPNLosAngeles.com
USC brings back a lot of talent at the skill positions in 2012, with quarterback Matt Barkley, running back Curtis McNeal and receivers Robert Woods and Marqise Lee all returning.

But there's one spot still open as spring practice nears and official preparation for next season approaches: fullback.

Trojans coach Lane Kiffin says redshirt freshman Soma Vainuku will get the first crack at replacing the departed Rhett Ellison, but he'll get competition from Simione Vehikite and Jahleel Pinner over the next several months, and potentially others, too. There are a number of Trojans with some experience playing fullback, like tight end Christian Thomas and defensive end Charles Burks.

And the interesting thing about the fullback slot this year is that it might involve quite a bit of carrying the ball -- or at least more than in past years. With only three running backs on the roster and the two experienced ones both weighing under 210 pounds, the fullback might also be the big back.

Vainuku would fit that role well.

"I would definitely embrace that," he said this week, after an unofficial team throwing session. "In high school, I was a fullback. But, really, I was pretty much a running back."

"Especially with the depth at running back for us this year, I could definitely see (running backs) coach (Kennedy) Pola asking me to get a couple reps at running back and helping them get a breather, being there for them."

There's that, and there's the aspect of pass-catching. Since he got to USC, Kiffin hasn't called for it as much as expected, but the fullback position in the Trojans' offense does have the potential to be serious safety valve -- especially considering that the team's tight ends are big-play threats more than short-route options.

"You gotta be able to catch the ball," Vainuku said. "You have to run a wheel or something a lot. You gotta be good in the flat. You gotta be elusive."

Vainuku was originally a Class of 2010 signee but didn't qualify academically and had to wait for the subsequent spring to begin classes. There was a thought that he could step right in for Stanley Havili last fall, but Kiffin made the decision in fall camp to move Ellison from tight end to fullback to give Vainuku time to develop.

Ross Cumming ended up spending significant time at the spot, too. And Vainuku used his redshirt year and excelled on the scout team.

Now, with a year in the system and a new class of early enrollees joining him last month, he's been one of a few players staying late after each of the throwing sessions and practicing his timing in the passing game with some of the walk-on quarterbacks.

"I feel comfortable right now," Vainuku said. "Having the guys come in the spring finally makes me feel old."
August, 24, 2011
8/24/11
5:53
PM PT
By
Pedro Moura
| ESPNLosAngeles.com
LOS ANGELES -- Defensive end Charles Burks has a torn ACL, will undergo surgery and miss the 2011 season, Trojans coach Lane Kiffin said Wednesday.

Burks, a freshman from nearby Huntington Beach Edison, had started off fall camp earlier this month playing fullback before moving to the defensive spot last week.

He was backing up Wes Horton, Devon Kennard, Nick Perry and Kevin Greene at end but was a likely redshirt candidate.

As a senior defensive end at Edison, Burks had 86 tackles and 7.5 sacks in earning Super Prep All-Farwest honors. He was rated a three-star prospect in the 2011 class by ESPNU recruiting.

Kiffin said there were some unspecified "complications" with Burks' ACL tear, but the 18-year-old is expected to undergo surgery within the next week.
August, 10, 2011
8/10/11
5:00
PM PT
By
Pedro Moura
| ESPNLosAngeles.com


Here's what went on at Howard Jones Field on Wednesday morning, for the first half of the Trojans' first two-a-day session of the fall and seventh practice overall:

Ellison enjoying fullback

On the first day of practice last week, senior Rhett Ellison surprised some by spending some time at fullback rather than his usual position of tight end.

But by now, a week into camp, it's no longer a surprise. Ellison's trying out both positions and focusing on fullback, with the reasoning being the Trojans already know what they have in him as a tight end. And, they say, they don't entirely know what they have in him as a fullback just yet.

He started two games at the position in 2008 while Stanley Havili was injured, but he has worked almost exclusively at tight end. And the Trojans have three talented second-year tight ends on scholarship in Christian Thomas, Xavier Grimble and Randall Telfer, and no scholarship returners at fullback, only first-year players Soma Vainuku and Charles Burks.

So Ellison's playing fullback -- and, really, a variation of what's commonly referred to as H-back, as he has been moved around a lot in various sets.

"It's new," Ellison said of the position after Wednesday's morning session. "And it's been a lot of fun just trying to learn it and figure it out."

Always known as a smart player, the 6-foot-5, 250-pound Ellison says he is having some troubling figuring it out and picking up the different things he's now required to know, but not enough to the point where's he worried about it.

"Just understanding defenses in the grand scheme of things," Ellison said when asked what he's working on most. "Just everything. You have to understand everything from the defensive line techniques to the linebacker stacks, where the safeties are rotating, the corners ... all that kind of stuff, as opposed to a tight end, where you just have to worry about half of the line of scrimmage, pretty much."


March, 14, 2011
3/14/11
8:35
AM PT
By
Pedro Moura
| ESPNLosAngeles.com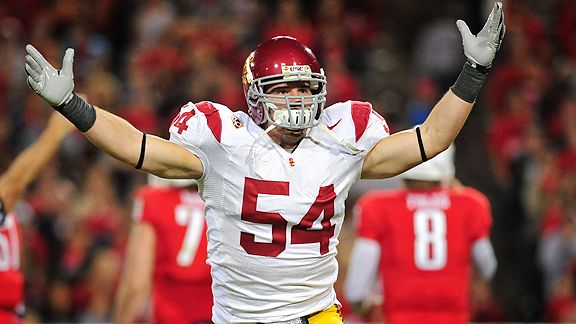 Chris Morrison/US Presswire
Chris Galippo could end up starting at any of three positions on the linebacking corps.
There are two Mondays left until spring practice officially kicks off for USC on March 22. On each of those Mondays, we'll preview one-sixth of the Trojans' depth chart and eye potential risers and fallers during the monthlong springtime. We began four weeks ago with quarterbacks and running backs and continued three weeks ago with receivers and tight ends, two weeks ago with offensive linemen and last week with defensive linemen. This week, we look at both linebackers and defensive backs as we begin to close up shop, keeping in mind that all freshman who can't practice until the fall are automatically at the bottom of the depth chart:
Strongside linebacker
1.
Chris Galippo
, redshirt senior
2.
Ross Cumming
, senior
3.
Lamar Dawson
, freshman (won't enroll until fall)
4.
Charles Burks
, freshman (won't enroll until fall)
Galippo could, honest to goodness, end up starting at any of three positions on the linebacking corps -- or all three, too. But the strongside is probably the most likely place he'll start off at at, simply because he's better built for the position than any of the Trojans' other linebacking options aside from
Devon Kennard
.
Cumming's a very valuable backup and perhaps the best special-teams player on the roster. Burks is a sure bet to redshirt; Dawson is not at all and could very well end up playing significant snaps in 2011 as a first-year freshman.
Middle linebacker

1.
Devon Kennard
, junior
2.
Dallas Kelley
, junior
3.
Will Andrew
, redshirt sophomore
4.
Anthony Sarao
, freshman (won't enroll until fall)
Kennard playing middle linebacker in 2010 wasn't exactly the hit the Trojans' coaching staff envisioned it being, but it makes a lot of sense at this point to stick with it and allow one of the team's smartest players to mentally adjust to playing one position and one position only.
This is not a done deal, though. He could play strongside too, and he could also drop down and play some defensive end at times. Neither of those would surprise me. Kelley, although undersized, was a nice get as a junior college player because of his physical development. Unlike Sarao and even Andrew, a walk-on, Kelley could presumably hold his own in a pinch in a game in the fall.
Weakside linebacker

1.
Shane Horton
, redshirt senior
2.
Marquis Simmons
, redshirt sophomore
3.
Hayes Pullard
, redshirt freshman
4.
Tre Madden
, freshman (won't enroll until fall)
Horton's one of the least-talked about seniors on this roster, a guy who
Lane Kiffin
openly -- and memorably -- called out for poor play in 2009 but went on to earn significant praise over the course of the year as a spot starter and valuable reserve. He won't be a world-beater if he ends up starting, but he screams serviceable piece who makes a lot of a sense as a stop-gap measure while Madden and Dawson ready for prime time.
Simmons and Pullard are both very inexperienced; Madden could redshirt but is not a guarantee.
Left cornerback

1.
Nickell Robey
, sophomore
2.
T.J. Bryant
, redshirt junior
3.
Patrick Hall
, redshirt freshman
4.
Ryan Henderson
, freshman (won't enroll until fall)
Robey's a surefire starter, an undersized player who took a chance the coaches gave him in fall camp last year and ran with it all the way to December, starting every one of the Trojans' 13 games and performing fairly well overall. He had his bad moments and bad games, but Robey showed shades of early ballhawk-ness and consistently impressed as a tackler.
Bryant had a disappointing year and is nearing full-on bust status in Troy. He needs a big-time season in 2011, probably as either a nickel or dime back, to save himself in the coaches' eyes. Hall has a lot of work to do to get to a point where he could see legitimate defensive snaps.
Henderson will likely redshirt.
Strong safety
1.
Drew McAllister
, redshirt junior
2.
Jawanza Starling
, junior
3.
Dion Bailey
, redshirt freshman
McAllister missed all of last season with a hip injury and was able to redshirt the year after he underwent surgery in October. He was one of the players who seemed forgotten in some circles last year but was really a sorely missed piece on the Trojans' defensive unit. He is, for all intents and purposes, their best playmaking defensive back, and it'll be interesting to see if he retains that specific skill after his return from injury.
Starling started until the Oregon game before losing his spot to
Marshall Jones
, but he could still play an important role this season. His main issue last year involved mistaken routes to tackle ballcarriers, and it troubled him often in most of USC's games. Fix that, and he could easily start.
Bailey's interesting, as he is also playing some strongside linebacker in winter workouts and sounds set on finding his way into the lineup this season at that spot, not on safety. But he's still small for the linebacker spot, and he's probably a better fit at safety in the long term.
Free safety
1.
T.J. McDonald
, junior
2.
Marshall Jones
, redshirt senior
3.
Demetrius Wright
, redshirt freshman
4.
Tony Burnett
, junior
McDonald is probably the best player on the entire defensive unit, a junior to-be who will enter the season as a top underclassman. He has everything NFL scouts like to see in a young player, including the smarts for the position, and he still retains some ability to grow into his lanky frame. He'll be the cornerstone of the defensive backfield.
Jones is another solid backup but also a guy who will be jonesing for starting snaps. He didn't do badly in his opportunities last year, but, with McAllister back in the fold, there isn't really an obvious spot for him to play in 2011.
Same for Wright and Burnett, two players who looked good in their limited opportunities last season -- Wright in practice and Burnett in the Notre Dame and UCLA games.
Right cornerback
1.
Torin Harris
, redshirt sophomore
2.
Brian Baucham
, redshirt junior
3.
Anthony Brown
, redshirt freshman
4.
Isiah Wiley
, junior (won't enroll until fall)
This is probably the most unsettled spot on the defense, with Harris maybe the leading candidate to start on opening day but also a leading candidate to frustrate Kiffin and the coaches again and again with his inconsistent play.
Baucham has yet to put it all together in what will now be his fourth year at USC, but he has the size and athletic ability to start -- as does Brown, who has impressed in winter workouts but is still very inexperienced. Wiley will come in as a junior but will assuredly be hurt by the fact that he wasn't able to qualify for spring enrollment.
Any of these four guys could end up starting come September.
That's it for today. We'll be back next week, just one day before the official start of spring practice, for a quick, concluding look at the special-teams units.
February, 2, 2011
2/02/11
10:34
AM PT
By
Pedro Moura
| ESPNLosAngeles.com
USC's athletic department got a late start on confirming official signees Wednesday morning, announcing the first signature at 9:30 a.m., but the school has caught up to speed quickly.

As of 10:20 a.m., 10 players are now confirmed members of USC's 2011 recruiting class by the school. They are:

Punter Kris Albarado (Lake Charles, La./St. Louis)

Linebacker Lamar Dawson (Danville, Ken./Boyle County)

Linebacker Anthony Sarao (Absecon, N.J./Holy Spirit)

Defensive tackle J.R. Tavai (Redondo Beach, Calif./Mira Costa)

Offensive lineman Cody Temple (Bakersfield, Calif./Liberty)

Offensive lineman Aundrey Walker (Cleveland, Ohio/Glenville)

Defensive lineman DeVante Wilson (Corona, Calif./Corona)

Linebacker Charles Burks (Huntington Beach, Calif./Edison(

Offensive lineman Cyrus Hobbi (Scottsdale, Ariz./Saguaro)

Defensive lineman Christian Heyward (San Diego, Calif./Point Loma)

Nine more players who are currently committed to USC are expected to be confirmed by the school as the day goes on, and there remains the possibility that more players -- like athlete Marqise Lee (Gardena, Calif/Serra) or tight end Junior Pomee (Moreno Valley, Calif./Rancho Verde) will sign with the Trojans.
October, 21, 2010
10/21/10
1:37
PM PT
By
Pedro Moura
| ESPNLosAngeles.com
Notes, quotes and video from Thursday's practice, the last of the trio of early-morning sessions this week:
The big news out of practice was an intriguing comment from USC coach Lane Kiffin about the spread offense. Specifically, he said that because of his squad's positional limitations for the future -- no scholarship fullbacks after senior Stanley Havili graduates, plenty of tailbacks and receivers -- the Trojans could feasibly run the spread next season. Whether he was being serious or attempting to fool the spread-heavy Oregon Ducks in advance of next week's game is anyone's guess, but Mark Saxon will have more on this later.
The injury report was probably the longest of the year: offensive linemen Tyron Smith (ankle), Butch Lewis and Kristofer O'Dowd (shoulder), defensive end Wes Horton (back), linebacker Malcolm Smith (knee) and running backs Allen Bradford (toe), Dillon Baxter (toe) and C.J. Gable (knee) all sat out of practice. Offensive guards Khaled Holmes and John Martinez (foot), tight end Jordan Cameron (knee), defensive end Nick Perry (ankle) and defensive end James Boyd were limited. We'll have more on O'Dowd later, but the segment of the team that spent the duration of practice doing personal workouts -- think an hour-long session of various forms of sit-ups and push-ups -- was larger than ever before.
A lot of the focus this week is on recruiting, with assistant coaches filing in and out of Heritage Hall and traveling around the country and sometimes missing practices. Kiffin has stayed in L.A. this week but said today he plans to depart this afternoon. Digging deeper into recruiting, Kiffin said the team's positional focus for the 2011 class would be on the offensive and defensive lines -- noting that the Trojans would hardly even have enough players to run a full scrimmage after the seniors and (maybe) draft-eligible juniors on each side of the line move on. USC ended up with just two linemen in the 2010 recruiting class after the Seantrel Henderson debacle: center Giovanni DiPoalo and defensive tackle George Uko. Both players are redshirting this season.
2012 TEAM LEADERS
| TEAM | RUSH | PASS | TOTAL |
| --- | --- | --- | --- |
| Offense | 150.6 | 282.3 | 432.9 |
| TEAM | PF | PA | MARGIN |
| Scoring | 34.2 | 24.6 | 9.6 |