June, 3, 2014
Jun 3
11:00
AM PT
No position group at USC entered the spring surrounded by more uncertainty than the offensive line. With the key losses of
Marcus Martin
,
Kevin Graf
,
John Martinez
and
Abe Markowitz
, a new position coach in Tim Drevno, and the offense transitioning into Steve Sarkisian's up-tempo, shotgun-based attack, no one knew quite what to expect. While there was certainly plenty of good to take away from their performance this spring, this is still a unit with more than a few question marks.
Both guard spots open
[+] Enlarge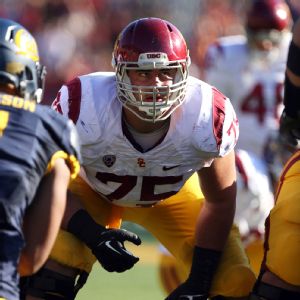 Kelley L Cox/USA TODAY SportsNo matter the position, Max Tuerk figures to have a starting job on USC's OL.
With only eight healthy scholarship players available, it was hard to ever get a real solid read on the offensive line, and as Sarkisian recently noted, this is a unit that will need to be solidified in the coming months.
That's particularly the case at the guard positions, where, during spring drills, the Trojans featured a starting duo of early-entrant freshman
Toa Lobendahn
at left guard and second-year freshman
Khaliel Rodgers
at right guard.
And while both players – particularly Lobendahn -- showed promise, the entire competition at those spots is set to change dramatically as the Trojans gain an influx of talent from incoming freshmen as well as players returning from injury.
Of those players on the mend, senior
Aundrey Walker
, who is returning from a broken ankle, will be watched with particular interest. Establishing himself as a reliable starter at right guard in 2013 after an up-and-down 2012 campaign at tackle, he possesses veteran experience that could be invaluable to this unit.
Jordan Simmons
, returning from a torn ACL, is a big mauler who was really starting to stand out in practice prior to his injury in the fall, and he's another player who could make a run at a starting job on the interior.
Of course, in the case of both Walker and Simmons, it's how their recovery goes, and what kind of shape they come back in -- particularly with the conditioning required for the new offense -- that will likely play the biggest role in determining whether or not they're able to jump in and perform at a high level when fall camp opens up.
And then there is fifth-year senior
Giovanni Di Poalo
, as well as a pair of incoming freshmen guard candidates --
Damien Mama
and
Viane Talamaivao
. Both youngsters arrive not only with more than their fair share of accolades, but also with unique talent and tremendous size -- giving them the look of potential instant impact performers.
Center of attention
With Martin off to the NFL, one of the new staff's biggest priorities heading into spring practice was to find a capable starter at center.
Max Tuerk
, a tried and tested veteran who started 13 games at left guard in 2013, and the majority of the prior season at left tackle, wound up getting the call. While he did have some occasional difficulties in the snapping department, he performed solidly for the most part.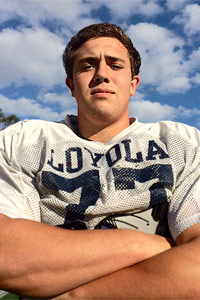 Blair Angulo/ESPNIncoming freshman Chris Brown has been taking a lot of reps at right tackle during summer workouts.
Still, while Sarkisian lauded Tuerk's overall ability during the recent Pac-12 football coaches teleconference, he also appeared to leave the door open for competition through fall camp, so this isn't over just yet. Both Di Poalo and Lobendahn lined up at the position in the spring, and have continued to do so this summer during the team's volunteer workouts. Talamaivao is another key name to watch here, as he too, has been taking reps at this spot over the course of the last week. It will also be interesting to see if Mama gets a look here when he arrives on campus.
If Sarkisian and Co. did decide to go with someone other than Tuerk here, it's a virtual certainty that the junior would still line up as a starter somewhere else. Arguably the Trojans' sturdiest pound-for-pound offensive lineman, he could conceivably slide back over to left guard or either of the tackle spots without a hitch.
Stability at tackle
While the interior of the line still isn't totally set, the Trojans do appear to be in better shape at both of the tackle spots -- at least when it comes to the starters.
No player drew more praise from Sarkisian following spring drills than third-year sophomore left tackle
Chad Wheeler
. Having started every game last season, he looks primed for a fantastic 2014 campaign.
Over on the right side, the emergence of
Zach Banner
-- who sat out most of last season after having hip surgery -- was one of the great revelations of the spring. Performing at the highest level of his career, the 6-foot-9, 345-pounder took over with the No. 1 group in place of
Nathan Guertler
midway through camp and never looked back. Considering the fact that he said that he wasn't even quite back to 100 percent during those workouts, there's reason to believe he's only going to get better, and it will be interesting to see just how much farther he can continue to progress this offseason.
Still, Drevno needs to find out who else he can count on to contribute at tackle, if nothing else, to provide depth. Early entrant freshman
Jordan Austin
and Guertler were the primary backups in the spring, and then there's also
Nico Falah
-- returning from a back injury. Highly touted incoming freshman
Chris Brown
has also been taking reps at right tackle during summer drills.
May, 1, 2014
May 1
4:30
PM PT
LOS ANGELES -- USC head coach Steve Sarkisian took his turn on the phone on Thursday during the Pac-12 football coaches teleconference, revealing that among his biggest concerns for the Trojans heading into the fall is finding the right combination along the offensive line.
"Solidifying that front five -- who's going to be where, that depth and all of that -- I think, is one key component for us," Sarkisian said.
That doesn't exactly come as a surprise. After all, this past spring the Trojans were without a 2013 starter in senior guard
Aundrey Walker
(ankle), as well as promising guard/tackle
Jordan Simmons
(knee) and tackle
Nico Falah
(back), all to injuries, making the lack of depth a glaring issue.
The Trojans featured a No. 1 offensive line unit throughout the majority of the March and April workouts that was comprised of
Chad Wheeler
at left tackle,
Toa Lobendahn
at left guard,
Max Tuerk
at center,
Khaliel Rodgers
at right guard and
Zach Banner
at right tackle.
[+] Enlarge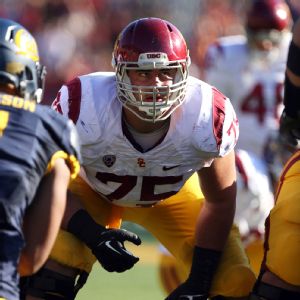 Kelley L Cox/USA TODAY SportsMax Tuerk played center all spring and is almost certain to start somewhere on the line this fall.
But with Walker, Simmons and Falah all expected to return in time for fall camp, on top of the fact that the unit will add a trio of highly touted freshmen to the mix in
Chris Brown
,
Damien Mama
and
Viane Talamaivao
, the starting group could potentially have a very different look when the Trojans open up against Fresno State on Aug. 30.
Sarkisian noted that Mama and Talamaivao will both begin their USC careers on the interior. He did not discuss Brown, but most consider him to have the ability to line up at guard or tackle.
How the players who are coming off injury, as well those freshman additions, adjust to the new uptempo system and how they perform in fall camp will play a major part in what kind of role they're ultimately going to play.
"We've got a lot of work to do," Sarkisian said. "So, that's why the challenge is so big for us of how we're handling that first week to get guys opportunities to show what they're about, so we can start developing some cohesiveness amongst that offensive front as we move toward the season."
Sarkisian spoke glowingly of Wheeler and also praised Tuerk, Lobendahn and Banner for their efforts this past spring. He also noted that Tuerk will continue to line up at center, where he played during the entirety of the spring, but he appeared to leave the door open for others to still compete at the position.
"I do know that Max Tuerk is a tremendous football player," Sarkisian said. "He's played a lot of football. He's going to play for us this fall. He went through the entire spring as our center. We'll obviously take a good, hard look at that early in training camp, along with a couple other guys."
Response to SEC decision
One topic that was brought up throughout the call to all of the Pac-12 coaches was the Southeastern Conference's recent decision to stick to an eight-game conference schedule.
With college football moving to a four-team playoff next season, the trend has been for conferences to adopt a nine-game conference schedule. Pac-12 and Big 12 teams already play nine conference games, and the Big Ten is scheduled to make the change in 2016.
When asked about the SEC's decision, Sarkisian took the opportunity to praise the Pac-12 while also expressing his desire for a level playing field down the line.
"The Pac-12 has been on the forefront of the scheduling thing here for quite some time," Sarkisian said. "I think it's encouraging to see that the majority of college football is moving their way towards nine. I think for college football to find the common ground, the more areas we can all be the same so that there's a competitive and level playing field for everybody, I think should be the goal."
Hawkins impresses
When asked if there were any redshirt freshmen who stood out to him this spring at USC, Sarkisian answered with cornerback
Chris Hawkins
.
"From all of the accounts of all of the people that were here on the previous staff, he has really matured mentally and physically," Sarkisian said. "I thought his body has really changed. I thought he had a very good spring for us."
January, 23, 2014
Jan 23
8:00
AM PT
It's tough to imagine one college football player changing the fortunes of his program and its closest rival over the course of more than a decade.
But that might just be the case with
Reggie Bush
, whose on-field actions helped USC become the dominant recruiting force in Southern California between 2006 and 2012, and whose off-field actions largely led to the NCAA taking 30 scholarships away from USC for the 2012-2014 seasons and creating a hole in the Southern California recruiting scene large enough for UCLA to climb through.
When the heavy sanctions were brought down upon USC in the summer of 2010, it was thought to be a now-or-never situation for UCLA. The Trojans were 10-1 in the previous 11 games against the Bruins and had the virtual first pick of just about any recruit in the region.
January, 16, 2014
Jan 16
8:00
AM PT
The month-long dead period was part fruitful and part complicated for USC recruiting, offering a prelude to what could be a wild finish for new head coach Steve Sarkisian and his staff.
Four verbal commitments highlighted the period -- which ran from Dec. 16 to Jan. 15 -- but some members of the Trojans' class were met with uncertainty as the coaches scrambled to find additional targets. A commitment from dual-threat quarterback
Jalen Greene
(Gardena, Calif./Serra) was the first domino to fall, as Sarkisian nabbed his top target at a position of need, and plenty of activity followed despite the prohibition of face-to-face contact.
To continue reading this article you must be an Insider
December, 16, 2013
12/16/13
5:00
AM PT
Monday might be the start of a recruiting dead period, but the USC Trojans have shown plenty of life on the recruiting trail of late. Head coach Steve Sarkisian has reeled in three commitments and this past weekend provided more recruiting news surrounding the Trojans.
To continue reading this article you must be an Insider
November, 20, 2013
11/20/13
2:00
PM PT
USC used a big win over Stanford to land an impact commitment earlier this week, which jumped the Trojans up to the No. 6 class in the Pac-12 in the updated
class rankings
. Arizona still sits atop the conference at No. 19 overall, while Stanford (No. 23) and Arizona State (No. 24) are just behind. Oregon rounds out the national rankings at No. 37 overall.
To continue reading this article you must be an Insider
October, 17, 2013
10/17/13
2:00
PM PT
Several Pac-12 programs have an opportunity to make statements on the recruiting trail this weekend, headlined by Arizona State hosting Washington, and including USC's trip to Notre Dame and the biggest clash in the conference -- UCLA visiting Stanford. The following day, the B2G West Coast Bowl will draw plenty of interest, as Pac-12 commits and targets are separated into two teams for the late January all-star game.
Manny being Manny
To continue reading this article you must be an Insider
July, 14, 2011
7/14/11
5:50
PM PT
By
Pedro Moura
| ESPNLosAngeles.com
The weeks are counting down until fall camp begins for the USC football team the first week of August. During each of the in-between weeks, we've been offering up an early first look at the 12 scheduled opponents for the 2011 season, in chronological order. We began with Minnesota and Utah, continued the next three weeks with Syracuse, Arizona State, and Arizona, and added Cal, Notre Dame and Stanford recently. We now present Colorado, who the Trojans will play at home on Friday, Nov. 4:
History
: Colorado is the only team USC will face next season that has never beaten the Trojans.
In five all-time games between the two schools, USC has outscored the Buffaloes by a score of 138-24. The closest Colorado has come to the Trojans was a 17-14 squeaker at the Coliseum in 2000; the other four matchups were either USC shutouts or 35-point-plus margin victories.

The last time they played, in 2002, USC and Colorado entered into the game ranked back-to-back in the Associated Press rankings: Nos. 17 and 18. Former high school All-American quarterback
Craig Ochs
missed the game because of a concussion for Colorado, Heisman candidate
Chris Brown
was held below 90 yards rushing for the only time all season and USC's
Carson Palmer
shined to smash the Buffaloes, 40-3.
Offense
: The Buffaloes' offense is built around one of the top running backs in the Pac-12, 5-foot-6, 170-pounder
Rodney Stewart
-- a 1,300-yard rusher in 2010 who has proven more than capable of taking a beating as a workhorse in the backfield, despite his small stature.
Stewart was supposed to have four of five starters on the offensive line returning to block for him, too -- until senior center
Mike Iltis
returned this offseason to focus on academics after suffering a knee injury in the 2010 season finale. Still, the Buffs will bring back three starters on the line, including former state player of the year
Ryan Miller
, considered a potential All-American at right guard. The other two returners are senior left guard
Ethan Adkins
and sophomore left tackle
David Bakhtiari
.
At quarterback, Colorado will start senior
Tyler Hansen
, a talented slinger and capable scrambler who has never started a full season. A Murrieta native, he missed the final five games in 2010 because of a ruptured spleen and started only the final seven games of 2009 after seizing the starting job.
After
Scotty McKnight
was drafted by the NFL's New York Jets, Hansen's top pass-catching option will be sophomore
Paul Richardson
, a high school teammate of
Robert Woods
who was a pleasant surprise as a freshman. Michigan transfer
Toney Clemons
caught a pass in all but one game last season and returns for his senior year in 2011.
Colorado's offensive coordinator is
Eric Bieniemy
.
Lane Kiffin
offered him the same job at USC in July 2010 before hiring
Kennedy Pola
, a nice little built-in storyline for the television broadcast in November.
2013 TEAM LEADERS
| TEAM | RUSH | PASS | TOTAL |
| --- | --- | --- | --- |
| Offense | 174.2 | 218.1 | 392.3 |
| TEAM | PF | PA | MARGIN |
| Scoring | 28.5 | 21.3 | 7.2 |