February, 2, 2012
2/02/12
5:16
PM PT
By
Pedro Moura
| ESPNLosAngeles.com
Here are five more USC-centric observations from National Signing Day, focusing on what they will mean for the future of the Trojans. Later, we'll have a post on some news and notes Lane Kiffin revealed in his signing day press conference.

1. The star(s)

Most recruiting classes have one or two players who are recognizable names, often top-recruited quarterbacks or skill-position players from the area.

But the two most exciting players -- defensive end Leonard Williams and receiver Nelson Agholor, both from Florida -- in the Trojans' 2012 class don't fit either of those bills.

Williams' decision to choose USC didn't attract a ton of national attention, but it's clear the Trojans were both surprised and delighted at his choice. Kiffin credited defensive line coach and recruiting coordinator Ed Orgeron for sealing Williams' signature from out-of-state.

The 6-5, 270-pounder spent high school on the East coast of Florida, but he hails from L.A. and attended a camp at USC last summer. That's where USC's interest stemmed from.

Agholor is an interesting combination as an elite athletic prospect and a superb character guy. His high-school highlight film is prodigious; his press-conference performance Wednesday morning when he picked the Trojans earned him some positive attention.

Kiffin said Agholor will primarily play receiver at USC but could occasionally log some time at running back.

2. Depth issues at two spots

We wrote about the offensive line on signing day and how USC wanted to get one more lineman in the fold, but the truth is there were two other positions where the Trojans needed players more desperately than they did on the O-line.

Those spots? Defensive tackle and running back. The Trojans have only four scholarship tackles on the roster, and two of them have never played in a college game. The other two, J.R. Tavai and George Uko, have played but started a combined one game.

At running back, USC has three scholarship players and only two with any experience in Curtis McNeal and D.J. Morgan.

Kiffin didn't shy away from saying Wednesday that the Trojans were worried about their depth in the backfield. But, he emphasized, they chose being worried about depth over taking a prospect of questionable character or talent.


October, 1, 2011
10/01/11
7:13
AM PT
Welcome to Week 5: Trojans Live!
ESPNLA.com's interactive chat from the Coliseum, Saturday, 12:30 p.m. PT.
Swing by and talk to our staff covering the game against Arizona.
The game is televised on FSN.


July, 29, 2011
7/29/11
12:35
AM PT
By
Pedro Moura
| ESPNLosAngeles.com
First on the list of our 10 question series for fall camp involved picking a backup for Matt Barkley; second, a look at the potential second receiver and Brice Butler's chances of earning the spot. The third question post, published Monday, involved offensive freshmen and Tuesday's defensive freshmen. The fifth question covered end Nick Perry and his big 2011 expectations.
The sixth is this: Will Devon Kennard be able to make a big, immediate impact at defensive end after spending more than a year at middle linebacker?
Kennard's talented, without a doubt. He was one of the top prospects in the United States as a high-schooler despite tearing his ACL and meniscus early in his senior season and recovered quickly enough to play right away as a backup defensive end in 2009 and even supplant
Michael Morgan
at strongside linebacker late in the year.
Middle linebacker was sort of a struggle for him, though. In spite of his best efforts put forth at the position in the spring and fall of 2010, he never quite got a hang of it. It's not so much mentally as it is physically -- Kennard's one of the smarter, quicker-thinking players on the squad, but his best physical traits don't entirely lend themselves to pass coverage. He often runs far too upright for a traditional Cover-2 middle linebacker.
Evidence as to his lack of productivity? In eight games as a starter, Kennard produced one solitary big play in the middle of the defense -- a sack against Hawaii in the season opener. He had one interception on the year, but that came after he had lost his spot to
Chris Galippo
, in the Notre Dame game in November. His only other sack came as a reserve, too.
In roughly two years since arriving on campus in the summer of 2009, Kennard has often mentioned one thing he definitely likes to do on the football field: start in a down stance. There has been talk of utilizing him as an elephant, à la
Clay Matthews
in years past, and that may end up being the case, but even just playing as a straight 4-3 end makes plenty of sense.
The ideal Pac-12 end has to be able to drop back in pass coverage, anyway. With how many teams throw two tight ends three- and four-receiver sets at the Trojans with regularity,
Monte Kiffin
's defense is in much better shape when it can have Kennard on the field as a safety net in the passing game.
His time at linebacker wasn't a total waste. There are things he can take away from it back to end, and NFL teams might upgrade him come draft time when they see a player better-equipped to make the switch to 3-4 rush linebacker than the typical college end.
Maybe the most interesting thing about this whole situation for the Trojans is that Galippo isn't a natural Cover-2 Mike either -- but that's a story for another day.
Lamar Dawson
, the incoming freshman from Kentucky who was given
Keith Rivers
' No. 55 upon his arrival to Troy, is the most Mike-esque of the three, at least according to past precedent.
That's it for today. Friday and Monday we question who will join T.J. McDonald and Nickell Robey in the secondary before moving on to off-the-field stuff in the final two questions in our series.
October, 28, 2010
10/28/10
7:40
AM PT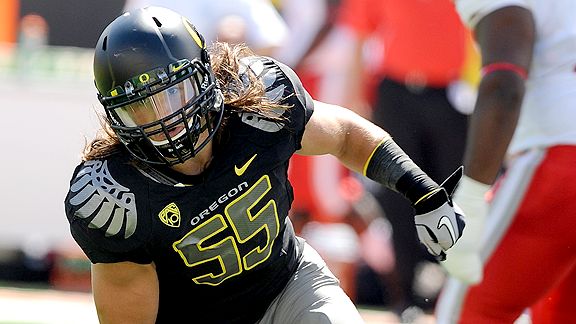 Steve Dykes/Getty Images
Casey Matthews says he would've accepted a scholarship offer from USC.
You would think USC might have reserved a scholarship for linebacker
Casey Matthews
strictly based on his genes.
His dad,
Clay
, and his uncle,
Bruce
, both were All-Americans for the Trojans a generation ago before embarking on long NFL careers. His brother,
Kyle
, lettered at safety for the 2003 national championship team and his brother,
Clay
, worked his way up from walk-on to starter. Now, he's one of the most dominant pass rushers in the NFL with the Green Bay Packers.

As Casey Matthews notes, he comes from a long line of late-blooming Matthewses.
But the year he was coming out of Oaks Christian high school, the Trojans' coaches had already locked up
Chris Galippo
, a more decorated recruit, and they never offered Matthews a scholarship. He wanted the chance to play in the Pac-10 and compete against his brother, so he elected to head north and become a Duck.
"If you had asked me four years ago if I would have accepted an offer from USC, I would have jumped at it," Matthews said. "But I'm really glad the way things worked out."
While Saturday's game is Homecoming for USC players and students, it's also a homecoming for Matthews. Most of his family will be in the stands.
October, 6, 2010
10/06/10
10:57
PM PT
By
Pedro Moura
| ESPNLosAngeles.com
Notes, quotes and video from Wednesday's practice:
It was raining for much of the day Wednesday, so the Trojans moved operations over from usual practice headquarters Howard Jones Field to adjacent Cromwell Field, where the artificial turf allowed Lane Kiffin's squad to continue practicing as normal -- although the new digs did allow spectators to watch practice from outside the fenced field, and some appeared to do just that.
As far as the physicality USC is displaying in advance of the Stanford game this weekend, Kiffin was fairly complimentary of his team's recent efforts in the two categories he has emphasized most of the season: toughness and discipline. "Those are the two words I've used since the beginning," Kiffin said Wednesday. "At times we've shown that, and we've done a better job as far as the discipline side of things lately. We've been physical at times, but we haven't put it together and played a complete game and done both those."
Injury report: Center Kristofer O'Dowd (shoulder), left guard Butch Lewis, defensive end Nick Perry (ankle), cornerbacks Brian Baucham and Shareece Wright (ankle), fullback Stanley Havili (shoulder) and receiver Robert Woods were all limited in practice. Defensive end Wes Horton (back) and linebacker Simione Vehikite (neck) were both out. Kiffin intimated that the increase in injuries was a direct result of the increase in intensity during the past two days of practice. O'Dowd came off the field maybe half an hour before practice ended and spent the rest of the time on the sidelines with ice on his left shoulder. Havili spent practice wearing a yellow jersey, signaling that he was not to be hit. He said Tuesday he would participate in practice the rest of the week and play on Saturday.
The placekicking position is not yet decided, according to Kiffin -- at least not after a day when the competitors, Joe Houston and Jake Harfman, combined to go 0-for-6 on field-goal attempts. This after the two kickers combined to go a not-so-shining 6-for-12 on Tuesday. Asked after Wednesday's practice if he was worried about the state of the kicking game heading into Stanford, Kiffin answered honestly. "Extremely," he said. "If you go a whole period of field-goal opportunities during practice and you don't make one, that would concern me a lot."
Running back Dillon Baxter's last two days of practice have been his best since fall camp, Kiffin said. The true freshman was the focus of a number of hard hits Wednesday, but Kiffin said that was more of Baxter initiating hits against the defense than anything else. "He's had a great attitude," the coach said of Baxter, who he has frequently called perhaps his most talented player. "He's practiced extremely hard and physical. As we mentioned last week, Baxter appears to be the target of a lot of defensive aggression. Safety Jawanza Starling explained why. "Dillon came in and kinda embarrassed everybody in the spring," Starling said. "He's got these shifty moves and everybody doesn't want to get broken by him. I guess everybody kind of got sick of it during the spring and wanted to step it up a notch."
On Baxter, the Trojans did deploy the Wildcat offense for the first time against Washington, but the player widely expected to be utilized in that package -- Baxter, the high school quarterback -- wasn't. Baxter ran just one time out of the Wildcat, whereas Marc Tyler ran a solid handful of plays, including one scoring run. Kiffin said Wednesday that he was confident in using any number of backs in the Wildcat role, including Tyler, Baxter and Havili. He also indicated that USC will continue to use it. "I thought it was productive," Kiffin said. "It made some first downs for us, scored a touchdown for us, probably would've scored another touchdown if we had called a different play out of it on the last time we ran it. Two things you want out of it: you want it to be productive, like it was, and you want to make people work on it the rest of the year, which now we'll have to."
***
Kiffin spoke to the media after practice on Cromwell Field.
See what he had to say:
***
The coaching staff is currently devising ways to get Galippo, currently the backup to
Devon Kennard
at middle linebacker, on the field more. Against the Huskies, Galippo played parts of a series at defensive end, a la
Clay Matthews
. Continuing in that role is a possibility, Galippo said Wednesday.
He also had a number of interesting thoughts on the Trojans' opponent this week, his experience in going from backup to starter and back to backup and other topics.
See what he had to say:
July, 1, 2010
7/01/10
1:22
PM PT
By
Pedro Moura
| ESPNLosAngeles.com
Todd McNair
, the running backs coach responsible for many of the charges in the NCAA's 67-page report released earlier this month that hit the Trojans with a two-year postseason ban, is no longer under contract with USC.
According to the NCAA report, McNair was the only assistant who knew of the connection between former USC Heisman winner
Reggie Bush
and sports marketing agent
Lloyd Lake
. His actual involvement has been disputed in
recent
days
, but McNair had been forbidden from any recruiting activities until June 2011 by the NCAA.
"Todd McNair's contract expired on June 30, 2010," a school spokesman said Thursday. "We have no additional comment."
The news was first reported by the
Los Angeles Times
.
McNair, who spent eight seasons in the NFL, first joined the USC coaching staff in 2004. In 2007, it was revealed he was twice convicted of animal cruelty charges in the 1990's. Then-Trojans coach
Pete Carroll
said at the time "that was a long time ago," and kept McNair on staff.
Also in 2007, McNair was at the forefront of another controversial topic in the news. As USC's special teams coordinator, he told the
Times
he coined the name 'White Nation' for a group featuring a number of white special teams players. Former Trojan linebacker
Clay Matthews
then created a Facebook group with the group's title.
McNair told the
Times
in response to the ensuing outcry: "I love having fun. I gave them a nickname. I call the black coaches on our staff the Brojans. Brothers and Trojans. We're the Brojans. Playfully. Because the locker room is colorless."
2013 TEAM LEADERS
| TEAM | RUSH | PASS | TOTAL |
| --- | --- | --- | --- |
| Offense | 174.2 | 218.1 | 392.3 |
| TEAM | PF | PA | MARGIN |
| Scoring | 28.5 | 21.3 | 7.2 |