June, 25, 2014
Jun 25
9:00
AM PT
It's time to start our preseason position reviews. Please, hold your applause until we are finished.
Here's how we do this: We provide three evaluative categories: "Great shape," "Good shape" and "We'll see."
Hint: You'd prefer your team to be in "Great shape."
"We'll see" doesn't mean you're going to stink at said position. It means just what it says -- we'll see because there's no way at present to know.
You can
review last year's rankings here
.
And away we go ... starting, of course, with quarterback.
GREAT SHAPE

Oregon
: Junior
Marcus Mariota
is -- again -- a leading Heisman Trophy candidate and a two-time first-team All-Pac-12 performer. He would have been an early-round NFL draft pick this spring if he'd opted not to return. The Ducks have some questions at receiver though.

UCLA
: Junior
Brett Hundley
is the conference's No. 2 Heisman Trophy candidate. While Arizona State's
Taylor Kelly
eclipsed him for second-team All-Pac-12 last fall, Hundley's tremendous upside is why he has NFL scouts eagerly awaiting his entering the draft.

Arizona State
: As noted, Kelly was the Pac-12's No. 2 QB last season, which means he was one of the nation's best at the position. It also helps his cause that he's got WR
Jaelen Strong
, an All-American candidate. However, Kelly does need to take fewer sacks -- you could say the same for Hundley -- and throw fewer interceptions.

Oregon State
:
Sean Mannion
ranked second in the nation with 358.6 yards passing per game in 2013 and is also an NFL prospect. Life might be just a bit harder in the passing game without
Brandin Cooks
.
GOOD SHAPE

Stanford
:
Kevin Hogan
, a third-year starter, had a good but not great sophomore season while leading the Cardinal to the Pac-12 championship. He was mostly efficient and showed a good touch downfield, but he made some surprisingly bad decisions and needs work with his intermediate passing game. He's got a good crew of veteran receivers coming back, which bodes well for him.

Washington State
:
Connor Halliday
threw for a bunch of yards (4,597) and TDs (34) last season, but he also tossed way too many interceptions (22). Part of that was an inconsistent O-line and a neglected running game. The good news is he's in his third year under Mike Leach and has a strong crew of returning receivers. Of all the Pac-12 QBs, he might make the biggest climb this season.

USC
:
Cody Kessler
didn't put up big numbers last season and didn't beat Notre Dame or UCLA but significantly improved after Lane Kiffin was fired. Like Kelly, he's got an A-list target coming back in WR
Nelson Agholor
. We expect Kessler to thrive with a new, up-tempo scheme under Steve Sarkisian.

Utah
: Utah received good news yesterday when 16-game starter
Travis Wilson
was medically cleared to play. When healthy, Wilson has been a solid performer with good upside. He'll have to fight off a challenge this preseason from Oklahoma transfer
Kendal Thompson
though.

California
:
Jared Goff
averaged 292 yards passing per game as a true freshman. That's good. But the Cal offense struggled to do much else but throw the ball between the 20s -- hence a conference-worst 23 points per game. He had just 18 TD passes on 531 attempts. Still, he flashed potential and has a very good crew of receivers coming back.

Colorado
:
Sefo Liufau
became the Buffaloes' starter at midseason and often played like the true freshman he was. Furthermore, he won't have
Paul Richardson
serving as a safety blanket and making big plays for him. Still, Liufau's baptism by Pac-12 fire provided some seasoning that was evident this spring. The Buffs feel pretty good about having a returning starter behind center.
WE'LL SEE

Washington
: While
Cyler Miles
flashed potential last season coming of the bench for Keith Price, logging a road victory at Oregon State in his first start, he also had
an off-field issue that has muddied the waters at QB for the Huskies
. It remains to be seen how quickly Miles emerges from Chris Petersen's doghouse, and if he can beat out
Jeff Lindquist
and
Troy Williams
.

Arizona
: The Wildcats have
no clear frontrunner in their QB competition
. That's the bad news. The good news is the performances this spring were generally solid. Rich Rodriguez believes he's got a couple of guys who can win games for him. He's just not sure which guy is No. 1 between
Jesse Scroggins
,
Connor Brewer
,
Anu Solomon
and
Jerrard Randall
.
March, 7, 2014
Mar 7
9:00
AM PT
There are plenty of issues Pac-12 teams will be addressing this spring. Here are some that are front and center for your Pac-12 insiders.
Ted Miller
: Spring practice is the official transition from taking stock of the 2013 season, including recruiting, to looking ahead to next fall. The 2013 season was all about top-to-bottom depth for the Pac-12 -- and the lack of an elite national-title contender. That might be the case again in 2014, but if the conference is going to be nationally relevant in Year 1 of the four-team College Football Playoff, I think it will be because of the depth and quality of the quarterbacks.
If
Travis Wilson
is cleared to play at Utah, 10 Pac-12 teams welcome back their 2013 starters, and many of these guys are All-American candidates, most notably Oregon's
Marcus Mariota
, UCLA's
Brett Hundley
, Arizona State's
Taylor Kelly
and Oregon State's
Sean Mannion
.
[+] Enlarge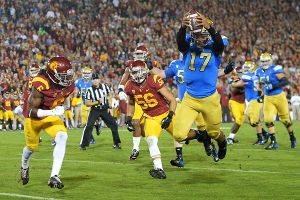 Kirby Lee/USA TODAY SportsHaving Brett Hundley back makes UCLA the favorite in the Pac-12 South.
The big question for these guys is if they can be better this season than last. If that happens -- for the above four and the six other returning starters -- then it should be a high-flying season with lots of offense. And perhaps a team emerges as a candidate for the playoff.
What most interests you this spring with the Pac-12?
Kyle Bonagura
: As a result of the continuity at quarterback, offenses should be in line for a collective step forward. How far could be determined by how quickly the conference's seven new defensive coordinators acclimate to -- and perform at -- their new jobs.
We won't get a great read on how that process is going during the spring, but it'll be interesting to see in what ways defenses evolve moving forward.
For Arizona State, Oregon, Stanford and UCLA, the change will be minimal. Todd Graham will remain heavily involved in how ASU plays defense, and the other three promoted staff members will use the framework and schemes already in place. USC might have a new staff, but considering coach Steve Sarkisian and defensive coordinator Justin Wilcox were in the conference last season, it should be an easy transition.
I'm more interested to see how things play out at California and Washington.
Washington is set up for success with the much-anticipated arrival of longtime Boise State coach Chris Petersen, who brought his defensive coordinator for the past four seasons, Pete Kwiatkowski. They have a talented front seven to work with and a favorable early schedule that will allow the staff to iron out any kinks: at Hawaii, Eastern Washington, Illinois, Georgia State.
Art Kaufman's job taking over the Cal defense won't be as easy. The Golden Bears should be in better shape than last season from a health and experience standpoint -- the latter partially a result of 2013's injury woes -- but there's a lot of ground to cover between where they were and being competitive.
Ted Miller
: One team that had coaching continuity at both coordinator spots is Arizona, and I think the Wildcats are setting up to be a dark horse in the Pac-12 South, though I do see UCLA as a strong favorite at this point. The intrigue with Arizona, though, is at quarterback. It seems like the most wide-open competition in the conference.
If
Cyler Miles
gets back in Petersen's good graces, he's got a significant lead for the Washington QB vacancy. At USC, I think that
Cody Kessler
is likely to retain his starting job over touted redshirt freshman
Max Browne
. Kessler steadily improved as a difficult season went on, and he still has his 2013 offensive coordinator/position coach in Clay Helton. At Utah, a healthy Wilson starts for the Utes.
But Arizona has four guys with a legitimate shot at winning the starting QB job this fall: Redshirt freshman
Anu Solomon
, senior
Jesse Scroggins
, sophomore
Connor Brewer
and junior Jerrard Randall. Solomon was one of the jewels of the 2013 recruiting class, while the other three are transfers from A-list programs -- Scroggins from USC, Brewer from Texas and Randall from LSU.
The first big question will be whether Rich Rodriguez narrows the field at the end of spring practices. How much does he want to establish a clear pecking order? You'd think at least one of these guys is going to be relegated to fourth place because there are only so many practice reps to go around.
The good news is the guy who wins the job is going to have an outstanding crew of receivers. He won't have running back
Ka'Deem Carey
lining up as a security blanket behind him, but Rodriguez's offenses almost always run the ball well. The Wildcats will average more than 200 yards rushing again next season, I feel confident saying that.
The million-dollar question -- the difference between competing for the South title and winning eight games again -- is how efficient the guy behind center is.
Any position battles particularly intrigue you this spring?
Kyle Bonagura
: Like you, I'm really intrigued to see how the quarterback competition at Arizona progresses. That's a lot of pressure for the three guys who already transferred from big-time programs. All of them clearly want to play, and it makes you wonder if one of them will end up at an FCS school before the season starts.
The most high-profile battle outside of quarterback has to be at Stanford, where four guys are competing to replace
Tyler Gaffney
at running back. I was out at the Cardinal's first open practice of the spring last week -- and will be out there again on Saturday -- and what stood out immediately was how balanced the reps were. If
Remound Wright
,
Ricky Seale
,
Barry Sanders
and
Kelsey Young
didn't have equal reps with the first team, it was close.
However it plays out, it's unlikely Stanford will feature one back like it has the past six years with Gaffney, Stepfan Taylor and Toby Gerhart.
Wright probably holds a slight edge in terms of the overall package -- largely because of his capabilities in pass protection -- but there are more similarities than differences in comparing each guy. A lot of people ask about Sanders because of his famous father (my favorite football player as a kid), but the reality with him is that expectations were probably too high when he arrived. His name and recruiting profile are to blame, and the coaching staff isn't going to force his development.
Young, who switched back to running back from receiver, might be the most dangerous with the ball in his hands and Seale, a fifth-year senior, might have the best grasp of the offense.
February, 24, 2014
Feb 24
4:00
PM PT
Spring has sprung in the Pac-12
, with Stanford starting spring practices this week and several schools following suit next week.
Ergo, we break down where teams stand with each position group, starting with quarterbacks.

Arizona
: The Wildcats probably have the most wide-open QB competition, with four guys having a legitimate chance to replace the departed
B.J. Denker
. Three are transfers from big-time programs: senior
Jesse Scroggins
(USC), sophomore
Connor Brewer
(Texas) and junior
Jerrard Randall
(LSU). The fourth, redshirt freshman
Anu Solomon
, was one of the biggest stars in the 2013 recruiting class. Don't expect much to be settled by the end of spring, though coach Rich Rodriguez might at least allude to some sort of pecking order. Or a top three.

Arizona State
: The Sun Devils are strong at QB with senior
Taylor Kelly
, a third-year starter who has put up big numbers the past two seasons, and junior
Mike Bercovici
, a big-armed backup -- perhaps, in fact, the best backup in the Pac-12. That's why
Michael Eubank
opted to transfer to Samford in Birmingham, Ala. It will be interesting to see which of the youngsters on the roster emerge as a No.3, a guy who might challenge Bercovici in 2015.

California
: It seems unlikely that sophomore
Jared Goff
will be unseated, particularly after
Zach Kline
opted to transfer. Goff was uneven last season -- his entire team was -- but flashed plenty of potential. He and a talented crew of receivers should get better this spring. The big question might be whether anyone challenges senior
Austin Hinder
for the backup job.

Colorado
: Sophomore
Sefo Liufau
is solid as the returning starter. He took some lumps last season but also flashed plenty of promise -- as both a player and leader. After him, there's junior college transfer
Jordan Gehrke
, a redshirt sophomore, the likely backup. Depth is a problem, at least this spring. As the
Boulder Daily Camera noted
, "Five quarterbacks have left the CU program either to transfer to other schools or give up the sport entirely since the start of spring football last year. A sixth completed his eligibility last season." That's why the Buffs added walk-on Trent Sessions to the roster. He worked with the equipment staff last year.

Oregon
: The Ducks probably feel pretty good about their third-year starter, junior
Marcus Mariota
, a leading 2014 Heisman Trophy candidate who would have been a first-round pick if he'd entered the 2014 NFL draft. The competition for the backup spot, however, will be interesting because Mariota is almost certain to enter the NFL draft after the season. Sophomores
Jeff Lockie
and
Jake Rodrigues
are 2A and 2B, with Lockie first off the bench as the backup in 2013, but Rodrigues the more physically talented player as a runner and passer.

Oregon State
: Like their friends to the north, Oregon State is fortunate its 2013 starter,
Sean Mannion
, decided to return instead of entering the NFL draft. Mannion's chief focus will be finding some receivers to replace the production of the departed
Brandin Cooks
. The battle for the backup job also will be interesting between sophomore
Brent VanderVeen
and redshirt freshman
Kyle Kempt
. Of course, their battle might not resolve things much for 2015, with incoming Alabama transfer
Luke Del Rio
joining the fray after sitting out a season.

Stanford
: It seems unlikely that two-year starter
Kevin Hogan
will be challenged for the starting job this spring, even though he had some ups and downs in 2013, but there is no lack of talent battling for the backup job. Junior
Evan Crower
was the backup in 2013, but redshirt freshman
Ryan Burns
is a big-time talent. As is incoming freshman
Keller Chryst
, who officially will arrive in the fall but, as a Palo Alto resident, figures to hang around spring practices.

UCLA
: Heading into his third season running the offense,
Brett Hundley
gives the Bruins one of the best starting quarterbacks in the nation. He's a proven dual threat and leader who will be refining his game this spring and building chemistry with his receivers. After him, however, things are a bit iffy, in large part because of the 2013 preseason transfer of
T.J. Millweard
to Kansas. The chief competitors for the backup job are
Jerry Neuheisel
, the 2013 backup, and redshirt freshman
Asiantii Woulard
, with Woulard being the guy with the most future upside. Of course,
there is another QB out there
some UCLA fans might be thinking about.

USC
: The returning starter facing the most formidable challenge to his starting job this spring is probably
Cody Kessler
, even though Kessler played well in the second half of the 2013 season. With the transfer of
Max Wittek
, touted redshirt freshman
Max Browne
, at the very least, sets up to be a high-quality backup next season. But plenty of folks think Browne has a legitimate shot to unseat Kessler, particularly with new coach Steve Sarkisian taking over.

Utah
: There's still no final word on the long-term health issue that might end QB
Travis Wilson
's career, though you'd think something would be announced before the Utes begin spring practices on March 18. If Wilson gets cleared, the good bet is on him returning to the starting job. If not, a spring competition will begin between
Adam Schulz
, who stepped in when Wilson went down, and redshirt freshmen
Conner Manning
and
Brandon Cox
. In the fall, dual-threat QB
Donovan Isom
arrives.

Washington
:
Keith Price
, a three-year starter, is gone, but the Huskies seemed fairly set at QB with sophomore backup
Cyler Miles
appearing plenty capable of stepping into the cockpit this spring. In limited action last season, Miles completed 61 percent of his throws for 418 yards with four TDs and two picks, and he also showed good mobility, rushing for 200 yards. The pecking order at least seemed set, that is, until Miles got into some
off-field trouble that threatens his status for spring practice
and perhaps beyond. If Miles is still suspended, that means opportunity comes knocking for sophomore
Jeff Lindquist
or redshirt freshman
Troy Williams
to make an impression.

Washington State
:
Connor Halliday
will be a senior, three-year starter and the Cougars' top leader in the third season running Mike Leach's "Air Raid" offense. He figures to put up huge numbers this fall with a strong crew of receivers. His 2013 backup, sophomore
Austin Apodaca
, opted to transfer, perhaps believing that redshirt freshman
Tyler Bruggman
had the inside track to the starting job in 2015. Depth is a bit of a question, with the No. 3 this fall likely being true freshman
Peyton Bender
.
December, 24, 2013
12/24/13
5:30
PM PT
T'was the night before Christmas and the Pac-12 blog crew;
Was still smarting and miffed at the fall of Wazzu.

Dressed in an opulent red and green sweater;
Ted furiously hoped that the Beavs would do better.
The Trojans exploded and won one for 'O;'
Only to learn
Dion Bailey
would go.
Utes, Bears and Buffs are home for the bowls;
Leaving their fans little reason to troll.
Two teams from the desert are still yet to play;
With RichRod and Graham hoping things go their way.
One last run for Price in his prime;
Plus he gets to Fight Hunger at the same time.
The Alamo will be Mack Brown's last stand;
Even if the year didn't go as the Ducks planned.
Barr's last game will be played in The Sun;
We're also wondering: Is
Brett Hundley
done?
Last but not least is the Tree vs. Sparty;
In the backfield the Cardinal hope they will party.
So enjoy Christmas Eve with your best pint of ale;
Sit back and relax to this bag of mail.
(I know, it's not as good as Chongo's).
Dylan in Boston writes
: Hi Kevin, In all the reporting/speculation about Justin Wilcox following Sarkisian to Troy, it seems like everybody's overlooking the fact that the Trojans already have an A-list coordinator in Clancy Pendergast. Am I the only one confused by this? In the years Pendergast was at Cal, he did more with less than Wilcox has had at Washington (at the least the talent was comparable), particularly against my Ducks. Has Wilcox really shown enough for people to assume that he has the advantage over Pendergast?
Kevin Gemmell
: Has he shown enough? I think so. I think Wilcox is an outstanding coordinator and defensive-minded coach. But you're right, you can't overlook the job that Pendergast did at USC this year.
The move to an odd front was a fantastic one for the Trojans. Say this for Lane Kiffin, he recognized that the Trojans needed a scheme that was going to be able to account for all of the edge speed in the league and he adjusted accordingly by bringing in Pendergast. Obviously, things didn't work out so well on the offensive side of the ball for Kiffin. But let's give the credit where credit is due.
The numbers for both coaches suggest major improvements since their arrival. First, Washington:
In the two seasons since Wilcox arrived, the Huskies have improved in scoring defense each year. They were giving up 35.9 points per game in 2011, followed by 24.2 in 2012 and 23.4 in 2011. They have also improved turnover margin and rushing yards allowed each of the last two years.
For USC, in one season under Pendergast, the Trojans cut their points allowed by more than a field goal, made huge strides in rush defense (167 yards allowed in 2012 compared to 120.3 in 2013) and were on the plus side of turnover margin after going minus-2 in 2012 and minus-1 in 2011 (they were plus-6 this year).
So the morale of the story is this: If you're a Washington fan, you want Wilcox to stay in Washington. If you're a USC fan, you're going to be happy either way.
Peter in NorCal writes
: One thing that Sark going to SC won't hurt: The Stanford-USC rivalry. It seems like David and Steve get along about as well as Jim and Pete did. Fair statement? What are your observations about the two of them (both generally, and specifically the snippiness that ensued after the Stanford/Washington game this year).
Kevin Gemmell
: It's funny that you bring that up. Every year Ted and I go to the Pac-12 spring meetings in Arizona. Basically, it's Ted and I sitting outside of meeting rooms, waiting for the coaches to emerge, and then grabbing them for interviews. Then we sit outside, watch the coaches eat lunch, and then grab them again for more interviews.
One thing Ted and I were commenting on this year was how well all of the Pac-12 coaches get along. The Big 12 coaches meeting was going on at the same time and there was little to no interaction between those guys. But the Pac-12 coaches were all sitting together and chatting each other up after meetings.
Now, we're not in the meetings with the coaches, so I can't speak to how they interact. But from what I've seen, Sarkisian and David Shaw got along just fine.
Of course, that was last May and a lot has happened since then, including the aforementioned post-game war of words.
We don't need to rehash all of the details, but I know Shaw objected to having his assistant and his players called out by name. And whether you agree with him retaliating with a Tuesday tirade is your personal business. Sark was ticked and probably broke a couple of unwritten rules. It happens. Shaw kept the story alive an extra couple of days by using the coaches' teleconference and his Tuesday roundtable as a pulpit to respond.
Neither coach "won" the public relations battle. And I don't think either cares. But it certainly spices things up for when the Cardinal and Trojans meet again. That -- and the fact that it's come down to the last play three of the last four meetings.
Curt in Las Vegas writes
: Hey Kevin, Chip Kelly left the
Oregon Ducks
firmly entrenched with quality players. In 2013 going 10 and 2 and playing in the Alamo bowl to us Duck fans is a letdown! Do you think Mark Helfrich is planted at Oregon with the year he had?
Kevin Gemmell:
Did Chip Kelly hurt
Marcus Mariota
's knee? I think we can all agree that things took a turn for the worst for Oregon when he started coming up gimpy.
I think Helfrich is a very good coach who encountered a lot of the Year 1 obstacles every coach faces. But because it's Oregon, a perennial top-5 program, those obstacles are magnified. When you've sat in a coordinator's chair for so long and then make the jump, there is some transition and self-evaluation that is required. Ted and I took a lot of guff
for picking Stanford to win the conference
over Oregon for this very reason.
The Alamo Bowl is a letdown, sure. A 10-2 team playing in the deepest conference in college football deserves a shot at a BCS bowl game. But as the players have said, they need only look at themselves for where they are at.
Helfrich is going to be just fine, and Oregon is going to be just fine. He has a chance to get an 11th win -- something Kelly didn't do in his first year. And win a bowl game. Also something Kelly didn't accomplish. We have to see how the new College Football Playoff pans out, but I don't see any reason why a Helfrich-led Oregon won't be in the hunt annually.
Scott in London, England writes
: Hi Kevin, I've read twice in the blog today about you mentioning how scary Arizona can be next year and it got me thinking. I know we have a lot of great transfers and recruits coming in, but I'm a bit unsure as to who exactly are supposed to be immediate impact players and how many returning starters there wil be, etc.I was wondering if you and Ted plan on doing a run down of next year's potential for each Pac team that consolidates all this into one easy blog post per team:* Transfers/JuCos and why they are good/meh* Recruits and why they are good/meh* Returners and why they are good/meh* Coaching changes and why they are good/meh (assistants too)* Schedule goods and bads* Will there be an El Nino, etc...I would say I'm an above-avg fan but I really don't have the Google-Fu skills or time to compile all this and I think every Pac fan would appreciate it a series like that.Maybe you guys already do that during the offseason or preseason, but I think it could also be good after bowl season.You can think of it as your first chance to be the, "We told you so" guys. Thanks for reading, always enjoy your stuff. Keep up the good work.
Kevin Gemmell:
I can assure you there will be plenty of time in the offseason for all sorts of schedule analysis, roster breakdowns etc. etc. Ted and I are happy to fill the void during the offseason, as we do every year.
Just a heads up on Arizona. Among some of the key players who will be coming off the scout team are
Cayleb Jones
,
Davonte' Neal
and
Connor Brewer
. They will all be eligible in 2014 after transferring.
Jones is a wide receiver who is transferring from Texas, and he's reunited with Brewer, a former Longhorns quarterback. Neal, from Scottsdale, is a transfer receiver from Notre Dame who made a push to become eligible in 2013, but the NCAA denied his hardship waiver. You put him in with
Austin Hill
, who should be fully recovered from his knee injury and should be high on the Belitnikoff watchlist, along with
David Richards
,
Nate Phillips
and
Samajie Grant
and you have a receiver corps that is as good as any in the conference -- probably the country.
Quarterback will be an issue and
Anu Solomon
is one to watch. I had this in Lunch Links today. It's a good read from Anthony Gimino
breaking down Arizona's QB prospects for next year
.
Essentially, the Wildcats have a bunch of really exciting skill players that will make the South that much more exciting. They do lose three seniors on the defensive line, so guys like
Luca Bruno
,
Calvin Allen
and
Jack Banda
will have to step up.
But Arizona does indeed have some scary potential next year.
Mike in Maple Valley, Wash. writes
: Your definition of "Coug" was pretty spot on. You said it has been an effective term since 2005. The origin may actually go back to the 1975 Apple Cup. To "Coug it" is a ceremonial act hand down from one generation to another.
Kevin Gemmell
: First off, Maple Valley sounds like the most delicious place on earth.
Second, that was a phrase pulled straight from the Urban Dictionary, and the submission was entered in 2005, so unfortunately I can't take credit for it. I didn't put the link in though because Urban Dictionary has a lot of non-blog-friendly expressions and sayings. You're free to Google it yourself.
I called no joy in writing that piece. But I do think Washington State is moving in the right direction under Mike Leach. Speaking of that column ...
Andy in Fort Collins Colo. writes
: You're Washington State take
was so one-sided and arrogant
. How about giving the Rams a little credit instead of making excuses. (And Merry Christmas).
Kevin Gemmell
: Ah, thanks Andy. Merry Christmas to you.
It was a Washington State-centric story because I'm the Pac-12 reporter and I cover the Pac-12 and Washington State is a Pac-12 team and it appeared on the Pac-12 blog. See the trend?
Did you email all of the beat writers in Pullman and Spokane and the surrounding areas and chastise them for their coverage? The folks at
CougCenter
do a heck of a job. And their stuff was a bit one-sided.
I don't think it's arrogant to say the Pac-12 is a better conference. I've covered both, so I feel like I'm qualified to weigh in on this. In the 12 games the two conferences have played so far, the Pac-12 has gone 11-1 and outscored the Mountain West, on average, 38.5 to 20.
Arizona should beat UNLV. And it did. Colorado should beat Colorado State. And it did. Oregon State and USC should beat Hawaii. And they did. Oregon State should beat San Diego State. And it did. UCLA should beat Nevada. And it did. Stanford should beat San Jose State. And it did. USC and Utah should beat Utah State. And they did. USC should beat Fresno State and Washington should beat Boise State. And they did.
For what it's worth, I did include in the piece that Colorado State deserved the win for not quitting. And anything is possible (especially in Albuquerque, it seems) when you have two weeks to prepare.
That goes for tonight's matchup between Oregon State and Boise State. The Broncos certainly aren't the same team they were a month ago. And I'm not totally sure which Oregon State team we're going to get. If it's the explosive
Sean Mannion
-to-
Brandin Cooks
connection, the Beavs should be fine. If it's not, then Boise State certainly could win.
Such is the nature of bowl season.
Merry Christmas from the Pac-12 blog.
2014 TEAM LEADERS
| TEAM | RUSH | PASS | TOTAL |
| --- | --- | --- | --- |
| Offense | 163.3 | 284.3 | 447.5 |
| TEAM | PF | PA | MARGIN |
| Scoring | 32.8 | 17.5 | 15.3 |