February, 3, 2014
Feb 3
10:30
AM PT
Many of the biggest flips relating to Pac-12 teams came fairly early in the process, which means there might not be much chaos on signing day when it comes to recruits flipping commitments. However, as with every year, flips will help and hurt a number of conference programs come Wednesday, and we take a look at the five biggest in the Pac-12 during this recruiting cycle.
To continue reading this article you must be an Insider
October, 28, 2013
10/28/13
8:00
AM PT
Arizona State went back to El Cerrito (Calif.) High School to add another verbal commitment from an ESPN 300 prospect, several big visitors took in Oregon's win over UCLA, and career rushing records fell in San Diego and at a Northern California high school in this week's Pac-12 weekend recruiting wrap.
To continue reading this article you must be an Insider
October, 17, 2013
10/17/13
2:00
PM PT
Several Pac-12 programs have an opportunity to make statements on the recruiting trail this weekend, headlined by Arizona State hosting Washington, and including USC's trip to Notre Dame and the biggest clash in the conference -- UCLA visiting Stanford. The following day, the B2G West Coast Bowl will draw plenty of interest, as Pac-12 commits and targets are separated into two teams for the late January all-star game.
Manny being Manny
To continue reading this article you must be an Insider
October, 8, 2013
10/08/13
8:00
AM PT
This week's list offers a look through the Pac-12 at the potential best-case and worst-case scenarios that the 2014 recruiting cycle could bring for various programs. While a few of the best-case scenarios might be close to within reach for some programs, many of the worst-case scenarios would take a special brand of bad luck.

Arizona
Best-case scenario:
Arizona doesn't hold onto all of its 24 verbal commits, but keeps all of its priority recruits in the fold. In exchange for some of the decommitments, the Wildcats are rewarded with a big splash from either ESPN 300 prospect
John Smith
(Long Beach, Calif./Poly) or
Bryce Dixon
(Ventura, Calif./St. Bonaventure). A strong finish to the season also helps Arizona clean up in its home state, landing commitments from offensive linemen
Natrell Curtis
(Phoenix/Mountain Pointe),
Andrew Mike
(Tucson, Ariz./Sabino),
Layth Friekh
(Peoria, Ariz./Centennial) and junior college defensive lineman
Claudeson Pelon
(Mesa, Ariz./Mesa College).
To continue reading this article you must be an Insider
September, 29, 2013
9/29/13
9:30
AM PT
It is a whole new ball game with recruits out West now that Lane Kiffin is out at USC.
The Trojans' Class of 2014 recruiting efforts mirrored the product on the field. There were a few bright spots like highly regarded ESPN 300 defensive end
Malik Dorton
(Bellflower, Calif./St. John Bosco), ESPN 300 linebacker
D.J. Calhoun
(El Cerrito, Calif./El Cerrito) and ESPN 300 offensive lineman
Toa Lobendahn
(La Habra, Calif./La Habra), but it was also a class full of incompletions, fumbles and big misses.
[+] Enlarge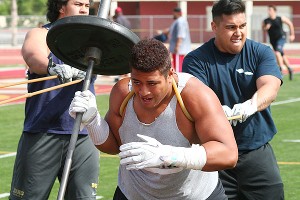 Erik McKinney/ESPN.comThe Trojans hope a new coaching staff will sway recruits like Viane Talamaivao (committed to Alabama) to USC.
The Trojans, in one of the deepest hotbeds of talent in the entire country and with one of the proudest football traditions around, were able to lure only seven commitments and watched conference rivals Arizona, Arizona State, Stanford, UCLA and Washington blow past them on the recruiting trail. Recruits and high school coaches throughout the Southland also raised major concerns about the way Kiffin interacted with -- or some say flat-out ignored -- many top local prospects and coaches when they would come for unofficial visits or wanted to talk shop.
You have to win the recruiting wars in Los Angeles if you're going to dominate at USC. It's something that Pete Carroll figured out the second he stepped into Heritage Hall, but Kiffin was never able to fully embrace.
However, the Trojans now have a chance to reset things.
If USC makes the right hire, there's still a real chance to lure a number of the West's best prospects.
Twenty-seven of the Top 100
and eight of the top 15 prospects in California have yet to make up their minds.
Plus, there will be kids who are committed to other schools that will take a long look at the Trojans again with a new coach in charge. You can bet that players like ESPN 300 offensive lineman and Alabama commit
Viane Talamaivao
(Corona, Calif./Centennial), ESPN 300 athlete and Arizona commit
Marquis Ware
(Los Angeles/Salesian), Elite 11 quarterback and Miami commit
Brad Kaaya
(West Hills, Calif./Chaminade) and many other committed players in California will get calls from the new USC staff.
In recruiting, nothing can erase the errors of the old and give a school some new momentum like a coaching change.
USC now has the chance to right its recruiting wrongs. Coupled with the fact recruits and high school coaches still consider the Trojans Los Angeles' football team, USC's run to signing day in February could alter the Pac-12 for years to come.
September, 24, 2013
9/24/13
9:00
AM PT
In this week's WeAreSC recruiting notebook, we touch on a planned package deal, potential quarterback options and more:
As expected, USC outside linebacker commit D.J. Calhoun (El Cerrito, Calif./El Cerrito) set up his first official visit to Arizona State for the Oct. 18 weekend when the Sun Devils host Washington. The four-star prospect intends to take all five visits, though his father, Derik, said he remains committed to USC. With good friend and high school teammate Adarius Pickett now committed to UCLA, the Trojans will have some work to do.
While some uncertainty remains with Calhoun, add three-star offensive lineman Jordan Austin (Claremont, Calif./Claremont) to the list of recruits who have not been unfazed by the fuzzy USC coaching situation. Like fellow linemen commits Toa Lobendahn (La Habra, Calif./La Habra) and Jordan Poland (La Jolla, Calif./Country Day School), Austin appears headed for Troy no matter how the 2013 season unravels. "I went to the game against Boston College. I loved the whole experience," the 6-foot-5, 275-pound prospect said. Lobendahn, meanwhile, will be eligible to play his first game this season on Oct. 11 when La Habra travels to Fullerton (Calif.).
To continue reading this article you must be an Insider
August, 4, 2013
8/04/13
7:00
AM PT
The USC Trojans took the field Saturday for the opening day of fall camp practices.
"It was nice to get out here and have organized practices," said quarterback
Cody Kessler
. "The summer workouts are great and all, but it's good to finally be able to be out here with the whole team and the coaches. I thought we had a really good focus today, which was good to see."
It was a no-pads practice for the Trojans, who will not put on full pads until practice No. 6, which will take place Thursday in a scrimmage in the Los Angeles Memorial Coliseum.
"It will be a very physical camp once pads get put on," said coach Lane Kiffin.
There will be a lot of attention paid to the quarterbacks, and Kiffin praised both Kessler and
Max Wittek
for their work Saturday. Kiffin said there is a long way to go before a starter is named.
Among the primary things Kiffin will be looking for is to see who manages the game better and who takes care of the football. For what it's worth, Kessler took the first-team reps in the final team drill of the day.
Wittek made an early completion deep to
Victor Blackwell
, and Kessler hit
Nelson Agholor
over the middle on a deep ball and then later hooked up with
Marqise Lee
on a nice reception. Another receiver who had a good first day was freshman
Darreus Rogers
, who caught almost everything thrown his way.
On the defensive side of the ball, safety
Gerald Bowman
stood out as a playmaker as he had a one-handed interception and broke up a pass.
Running back rotation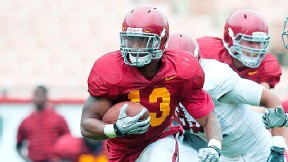 Courtesy of Joe AndrasTre Madden "looked great" in the first practice, said USC head coach Lane Kiffin.
All the tailbacks were in action, which was important since several are coming back from injuries.
Silas Redd
and
D.J. Morgan
were limited, but the other four all stood out in some way.
"
Tre [Madden]
looked great and he got a lot of work," Kiffin said. "
Justin [Davis]
looked better than he did at the end of last spring. Ty [Isaac] had one fumble, but other than that he looked good. There's a lot of talent in that group."
Buck Allen
ran well in a team drill and looked sharp.
Markowitz update
Abe Markowitz was on the field taking reps as a reserve center. Kiffin confirmed that Markowitz has received a sixth year of eligibility from the NCAA and has returned to the team as a walk-on. Markowitz gives the Trojans an additional versatile player on the line, as he can also play either guard spot.
Special teams in action
There was a lot of special teams work early in the practice with
Andre Heidari
attempting several field goals. There were also kickoff return and punt return drills, with the return men alternating among a group of Marqise Lee, Nelson Agholor, D.J. Morgan, Victor Blackwell and
Anthony Brown
.
More highlight plays
Jabari Ruffin
came on a pass rush and leaped high in the air to knock down a
Max Browne
pass attempt. ...
J.R. Tavai
was on a blitz and absolutely bowled over Justin Davis trying to make a block in the backfield. ... There were a couple nice plays by walk-ons: Tailback
Taylor Ross
had a long run and wide receiver
Robby Kolanz
leaped between two defenders to make a nice grab.
Recruits in attendance
DL
Michael Wyche
(Monterey Park, Calif./East Los Angeles College), LB
D.J. Calhoun
(El Cerrito, Calif./El Cerrito), OL
Jordan Austin
(Claremont, Calif./Claremont) and class of 2016 WR
Brandon Burton
(Gardena, Calif./Serra).
Quotebook
"I'm at 198 pounds right now; I was at 208 last year. It's easier to move around at this weight, but I was cramping up a little today because I haven't bent this much in a long time. I like that this defensive scheme holds the secondary accountable because everybody in the back end is in man-to-man coverage. In high school, when I played free safety I was just roaming around, relying on my talent. Now I understand how to read offenses, I know my keys and how to read the quarterback." – safety
Dion Bailey
"I worked on my decision-making the most in the offseason. Making the right decision is what will win games. The Sun Bowl game gives me the drive to show something different; I'm very much looking forward to that. As far as the quarterback competition, we all know the reality of the situation. Someone will be named the starter and we all know that. We all spend so much time together and we're friends, but we don't talk about who will win the job. (Wittek was asked if he would consider transferring if he didn't win the job) I will cross that bridge if it comes to that." – quarterback Max Wittek
"I worked a lot this offseason on making sure I give my receivers a chance to make plays, to not overthrow them. We've got the kind of receivers that, if you give them a chance, they will do a lot of good things. It comes down to trust as a quarterback, trust in your guys to go get the ball. I also worked on being a field general, being a leader. It's things like being the first guy in the meeting room, being there in the mornings when guys want to throw, just doing the right thing by example." – quarterback Cody Kessler
2013 TEAM LEADERS
| TEAM | RUSH | PASS | TOTAL |
| --- | --- | --- | --- |
| Offense | 174.2 | 218.1 | 392.3 |
| TEAM | PF | PA | MARGIN |
| Scoring | 28.5 | 21.3 | 7.2 |