October, 29, 2012
10/29/12
1:02
PM PT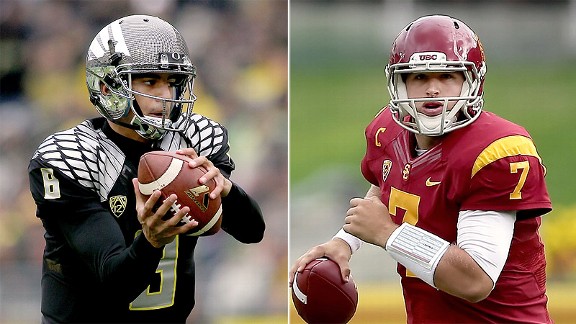 Getty ImagesA win this weekend for Oregon and quarterback Marcus Mariota over USC and QB Matt Barkley could represent a power shift in the Pac-12.
Is Oregon-USC about a passing of the guard?
The one absolute history teaches us is there will be change. Nothing lasts forever. Empires fall. In ancient times, no one could conceive a world without Roman domination.
Look at Italy now
.
USC has 11 national championships. Oregon has none. And it wasn't too long ago that USC under Pete Carroll made a dynastic run that terrorized college football. From 2002 to 2008, USC was college football's pre-eminent power, the lone program that made the SEC quake in fear.
But there is a distinct sense that Chip Kelly and the
Oregon Ducks
are headed to the Coliseum on Saturday to grab the Pac-12 sword from Tommy Trojan and take it back to Eugene.
It wasn't supposed to be like this. In the preseason, the overwhelming consensus was USC was ready to reclaim its place atop college football. The Trojans, emerging from a two-year postseason ban courtesy of the NCAA, welcomed back 19 starters from a team that went 10-2 and won at Oregon. They looked like a potentially all-time great team on offense, with a talented defense playing a strong supporting role.
Meanwhile, Oregon was replacing six offensive starters, including a two-year starter at quarterback in Darron Thomas and its all-time leading rusher, LaMichael James. The defense looked stout, but there were plenty of questions. It seemed premature, despite three consecutive Pac-12 titles, to call the Ducks a "reload, not rebuild" outfit.
Au contraire.
Oregon has been a well-oiled machine. It has rolled over everyone like an army of steamrollers and sat its starters for large portions of the second half. Sure, the schedule hasn't featured any A-list foes. But Arizona, Arizona State and Washington are a combined 14-10 with wins over Oklahoma State, Stanford, Oregon State and USC, and the Ducks beat them by a combined count of 144-42.
USC has flashed brilliance at times on both sides of the ball this season, but that only serves to provide a stark contrast for the moments of inexplicable mediocrity and sloppiness. The Trojans are 120th -- last! -- in the nation in penalties and penalty yards per game.
And last by a fairly wide margin
.
Quarterback Matt Barkley has thrown eight interceptions. He threw seven all of last year.
And to cut to the chase, USC already has two losses, to Stanford and Arizona, that have thrown a blanket of "Neh" over what was supposed to be not only the Pac-12 game of the year, but also perhaps the national game of the year.
So it's fair to ask what it might mean -- big picture -- if Oregon prevails and then goes on to win a fourth consecutive Pac-12 title: Are the Ducks poised to displace USC atop the conference for the long term?
USC fans would rightly counter, "Well, how about the Ducks win a national title first?" That's fair.
Oregon fans probably would admit there's a reasonable -- and nagging -- qualifier here also: "As long as coach Chip Kelly stays in Eugene."
While Oregon probably wouldn't tumble into mediocrity if Kelly bolted for the NFL -- the program is too rich and too Nike'd -- this run of dominance feels like its foundation is built on Kelly's cult of "Win the Day" personality.
But the Pac-12 blog, just like Kelly quashing an interesting question, won't deal in hypotheticals.
So then, if the Ducks roll over the Trojans on Saturday by multiple touchdowns -- an unthinkable idea in the preseason -- and go on to win a fourth consecutive Pac-12 title, that feels like it could be a resonating statement.
Further, USC has two more years of scholarship sanctions. It can sign no more than 15 players for the next two recruiting classes (though there's some backwards-looking wiggle room coach Lane Kiffin has skillfully exploited) and can't exceed more than 75 players on scholarship, instead of the standard 85. All along, the point has been repeatedly made that USC will be most taxed by sanctions over the next two to three years.
Meanwhile, a glance at Oregon's roster, led by redshirt freshman QB
Marcus Mariota
, and sophomore fancypants
De'Anthony Thomas
, suggests the Ducks aren't going anywhere. This is almost certainly a preseason top-five team in 2013.
It seems like a potential old-school to new-school transition is at hand. From a program with iconic uniforms and pageantry that is immediately recognizable to college football fans across the country, to a program that changes uniforms every week and isn't afraid to wear lime-green socks.
Of course, the reality is USC won't go easily into the night. It has too much tradition. And let's not forget this: Location, location, location. USC's presence in Southern California's recruiting hotbed means the potential for program greatness is built-in.
And maybe USC pulls the shocker on Saturday and gets to smirk back at all the doubters.
Yet if Oregon takes care of business as most now expect, something might very well change. When someone asks, "Tell me about the Pac-12?" The new response will be, "Well, of course, there's Oregon first. You know about them, right?"
November, 19, 2011
11/19/11
10:54
PM PT
By
Pedro Moura
| ESPNLosAngeles.com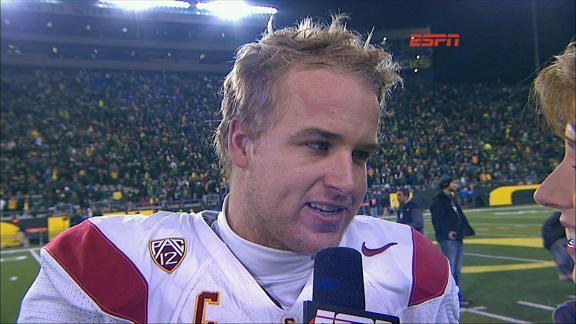 EUGENE, Ore. --
Matt Barkley
said this wasn't the best game of his college career, but it most certainly was his biggest win.
At Autzen Stadium against the No. 4 Oregon Ducks, he completed 26-of-34 attempts, threw for 323 yards and had four touchdowns and just one interception -- on a pass
Robert Woods
should have caught. He made one bad throw the entire night and several elite ones. And, most importantly, he led the now-surging USC Trojans to a season-defining 38-35 victory.
In arguably the biggest situation he's faced yet in the college sphere, the third-year Trojans quarterback produced one of his best games to date and -- perhaps in vain -- made a case that he should be considered among the rest of the bowl-eligible candidates for the Heisman Trophy come the end of this season.
"I thought Matt was outstanding," Oregon coach
Chip Kelly
said, adding that he thought Barkley was better than
Andrew Luck
and better than any of the quarterbacks his Ducks have faced this season. "He always seemed like he had the answer.
"Every time we came back and scored he came right back with an answer."
He did. Oregon got big plays from a number of sources throughout the game -- quarterback
Darron Thomas
, running backs
Kenjon Barner
,
LaMichael James
and
De'Anthony Thomas
. USC only had Barkley, receiver
Marqise Lee
and a less-than-full-strength Woods.
Barkley's first half was outstanding, as he staked USC out to a 14-point lead by completing all but three of his 18 passes, including a 59-yard touchdown throw to Lee. And, in a crucial fourth quarter -- a time where Barkley struggled so significantly his first two seasons -- he completed 4-of-5 passes for 57 yards, with his only incompletion the tipped pass off the hands of Woods.
This was a signal-caller at his best. This was a quarterback quarterback-ing his team to a win on the biggest of stages in the toughest of environments.
Yet he said he didn't think he "played that well." He said the feeling he had after the game didn't feel like he had just played the best game among his 32 career starts at the college level.
But he did. And, in the same place where a USC quarterback won himself the Heisman Trophy nine years ago this month, Barkley proved himself to be a viable candidate for the award.
He won't win it -- no way, not with the Trojans ineligible for the postseason and some of the other top candidates likely to play in a conference championship
and
bowl game. But he deserves to be in the top 5, and it now seems like a legitimate possibility he could do so.
"Look at what Matt's done with a bunch of young people," USC coach
Lane Kiffin
said following Saturday's game. "I can't imagine those other guys out there putting up numbers with a bunch of young guys around them."
There's some validity in that argument. But then there's also the fact that -- despite their age -- Woods and Lee are much better than Luck's receivers over at Stanford and better than
Landry Jones
' receivers at Oklahoma now that
Ryan Broyles
is out for the year.
But forget the Heisman politicking and arguments. Those will have their time in the sun soon. And forget that Barkley might have just played his penultimate game in a USC cardinal-and-gold uniform.
For right now, realize this: Matt Barkley just led his USC Trojans to an upset win over the Oregon Ducks.
And he did it better than he's ever done before.
November, 19, 2011
11/19/11
8:57
PM PT
By
Pedro Moura
| ESPNLosAngeles.com
PASSING ATTACK
It doesn't get much better than this.
Matt Barkley
had an absolutely splendid day -- his fourth-quarter interception notwithstanding, because it was
Robert Woods
' mistake that led to it. True freshman
Marqise Lee
proved to be a dominant presence on a big stage.
RUSHING ATTACK
They weren't asked to do much until later in the game, but
Curtis McNeal
and
Marc Tyler
were once again an effective duo for the Trojans. But while McNeal didn't do anything to hurt USC's cause, Tyler's fumble late was a crucial mistake that almost cost the Trojans.
IN THE TRENCHES
USC's defensive line built on last week's terrific performance against Washington and again produced pressure on Thomas and the Oregon offense. And while the Trojans' O-line did have a few false starts, the big guys kept Barkley off the ground and gave him time to operate.
DEFENSE
Considering Oregon's track record -- pun intended -- this was a solid performance by the Trojans' defenders, demonstrating clear improvement from the beginning of this season.
Darron Thomas
did fine at quarterback, but
LaMichael James
wasn't allowed to run wildly, as he often is.
SPECIAL TEAMS
For the umpteenth time this year, coordinator
John Baxter
's unit produced a big play with the third-quarter punt block that netted USC some points, but it also allowed a couple big kick returns by
De'Anthony Thomas
, including the 96-yard touchdown later in the third.
COACHING
Lane
and
Monte Kiffin
out-coached
Chip Kelly
and his crew, plain and simple. The Trojans' offensive gameplan was solid, and USC also knew what to do to stop Oregon's top offensive options. Kiffin is going to gain a lot of national respect for this.
August, 31, 2011
8/31/11
6:46
PM PT
By
Pedro Moura
| ESPNLosAngeles.com


What do USC's defensive backs have to prepare for against a team running a spread offense like Minnesota?

They have to be ready for deep balls, thrown early and thrown often. They have to be ready for the quarterback, MarQueis Gray, to cut broken plays short and take off running. They have to be ready for traditional run plays from tailbacks Duane Bennett and Donnell Kirkwood.

Above all, they just have to be ready for everything. Jerry Kill likes to mix things up in his offense -- or, Kill liked to mix things up in his offense at Northern Illinois and probably will at Minnesota, too.

Still, the Trojans insist Saturday's game is all about execution and not at all about deception.

"It's nothing that we haven't seen before," sophomore cornerback Nickell Robey said Wednesday, roughly an hour after he returned an interception for a touchdown during practice. "Everything's the same with the spread. They got athletes who do the same things that most athletes around here do.

"It's nothing surprising we're gonna see."

That's not an insult, you see. Because, for all the Trojans know as of right now, the Gophers really won't be doing anything different. In fact, they'll be doing a lot of what the Oregon Ducks do in the Pac-12 with the combination of Darron Thomas and LaMichael James.


August, 15, 2011
8/15/11
5:56
PM PT
By
Pedro Moura
| ESPNLosAngeles.com
Quarterback Matt Barkley picked up his fourth watch-list honor of the preseason Monday when he was named to the Manning Award watch list, a trophy given out to the top signal-caller in the country after bowl games conclude in January.

Barkley, a junior, was also named to the Davey O'Brien, Walter Camp and Maxwell award lists last month. He's one of eight Trojans who have received at least one watch-list honor this preseason.

As a sophomore in 2010, Barkley threw for nearly 2,800 yards, 26 touchdowns and 12 interceptions, starting all but one of USC's 13 games. As a first-year freshman in 2009, he completed 60 percent of his passes for 15 touchdowns, 14 interceptions and 2,735 yards.

He stands as a potential top-ten overall pick in next April's NFL draft, assuming he decides to leave school after his junior season and apply for early-entry into the draft. But doing so would prevent him from playing in another bowl game or conference championship during his college career, as the Trojans are ineligible for postseason play this year due to NCAA sanctions.

Other Pac-12 conference nominees for the Manning Award include Oregon's Darron Thomas, Arizona's Nick Foles, Stanford's Andrew Luck and Utah's Jordan Wynn.

Auburn's Cam Newton won the honor in 2010 before departing for the NFL.
July, 29, 2011
7/29/11
8:06
PM PT
By
Pedro Moura
| ESPNLosAngeles.com
As the weeks count down until USC football fall camp begins on Aug. 4, we've been offering up an early first look at the 12 scheduled opponents for the 2011 season, in chronological order. We began back in May with Minnesota, Utah and Syracuse, continued the next three weeks with Arizona State, Arizona, and Cal and added Notre Dame, Stanford, Colorado and Washington recently. We now present Oregon, who the Trojans will play on the road on Saturday, Nov. 19:
History
: Oregon has won seven of the last 11 games played between the schools, a period of dominance unmatched in the Ducks' history against the Trojans.
All-time, USC still leads the series 37-18-2. This is a matchup of, at this point, teams on opposite trajectories. Oregon is on the way up; USC is on the way down. Look at the last two head-to-head matchups -- Oregon 47, USC 20 and Oregon 53, USC 32 -- for evidence of that.
Of course, a game like this can help reverse things.

An interesting note about the schools' recent histories: Of the last seven Oregon-USC games, only one has been decided by 10 points or fewer -- and none by less than a touchdown. Five of the last six have also been won by the better-ranked team entering into the game.
Offense
:
Darron Thomas
and
LaMichael James
are the stars, at quarterback and running back, respectively.
Thomas, a redshirt junior who played his first year and sat out his second, is a true talent who had a very, very good season as a first-year starter in 2010. Coach
Chip Kelly
didn't ask him to do too much, and he didn't try to. His touchdowns-to-interceptions ratio was a healthy 30-to-9, and he was 17th nationally in passing efficiency. There's also, of course, his running ability -- he carried the ball 93 times for 486 yards and five touchdowns last season.
Oregon's running back corps is probably the best in the nation. James, also a redshirt junior, was a unanimous first-team All-American last season with more than 1700 yards rushing. Then there's
Kenjon Barner
, a dynamite returner who quietly accumulated 551 yards on the ground as a backup last year. The Ducks also add redshirt freshman
Lache Seastrunk
and true freshman
DeAnthony Thomas
into the mix, both five-star prospects out of high school who USC recruited heavily.
Oh, and then there's senior tight end
David Paulson
, an all-conference first-team pick. He was the Ducks' representative at Pac-12 media day last week.
But, hey, their two top receivers and three starting offensive linemen are gone, so it's not all a nightmare. Oregon will need production from junior college transfer receivers
Lavasier Tuinei
and
Rahsaan Vaughn
, plus sophomore
Josh Huff
, who had a 57-yard catch against the Trojans last season.
March, 14, 2011
3/14/11
8:35
AM PT
By
Pedro Moura
| ESPNLosAngeles.com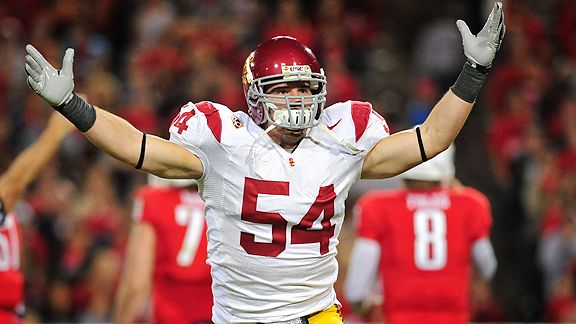 Chris Morrison/US Presswire
Chris Galippo could end up starting at any of three positions on the linebacking corps.
There are two Mondays left until spring practice officially kicks off for USC on March 22. On each of those Mondays, we'll preview one-sixth of the Trojans' depth chart and eye potential risers and fallers during the monthlong springtime. We began four weeks ago with quarterbacks and running backs and continued three weeks ago with receivers and tight ends, two weeks ago with offensive linemen and last week with defensive linemen. This week, we look at both linebackers and defensive backs as we begin to close up shop, keeping in mind that all freshman who can't practice until the fall are automatically at the bottom of the depth chart:
Strongside linebacker
1.
Chris Galippo
, redshirt senior
2.
Ross Cumming
, senior
3.
Lamar Dawson
, freshman (won't enroll until fall)
4.
Charles Burks
, freshman (won't enroll until fall)
Galippo could, honest to goodness, end up starting at any of three positions on the linebacking corps -- or all three, too. But the strongside is probably the most likely place he'll start off at at, simply because he's better built for the position than any of the Trojans' other linebacking options aside from
Devon Kennard
.
Cumming's a very valuable backup and perhaps the best special-teams player on the roster. Burks is a sure bet to redshirt; Dawson is not at all and could very well end up playing significant snaps in 2011 as a first-year freshman.
Middle linebacker

1.
Devon Kennard
, junior
2.
Dallas Kelley
, junior
3.
Will Andrew
, redshirt sophomore
4.
Anthony Sarao
, freshman (won't enroll until fall)
Kennard playing middle linebacker in 2010 wasn't exactly the hit the Trojans' coaching staff envisioned it being, but it makes a lot of sense at this point to stick with it and allow one of the team's smartest players to mentally adjust to playing one position and one position only.
This is not a done deal, though. He could play strongside too, and he could also drop down and play some defensive end at times. Neither of those would surprise me. Kelley, although undersized, was a nice get as a junior college player because of his physical development. Unlike Sarao and even Andrew, a walk-on, Kelley could presumably hold his own in a pinch in a game in the fall.
Weakside linebacker

1.
Shane Horton
, redshirt senior
2.
Marquis Simmons
, redshirt sophomore
3.
Hayes Pullard
, redshirt freshman
4.
Tre Madden
, freshman (won't enroll until fall)
Horton's one of the least-talked about seniors on this roster, a guy who
Lane Kiffin
openly -- and memorably -- called out for poor play in 2009 but went on to earn significant praise over the course of the year as a spot starter and valuable reserve. He won't be a world-beater if he ends up starting, but he screams serviceable piece who makes a lot of a sense as a stop-gap measure while Madden and Dawson ready for prime time.
Simmons and Pullard are both very inexperienced; Madden could redshirt but is not a guarantee.
Left cornerback

1.
Nickell Robey
, sophomore
2.
T.J. Bryant
, redshirt junior
3.
Patrick Hall
, redshirt freshman
4.
Ryan Henderson
, freshman (won't enroll until fall)
Robey's a surefire starter, an undersized player who took a chance the coaches gave him in fall camp last year and ran with it all the way to December, starting every one of the Trojans' 13 games and performing fairly well overall. He had his bad moments and bad games, but Robey showed shades of early ballhawk-ness and consistently impressed as a tackler.
Bryant had a disappointing year and is nearing full-on bust status in Troy. He needs a big-time season in 2011, probably as either a nickel or dime back, to save himself in the coaches' eyes. Hall has a lot of work to do to get to a point where he could see legitimate defensive snaps.
Henderson will likely redshirt.
Strong safety
1.
Drew McAllister
, redshirt junior
2.
Jawanza Starling
, junior
3.
Dion Bailey
, redshirt freshman
McAllister missed all of last season with a hip injury and was able to redshirt the year after he underwent surgery in October. He was one of the players who seemed forgotten in some circles last year but was really a sorely missed piece on the Trojans' defensive unit. He is, for all intents and purposes, their best playmaking defensive back, and it'll be interesting to see if he retains that specific skill after his return from injury.
Starling started until the Oregon game before losing his spot to
Marshall Jones
, but he could still play an important role this season. His main issue last year involved mistaken routes to tackle ballcarriers, and it troubled him often in most of USC's games. Fix that, and he could easily start.
Bailey's interesting, as he is also playing some strongside linebacker in winter workouts and sounds set on finding his way into the lineup this season at that spot, not on safety. But he's still small for the linebacker spot, and he's probably a better fit at safety in the long term.
Free safety
1.
T.J. McDonald
, junior
2.
Marshall Jones
, redshirt senior
3.
Demetrius Wright
, redshirt freshman
4.
Tony Burnett
, junior
McDonald is probably the best player on the entire defensive unit, a junior to-be who will enter the season as a top underclassman. He has everything NFL scouts like to see in a young player, including the smarts for the position, and he still retains some ability to grow into his lanky frame. He'll be the cornerstone of the defensive backfield.
Jones is another solid backup but also a guy who will be jonesing for starting snaps. He didn't do badly in his opportunities last year, but, with McAllister back in the fold, there isn't really an obvious spot for him to play in 2011.
Same for Wright and Burnett, two players who looked good in their limited opportunities last season -- Wright in practice and Burnett in the Notre Dame and UCLA games.
Right cornerback
1.
Torin Harris
, redshirt sophomore
2.
Brian Baucham
, redshirt junior
3.
Anthony Brown
, redshirt freshman
4.
Isiah Wiley
, junior (won't enroll until fall)
This is probably the most unsettled spot on the defense, with Harris maybe the leading candidate to start on opening day but also a leading candidate to frustrate Kiffin and the coaches again and again with his inconsistent play.
Baucham has yet to put it all together in what will now be his fourth year at USC, but he has the size and athletic ability to start -- as does Brown, who has impressed in winter workouts but is still very inexperienced. Wiley will come in as a junior but will assuredly be hurt by the fact that he wasn't able to qualify for spring enrollment.
Any of these four guys could end up starting come September.
That's it for today. We'll be back next week, just one day before the official start of spring practice, for a quick, concluding look at the special-teams units.
November, 2, 2010
11/02/10
10:27
PM PT
By
Pedro Moura
| ESPNLosAngeles.com
Notes, quotes and video from Tuesday's practice:
The big news out of Howard Jones Field: two positions, strong safety and left guard, have officially been opened up for competition. Coach Lane Kiffin said Tuesday that Marshall Jones and incumbent Jawanza Starling will split reps at safety for the rest of the week, adding that Starling's spot is "definitely" up for grabs. And at guard, redshirt junior Michael Reardon will get every chance this week to unseat Butch Lewis. Kiffin called Lewis' performance against Oregon "completely unacceptable."
Lewis, a senior, has started at least three games during each of his four seasons at USC. Interestingly, though, he has never kept his starting spot for an entire season and has twice lost it after starting the first several games of a season. Asked if he agreed with Kiffin's decision to re-open the battle at his spot, Lewis made his opinion clear. "Absolutely," he said. "There's been shades of good and bad and this last game was really bad, so it's time to really buckle down and get back to fundamentals." This is Reardon's first season as a guard. He spent portions of his first three years at USC working as an offensive tackle, center and tight end.
Jones, a redshirt junior, has never started a game at USC. In fact, the 25 or so snaps he earned Saturday against Oregon are likely the most he has played as a Trojan. The 5-foot-11, 185-pounder spent the 2009 season at cornerback and played sparingly before seriously injuring his neck in late September against Washington State. He would go on to sit out the rest of the year and earn medical redshirt status. He missed 2010 spring practice because of complications from the injury. Now, he's healthy but will be playing a bit out of position, as he said he feels more comfortable at the opposite spot -- free safety, where T.J. McDonald appears entrenched. Still, he's glad to have the opportunity. "The best players will play," Jones said. "That's what the coaches always say." Starling had started the first eight games of this season after seeing limited time as a backup last year.
October, 31, 2010
10/31/10
7:53
PM PT
By
Pedro Moura
| ESPNLosAngeles.com
Video interviews with USC's Ronald Johnson and Wes Horton, plus several quotes that stood out from after USC's 53-32 loss to Oregon on Saturday at the Coliseum:

USC running back Marc Tyler, on whether the Trojans developed an offensive rhythm: "I felt that last game. I felt it tonight, for a half or a quarter. Then, for some reason, it stopped."

Oregon receiver Jeff Maehl, on the pace and finish of the game: "It was a different game for us, especially in the second half. We kept pushing and knew our offense would start wearing them down...Give credit to them. They didn't let us have the big explosions. We had to chip away. I'm happy we came out with a win."

USC safety Jawanza Starling, on what went wrong for the Trojans after a fairly solid first quarter and a third quarter that saw them take the lead: "We came out in the second half doing pretty good, but we kinda got away from ourselves, missing a lot and not getting ready a lot. The tempo wasn't anything that we haven't practiced all week for or anything, it was just missing keys. That's how they get all their big breaks, you know -- a breakdown, a mental mistake or something, that's how they get big plays. That's how their offense runs."

Oregon quarterback Darron Thomas, on why the Ducks were able to keep running -- even in the content's final seconds -- and how they managed to keep up the pace on offense: "One of the things we emphasized this week was tempo. We knew this was a big team and we needed to go faster. But we have to wait on the refs. We just wait for the refs to put the ball down and get out of the way."

USC cornerback Shareece Wright, on that tempo: "Playing a full game in that tempo, they don't slow down at all, and they execute. We have to play a complete game. We were good in the first, didn't execute in the second and came out and stopped them in the third. But we have to play a complete game.

USC quarterback Matt Barkley, on whether or not the Trojans still have a homefield advantage at the Coliseum: "There is an advantage at home, but ultimately fans aren't going to win a game for us. We have to execute, and if we aren't making plays it doesn't matter if we are home or away -- we aren't going to win."

***

Johnson, who had four catches for 65 yards and a touchdown against Oregon, talked afterward about USC's offense -- more specifically, why USC's offense wasn't as effective against the Ducks as it had been against Cal two weeks prior.

See what he had to say Saturday as he walked out of the locker room, one of the last Trojans to leave:



***

Horton returned to the field after missing three games with an injured back, and his presence made an obvious difference on a number of plays. He was the one who tipped the throw from Thomas that ended up being intercepted by Jurrell Casey.

See what Horton had to say on the field directly after the game, with thoughts on the defensive performance, Oregon's offense and more:


October, 31, 2010
10/31/10
12:36
AM PT
By
Pedro Moura
| ESPNLosAngeles.com
Notes, quotes and video from USC's 53-32 loss to Oregon Saturday at the Coliseum:
That surely wasn't what the Trojans had in mind when they talked up this game for two weeks. There were a boatload of reasons for the loss -- a lack of consistent play-calling, confusion at the line and a variety of others -- but the turnover battle is a good place to start. USC turned the ball over three times, Oregon twice. The Trojans had talked all week about the importance of winning the turnover battle; they didn't. "Coach said if we turn the ball over it's going to be hard to beat this team," running back Marc Tyler said. "And we turned the ball over three or four times."
In the end, the bulletin-board material conjured up by some of the Trojans this week -- Jurrell Casey's comment especially -- appeared to be a big motivating factor for the Ducks, who came out fired up and stayed fired up for the duration of the game. "Coaches, they try to say we don't listen to it, but we hear it eventually," Oregon linebacker Casey Matthews said. "Obviously we knew we needed to come out and shut them up and we feel we did a good job doing that. "Apparently we're just a quarterback and a running back and that's it, right?"
For a Trojans' offense that looked nearly pitch-perfect two weeks ago on the same field against Cal, a game with no real offensive stars was a departure from the expected. Matt Barkley (26-of-49 for 264 yards, one touchdown and two picks) looked more like a freshman than the sophomore Heisman candidate he'd been developing into in the past few weeks, Tyler and the running backs never got started and even Ronald Johnson and Robert Woods were held under 70 yards each. "Maybe it was the route-running, the play-calling or the blocking assignments," said Johnson, who had the Trojans' only touchdown through the air. "We just gotta go back and fix that.'
USC assistant head coach Monte Kiffin said a number of times in preparing for this game that his Tampa 2 defense was not built to stop Oregon's spread-option attack. Whatever modifications he implemented over the past two weeks weren't either, as the Ducks were visibly prepared for most of what the Trojans offered at them. And if they weren't, they appeared to adjust quickly. Oregon coach Chip Kelly said postgame that his staff went back and looked at Kiffin's play-calling tendencies against running quarterbacks as far back as his time in the NFL to get a gauge for what the Trojans could do. "It was what we expected," Kelly said afterward. "We broke down every game Monte coached at USC and at Tennessee and what he did against Michael Vick with the Falcons. We felt we had a pretty good idea of what they would do and we had some pretty good counters ready."
Kiffin ran his squad incessantly during the off-week with the hope that it would limit the effect of Oregon's run-run-run offense, especially in the final quarter. He said Saturday he thought it paid off -- so did middle linebacker Devon Kennard -- but some players disagreed. "[Being tired] had to be [a factor]," said senior cornerback Shareece Wright, who wasn't at the top of his game Saturday, getting burned by Oregon receiver Jeff Maehl on a number of occasions."We thought we weren't tired. We tried to be tough. They didn't even run that many plays, but they executed them to perfection. They waited for the defense to break down and make mistakes, and that's what we did.
Oregon quarterback Darron Thomas looked sharp, especially when throwing the ball. He and Maehl were almost free to connect as they pleased, with the senior receiver totaling eight catches for 145 yards and three touchdowns. USC safety Jawanza Starling indicated that the primary reason the Ducks' passing game was so effective was that USC consistently bit on play-action fakes time and time again, saying that the Trojans "gave him most of the things he got." Said Thomas of his offense's performance: "Some defenses are going to stop you. You can't score every time. We had to make some adjustments and go of of that. We knew this would be a game and that we would have to compete."
On at least two big passes down the middle that went for or led to scores, it's safe to say either Kennard, Starling, or safety T.J. McDonald was the guilty party -- or even two or three of them at a time. McDonald took the blame for one of the instances, but the sophomore also said the Trojans' problems with Oregon came down to simply getting set at the line of scrimmage. "To tell you the truth, the toughest part with this offense is getting lined up," he said. "When you get lined up and you use your keys, that's when we were able to do well. When we get momentum, we were able to slow the game for ourselves and execute. We knew that was going to be the challenge coming into this game and it just didn't work out for us."
Final notes: Dillon Baxter, injured since the end of the Stanford game, carried the ball just twice Saturday -- both in garbage time, for 14 yards. Senior running back Allen Bradford, bothered by a sprained toe in recent weeks, ran just three times for nine yards. Fullback Stanley Havili had 38 yards on 10 carries but had to come off in the fourth quarter with what looked like shoulder issues; Tyler carried the load with 17 rushes but also came up lame on one run. In all, the running back corps was very banged up. That may have been a bigger factor than was let on. ...While Chris Galippo was billed as the starter at weakside linebacker in replacing Malcolm Smith, it was Shane Horton who played most of the game at the spot, totaling 11 tackles.
***
Kiffin addressed the media after the game in a packed press conference room and actually cracked a few jokes. He also called his offense "terrible." Twice.
See what else the not-pleased coach had to say Saturday:
***
See what Barkley had to say after what turned out to be his worst performance of the season:
October, 30, 2010
10/30/10
9:15
PM PT
By
Pedro Moura
| ESPNLosAngeles.com
B
PASSING ATTACK
A fairly good game for
Matt Barkley
, but nowhere near the dynamic performances he had put up the last few weeks. His big miss was an underthrow of an open
Ronald Johnson
that resulted in a pick near the end of the first half.
C
RUSHING ATTACK
Marc Tyler
was the guy for the Trojans on Saturday, but he just couldn't get anything going. USC attempted to establish the run game early, but an average of fewer than three yards a carry -- on more than 30 carries, no less -- didn't cut it.
B
IN THE TRENCHES
Two consecutive impressive performances performances from the defensive line, as Wes Horton really made a difference with the Trojans' run-stopping efforts. But the up-and-down offensive line played down this time, failing to protect Barkley and not creating substantial holes for Tyler and co.
C
DEFENSE
It sounds odd to say this wasn't a downright horrible performance, but it really wasn't. Oregon is Oregon. USC did limit the Ducks at times, although
Darron Thomas
' frequent success through the air was a bit surprising.
LaMichael James
was limited until late.
B
SPECIAL TEAMS
Johnson had two helpful punt returns, including one that directly led to a touchdown, but the Trojans gave up the needed advantage gained there when they allowed a 41-yard return to Oregon's
Cliff Harris
at the end of the first half.
B
COACHING
Lane Kiffin
's play-calling was way too conservative in the first half. Give him credit, though: USC went for it a lot more after the break, and it often paid off. And, despite the loss, Kiffin clearly had the Trojans motivated Saturday.
October, 26, 2010
10/26/10
11:47
PM PT
By
Pedro Moura
| ESPNLosAngeles.com
Notes, quotes and video from Tuesday's practice:
The atmosphere in and around Howard Jones Field this week is different than it has been so far this season -- different in that there is a definite buzz among the Trojans as they prepare to face No. 2 Oregon. Quarterback Matt Barkley said it after Tuesday's practice: "This could be, in a sense, our bowl game. With the No. 1 team coming into our house on [the day before Halloween], under the lights, it's gonna be a big game for us. But I think it's important that we don't take anything out of context and we don't let it get too big in our own eyes, but we just focus on ourselves and -- even though it's gonna be big and even though there's gonna be a lot of talk about it, with Gameday here and everything -- just focus on ourselves and what we do."
Injury report: Linebackers Malcolm Smith (knee) and Marquis Simmons, defensive end James Boyd, guard John Martinez (foot) and running backs Dillon Baxter (toe) and C.J. Gable (knee) did not practice. Senior running back Allen Bradford was limited with a big toe injury. Both Baxter and Gable had said they planned to practice Tuesday; after practice, Baxter was approached by reporters but said that he was under orders from Coach Lane Kiffin not to speak to the media.
Two other players appeared to suffer injuries, although they were not listed in the official injury report. Running back Marc Tyler hurt his back on a run when he was hit hard by Jawanza Starling and said after practice that it was an aggravation of a bruise he had previously suffered; defensive end Nick Perry walked very gingerly off the field, looking as if the sprained ankle that has bothered him for more than two months now was once again bothering him.

2013 TEAM LEADERS
| TEAM | RUSH | PASS | TOTAL |
| --- | --- | --- | --- |
| Offense | 174.2 | 218.1 | 392.3 |
| TEAM | PF | PA | MARGIN |
| Scoring | 28.5 | 21.3 | 7.2 |