February, 12, 2014
Feb 12
7:00
AM PT
With seven of the nine ESPN 300 prospects USC signed in the 2014 class being offensive players, the Trojans addressed some pressing needs on that side of the ball. Head coach Steve Sarkisian has already landed a major building block for 2015, and with 25 scholarships to hand out, he has some room to get creative in this recruiting cycle.

Here's a quick preview of what USC's offensive board could look like heading into spring:

Quarterback: 1


January, 25, 2014
Jan 25
9:47
PM PT
For USC head coach Steve Sarkisian, this weekend was supposed to be about sealing the deal with some top targets who were officially visiting campus, but it quickly transformed into so much more.
Most of the focus centered on a group of highly touted prospects from the 2014 class, including
John Smith
(Long Beach, Calif./Poly) and
Damien Mama
(Bellflower, Calif./St. John Bosco), as the Trojans hosted a large group of recruits with less than two weeks remaining until national signing day. Yet, the buzz shifted toward the future as Sarkisian reached into the 2015 class to make perhaps his biggest splash since arriving from Washington, securing a verbal commitment from
Ricky Town
(Ventura, Calif./St. Bonaventure), the No. 2-rated pocket passer who decommitted from Alabama earlier in the day.
Consider it a major coup for USC, which made Town its top priority at quarterback and managed to flip him in a short period of time.
To continue reading this article you must be an Insider
January, 25, 2014
Jan 25
3:21
PM PT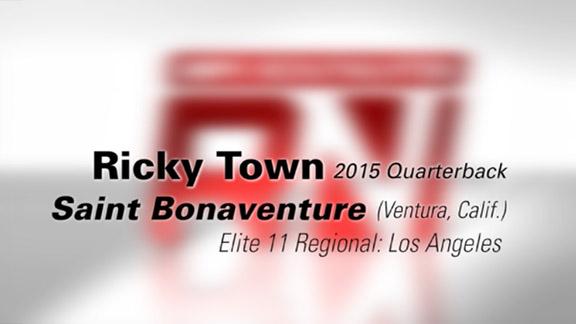 National signing day for the Class of 2014 is less than two weeks away, but the USC Trojans might have received some great news on Saturday in regards to next year's class.
To continue reading this article you must be an Insider
June, 11, 2012
6/11/12
10:36
AM PT
By
Pedro Moura
| ESPNLosAngeles.com
The USC Trojans are now technically halfway done with assembling their 2013 recruiting class, having received their ninth verbal commitment on Sunday.

Receiver/defensive back Steven Mitchell (Mission Hills, Calif./Bishop Alemany) committed to USC at a camp on the school's campus over the weekend. He becomes the second receiver in the Trojans' 2013 class after Eldridge Massington (Mesquite, Tex./West Mesquite)

Because of scholarship limits under the terms of NCAA sanctions, the Trojans have a total of 18 slots to work with in the class of 2013 -- 15 regular signees and three early enrollees. They may already have the three early enrollees in the fold, too, in quarterback Max Browne (Sammamish, Wa./Skyline) and others who could potentially graduate high school in December.

Also committing to USC over the weekend was 6-8, 335-pound offensive tackle Jordan Poland (La Jolla, Calif./La Jolla Country Day), a rising high school junior. Poland is the first Class of 2014 prospect to commit to the Trojans.

Of course, quarterback David Sills (Elkton, Md./Eastern Christian) is already committed in the Class of 2015.
May, 29, 2012
5/29/12
10:52
AM PT
By
Pedro Moura
| ESPNLosAngeles.com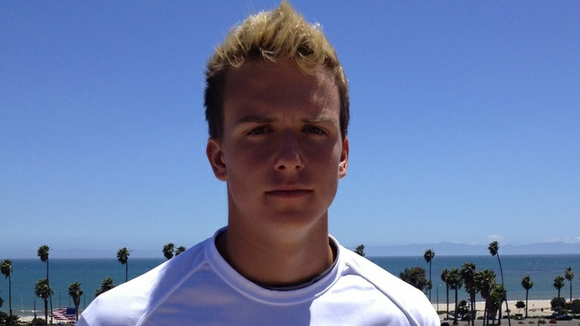 Pedro Moura/ESPNLA.com
16-year-old quarterback David Sills committed to USC in February 2010 and plans on honoring that commitment when he gets to college in the fall of 2015. He's finishing his freshman year of high school.
SANTA BARBARA, Calif. —
David Sills
turns 16 today. He acts a lot older.
Sills is the prep quarterback who verbally committed to USC as a 13-year-old in February 2010, making news headlines nationwide as the youngest athlete to ever accept a college scholarship offer. Back then, he was known to college football fans as the baby-faced seventh-grade prodigy with floppy blonde hair and a puka shell necklace.
Now, the Delaware native is finishing up the ninth grade at Eastern Christian Academy in Elkton, Md. In person, he hardly resembles the kid he was pictured as not too long ago. Sills is tall – nearing 6-4 already – and remarkably filled out in his upper body. He's well-spoken and very measured in tone.
Sills was in Santa Barbara over Memorial Day Weekend for a massive football camp put on by his private coach, famed QB guru
Steve Clarkson
. The camp and corresponding all-star games are held at the city college's smallish football stadium, which looks out over the Pacific Ocean.
Both Clarkson and Sills admit that the pupil doesn't need to be here – he's the most hyped of any of the participants, by far – but he's gotten so used to coming to Clarkson's camps over the last six years that his attendance wasn't even a question. His parents and siblings drop him off at the field in the morning each day and then go shopping on State Street until the afternoon.
Southern California is a second home to Sills by now. He's been to L.A. and its surrounding areas too many times to count since he started working with Clarkson in the summer of 2006. He acts like a native.
"He will do well in Los Angeles, let's put it that way," says Clarkson. "He'll have no problem getting along there.
"His personality lends itself to it."
Sills has a little Hollywood in him. To call him the football version of pop star
Justin Bieber
wouldn't be too much of a stretch.
"I really don't feel like I'm that different," Sills said. "I'm the same kid. I do the same things. I get treated the same way.
"There's nothing different, besides the publicity and stuff."
April, 12, 2012
4/12/12
9:02
PM PT
By
Pedro Moura
| ESPNLosAngeles.com
Here are notes from Thursday's practice that won't make it into our other coverage from the session, the last official practice until August for the Trojans. Of course, USC scrimmages on Saturday at the Coliseum in the annual spring game, which starts at 1:30 p.m.
Running back Buck Allen took the most snaps out of the backfield he has taken all spring and showed improvement as he returns from a strained right hamstring that bothered him for nearly a month. He, Curtis McNeal and D.J. Morgan are again the Trojans' only three scholarship running backs with Tre Madden now out for the year.
Cornerback Brian Baucham continued his strong play toward the end of the spring with an interception on a tipped pass off a Max Wittek-to-Junior Pomee throw. Baucham has put himself into the competition for the third corner spot.
Injury report: Receiver Victor Blackwell (foot) did not participate in practice but could return for Saturday's scrimmage, Lane Kiffin said. Kiffin also said cornerback Ryan Henderson could play Saturday. Receiver George Farmer (hamstring) did only individual work, as has been the case since the first week of the spring. It seems unlikely he will participate in the scrimmage portion of Saturday's session. Officially out for Saturday are tight end Randall Telfer (hamstring) and linebackers Dallas Kelley and Marquis Simmons.
Among the recruits at practice were high-profile 2013 defensive tackle Kenny Bigelow, the first player to commit to the Trojans' next class, and 2015 quarterback David Sills, who was also there Tuesday. Signee Jabari Ruffin was also in attendance and spent some time with linebackers coach Scottie Hazelton after practice.
Final notes: USC will not tackle in Saturday's scrimmage to preserve players' health over the offseason, Kiffin said. We'll have more on that on Friday. ... Tight end Christian Thomas underwent surgery this week on his ailing hip and is expected to be ready for fall camp. ...Defensive back Josh Shaw had his hardship waiver claim granted by the NCAA on Thursday and will be eligible to play for the Trojans in 2012. We'll have more on what that means for USC later.
March, 24, 2011
3/24/11
6:31
PM PT
By
Pedro Moura
| ESPNLosAngeles.com
Two main stories out of practice today:
Marc Tyler
sounds as if
he's going to miss the spring
because of his hamstring injury, and coach
Lane Kiffin
is
just about set
on moving fall practices to the morning. We'll have more on a new Trojans' signal-caller in a traditional day-after post Friday, but here's the rest of what went on Cromwell Field early Thursday morning, in tidbit form:
There were two more interceptions thrown by quarterback Matt Barkley and another by freshman Cody Kessler. Max Wittek is still interception-free for two days of spring practice. Barkley's first pick came by the hands of sophomore corner Nickell Robey, who has shined early in the spring. His second was a short throw picked off by walk-on Will Andrew, who has been serving as the starting middle linebacker so far with the Trojans' top four 'backers temporarily out because of injuries. "We've gotta do a better job on offense of protecting the ball," Barkley said afterward. "We've gotta get our chemistry down. It'll come."
Kiffin talked about the work Kessler, Wittek and Scroggins must put in throughout the spring to avoid days like they had Thursday, but it's clear Kiffin's mind is focused on the defensive end much more than usual in the spring. The goal is to eliminate the big plays that the Trojans gave up with regularity in 2010, and create more turnovers. It's spring, obviously, and there are a ton of backups and walk-ons on the field, but, so far, it's working pretty well. "It's obviously a huge emphasis," Kiffin said Thursday." I think we led the world in explosive plays last year at any level. It was good to see through two days us get better at it. We're going to get better at it this year." There's more to do, clearly. Many of the players -- especially the new ones -- have a lot of the playbook still left to learn, and the coaching staff is thus introducing it bit-by-bit in the spring. First up is the late-game defense, which the Trojans had well-documented struggles with in 2010. "As soon as we get our whole two-minute in, you'll see it every single day and it will be an emphasis," Kiffin said. "If we just play two-minute defense decent, we're 11-2 [last year.]"
Early enrollee freshman kicker Andre Heidari continued with his strong performance Thursday, two days after making 3-of-3 field goals in live game situations. "He's got a strong leg," said Kiffin, before mentioning freshman long snapper Peter McBride's performance as well."The snapper and the kicker, for guys that were supposed to be seniors in high school, are really at the top of their game ability-wise, from the speed of the snap to the kick and the leg. It's great to have them here already."
USC completed its second straight day of practice in helmets and shorts. The Trojans will move to full pads for Saturday's practice, which could also be back on the team's regular practice field, the real-grass Howard Jones Field. They have been practicing on the turf of Cromwell Field this week because of heavy rain the nights before the practices.
Jacksonville Jaguars head coach Jack Del Rio was in attendance alongside son Luke, a sophomore quarterback at Episcopal High in Jacksonville. The Del Rios visited with a number of USC assistants after practice, including Kiffin, linebackers coach Joe Barry, running backs coach Kennedy Pola and assistant head coach Monte Kiffin. Del Rio also introduced his son to Barkley. Young 14-year-old quarterback David Sills -- the subject of quite a bit of controversy after the Delaware native committed to USC last year -- was at practice for the second straight day.
February, 10, 2010
2/10/10
7:01
PM PT
By
Pedro Moura
| ESPNLosAngeles.com
Slow day in USC news, but here's what we could gather up:
Tight ends coach Brennan Carroll is out at USC, ESPN affiliate WeAreSC reports. Carroll first joined the USC staff as a graduate assistant under his father, Pete, in 2002. He spent the past eight seasons in a variety of positions on the Trojans' coaching staff, including recruiting coordinator. No word on Carroll's destination, but if he heads to Seattle to join his father, he'll be the ninth person to leave USC for the Seahawks.
New coach Lane Kiffin's arrival at USC last month was the subject of much consternation, to say the least, but his All-American safety at Tennessee said he wasn't surprised when Kiffin left to coach the Trojans. Eric Berry told The Oklahoman as soon as the USC job opened up he "immediately knew — 'Oh, it's going to be Coach Kiffin.' "
An exhibit showcasing the artwork of 18 USC student-athletes goes up Thursday at the Galen Center, the university announced in a news release Tuesday. Among the athletes to have pieces featured include backup quarterback Mitch Mustain, point guard Ashley Corral, and 2009 Pac-10 player of the year in tennis, Robert Farah. The free display lasts until March 22, with a special reception scheduled for Feb. 22. They call it "ARTLETICS."
So David Sills, the 13-year-old quarterback from Delaware who verbally committed to USC last week, is still in the news, making the rounds on the morning news circuit this week. But check out this article from last year, on CBSsports.com. Sills' story didn't just come out of the woodwork, as you can see. In the article, published nearly a year ago, his private coach Steve Clarkson says he "could very well redefine the quarterback position one day."
2013 TEAM LEADERS
| TEAM | RUSH | PASS | TOTAL |
| --- | --- | --- | --- |
| Offense | 174.2 | 218.1 | 392.3 |
| TEAM | PF | PA | MARGIN |
| Scoring | 28.5 | 21.3 | 7.2 |