May, 9, 2014
May 9
4:00
PM PT
Leading up to a game against Oregon State in Novenber 2012, Stanford coach David Shaw was asked to compare the Beavers' receiving duo (
Markus Wheaton
and
Brandin Cooks
) with the one at USC (
Marqise Lee
and
Robert Woods
).
[+] Enlarge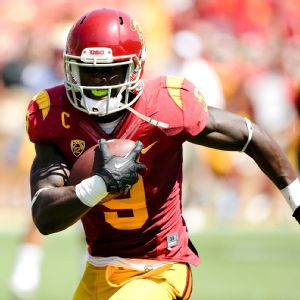 AP Photo/Chris CarlsonRecord-setting WR Marqise Lee could be off the draft board early in Round 2.
"Well, first of all, I don't mind going on record as saying that I think Marqise Lee is the best college receiver that I've seen since I scouted Randy Moss," Shaw said.
He's wasn't just throwing that out there either -- Shaw was a quality control coach for the
Philadelphia Eagles
during Moss' final season at Marshall. And while the future Hall-of-Famer fell to No. 21 overall in the 1998 draft, his talent was never in question.
When Shaw made the comparison, it sounded about right. At the least, it would have been difficult to argue against. Lee was on his way to what were then Pac-12 records for receptions (118) and receiving yards (1,743). It was Lee, not former No. 1 overall pick Keyshawn Johnson, who was named USC's first Fred Biletnikoff Award winner.
At the time, there was no question he would be a top-10 pick in the NFL draft. Maybe top 5.
Out of the first round? No chance.
And even as he struggled to meet the bar through nagging injuries, quarterback struggles and coaching turmoil in 2013 -- the Pac-12 blog didn't name Lee one of the conference's top-25 players for the 2013 season -- it was hard not to write it off as a season-long aberration. Aberration or not, it's going to cost him a lot of money.
The first receiver picked in last year's draft, West Virginia's
Tavon Austin
, received $12.8 million in guaranteed money after getting picked at No. 8 overall by St. Louis. The first receiver selected in the second round last year, Tennessee's
Justin Hunter
, received $3.8 million guaranteed.
Feeling bad for someone who is about to make a life-changing amount of money to fulfill a childhood dream isn't the correct feeling, but, still, $9 million buys
this house
and leaves roughly $3.5 million. And that's just the minimum difference in guaranteed money.
Lee's size came into question through the pre-draft evaluation process -- he measured at 6-foot, 192 pounds the combine -- but that didn't hurt Austin, who measured 5-foot-8, 174 pounds. Austin ran a superior 40-time (4.34 to 4.52), but it would have been tough for a team to choose him over Lee.
Of course, none of this matters in the grand scheme of things. Lee should be one of the first players drafted in Friday's second round, which means he'll likely have the opportunity to contribute immediately. For a player with Lee talent, that should be enough.
Ten Pac-12 players to watch on Day 2 of the NFL draft
April, 22, 2014
Apr 22
11:30
AM PT
There's a tiny door in my office, Maxine. It's a portal and it takes you inside John Malkovich. You see the world through John Malkovich's eyes... and then after about 15 minutes, you're spit out ... into a ditch on the side of the New Jersey Turnpike.
April, 3, 2014
Apr 3
12:00
PM PT
Washington was the final Pac-12 school to host its pro day Wednesday, essentially putting an end to 40-yard-dash season. Here is a look at some of the conference's top prospects and a few others who helped their cause over the past month.
Arizona (March 6)

Big name:
RB
Ka'Deem Carey
. After getting clocked at 4.70 in the 40 at the combine, Carey's pro day was a bit more intriguing than some of the other big-name players. There was some improvement -- various reports had him in the high 4.6-range -- but it wasn't enough to change the book on him. Still, Carey's production should make up for his perceived shortcomings.
Sleeper:
OLB
Marquis Flowers
. Flowers
reportedly ran in the 4.4s
and had a good showing in position drills.
Arizona State (March 7)

Big name:
DT
Will Sutton
. The Sun Devils' pro day further cemented what scouts learned at the combine, when he turned in below average numbers. There was slight improvement at the pro day, according to several reports, but nothing to save his falling stock.
Sleeper:
RB
Marion Grice
. Grice was invited to the combine, but didn't participate as he recovers from a broken leg suffered late in the season. He also didn't participate at the pro day, but will hold an individual workout for NFL scouts on April 8.
California (March 19)

Big name:
DT
Deandre Coleman
. Coleman only participated in the bench press at the combine, but fared well in field drills on campus with
a reported 40 time
in the mid 4.9-range. Coleman is projected by most to be a mid-round selection.
Sleeper:
RB
Brendan Bigelow
. Bigelow was perhaps the player with the most to gain at pro day. The book on him has always been that he's loaded with talent and the physical skills necessary to be an impact player. It didn't happen for the Bears before he decided to leave early for a shot at Sunday football. Despite
injuring his hamstring
midway through his 40, Bigelow still was reported as running in the high 4.4-range with former Cal running backs
Marshawn Lynch
and
Jahvid Best
looking on.
Colorado (March 12)

Big name:
WR
Paul Richardson
. There were 24 teams on hand, with Richardson the obvious prize of the nine that worked out. He only participated in the vertical jump, short shuttle and three-cone drills.
Sleeper:
LS
Ryan Iverson
. Iverson will not be drafted, but after four years as the Colorado long snapper he has a chance to make some money at the next level. His 27 reps on the bench press were a team high. All the Colorado results
can be viewed here
.
Oregon (March 13)

Big name:
RB
De'Anthony Thomas
. Thomas' 4.50 40 time at the combine was among the disappointments for the conference and turned a perceived strength into average attribute. After his showing in Eugene -- a 4.34 40 time -- the world is back on its axis. On his combine performance, Thomas
told the Ducks' official website
: "I ran a 4.5 in ninth grade, so I was like, 'Wow, that's crazy'. I feel like that made me train harder and I used it as motivation."
Sleeper:
CB
Avery Patterson
. Patterson was left puzzled by his own performance after putting up just 10 repetitions in the bench press, but the two-year starter remains focused on making the jump to the next level. He's likely the type of player that will have to earn his way on a team via a training camp invitation and possibly a practice squad.
Oregon State (March 14)

Big name:
WR
Brandin Cooks
. The Biletnikoff Award winner could have showed up to the Beavers' pro day as a spectator and it likely wouldn't have mattered. His showing at the combine was enough to solidify his stock as a first-round pick. Cooks didn't take part in field drills, but did run routes.
Sleeper:
WR
Micah Hatfield
. Yes, a receiver with 20 career catches helped his cause. One scout
told the Oregonian
he had Hatfield at 4.33 in the 40 -- the same times Cooks clocked when he was the fastest receiver at the combine.
Stanford (March 20)

Big name:
OL
David Yankey
. Kansas City, Tampa Bay and St. Louis were the only no-shows at Stanford. If the mock drafts are to be trusted, Yankey figures to be the first Stanford player of the board. He improved slightly on the bench press (22 to 25) and clocked the same 40 time (5.48) from the combine.
Sleeper:
DE
Ben Gardner
. Is it fair to call Gardner a sleeper after earning some form of all-Pac-12 recognition the past three years? Probably not, but after
not being invited to the NFL combine
we'll go ahead and list him here anyways. Gardner benefitted most from the day, quantifying his explosiveness and athleticism with a 39.5-inch vertical jump.
UCLA (March 11)

Big name:
OLB
Anthony Barr
. After running a 4.66 40 at the combine, Barr was clocked at 4.45 to ease any lingering doubt about his straight-line speed. Barr helped his case to become a top-10 pick and will likely be the first player from the Pac-12 selected.
Sleeper:
RB
Malcolm Jones
. The Gatorade national high school player of the year never developed into the player UCLA fans were hoping for, but he's still hanging on to hopes of an NFL career. He was credited with a 4.57 40 at the Bruins' pro day.
USC (March 12)

Big name:
WR
Marqise Lee
. Lee went Jerry Seinfeld and
chose not to run
, letting his combine performance serve as the final measurement of his ability. After not lifting in Indianapolis, Lee finished with 11 reps in the bench. He's tagged for the first round.
Sleeper:
DE
Morgan Breslin
. Like Gardner, who he has been working out with in San Ramon, Calif., Breslin was a combine snub. He ran a 4.75 40, put up 26 reps on the bench and registered a 35.5-inch vertical jump. Here are the
complete results
for the 18 players who took part.
Utah (March 19)

Big name:
CB
Keith McGill
. One of the fastest risers since the season has ended, McGill decided to
participate in every drill
despite a good showing at the combine. His 40 time (4.52) was a hundredth of second slower than what he did at combine, and his vertical leap (35.5) was about four inches less.
Sleeper:
FB
Karl Williams
. The 240-pound former walk-on clocked a 4.5, which will could give him a shot to get in a training camp.
Washington (April 2)

Big name:
RB
Bishop Sankey
. Content with his good showing in Indy, Sankey elected to just run the 60-yard shuttle and catch passes. Most mock drafts have Sankey, who left with a year of eligibility remaining, as the No. 2 running back.
Sleeper:
QB
Keith Price
. There were 19 quarterbacks at the combine, but Price was not one of them, marking the first time since at least 1999 that the conference didn't send a quarterback -- and it could be longer -- we could only find combine rosters dating back that far.
Price got good reviews
for his performance Wednesday, but it would still be surprising if he gets drafted.
Washington State (March 13)

Big name:
S
Deone Bucannon
. WSU's remote location and limited number of pro prospects resulted in
less than a dozen
scouts on hand, but those that were there got to see one of the conference's most intriguing prospects. Bucannon just participated in position drills after performing well across the board in Indianapolis.
Sleeper:
K
Andrew Furney
. Furney showed a leg capable of hitting from beyond 60 yards and further established himself as a potential candidate for training camp invitations.
March, 31, 2014
Mar 31
7:00
PM PT
Last week, Mel Kiper Jr. and Todd McShay updated their top-10 lists at each position for the
upcoming NFL draft
.

Here's a look at how the Pac-12 offensive players stack up:
Quarterback
Marcus Mariota
might have been taken No. 1 overall if he decided to leave Oregon, but without him the Pac-12 doesn't have any top-10 representation. Washington's
Keith Price
, who was not invited to the NFL combine, has a big day on Wednesday when the Huskies hold their pro day. Barring a team taking a flyer on him in the draft, Price is probably going to have to take the undrafted route to forge a NFL career.
Running back/fullback
The surprise here is how little both analysts think of Carey, who was the Pac-12 Offensive Player of the Year and ranked No. 3 in the nation in rushing yards. Sure, his 40-yard dash time at the NFL combine (4.70) didn't do him any favors, but this feels like a situation where the film isn't speaking as loudly as it does for others.
The love for Thomas was a bit surprising as well, but it's also tough to compare him to the rest of the group because he doesn't project as a true running back in the NFL. His versatility undoubtedly scored him points, but it also should be noted that 10 other running backs clocked faster 40 times at the combine -- including Stanford's
Tyler Gaffney
. See the whole list
here

.
Receiver/tight end
Cooks and Lee, a pair of Biletnikoff Award winners, will both expect to hear their name called in the first round. After that, it will be interesting to see how the rest of the pass-catchers fall into place.
[+] Enlarge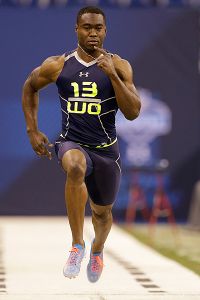 AP Photo/Nam Y. HuhOregon State wideout Brandin Cooks could be a first-round pick.
Notably absent is Colorado WR
Paul Richardson
, who ran a 4.40 40 at the combine and caught 83 passes for 1,343 yards and 10 touchdowns for the Buffaloes. He still figures to have a shot to go in the second-round to third-round range.
McShay lists Lyerla as the pass-catcher with the biggest risk:
Lyerla has some significant behavioral and emotional issues (leaving the Oregon program at midseason in 2013 and being arrested for cocaine possession weeks later) that just aren't worth dealing with, even for the potential reward his talent promises, were he to straighten things out.
See the whole list
here

.
Offensive line
If they were quarterbacks, Yankey and Su'a-Filo would be forever linked. Widely regarded as two of the best offensive guards in the country, it will be interesting to see who goes off the board first. Su'a-Filo was the players' choice as the best offensive lineman in the conference in 2013, but Yankey was given the honor in 2012.
Martin is one of eight players Kiper and McShay agree is the best player at his position. See the whole list
here

.
February, 24, 2014
Feb 24
11:00
AM PT
Raise your hand if you thought Stanford running back
Tyler Gaffney
would run a faster 40-yard dash than Oregon's
De'Anthony Thomas
at the NFL combine.
Put your hand down, liar.
Granted, it was still only by a hundredth of a second -- Gaffney ran 4.49 and Thomas 4.50 -- but, still, Thomas built his reputation on speed, while Gaffney's was more on toughness and vision. It ranked as one of the surprise performances among Pac-12 players over the weekend at the NFL combine.
[+] Enlarge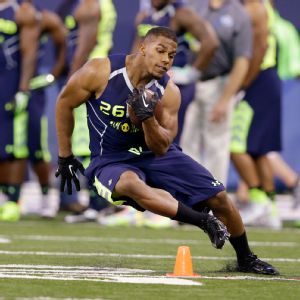 AP Photo/Michael ConroyWashington running back Bishop Sankey made a move up draft boards with his performance at the NFL combine.
Sunday proved to be a great day for Washington running back
Bishop Sankey
, who might have jumped Arizona's
Ka'Deem Carey
on some draft boards,
according to ESPN's John Clayton
.
From Clayton's story:
There may not be a running back who could entice a team to use a first-round pick, but the backs who ran Sunday looked great. Bishop Sankey of Washington may have entered the combine as the No. 3 halfback, but his stock probably rose with a 4.49 40 time along with a good show of lifting strength. Tre Mason of Auburn displayed second-round numbers with his 4.5. Both backs might have jumped ahead of Ka'Deem Carey of Arizona, who had a 4.70.
Sankey ranked No. 2 among running backs with 26 reps on the bench press and his 40-time was tied for No. 9.
Another one of the weekend's big winners was Oregon State receiver
Brandin Cooks
, who turned in the fastest 40 among receivers. His time of 4.33 was second to only to Kent State running back
Dri Archer
, who ran a 4.26.
Cooks, who set Pac-12 single-season records with 128 catches and 1,730 receiving yards this year, also turned in the fastest time registered in the 60-yard shuttle (10.72) at the combine
since at least 2006
. During that same time period, he's
tied for the fastest time
in the 20-yard shuttle (3.81) with Tennessee cornerback Jason Allen from 2006.
Washington tight end
Austin Seferian-Jenkins
, the John Mackey Award winner, has a stress fracture in his foot that is expected to need six to eight weeks to recover,
according to a report from the Tacoma News Tribune
. Due to the injury, Seferian-Jenkins was able to participate only in the bench press. He put up 20 reps, which ranked tied for No. 10 among the 15 tight ends who participated.
See the complete list of Pac-12 invitees.
Here are the Saturday and Sunday results from the Pac-12 players in the 40 and bench press:
Running back
Gaffney, Stanford: 4.49/did not lift
Sankey, Washington: 4.49/26 reps
Thomas, Oregon: 4.50/8 reps
Carey, Arizona: 4.70/19 reps
Silas Redd
, USC: 4.70/18 reps
Ryan Hewitt
, Stanford (fullback): 4.87/did not lift
Marion Grice
, Arizona State: Did not participate
Lache Seastrunk
, Baylor (transferred from Oregon): 4.51/15 reps
Wide receiver
Cooks, Oregon State: 4.33/16 reps
Paul Richardson
, Colorado: 4.40/did not lift
Shaquelle Evans
, UCLA: 4.51/13 reps
Josh Huff
, Oregon: 4.51/14 reps
Marqise Lee
, USC: 4.52/did not lift
Offensive line
Xavier Su'a-Filo
, OG, UCLA: 5.04/25 reps
Cameron Fleming
, OT, Stanford: 5.28/26 reps
David Yankey
, OG, Stanford: 5.48/22 reps
Marcus Martin
, C, USC: did not run/23 reps
Tight end
Colt Lyerla, formerly of Oregon: 4.61/16 reps
Anthony Denham
, Utah: 4.77/did not lift
Jake Murphy
, Utah: 4.79/24 reps
Richard Rodgers
, TE, California: 4.87/16 reps
Seferian-Jenkins, Washington: did not run/20 reps
Xavier Grimble
, USC: did not run or lift
Quarterback
No Pac-12 quarterbacks are at the combine, which is a rarity. The conference has sent at least one every year since at least 1999, which was as far back as we could go to find combine rosters.
January, 31, 2014
Jan 31
5:30
PM PT
Happy Friday. Welcome to the mailbag.
Follow the Pac-12 blog on Twitter
.
By the way, we will be reviewing the
top-25 list
on Monday, explaining some of our thinking, and looking ahead.
So stay tuned! To the notes!

RidingTheRange from Dallas writes:
Thanks for your Top 25 list
! I enjoy this every year. However, with Top 25 lists, they always encourage witty banter. And here's my suggestion: Where is
Ty Montgomery
? If memory serves me correct,
the KR/PR from Utah was rated last year
. Montgomery was a much more integral part of the Stanford offense (though the offense as a whole was not particularly potent). Any word on where he would actually fall or if there was any debate between the Pac-12 bloggers?
Ted Miller
: I suspect the list last year will be more controversial than this year's. Kevin fired off a first draft to me and Kyle a few weeks ago, and that list stuck pretty well with minimal changes. We also knew the handful of players who would be tops among the "HOW CAN YOU LEAVE OFF [PLAYER X]? YOU HAVE LOST ALL CREDIBILITY!"
Utah's Reggie Dunn ended up at No. 25 last year because he returned four kickoffs for touchdowns, which had never been done before. Yes, it was controversial. To me, the worst omission from the list was
Desmond Trufant
, and we not unfairly took a lot of crud for it. Kevin felt more strongly about Dunn than I did, but I'd also say that setting an NCAA record is pretty darn shiny on a résumé.
Montgomery returned two kicks for touchdowns in 2013 and was the Cardinal's leading receiver, ranking ninth in the Pac-12. You could make a case for him.
But here's what I typically say to folks making the case for another player: Who do you take off our top-25 to make room for Montgomery?
Here's the bottom six:
No. 20
:
Trevor Reilly
, DE/OLB, Utah
No. 21
:
Sean Mannion
, QB, Oregon State
No. 22
:
Austin Seferian-Jenkins
, TE, Washington
No. 23
:
Hroniss Grasu
, C, Oregon
No. 24
:
Josh Huff
, WR, Oregon
No. 25
:
Myles Jack
, LB/RB, UCLA
That's a pretty strong group to break into.
---

Bobby from Phoenix writes:
Carl Bradford
not in the top 25? You guys were very generous to put in Sutton, Grice and Kelly, but I can't imagine a list without Bradford! Rabble rabble rabble!
Ted Miller
: Bradford was one of the top guys who got left out, along with several All-Pac-12 defenders, such as Stanford safety
Ed Reynolds
, Washington defensive end
Hau'oli Kikaha
, USC LBs
Devon Kennard
and
Hayes Pullard
, etc.
I'm surprised more Washington fans aren't griping about leaving out Kikaha, who finished second in the Pac-12 with 13 sacks. We rated him higher than Bradford, who had 8.5 sacks, and I personally found leaving him out one of our toughest calls, in large part because he came back from two knee surgeries this season.
Bradford had a good, but not great, season. In fact, I'm not sure he'd rank better than fifth on the Sun Devils defense this season, behind DT
Will Sutton
, DB
Alden Darby
, CB
Robert Nelson
and LB
Chris Young
.
Further, with all that talent, I do question why the Sun Devils' defense wasn't better, ranking eighth in the Pac-12 in yards per play -- 5.5 -- and seventh in scoring (26.6 ppg).
---

Spencer from Orem, Utah, writes:
I would argue that
Anthony Barr
is better than
Ka'Deem Carey
. I would be interested on your thoughts on why you disagree.
Ted Miller
: You could argue that. I'm sure many folks are guessing that Barr is headed to a better NFL career as a perennial All-Pro.
NFL prospects factor more in my judgments than they do with Kevin. To me, it's a safeguard against getting too googly-eyed about statistics. That said, what separates Carey are his numbers. To quote our review:
"[Carey] ranked second in the nation with 157.1 yards per game. He completed his career by topping 100 yards in 16 consecutive games, a Pac-12 record and a streak that hasn't been accomplished by any other back in a decade. He is Arizona's career rushing leader (4,232 yards) and ranks seventh in Pac-12 history."
Barr had a great season and earned consensus All-American honors, just like Carey. But his best football is in front of him. His numbers -- 10 sacks (No. 3 in the conference) and 20 tackles for a loss (No. 2) -- were good, but not epically good, like Carey's.
Further, I think UCLA's defense wouldn't have collapsed without Barr. If you took Carey away from Arizona, the Wildcats would have lost at least a touchdown from their scoring average of 33.5 and wouldn't have sniffed bowl eligibility.
So that's the distinction.
---

Undeniable Stanford Homer from East "of" Palo Alto writes:
My question is about the top 25 players list for this past season. I understand the issues with rankings vs. grades is same reason why people do rankings over grades -- you get to say 1 player is "better" then another player because of their standing in the rankings. As we all know, the top 10 players are all All-Pac-12 performers, but by ranking them you infer that one is better than the other, causing intrigue and argument (which is both good and bad). What I am wondering is when you compile this list, how do you have eight players better than
David Yankey
, and five players ahead of
Trent Murphy
. The former was the best player on the best team on the best unit in the Pac-12 (hard to argue unit but this question is too long for my explanation already, and hard to argue with Morris but he already had one) and the latter is the best defensive player (depends on if you look at qualitative data, the DPOY by coaches vs. quantitative data, statistics). I know you have reasons why you chose players over these two outstanding athletes but i just would like to hear them.
Ted Miller
: We rated Yankey at No. 8 as the Pac-12's top offensive lineman, despite his playing guard and not tackle. I don't think guards would make the top 10 many years. But Yankey, a unanimous All-American, is a beast.
That said ... I'm not sure he's better than UCLA OG
Xavier Su'a-Filo
, who won the the Morris Trophy over Yankey, an award voted on by opposing defensive players. Yankey got more All-American love, but Su'a-Filo, who ranked 12th, was just as beastly. It will be interesting to see who ends up better in the NFL.
So who do you drop from our top seven in order to boost Yankey? That's a pretty salty group.
Murphy is the most interesting case. The Pac-12 blog named Murphy the conference
Defensive Player of the Year
after the coaches went with Sutton. Why? Murphy ranked second in the nation and first in the Pac-12 with 15 sacks and fourth in the nation and first in the Pac-12 with 23.5 tackles for a loss.
Like Carey, his numbers speak for themselves, as well as his being the best player on the conference's best defense.
So how did he end up rating behind Barr at No. 3? And how do I type this without immediately contradicting my explanation for putting Carey ahead of Barr (epic numbers!)?
We have debated this before
, and I've had what some might call controversial takes. I ranked
Matt Barkley
and
Matt Scott
higher in 2012 than many might have in large part based on the notion of, "If you were drafting Pac-12 players for your team, what would be the selection order?"
That's not specifically about NFL prospects. It's about who you subjectively view as being the best college player.
While I think Murphy was the most
accomplished
defensive player in the Pac-12 this year, I also think Barr was the best defensive player. If I were drafting Pac-12 players for the Ted Miller Super Awesome squad, I'd pick Barr before Murphy.
But would I pick Barr before Carey? I'd rate that a toss-up. Ergo, I fall back to Carey's numbers for our ranking order.
---


Paul from Boise, Idaho, writes:
I'm willing to bet nobody would have guessed that at the end of the year, both
Marqise Lee
and
De'Anthony Thomas
would be left out of the illustrious Pac-12 postseason top 25. It seems every season a team or a top-tier player plays subpar, either because of injury or an underperforming team. Would the blog care to take a gamble and bet on somebody next year that is in danger of underperforming?
Ted Miller
: Injuries are the biggest reason neither Lee nor Thomas made the Top 25, though Thomas was pretty underwhelming much of the year.
There's no way I'd speculate on who might get hurt next fall. That's sort of morbid.
Further, only eight guys will be back next season: 1.
Marcus Mariota
; 8.
Brett Hundley
; 10.
Leonard Williams
; 14.
Taylor Kelly
; 15.
Ifo Ekpre-Olomu
; 21. Sean Mannion; 23. Hroniss Grasu; 25. Myles Jack.
Of that list, the most challenged will be Mannion because he loses No. 4
Brandin Cooks
.
I expect Mannion's passing numbers to go down in any event because I suspect coach Mike Riley will work a lot harder to be more balanced next fall. The key for Mannion is being more efficient and avoiding the mistakes that littered his season's second half.
---

Haggmeez from Cincinnati writes:
Here we are, just one week before national signing day and the Pac-12 has a whopping 35 combined commits in the
ESPN 300
. By contrast, Alabama and LSU have a combined 32 ESPN 300 commits just between the two of them (not including the JC 50). I'm not usually one to buy into recruiting rankings at face value, but the disparity is fairly staggering. Do you think that the Pac-12 is going to be able to continue to keep up with the amount of raw physical talent that is being basically channelled into these southern power programs?
Ted Miller
: Yes.
---

Jack from La Quinta, Calif., writes:
Ted and Kevin, many thanks for your work in keeping the Pac-12 Blog current and interesting. However, I am still smarting over
your season grade of B-plus for Stanford
. Stanford won its division, won the Pac-12 championship and was only defeated by four points in the Rose Bowl by the third-ranked team in the country -- certainly no blowout. But they only deserve a B-plus. I think you place too much emphasis on the postseason -- bowl games, a national championship and ranking the Pac-12 against other conferences. The road to a Pac-12 championship should be your primary emphasis. The rest is gravy. Many Oregon players started looking too far ahead, to a national championship instead of next Saturday's game. Look where they ended up. The Rose Bowl on 1/1/14 was not a worthy goal for Oregon. Your thinking plays a part in influencing players, coaches and fans and your current emphasis is not in the best interest of the sport. I certainly would not give Stanford a solid A for their work. They lost two games on their way to the Pac-12 championship and the Rose Bowl. But, this is no less than an A-minus performance -- unless winning the Pac-12 conference championship is no big deal and is only a stepping stone to more worthy goals.
Ted Miller
: Is this an example of the grade inflation at Stanford that Cal fans are always telling me about?
You meet expectations, you get a B. You want an A? Exceed expectations.
Stanford has become an elite team -- a Pac-12 and national title contender. It's not graded the same as most other teams. It has a smaller margin for error. 11-3 is a good, but not great, season on The Farm these days. That should feel like good news, by the way.
Stanford and Oregon were co-favorites to win the Pac-12. Both Kevin and I picked Stanford to win the Pac-12. By winning the Pac-12, the Cardinal therefore met expectations. If the Cardinal had won the Rose Bowl, they would have received an A-minus.
What are the knocks on Stanford's season?
It lost to two teams it was better than: Utah and USC. And, in a toss-up matchup with Michigan State in the Rose Bowl, it got solidly beaten.
Good, but not great.
No Pac-12 team received an A this year. An "A" for Stanford and Oregon would have been a final top-five ranking and a BCS bowl win. An "A" for, say, Washington State, would have been eight wins, including the Apple Cup, and a bowl victory.
Just like Stanford, Arizona State also got a B-plus, the highest grade any Pac-12 team received from us this year. If the Sun Devils had won their bowl game, they would have received an A-minus. UCLA also got a B-plus. If it had won the South Division and its bowl game, it would have received an A-minus.
The Pac-12 blog doesn't believe in grade inflation. It is a demanding taskmaster. It believes in high standards.
And awesomeness.
---
UCLA Fan from Federal Way, Wash., writes:
I was just wondering why I haven't seen anyone talk about how after it was all said and done, the
four hardest schedules of the year
belonged to Pac-12 teams. Including those four, eight Pac-12 teams were ranked in the top 13 for strength of schedule. There was only one SEC team in the top 13. I haven't heard anyone talk about this, and would like to hear your opinion about what this says about the SEC vs. Pac-12 discussion, among other things.
Ted Miller
: It shows that the Pac-12 was the deepest conference, top to bottom, in the nation. Not sure anybody really disagrees with that. Further, in a year when the Pac-12 did well overall, it means the nine-game conference schedule significantly boosted strength-of-schedule measures.
If this continues to be a pattern going forward, the Pac-12 should do well in the eyes of the selection committee for the four-team college football playoff, which has said it will put an emphasis on strength of schedule.
January, 16, 2014
Jan 16
11:00
AM PT
While a number of big-name players opted to stick around for another year of Pac-12, most notably Oregon QB
Marcus Mariota
, UCLA QB
Brett Hundley
and Oregon State QB
Sean Mannion
, the conference was hit hard by early defections.
Here's the complete list of Pac-12 players who entered the NFL draft despite remaining eligibility.
Ka'Deem Carey
, RB, Arizona
Carl Bradford
, LB, Arizona State
Brendan Bigelow
, RB, California
Richard Rodgers
, TE, California
Khairi Fortt
, LB, California
Kameron Jackson
, CB, California
Viliami Moala
, DT, California
Paul Richardson
, WR, Colorado
De'Anthony Thomas
, RB/WR, Oregon
Colt Lyerla, TE, Oregon (was kicked off the team in October)
Terrance Mitchell
, CB, Oregon
Brandin Cooks
, WR, Oregon State
Scott Crichton
, DE, Oregon State
David Yankey
, OG, Stanford
Cameron Fleming
, OT, Stanford
Ed Reynolds
, S, Stanford
Xavier Su'a-Filo
, OG, UCLA
Dion Bailey
, LB, USC
Marqise Lee
, WR, USC
George Uko
, DT, USC
Marcus Martin
, C, USC
Xavier Grimble
, TE, USC
Jake Murphy
, TE, Utah
Bishop Sankey
, RB, Washington
Austin Seferian-Jenkins
, TE, Washington
January, 14, 2014
Jan 14
11:30
AM PT
September, 26, 2013
9/26/13
9:00
AM PT
Kevin Gemmell went 7-0 last week and improved to a scintillating 33-3. Ted Miller went 6-1, missing with his Holy War pick, a selection he made only to put the stink on BYU. But Utah fans shouldn't send any more checks his way.
Miller therefore fell to 31-5. Gemmel; is already making plans for the $1 million he gets if he wins the season.
All games are Saturday.
Arizona at Washington


Gemmell:
Not sure what to make of Arizona yet. It hasn't been pressed, and the passing game is still a question mark. Taking on a Washington team that has been pushed -- and is at home -- seems like a lot to overcome. And I wouldn't worry about Washington looking over the horizon to the Stanford game next week. It'll be focused on revenge after what happened last year in Tucson.
Washington 38, Arizona 24.
Miller:
The Wildcats have had two weeks to prepare, but a team can't really prepare for an atmosphere like Husky Stadium. While Wildcats QB
B.J. Denker
has played in road games, this will be a new level of extreme. The real issue is how effective Denker is throwing the football. If the Wildcats can achieve efficient balance, the holes will be bigger for RB
Ka'Deem Carey
. It also will be interesting to see how the Wildcats newly stout defense holds up against the Huskies' highly rated offense.
Washington 35, Arizona 20.
USC at Arizona State


Gemmell:
Plenty of great sidebars and storylines in this must-win game for both teams. The Sun Devils are holding on to whatever national credibility they have by a thread. USC is riding the coattails of its defense. If Arizona State can put together 60 minutes instead of 15, I think it wins by a couple of touchdowns. If it doesn't, it could be tight.
ASU 24, USC 21.
Miller
: We know USC's defense is good. Do we yet know if the Trojans' offense is going to be this bad all season? The first question is whether Trojans QB
Cody Kessler
's throwing hand is 100 percent. The passing game went south against Utah State last weekend after he got hurt. And what will Sun Devils QB
Taylor Kelly
be able to do against that tough USC defense?
Arizona State 21, USC 17.
Colorado at Oregon State


Gemmell:
Much like Arizona, I'm waiting to see what Colorado is really made of. I love the start, and everyone feels good about the Buffaloes being 2-0. But Oregon State's passing game has been wickedly efficient and the
Sean Mannion
-to-
Brandin Cooks
connection is one of the best in the country. The Buffs will score points, but before I start picking them in a league game on the road, I need to see just how much they've grown up. The two weeks off is also a wrench in predictions. They could be super rested, or super rusty.
Oregon State 48, Colorado 38.
Miller:
Colorado is a better team than it was in 2012, we know that. But being better and being ready to win on the road in the Pac-12 are two different things. I want to see what Buffs QB
Connor Wood
and WR
Paul Richardson
can do against a suspect Beavers defense.
Oregon State 40, Colorado 28
.
California at Oregon


Gemmell:
Another step in the maturation of
Jared Goff
. Being down defensively isn't where you want to be when playing Oregon -- especially on the road. No reason why the Ducks don't keep things rolling.
Oregon 49, Cal 21.
Miller:
Both teams were off last weekend, and Cal needed a break. But Autzen Stadium isn't a place to go to heal a season. I think this one might get a bit lopsided.
Oregon 50, California 20.
Stanford vs. Washington State (in Seattle)


Gemmell:
Will be interesting to see how the Cougars attack Stanford early with
Ed Reynolds
out for the first half. I'm guessing they go at the heart of the Stanford secondary because running against the Cardinal will be a chore. Turnovers have been Washington State's Achilles Heel (11 total, minus-3 ratio, worst in the league). Stanford will do what Stanford does. And what Stanford does should be more than enough.
Stanford 31, Washington State 17.
Miller:
Stanford will be missing All-American OG
David Yankey
, too, so the Cougs' front-seven will be catching a break. No guard in the country is better at pulling, so that hits the Cardinal's bread-and-butter. But Stanford figures to take this one seriously because the Cougars gave them trouble last year, is an obviously improved team and the Cardinal turned in a woeful fourth quarter last weekend against Arizona State.
Stanford 35, Washington State 22
.
2014 TEAM LEADERS
| TEAM | RUSH | PASS | TOTAL |
| --- | --- | --- | --- |
| Offense | 151 | 292 | 443 |
| TEAM | PF | PA | MARGIN |
| Scoring | 32 | 20 | 12 |