March, 13, 2011
3/13/11
8:13
PM PT
By
Pedro Moura
| ESPNLosAngeles.com
"Never a doubt," Trojans coach
Kevin O'Neill
quipped, a rare straight-faced glance on his face as he walked away from a pack of media finishing up their interviews with him inside USC's Galen Center.
It was about an hour after USC had been officially named as an NCAA Tournament team on CBS' Selection Sunday show, which happened at approximately 3:30 p.m. and sparked what players later described as a mad rush of excitement in the locker room, where they had all gathered to watch the show live.
"Never a doubt."
Then, as he embraced his embattled wife,
Roberta
, he burst out laughing.
Plenty of doubt.
Early Sunday morning, O'Neill and his assistants were hopeful they'd get an NCAA tournament bid, although none of them admittedly felt anywhere close to confident about it.
Then, during the selection show, three bubble teams during the Trojans were competing with for bids -- Georgia, Clemson and UAB -- all got in on the first two segments of the bracket. Things looked dire for USC, with only one possible play-in game left unannounced as the CBS folks headed to the Southwest bracket.
But the Trojans got in anyway, got matched up in the brand-new 'First Four' arrangement with a Virginia Commonwealth team that lost in its conference championship, got a possible first-round matchup with a sixth-seeded Georgetown team that looks pretty beatable.
And they're more than pleased about it.
"At first they were picking some teams that were on the bubble and thought we weren't gonna make it. Then I saw some teams that had the same record as we do that got in, and I was pretty positive that we were going to make it," junior forward
Nikola Vucevic
said. "Once I saw our name on the screen, it was one of the best feelings I've ever had in my life. Everybody started running, everybody started jumping.
"Everybody was happy. It's a great feeling."
Said junior guard
Jio Fontan
: "It was crazy, it was wild. You felt the positive energy, you felt everybody's excitement. It was something I'll always remember for the rest of my life."
The
video from the locker room
is available on USC's official site. Walk-on guard
James Dunleavy
is the first to realize USC's been selected, jumping up about a quarter-second earlier than everybody else. Vucevic is right behind him in the celebrations. You can see junior guard
Jio Fontan
and his father,
Jorge
, embrace just after the announcement, and senior forward
Alex Stepheson
tackle Dunleavy into the couch before celebrating some more.
You see -- and hear -- assistant coach
Dieter Horton
, too, probably the loudest of anybody in the room.
You don't see O'Neill. He was behind it all, taking in the experience as he sat back and thought about the last few days, some of the most eventful of his career.
"When the announcement was made, all I did was stand and watch their reaction, which was unbelievable," O'Neill said. "Our team was obviously extremely fired up and it was great to just stand there and watch the whole thing happen. I'm incredibly happy for these guys."
Things were quiet for the first two and a half bracket reveals, as the players sat silently and watched the selection show. After their announcement, though, they couldn't sit still. Fontan joked that he didn't know a single team who was announced after them because nobody was paying attention to the TV.
Soon, talk turned to the actual game USC (19-14) has on its hands Wednesday with a 6 p.m. matchup against Virginia Commonwealth in Dayton, Ohio. VCU (23-11) is an interesting matchup for the Trojans, a fast-paced, deep team who could cause some serious fits for O'Neill in game-planning sessions this week.
It's also interesting in that the Trojans, assuming they do indeed get to the next round and face sixth-seeded Georgetown on Friday, would have some serious momentum under their belts in the round of 64.
"I think it's a blessing that we get to get that early game," Fontan said Sunday. "I think for the most part, though, we're just happy to be here and we could really care less about how many games it'll take to do whatever.
"Right now all we know that we have guaranteed is one game, so if we don't win that game there's no reason to answer any questions about the second or third games."
Fontan, not a captain but the team's de facto leader, is right in that sense, but playing in a play-in game -- as collective guinea pigs, no less -- means not looking ahead to the next opponent is even harder than usual.
Either VCU or USC will play Georgetown on Friday in Chicago at about 7 p.m. PST, and either team will have a pretty good shot a 11-6 upset that experts love to annually predict.
As for now, well, as O'Neill said Sunday: "Whoever got the field expanded to 68, we thank them very much, obviously."
March, 13, 2011
3/13/11
1:52
PM PT
By
Pedro Moura
| ESPNLosAngeles.com
It was a funny sight inside the Galen Center, where all the USC basketball coaches huddled to wait for the 3 p.m. NCAA tournament selection show to hear official word on the next week of their lives.

Associate head coach Bob Cantu, who coached USC's Friday game against Arizona in Kevin O'Neill's absence, and assistant Dieter Horton sat in Cantu's office and watched the end of the Atlantic 10 tournament final intently. Richmond played Dayton in the final, and the Trojans needed Richmond to win in order to save them an at-large bid.

Richmond won, convincingly. Horton stood and did a dramatic fist pump.

USC's players were following the game, too. Junior guard Jio Fontan asked Twitter followers for updates on the game in between "Go Richmond!" tweets. Senior forward Alex Stepheson, in a slight stretch, said he'd been a lifelong Spiders fan.

Now Cantu sat in his office, alone, looking at a bracket report on his laptop. Horton and fellow assistant Tony Miller -- along with strength and conditioning coach Shaun Brown -- were leading the Trojans through a weightlifting session 30 feet away.

What was O'Neill doing? A whole bunch of things.

He ran the 2.5 miles to work this morning from his downtown Los Angeles penthouse, hearing a few catcalls from fans and passersby along the way. He's suddenly become a lot more famous, he noted.

He took calls in his office, almost non-stop, thanking well-wishers for their support during what he called the very tough times of the last three days.

Bracket talk was on in every television in the coaches' offices. Preparation for the next opponent must wait, of course, until the Trojans knew who their next opponent was.

They hoped to find out sometime in the 3 o'clock hour, during the NCAA selection show. They could also find out sometime in the 6 o'clock hour, during the NIT selection show. Obviously they were hoping for the former.

If the Trojans do make the Big Dance, they could be asked to play in the new First Four play-in games in Dayton, Ohio, on Tuesday or Wednesday.

ESPN bracketologist Joe Lunardi was projecting the Trojans as the last team in the tournament and projected them to play Clemson on Tuesday or Wednesday in Dayton as a play-in game for a No. 12 seed.

An interesting note: If USC does make the tourney as one of the First Four -- the last four, technically -- and wins the play-in game, it will play its first- (and possible second-) round game in either Denver or Chicago.
March, 11, 2011
3/11/11
11:43
PM PT
By
Pedro Moura
| ESPNLosAngeles.com
LOS ANGELES -- It has been a while since USC associate head coach
Bob Cantu
was the head coach of a basketball team.
Fifteen years, to be exact -- and that was as a JV head coach in his hometown of San Luis Obispo. But when USC head coach
Kevin O'Neill was suspended Friday afternoon by Trojans athletic director Pat Haden for his role in an altercation
with an opposing booster that took place Thursday night, Cantu took the reins of the squad for which he has served as an assistant coach for the last 10 seasons.
And, going against the class of the Pac-10 in No. 16 Arizona, Cantu's Trojans (19-14) held their own until the final minutes, eventually falling short, 67-62, to the Wildcats in the semifinals of the conference tournament.
"That was unbelievable, in my eyes," said USC guard
Jio Fontan
, who had seven points and five assists in 28 minutes. "To be honest, I didn't expect him to do the job he did today. I knew myself, as a leader, I was gonna go out there and try to lead my team -- but Coach Cantu today, that was almost unreal.
"That's one of the craziest experiences I've ever dealt with, throwing a coach into the fire to face a top 15 team just on the fly, two hours before the game."
Cantu said he learned he'd coach the game at 3 p.m., three hours before tip-off. He made plentiful use of his fellow assistants --
Dieter Horton
was in charge of substitutions,
Tony Miller
called out defensive assignments and strength coach
Shaun Brown
focused on
Nikola Vucevic
-- but Cantu was the play-caller and the guy in charge of the huddle.
And his players, from Fontan and Vucevic to seniors
Alex Stepheson
and
Marcus Simmons
, praised his performance.
"He didn't show us any sign of fear, any sign of confusion or anything," Fontan said. "He was ready for the moment. He didn't try to be KO, he was himself. He was different. He was real confident in himself, and I think that's what made the team go the way we did today."
October, 23, 2010
10/23/10
3:18
PM PT
By
Pedro Moura
| ESPNLosAngeles.com
It will only be temporary, but it looks like the Trojans have found a starting five that works for them until guard Jio Fontan becomes eligible to suit up for the Trojans in mid-December.

The lineup? Two freshmen guards -- the unrelated Maurice and Bryce Jones -- and three returners on the front line: Marcus Simmons, Alex Stepheson and Nikola Vucevic.

Saturday, the five suited up in a game format for the first time as USC held its annual Cardinal and Gold Scrimmage at the Galen Center, and the Cardinal starters topped the Gold reserves, 39-29, in a 16-minute game made up of four four-minute periods.

Afterward, USC coach Kevin O'Neill cautioned against proclaiming the five his set starters but admitted that he "felt comfortable" starting that group. O'Neill's squad will have to play the first 10 games of its season without Fontan, who is slated to return Dec. 18 at Kansas and will likely be immediately inserted into the starting five.

Gold guard Donte Smith led all scorers with 20 points on four-of-eight shooting from three-point range, with reserve forward Aaron Fuller adding six. Fuller is sitting out this season per NCAA transfer rules after transferring from Iowa in the spring.

For the Cardinal, Vucevic had 13 points and eight rebounds while playing all 16 minutes, and Simmons added eight points while demonstrating a much-improved jumper from a season ago.

Three of USC's 10 likely rotation players missed all or most of the game with injuries. Freshman forward Garrett Jackson suffered a small fracture in his nose earlier in the week on an errant elbow in practice and is sporting a nasty black eye while awaiting word on when he can return. Fontan, a junior guard who transferred from Fordham last December, sat out with a strained rib muscle and will also sit out of practice Sunday, O'Neill said.

Freshman forward Curtis Washington -- the Trojans' only player taller than 6-foot-7 aside from Stepheson and Vucevic -- left the scrimmage after starting and playing two minutes early on.

Mo Jones scored the first points of the game on a quick-driving lay-up, and Bryce Jones added a slam dunk after stealing the ball at midcourt, giving the Cardinal team a 4-0 lead that held up. The Gold squad got as close as 25-22 with a minute remaining in the third quarter before Simmons answered with a clutch three-pointer assisted on by Mo Jones, and Vucevic converted two free throws on the next offensive possession to open the lead up to eight points.

Final notes: O'Neill spent most of the 40-minute scrimmage chatting with USC athletic director Pat Haden and watching on the Cardinal bench. Assistant coaches Dieter Horton (Cardinal) and Tony Miller (Gold) coached the respective squads. The head coach also thanked the 100 or so fans in attendance before and after the game. ...The Trojans practiced for about two and a half hours before the scrimmage, with Fontan and Jackson also sitting out. On a three-on, one-off practice schedule for the preseason, USC will practice again Sunday and Monday before taking Tuesday off.

***

O'Neill talked after the scrimmage about his team's improvement over the first week of practice and talked glowingly about freshman dynamo Mo Jones.

See what else the second-year coach had to say Saturday, including his updates on the trio of injuries:



***

Vucevic talked about the team's early, evident improvement and his performance in the scrimmage. See the video:


October, 15, 2010
10/15/10
4:58
PM PT
By
Pedro Moura
| ESPNLosAngeles.com
OK, so it's not quite Midnight Madness, with no
John Wall
dances, no fans in attendance and a 5 p.m. start time.
But USC basketball officially opens its 2010-2011 season tonight at the Galen Center and there are plenty of reasons for excitement -- namely the three freshmen that you will be hearing quite a bit about this year when following the Trojans.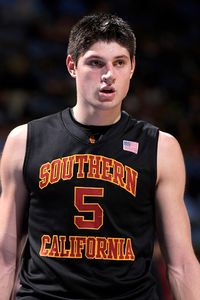 Stephen Dunn/Getty Images
The Trojans will rely heavily on Nikola Vucevic's offense and rebounding.

The trio -- point guard
Maurice Jones
, shooting guard
Bryce Jones
and small forward
Garrett Jackson
-- have been practicing together since June with fellow freshman forward
Curtis Washington
. The unrelated Joneses each possess college-ready shots; Jackson brings a host of skills still in development but consistent energy.
Bryce Jones and Jackson could conceivably open the season as the starter at their respective spots, and Mo Jones will assuredly begin the year as the team's No. 1 point until Fordham transfer
Jio Fontan
is eligible to compete at the end of the first semester. He averaged better than 15 points and nearly five assists a game as a true freshman at Fordham and could be a dynamic guard in the Pac-10.
Forward
Nikola Vucevic
will be the team's primary offensive option after earning Pac-10 Most Improved Player honors and averaging 10.7 points and 9.4 rebounds per game. Fellow forward
Alex Stepheson
is expected to start the season opener for the first time in a USC uniform.
Other likely contributors: senior guard/forward
Marcus Simmons
, a noted defensive stopper who has struggled with his shot at this level; senior
Donte Smith
, a combo guard who was at times electrifying off the bench last season and forward
Evan Smith
, a sophomore who played 33 minutes in the 2009-2010 season opener and then fewer than 100 for the rest of the season.
USC coach
Kevin O'Neill
, in his second season, hopes to mesh the lineup of young and old in his first opportunity to get the Trojans into the NCAA tourney. To that end, he has hired two new assistants:
Tony Miller
, the team's strength and conditioning manager last year, and juco import
Dieter Horton
.
We'll have a report from the season-opening practice later tonight. In the meantime, here are are video interviews from the Sayno Classic summer league with
Bryce Jones
,
Mo Jones
,
Washington
and
Jackson
, and a feature story on
Fontan
.
June, 16, 2010
6/16/10
11:20
PM PT
By
Pedro Moura
| ESPNLosAngeles.com
Center DeWayne Dedmon has made waves across the basketball world as a high-profile recruit with an unusual story.

Dedmon, a 7-foot, 225-pound junior college player at Antelope Valley College, didn't begin playing organized basketball until he turned 18, at the behest of his mother, a Jehovah's Witness. But since he began playing during his senior year at Lancaster High in Lancaster, Calif., Dedmon has developed what scouts and coaches say is both a love for the game and a much-needed willingness to get better.

He averaged just 6.6 points and 7.8 rebounds last season at Antelope Valley after greyshirting his first year at the school to learn the game under coach Dieter Horton, now an assistant coach for the Trojans. USC coach Kevin O'Neill knows and freely admits that Dedmon is raw.

He only needs to look at Dedmon's first three games at the junior-college level — all games he fouled out of — to see that, but O'Neill also sees the potential Dedmon exudes with seven-block or 15-point, 14-rebound performances in key late-season games.

Dedmon, who signed a letter of intent to play for USC in April, will spend the fall semester finishing up his associates' degree at Antelope Valley and enroll at USC in January, suiting up for the team only for the 2011-2012 season. Here's an interview with the 20-year-old Dedmon.

Question: Describe, first of all, what your decision involved in choosing USC?

Answer: I chose SC because I like the school, the program and the coaches. Coach O'Neill showed me super interest, just like everybody else, saying 'We want you.' But it was kinda different with Coach O'Neill. He would say that and then he'd be here once a week to watch me during the summer and talk to me every day. The interest showed that he really wanted me.

Q: Was the fact that USC self-imposed a postseason ban on its basketball team this year disheartening at all for you, a recruit very much considering signing with the Trojans? And did you pay attention to the national scope of everything that hit the football program last week?

A: Well, yeah, they had assured me that there wasn't going to be any (long-term) problems, so that helped my decision also. And yeah, I was paying attention to everything just making sure that everything would be fine for my year, making sure that everything would be alright when I come.

Q: Do you look at yourself — with two years of experience, essentially — like you have a lot of room to grow in your next few years at 'SC? More than the average high school recruit?

A: Yeah, a lot of room to grow. And I think I can improve a lot more than a lot of guys. No, I know I do — because I started so late, so I still have a lot to catch up on.

Q: Coach Horton is going to follow you, I guess, from Antelope Valley to USC. Is that cool for you, having a guy who really helped you develop as a player now be with you for the rest of your college career?

A: Yeah, that'll help a lot. He's a familiar face, and I know exactly how he coaches and how he is, so that'll help.

Q: How did O'Neill sell you on coming to USC? A lot of recruits seem to have interesting stories on how he got them interested — what was it for you?

A: Well, Coach Horton, the way he coaches here at AVC is basically the same way Coach O'Neill coaches. It'll be an easy transition for me, an easy transfer from coach to coach because of their style of coaching.

Q: What are the similarities between the two coaches? What do they have in common?

A: It's personality. They care about their players, they're willing to help their players and all that.

Q: Both the 2010 and 2011 classes for USC have quite a bit of talent, with guys like Bryce Jones, Maurice Jones, Garrett Jackson, Curtis Washington in this year's class and you and Fuller next season. Can you see you guys becoming the next wave of starters for USC?

A: Yeah, definitely. Aaron, Bryce, Maurice, all of them are all good players and the coaches talk really highly about them, so I don't see why we wouldn't be really good.
April, 14, 2010
4/14/10
8:46
PM PT
By
Pedro Moura
| ESPNLosAngeles.com
USC announced the signing of 7-foot junior college prospect
DeWayne Dedmon
on Wednesday, the first day of the regular signing period. Dedmon, a freshman at Antelope Valley College in Lancaster, will enroll at the school in January but redshirt during the 2010-2011 season, then suit up for the team beginning in October 2011.
USC coach
Kevin O'Neill
was known to be heavily recruiting the center, who didn't begin playing basketball until his senior year at Lancaster High School but had inspired a mass recruiting following over the last year because of his obvious potential to be a difference-maker in the low post.
"We are really excited that DeWayne decided to be a Trojan," O'Neill said in a statement. "I think he has great potential, is an excellent student and is an even better person. He will be a huge part of our successes in the future. I can't wait to coach him in January when he will enroll at USC which will allow him to learn our system and contribute to the program right away when he is eligible."
At 7 feet, 225 pounds, Dedmon averaged 6.6 points and 7.8 rebounds last season at Antelope Valley as the Marauders had a 17-14 record. Raised a Jehovah's Witness, it was against Dedmon's beliefs to play competitive sports while growing up. But, when things changed in 2007, he picked up the game and displayed extraordinary athletic ability.

New USC assistant Dieter Horton was Dedmon's coach at Antelope Valley.
2013 TEAM LEADERS
| TEAM | RUSH | PASS | TOTAL |
| --- | --- | --- | --- |
| Offense | 174.2 | 218.1 | 392.3 |
| TEAM | PF | PA | MARGIN |
| Scoring | 28.5 | 21.3 | 7.2 |