January, 13, 2014
Jan 13
10:00
AM PT
We're looking back at the BCS era, which lasted from 1998 to 2013, so it made sense to make an all-Pac-12 BCS-era team.
Here's our shot at it. You surely will be outraged over the player from your team who got left out.
With our evaluation, NFL careers came into play with only the offensive linemen because they are so difficult to compare.
Offense
[+] Enlarge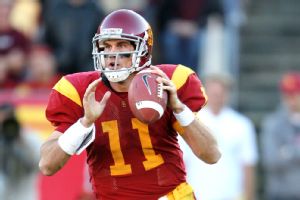 Jeff Lewis/USA TODAY SportsFormer USC QB Matt Leinart, the 2004 Heisman Trophy winner, threw 99 career TD passes.
QB Matt Leinart, USC
: Nearly won three national titles. Won 2004 Heisman Trophy and placed third in 2005. Threw 99 career TD passes.
RB Reggie Bush, USC
: The 2005 Heisman Trophy winner was one of the most dynamic players in college football history. (
Bush returned the Heisman in 2012.)
RB LaMichael James, Oregon
: Two-time first-team All-Pac-12, 2010 Doak Walker Award winner and unanimous All-American finished his career ranked second in Pac-12 history in rushing yards (5,082) and TDs (53). Nips other stellar RBs such as Arizona's Ka'Deem Carey, Stanford's Toby Gerhart and USC's LenDale White.
WR Mike Hass, Oregon State
: Two-time first-team All-Pac-12 and 2005 Biletnikoff Award winner was the first Pac-12 player to record three consecutive seasons over 1,000 yards receiving. His 3,924 receiving yards ranks third all time in the conference. This, of course, could have been fellow Beaver Brandin Cooks or USC's Marqise Lee, who both also won the Biletnikoff Award.
WR Dwayne Jarrett, USC
: A two-time consensus All-American, he set the Pac-12 standard with 41 touchdown receptions.
TE Marcedes Lewis, UCLA
: A 2005 consensus All-American and John Mackey Award winner as the nation's best tight end. Caught 21 career TD passes.
OL David Yankey, Stanford:
A unanimous All-American in 2013, he was a consensus All-American and Morris Trophy winner as the Pac-12's best offensive lineman in 2012.
OL Sam Baker, USC
: A 2006 consensus All-American and three-time first-team All-Pac-12 performer.
OL Ryan Kalil, USC
: Won the 2006 Morris Trophy. Two-time first-team All-Pac-12.
OL David DeCastro, Stanford
: A unanimous All-American in 2011 and two-time first-team All-Pac-12 performer.
OL Alex Mack, California
: A two-time winner of the Morris Trophy as the Pac-12's best offensive lineman (2007 & 2008).
K Kai Forbath, UCLA
: Consensus All-American and Lou Groza Award winner in 2009. Made 84.16 percent of his field goals, which is nearly 5 percent better than any other kicker in conference history.
Defense
LB Rey Maualuga, USC
: Was a consensus All-American and won the Bednarik Award as the nation's top defensive player in 2008. Three-time first-team All-Pac-12.
LB Trent Murphy, Stanford
: 2013 consensus All-American and two-time first-team All-Pac-12 performer.
LB Anthony Barr, UCLA
: Consensus All-American 2013 and two-time first-team All-Pac-12.
DL Will Sutton, Arizona State
: Two-time Pac-12 Defensive Player of the Year and Morris Trophy winner in 2012 and 2013. Consensus All-American in 2012.
DL Haloti Ngata, Oregon
: A consensus All-American and Morris Trophy winner in 2005.
DL Rien Long, Washington State
: Won the Outland Trophy and was a consensus All-American in 2002.
DL Terrell Suggs, Arizona State
: A unanimous All-American in 2002 after setting NCAA single-season record with 24 sacks. Won the Lombardi Trophy. Two-time first-team All-Pac-12.
CB Chris McAlister, Arizona
: Unanimous All-American in 1998. Three-time first-team All-Pac-12.
CB Antoine Cason, Arizona
: Won the Thorpe Award as the nation's best defensive back in 2007. Two-time first-team All-Pac-12.
S Troy Polamalu, USC
: Two-time All-Pac-10 and consensus All-American in 2002.
S Taylor Mays, USC
: A three-time All-American, he was a consensus All-American in 2008. Two-time first-team All-Pac-12.
P Bryan Anger, California:
A three-time first-team All-Pac-12 selection and two-time Ray Guy semifinalist.
October, 16, 2012
10/16/12
6:43
PM PT
By
Pedro Moura
| ESPNLosAngeles.com
LOS ANGELES --
Robert Woods
has 212 receptions in his
USC
career. Five more and he'll pass Dwayne Jarrett to become the Trojans' all-time receptions leader.
Averaging six catches per game this season, Woods is on pace to break the record this Saturday, at home against
Colorado
.
"It would mean a lot to me," Woods said Tuesday. "But I never came into USC saying I'm gonna break this record or break that record. I came to USC wanting to play receiver and catch passes.
"Fortunately, I've been catching a lot of passes."
Jarrett set the record of 216 catches in just three seasons. If Woods, a junior, were to stay for his senior season in 2013, he'd have the opportunity to obliterate any mark he goes on to set this year.
He entered the 2012 season tied for sixth all-time with Mike Williams at 176 receptions. Woods then surpassed Steve Smith (190), Johnnie Morton (201) and Kareem Kelly (204) over the first few weeks of the season, and he tied Keary Colbert's second-place mark of 207 earlier this month against Utah.
He said he recently has spoken to Colbert and other ex-USC receivers about what the record would mean.
"Growing up and watching those guys and seeing how they played, I looked up to them, in awe watching them play," Woods said. "Then to be on top of them now with the record, it's surprising.
"Well, not surprising. I knew I could do it. But it's a shock still."
Interestingly, Woods' career trajectory has followed Jarrett's thus far. He caught 65 passes as a freshman to Jarrett's 55, then jumped up to 111 as a sophomore. Jarrett had 91 catches in his second season and then 70 in his final year.
Woods is on pace to finish the 2012 regular season with 72 catches for 720 yards and 10 touchdowns.
He already owns the school record for receptions in a single game, with 17 in the 2011 season opener, and in a single season, with that 111 mark last season.
November, 21, 2011
11/21/11
3:03
PM PT
By
Pedro Moura
| ESPNLosAngeles.com
USC receiver Robert Woods was named one of three finalists for the prestigious Biletnikoff Award on Monday.

Woods, a sophomore, was nominated alongside Oklahoma State's Justin Blackmon and Oklahoma's Ryan Broyles. Because Broyles is out for the season and has been since last month, it would appear Woods' primary competition is Blackmon.

But Blackmon won the award as a sophomore last season and is considered the favorite again this time around.

Woods' numbers have tapered off in the second half of the season as he has coped with nagging ankle and shoulder injuries, but he's still going to finish with quite the season. In 11 games, he has 99 catches for 1,179 yards and 13 touchdowns.

The last USC receiver who was named a Biletnikoff finalist was Dwayne Jarrett in 2005; Oregon State's Mike Hass won that year.
October, 11, 2011
10/11/11
5:20
PM PT
By
Pedro Moura
| ESPNLosAngeles.com
Marqise Lee, USC's freshman receiver sensation, is just a tad taller than 5-11, yet he and his teammates say he can dunk on an 11-foot rim.

You tend to believe their claims when you see Lee make leaping grabs over and over in practices and games. But how he can jump so high?

"Basketball," USC head coach Lane Kiffin said Tuesday. "If you look at guys over the years, the receivers, I think usually the really good receivers are really good basketball players. Especially guys that play the ball in the air, just like Mike [Williams] was and Dwayne [Jarrett] in high school, they were great basketball players like him and so I think it just comes natural from ball skills and rebounding.

"The only thing he's different than those two is he's shorter. Other than that, he goes and gets it and takes it away."

Lee said there's a real correlation between basketball and football, especially when dealing with jumping.

"In basketball, if somebody tries to dunk on you, you actually have to time your jump and try to block them," he said Monday. "And that helps me in football to go up and get it."

Lee, 19, was a good basketball player at Gardena Serra and a superb long jumper. At one point in May, he had the best registered long jump in the country for the 2011 track season. He could have participated in track or basketball on scholarship in college, and was recruited by some schools specifically to play basketball.

And he might still do it. Basketball coach Kevin O'Neill said earlier this year he'd welcome having Lee walk on, and that was before the Trojans lost starting guard Jio Fontan for the season with a torn ACL.

Lee said this week he is considering playing for the Trojans after the football season ends Nov. 26, which would only force him to miss six or seven games, and Kiffin gave his stamp approval after Tuesday's practice as well.

"We're all about that," Kiffin said. "We love our guys playing multiple sports. ... We've pushed our guys to do that. I think it keeps them competitive year-round, and I think it's great for the university."

A note on Lee's jumping ability: With his 5-foot-11 frame and generously assuming his standing reach is about 8 feet, 4 inches, he'd have to have at least a 38-inch vertical to be able to dunk on an 11-foot rim. The rule of thumb with dunking is that you have to be able to jump about eight inches higher than the rim to dunk.
September, 29, 2011
9/29/11
2:07
PM PT
By
Pedro Moura
| ESPNLosAngeles.com
It's becoming normal now, but freshman receiver Marqise Lee again had Trojans coach Lane Kiffin talking after Thursday's practice, another session in which Lee starred throughout and made a tremendous touchdown grab on a deep throw from Matt Barkley.

Asked afterward about Lee's progress so far, Kiffin went all-out with his praise.

"I know it's early to say, but I think he is going to be one of the best receivers ever to play at this school," the head coach said.

Consider the company just over the past 40 or so years: Lynn Swann, Curtis Conway and Johnnie Morton. Keyshawn Johnson, Mike Williams and Dwayne Jarrett. Steve Smith, Keary Colbert and, now, Robert Woods.

Kiffin thinks Lee fits right in there. The true freshman from Gardena Serra continues to improve in his first season with the Trojans, catching 13 balls through four games for 179 yards and two touchdowns. He's been Barkley's most consistent No. 2 target after the superstar Woods.

Even so, he hasn't gotten as involved as the Trojans would like. The go route he scored a touchdown on Thursday has been fruitful in game situations as well, but Barkley hasn't found on him much other stuff and other factors have gotten in the way of a truly big day for him.

Take last week's loss to Arizona State, for example, when he had one scoring catch for 24 yards but missed out on another sure score when lineman Marcus Martin was beaten by a defensive tackle, who got to Barkley in time to disrupt the throw.

"We've got to do a better job of getting him the ball," Kiffin said Thursday. "He continues to make plays almost every opportunity we give him. Unfortunately, last week, he ran right by the right corner and was going to score another touchdown on about a 50-yard go route and up front the left guard didn't block.

"Otherwise he was going to walk into the end zone, similar to the go route he ran the week before at home."

What Kiffin sees in the freshman is clear: A 1-2 tandem at receiver in Woods and Lee could potentially be one of the best in college football in recent history. Woods is already about to hit 500 yards receiving on the year and could be a legitimate Heisman candidate as a junior in 2012. And Lee, his longtime teammate, will be right there with him.

"We're obviously really excited for the fact that our two top receivers in our mind are a true sophomore and a true freshman," Kiffin said. "He is bigger and stronger than Robert, kind of a mix of George (Farmer) and Robert.

"The future is bright."
August, 6, 2011
8/06/11
12:37
AM PT
By
Pedro Moura
| ESPNLosAngeles.com


The answer, one of the more meaningful Lane Kiffin's provided in his first year and a half at USC, came in response to an innocuous question on the likelihood that freshman phenom George Farmer would be able to get on the field at receiver right away in 2011.

"That position's starting to get really deep," Kiffin said by way of explaining why Farmer may not be able to do what some expect of him. "I think our young skilled guys on offense are starting to look like what they used to here.

"Now we've gotta continue to do that for two more years and that's when you get back to what you saw before."

Those are big, powerful words from the Trojans' second-year coach, making reference to guys like Reggie Bush, Dwayne Jarrett and Mike Williams. In the past, he typically used big, powerful words only when discussing a dire issue with USC's depth or some other negative-sounding matter.

Not anymore. He's more positive now. But it's fairly easy to be positive when you add five receivers into the mix in the fall, all of whom weren't able to participate in spring practice.

In pass-catchers Brice Butler, Kyle Prater, George Farmer, Marqise Lee and Victor Blackwell, Kiffin has just that -- an infusion of young talent across the board on offense. Butler missed the spring while contemplating a transfer; Prater was recovering from a broken foot. The other three, incoming freshmen, just arrived on campus over the summer.

Said Kiffin: "That's like adding three rookies and two free agents that already know our system."

There's also running back Amir Carlisle, a 5-10, 180-pound freshman who has been the surprise of camp thus far, darting through the defense on a number of occasions both Thursday and Friday. He's had his not-so-good moments, too, running laps for fumbling and whatnot, but, in general, he's been very impressive.

"Amir Carlisle flashed again today," Kiffin said Friday. "That's great to see. It's a position that you always want depth at and he's a great kid, a 4.0 student very serious about being a student-athlete.

"We're excited to have him and excited to see his approach to the game too."

Other young skill position players include freshmen quarterbacks Cody Kessler, Max Wittek and Jesse Scroggins. All three have been in the program for at least a semester now, Scroggins for two. Tallahassee, Fla. running back Javorious 'Buck' Allen is also expected to arrive on campus soon, at which point he could take some carries away from Carlisle.

But the quarterbacks, running backs and receivers are indeed a positive at this point, with the young players restocking units that had been low on depth earlier in the Kiffin regime. There are still similar issues at other positions on the field, but, at arguably the most important spots on the field (0r the most exciting, at least), USC shouldn't have many problems.

And Kiffin is, well, happy about it.

"You feel better, because there were so many times in the spring where, as much as you tried to stay positive, it was discouraging," he said Friday.
December, 5, 2010
12/05/10
9:22
AM PT
By
Pedro Moura
| ESPNLosAngeles.com
PASADENA -- Notes, quotes and video from USC's 28-14 win over UCLA on Saturday night at the Rose Bowl:
This one was interesting -- one of the Trojans' better defensive performances of the year sandwiched between a great running game and a mediocre passing game. Senior Allen Bradford ran the ball 28 times for 212 yards and added a 47-yard touchdown reception too. Remarkably, he averaged almost nine yards for each of his touches Saturday -- this, after earning a total of 20 touches in the six previous games. We'll have more from Bradford later in this post, but teammates had plenty of positives to say about him on his final night as a Trojan. Said fullback and fellow senior Stanley Havili: "He's faced adversity here. How you respond shows the character and the man that you are. Obviously Allen has been through his ups and downs. This is a way for him to go out on an awesome job." And quarterback Matt Barkley: "He was definitely a playmaker tonight." And running back Dillon Baxter: "I'm real excited for A.B. He had a rough year and for him to end it like this, I'm proud of him." Cornerback Nickell Robey simply called him a "beast."
As for Barkley, although he wouldn't admit much after the game, he was obviously affected by his sprained left ankle. Considering that, his 15-of-26, two-interception, one-touchdown line looks a lot better than it would had he been healthy. Said Ronald Johnson, Barkley's leading receiver on the night with five catches for 36 yards: "He had a messed-up ankle, but it was great to have him back." Barkley analyzed his performance with an eye toward the future: "I've still got a lot to work on this offseason, I think, especially with timing with the receivers -- which has gotta be one of my big projects this offseason."
The fourth-quarter scoring pass from Barkley to Bradford was definitely USC's play of the day -- with Bradford's 73-yard run the only other one coming close. On the swing pass that ended in the touchdown, Barkley said he checked down pre-snap into a new play and found Bradford at a perfect time in his route. Talking about the play postgame, Barkley went as far as comparing it to the glory years for the Trojans: "Plays like that are what USC football used to be and what it needs to be -- playmakers like that making guys miss, making guys fall to the ground."
Lane Kiffin made an interesting observation near the end of his postgame press conference when he said that the style in which USC won the game -- old-fashioned, run-run-run -- is more attractive to recruits than other styles, giving USC a leg up on competition for L.A.-area prospects. Robey, a freshman, agreed and said that -- physicality -- was one of his most desired attributes when he was deciding on a school a year ago at this time: "That right there set the tone for the recruits. It set the tone for everybody around the team. It creates more fans. It's a great thing in all phases."
Malcolm Smith extended his reputation as a "Bruin killer" -- per linebacker Michael Morgan and cornerback Shareece Wright -- with his 68-yard fumble recovery for a touchdown near the end of the first half. Last year, he scored USC's first touchdown against UCLA with a 62-yard interception return in the Coliseum. This time, he was a little bit emotional on the Rose Bowl field afterward."This is it, right here," Smith said. "Seeing the fans out here after the game -- this is it." And Morgan, quickly looking forward: "We have a great staff and a bunch of great young players. It's gonna be fun, man. I'm excited to watch these guys next year and in the years to come. It's gonna be a fun ride for these guys."
Baxter's five-yard touchdown pass to tight end Rhett Ellison was Baxter's second college completion and his first scoring pass. It was also only the second touchdown the true freshman has been involved in on the year -- an undoubtedly disappointing one for the 19-year-old, who ended up with 252 yards on the ground after Kiffin called him maybe the most talented player on the team in the preseason. His 4.3 yards per carry were the worst of the team's big four backs and significantly worse than Havili's. Baxter was quite happy about the touchdown after the game: "That was cool, bringing back high school memories," Baxter said. "It was cool to end the year like that, beating the Bruins and throwing a nice touchdown pass."
Final notes: Walk-on Tony Burnett started over a healthy Jawanza Starling at safety and had six tackles, although he missed a chance to tackle Johnathan Franklin on the UCLA back's 59-yard run. Across from Burnett, Marshall Jones started and had 10 tackles, including one for loss. He was on the field at the end of the game when his brother, Malcolm Jones, but didn't tackle him. Both of the other set of the brothers on the two rosters, T.J. and Tevin McDonald, did not play. ... Baxter's touchdown pass was USC's first TD pass by a non-quarterback since Reggie Bush completed one to Dwayne Jarrett against Arizona State in 2004.
April, 22, 2010
4/22/10
11:21
PM PT
By
Pedro Moura
| ESPNLosAngeles.com
The first 32 picks of the 2010 NFL Draft came and went Thursday, and no USC players were picked.
NFL teams passed on the likes of safety
Taylor Mays
, defensive end
Everson Griffen
and offensive tackle
Charles Brown
— all of whom had been projected by some experts to be first-round material. Instead, the Trojans are sitting and waiting for the second round to begin Friday at 3 p.m..
Tweeted
outgoing USC receiver
Damian Williams
, commony projected as a second-rounder:
"Not gonna lie pretty upset right now but it's all good. Me and T Mays got 31 reasons to ball this year. Whoever gets us we starving!!! Night."
USC was also held out of the first round in 2007. In that draft, receiver
Dwayne Jarrett
was the first Trojan picked, at No. 45 by the Panthers. But the consensus this year seemed to be that at least two of the Mays-Griffen-Brown triumvirate would go among the top 32 — and if not two, then at least one.
But NFL teams had other plans. Still, the Trojans have plenty of hope. Brown, Griffen, Mays and Williams are all likely to be selected early in the second round Friday. And running back
Joe McKnight
, cornerback
Kevin Thomas
and tight end
Anthony McCoy
have solid chances to go in the second or third round. Rounds 4-7 — where ex-Trojans like
Jeff Byers
and
Stafon Johnson
are likely to be picked — starts up Saturday at 7 a.m.
"I think we're gonna do pretty good," current USC receiver Ronald Johnson said earlier Thursday of the Trojans' collective draft hopes. "We have a lot people that could go first round and a lot of people that could go late first round or early second round."
2013 TEAM LEADERS
| TEAM | RUSH | PASS | TOTAL |
| --- | --- | --- | --- |
| Offense | 174.2 | 218.1 | 392.3 |
| TEAM | PF | PA | MARGIN |
| Scoring | 28.5 | 21.3 | 7.2 |