October, 15, 2013
10/15/13
12:30
PM PT
LOS ANGELES -- A little over a week after
defeating Arizona 38-31
in the team's first game under interim coach Ed Orgeron, USC (4-2 overall, 1-2 Pac-12) will take on rival Notre Dame (4-2 overall) on Saturday in South Bend, Ind. The Trojans have shown rejuvenated life under their new leader, but they face a stiff challenge in a tough Fighting Irish team that began the season ranked No. 14 before stumbling in games against Michigan and Oklahoma. Coach Brian Kelly's squad is coming off a bye that followed a 37-34 victory over Arizona State -- the same team that handed the Trojans a 62-41 loss on Sept. 28.
[+] Enlarge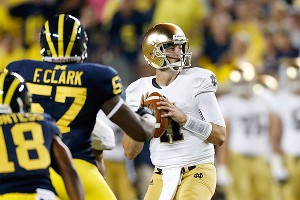 Gregory Shamus/Getty Images Notre Dame quarterback Tommy Rees is completing 51.7 percent of his passes and has thrown 13 touchdowns and six interceptions this season.
Offense
Scoring:
27.3 points per game (No. 80 overall)
Rushing:
137 yards per game (No. 95 overall)
Passing:
250.5 yards per game (No. 53 overall)
Total:
387.5 yards per game (No. 80 overall)
Quarterback:
No. 11
Tommy Rees
(6-foot-2, 215 pounds, Sr.)
Rees, who has started 24 games in his career, ranks in the top six in Notre Dame history in six different categories, including No. 3 in completion percentage (60.7) and No. 6 in passing yardage (5,907). Still, he has been up and down this season, and he has completed just 41.7 percent of his passes over his last three games, while throwing four interceptions in his last two outings.
Running Back:
No. 4
George Atkinson III
(6-2, 220, Jr.), No. 33
Cam McDaniel
(5-10, 207, Jr.), No. 3
Amir Carlisle
(5-10, 190, Jr.)
The Notre Dame ground attack has started to roll after struggling through much of the early portion of the schedule. Atkinson, who broke out against Oklahoma on Sept. 28 with a 148-yard rushing performance, is a powerful back with big-play ability. McDaniel is another sturdy ball carrier who will receive plenty of touches.
Wide Receiver:
No. 7
TJ Jones
(6-0, 195, Sr.), No. 10
DaVaris Daniels
(6-2, 203, Jr.), No. 2
Chris Brown
(6-2, 191, So.)
Jones has hauled in a team-best 33 receptions for 481 yards and four touchdowns, and he's coming off a dominating eight-catch, 135-yard, one-touchdown outing against the Sun Devils. Both he, as well as Daniels, present a serious test for a USC secondary that has been picked apart in recent weeks.
Tight End:
No. 85
Troy Niklas
(6-7, 270, Jr.), No 18
Ben Koyack
(6-5, 261, Jr.)
Niklas is a huge target who has developed into a sturdy receiving option, catching 14 passes for 250 yards and four touchdowns on the year.
Offensive Line:
LT No. 70
Zack Martin
(6-4, 308, Sr.), LG No. 66
Chris Watt
(6-3, 321, Sr.), C No. 72
Nick Martin
(6-5, 295, Jr.), RG No. 74
Christian Lombard
(6-5, 315, Sr.), RT No. 78
Ronnie Stanley
(6-6, 318, So.)
The Notre Dame offensive line has allowed a total of just four sacks through six contests (.67 average per game) -- the No. 5 mark nationally. Still, it hasn't dominated in quite the same fashion in the run-blocking department, and how it does in that regard against a stout USC defensive line could play a key role in the outcome of the contest.
Defense
Scoring:
25.5 points per game (No. 58 overall)
Rushing:
122.3 yards per game (No. 23 overall)
Passing:
252.2 yards per game (No. 87 overall)
Total:
374.5 yards per game (No. 46 overall)
Defensive Line:
No. 91
Sheldon Day
(6-2, 290, So.), No. 1
Louis Nix III
(6-3, 357, Sr.), No. 7
Stephon Tuitt
(6-7, 322, Jr.)
Tuitt and Nix are two big-time NFL prospects who lead the way up front for a defense that ranks No. 23 against the rush, but that as a whole, hasn't quite lived up to expectations in 2013. Tuitt has racked up a team-best 4.5 tackles for loss, including three sacks. Day has been hampered by an ankle injury but is expected to play.
Linebacker:
No. 55
Prince Shembo
(6-2, 258, Sr.), No. 48
Dan Fox
(6-3, 245, Sr.), No. 44
Carlo Calabrese
(6-1, 250, Sr.), No. 9
Jaylon Smith
(6-3, 230, Fr.)
Shembo, who lines up at outside linebacker in Notre Dame's 3-4 scheme, is coming off an impressive three-sack performance against ASU. Calabrese is a force on the inside, but this unit took a big hit when
Jarrett Grace
-- whom Calabrese is tied with for the team-lead in tackles with 40 -- broke his fibula against the Sun Devils.
Cornerback:
No. 6
KeiVarae Russell
(5-11, 190, So.), No. 2
Bennett Jackson
(6-0, 195, Sr.)
Jackson, a team captain, is a talented playmaker with solid cover skills who has compiled 35 tackles and one interception in 2013. Still, this duo has had their dips in production against some of the more potent passing attacks that they've faced, particularly when the Fighting Irish front seven has failed to establish a significant pass-rush.
Safety:
No. 28
Austin Collinsworth
(6-1, 205, Sr.), No. 22
Elijah Shumate
(6-0, 213, So.), No. 41
Matthias Farley
(5-11, 204, Jr.)
The Notre Dame safety corps is another group that hasn't exactly performed up to par this fall, and they certainly appear to miss the steadiness provided by
Zeke Motta
– now with the Atlanta Falcons. Farley has been the most active member of the unit, pacing the group with 25 tackles and two interceptions.
Special Teams
Kicker/Punter:
No. 27
Kyle Brindza
(6-1, 236, Jr.)
Brindza has connected on 8 of 11 field goals attempts while booting 20 of his 34 kickoffs back for touchbacks. He also averages 41.5 yards per punt.
Kick Returner:
No. 4 George Atkinson III (6-2, 220, Jr.), No. 33 Cam McDaniel (5-10, 207, Jr.)
Atkinson had a 96-yard kickoff return for a touchdown against USC in 2011, and he ranks 19th in the FBS this season with an average of 28.1 yards per return.
Punt Returner
: No. 7 TJ Jones (6-0, 195, Sr.)
Jones averages 10.1 yards per punt return.
October, 15, 2013
10/15/13
6:00
AM PT
It's that time of the year when there is little more bounce to the step on the USC practice field, a time of the year known as Notre Dame week.
As it turns out for the Trojans, there is already an increased level of energy thanks to the boost provided by interim head coach Ed Orgeron but Orgeron knows as well as anyone that a heightened level of spirit is only going to get you so far against the Irish.
Orgeron had the pleasure in his early days of getting to know Marv Goux -- the legendary USC D-line coach and master motivator who held a reverence for the rivalry between Notre Dame and his beloved Trojans. Goux liked to call this rivalry "big man on big man football" and Orgeron realizes that kind of game is waiting for his team on Saturday.
It doesn't matter that both teams are 4-2 and out of the national rankings. These are still two very good programs that are meeting up for the 85th time and both teams have a lot to gain with a victory.
[+] Enlarge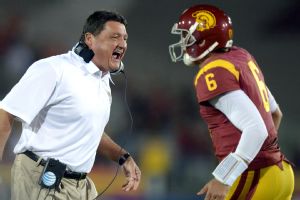 Kirby Lee/USA TODAY SportsEd Orgeron and quarterback Cody Kessler hope the good times continue against Notre Dame.
Notre Dame is just a year away from a trip to the national title game and the Irish are in no hurry to disappear from the national spotlight.
Their hopes for maintaining that high level took a dip this offseason when starting quarterback Everett Golson was declared out for the season but they were fortunate to have an experienced veteran like
Tommy Rees
as a backup option. Rees isn't the most talented quarterback the Trojans will face this year but he's efficient and doesn't make a ton of mistakes.
The Irish feature names familiar to USC fans as part of their offensive attack. Former Trojans tailback
Amir Carlisle
and one-time USC recruit
George Atkinson III
are part of the tailback group while another former recruit,
Troy Niklas
, is a standout at tight end.
The defensive front is the strong suit of the Irish defense, which should make for a physical test against a USC offense looking to establish the run. Notre Dame is led by the talented duo of Stephon Truitt and Louis Nix on the line along with linebacker
Carlo Calabrese
.
Cody backs coach
This will be the first USC/Notre Dame game for
Cody Kessler
as a starter but he took a big step forward in the team leadership department with his impassioned words in support of Orgeron following the victory over Arizona last Thursday.
"No disrespect to the coach who was here before and I'm not getting into that, but you want a coach that you will freaking just go to war for every time [like] this man here to my right. I don't only speak for myself. I speak for the whole team. We would go to war for this guy any day of the week. Any time he needed us we have his back 100 percent.
"When you have a coach that you can see and feel that he cares about you so much and wants you to be the best that you can be and succeed, that's love right there. I couldn't ask for a better head coach. All of us would go to war and put our lives on the line for this man any day of the week."
Talking tailbacks
When you looked at the USC roster coming into the season, the deepest and most talented position group was tailback. By the time fall camp hit the midway point, injuries had depleted the group to the point that there was often only one scholarship back available. Fast forward to this week and the tailback position is once again healthy and looking strong.
There is a little bit of uncertain status with
Tre Madden
, who has been the leading rusher so far this year but who suffered a hamstring issue against Arizona.
Silas Redd
returned in the game against the Wildcats and showed that he is ready to resume his place in the rotation, no matter who else is available. The way Redd closed out the final drive with seven straight carries was impressive.
Justin Davis
has also earned his place at the table with six touchdowns in six games while Buck Allen has done as much in his limited time as he can possibly do.
Ty Isaac
showed a lot of promise with his carries last week too. Don't be surprised if the Trojans continue with the deep rotation of backs in this game to help maintain a fresh and physical presence.
Status of Lee
At the Sunday session,
Marqise Lee
ran wind sprints during practice with a brace on his left knee. That's the first on-field work he's done during a practice since suffering the injury against Arizona State. Orgeron continues to call him "questionable" for the game against Notre Dame but you know this is one that Marqise doesn't want to miss.
Tavai taps in
Not only are the Trojans facing the possibility of playing without their biggest weapon on offense, but their top defensive sack master may miss a second straight game as well. Outside linebacker
Morgan Breslin
sat out the Arizona game with a sore hip and is also described as "questionable" for Notre Dame. Fortunately for the Trojans,
J.R. Tavai
was able to make the move from defensive end and started in place of Breslin at the stand-up OLB spot. Tavai ended up second on the team in tackles with 10 and also added 3.5 tackles for loss.
Corner concerns
For the second straight game a Pac-12 opponent was able to see good success throwing the ball against the Trojans and Orgeron admitted after the Arizona game that he would speak to Clancy Pendergast to look at options, including potential personnel moves. One bit of help could come in the form of
Anthony Brown
, a pre-season starter who has been out of action since the Hawaii game with an ankle issue. Brown was able to practice on Sunday and could see game action against the Irish.
October, 25, 2011
10/25/11
5:55
PM PT
By
Pedro Moura
| ESPNLosAngeles.com
USC sophomore receiver Robert Woods sat out of practice Tuesday with unspecified injuries and freshman running back George Farmer left practice early with a sprained left ankle, but neither injury appeared particularly serious.

Woods has been limited on the first day of a week of practices before and experienced minimal after-effects. Farmer has had to come out of practice multiple times over the last two months because of ankle sprains, although he has yet to miss any game action since his move to running back. He was carted off the field on Tuesday after he hurt the ankle.

Asked what injury kept Woods out of practice Tuesday, Trojans coach Lane Kiffin said Woods had "a couple of them" and declined to offer more information.

"Robert didn't practice today," Kiffin said. "Hopefully he'll be healthy this week."

Kiffin said he wasn't sure if Farmer would be OK to play this week against Stanford and then said he was "sure he'll be alright."

Woods had 12 catches for 119 yards and two touchdowns against Notre Dame; Farmer carried the ball one time for 11 yards and then missed an open-field tackle attempt on George Atkinson III's kickoff return for a touchdown in the second quarter of the Trojans' 31-17 win over the Irish.
October, 24, 2011
10/24/11
6:39
PM PT
By
Pedro Moura
| ESPNLosAngeles.com
If the kicking situation this season at UCLA is any indication, the health of USC's Andre Heidari heading into Saturday's Stanford game is much more important than many are realizing.

Heidari, the Trojans' impressive true freshman placekicker, sprained his right ankle on the 96-yard kickoff return for a touchdown by Notre Dame's George Atkinson III in Saturday's win over the Irish, and he has been using crutches to get around campus since, which Trojans coach Lane Kiffin called "obviously not very good" for his chances to play Saturday.

USC doesn't have a men's soccer team to turn to for a last-second replacement. If Heidari can't go against the Cardinal, USC will use walk-on Craig McMahon for extra points and kickoffs and probably try to avoid most field goals outside of 30 yards. Even if he can, it's likely the Trojans' typical strategies will be changed to incorporate more going-for-it and pooch-punting and less kicking inside the opponents' 40-yard line.

It's hard to overstate the potential impacts of that, from USC's decision to punt from the Irish 30-yard line in the third quarter to the 32-yarder Heidari missed in the fourth quarter a few minutes after his first point-after attempt barely went over the bars.

USC is lucky his missed field-goal try didn't change the outcome of the game, because the Irish got the ball back after the miss down just seven points, 24-17, and with all the momentum on their side. If not for Chris Galippo's recovery of the incomplete pass from Tommy Rees to Cierre Wood ruled a rush and fumble, Notre Dame could easily have tied the score.

Heidari went back out and converted the extra point after USC's ensuing touchdown, but McMahon kicked off, allowing Notre Dame to get its next drive started at its own 36-yard line. Of course, that one ended soon after it started as well, with Nickell Robey picking off Rees' third pass to seal the outcome.


October, 24, 2011
10/24/11
12:12
AM PT
By
Pedro Moura
| ESPNLosAngeles.com
Notes and quotes from Trojans' head coach
Lane Kiffin
's conference call Sunday looking back at USC's 31-17 win over Notre Dame in South Bend the previous day and looking forward at Saturday's upcoming matchup against Stanford:
Kiffin credited his staff for enforcing his message of not getting the players too pumped up to play Notre Dame last week. He said, just as he indicated right after the game Saturday, that that made a big difference when it came to the game and how his players were poised and the Irish weren't as much. The Trojans undoubtedly played their smartest, most mistake-free game of the season. "We didn't build this game up," Kiffin said. "And the sense that I got, which I was hoping for, is that they [did.]"
One of the USC head coach's favorite parts of the win over Irish was, without a doubt, the way his junior quarterback played in the victory and set the example for his teammates. Quite simply, Matt Barkley didn't make many mistakes, completing 24-of-35 passes for 224 yards, three touchdowns and no interceptions. "A really, really clean game with the quarterback play," Kiffin said. "You can luck into clean games sometimes, but, in general, that game was very clean from a team standpoint but especially from him."
That aside, USC surprisingly didn't play well on special teams at all in the win for the first time this season. The Trojans gave up a 96-yard kickoff return for a touchdown to George Atkinson III that looked as if it would, at one point, buoy the Irish into rallying to tie the score, and an injured Andre Heidari also missed a 32-yarder in the fourth quarter. But, also for the first time this season, USC's offense and defense actually both played well in the same game. In previous games, the Trojans had been squeezing by less-talented teams than Notre Dame with just one element of their team working well. "The offense did it in the Arizona game and the defense did it in the Cal game and they were just talking about how they wanted to put it all together," Kiffin said. "Hopefully we can now add the third element (special teams) because we'll need it to beat Stanford."
On the topic of special teams, Heidari needed crutches to get around again Sunday, and his sprained right ankle could potentially be an issue in six days against Stanford. He said after the game the issue with his missed kick was the tape on his ankle -- he'd never kicked with it wrapped before -- and that he should have done it without the tape, which is presumably what'll he'll do if he ends up playing Saturday. "Obviously that's not very good," Kiffin said of Heidari's crutches. "So we'll see." We'll have more on this Monday.
Saturday, the common refrain from USC players and coaches was that the Trojans had been bombarded with negative remarks and gestures on their way into Notre Dame Stadium before the game. Sunday, Kiffin said they got the same treatment on their way to South Bend Regional Airport after the game. Quipped Kiffin: "I'm sure, by the way, that Mass was full this morning at Notre Dame after all the things that were said to us."
The flight home itself, though, wasn't as hyped-up as some players predicted it'd be. Right away it was, but with the traffic-filled bus ride and the standard delays at the airport and all, it was almost silent while they were still in Indiana. "You could feel their energy right away," Kiffin said, "But they were so tired that probably 95 percent of our plane was asleep before we even took off.
Of course, the final question Kiffin was asked was about Stanford quarterback Andrew Luck, the same guy who Kiffin will be questioned about at least 50 times before he actually faces him on Saturday. This time, the Trojans' head coach said he couldn't accurately compare him to some of the other top signal-callers he coached and coached against during his first tenure at USC. But he still had high praise for him. "I think it's going to be hard to find a more efficient quarterback in the history of college football," Kiffin said of Luck.
October, 22, 2011
10/22/11
8:05
PM PT
By
Pedro Moura
| ESPNLosAngeles.com
PASSING ATTACK
A solid game from
Matt Barkley
, including a picture-perfect pass to
Robert Woods
in the fourth quarter that sealed the game.
Marqise Lee
didn't get targeted much, but rebounded to have a much better game, making last week's Cal performance look like an aberration.
RUSHING ATTACK
Marc Tyler
and
Curtis McNeal
proved to be an exceptional tandem in the backfield for the Trojans, combining for more than 175 yards despite both leaving the game with injuries at various points.
George Farmer
had one nice run but didn't get any other chances.
IN THE TRENCHES
Barkley was pressured quite a bit by the Notre Dame defensive line. And USC's D-line continued to fail to produce consistent pressure.
Dayne Crist
's big third-quarter fumble was mostly his mistake and had little to do with push from the four up front.
DEFENSE
Sure, they produced three turnovers, but two of them were gifts, really. The defense did take advantage, though, and it has to get credit for that. And the Trojans pretty much stopped
Cierre Wood
and
Jonas Gray
cold, except for one solitary long run by Gray.
SPECIAL TEAMS
This might not even have been a game if the Trojans didn't give up the 96-yard kickoff return for a touchdown to
George Atkinson III
in the third quarter.
Andre Heidari
missed his second field goal of the season, but he was clearly hurt.
COACHING
Lane Kiffin
's team was as well prepared for this game as it has been for any in his tenure. The Trojans simply knew what to expect from the Irish, like when running quarterback
Andrew Hendrix
came in the game and USC keyed in on him out of the backfield.
2014 TEAM LEADERS
| TEAM | RUSH | PASS | TOTAL |
| --- | --- | --- | --- |
| Offense | 158.2 | 294.6 | 452.8 |
| TEAM | PF | PA | MARGIN |
| Scoring | 35.1 | 23.8 | 11.3 |