December, 29, 2010
12/29/10
8:18
AM PT
By
Pedro Moura
| ESPNLosAngeles.com
Every day until Friday, we'll tackle one key question facing the USC football team in 2011 and attempt to answer it logically. Feel free to leave your potential answer in the comments section each day.
Tuesday's question involved the future of Monte Kiffin and the Trojan defense. Today, we present the third of our five questions: How will sanctions affect the 2011 recruiting class? With the average prospects' star rating lower than usual so far for USC, is that indicative of anything?
Nine players have signed with USC to enroll in January as a way to circumvent the NCAA's 15-man restriction on the 2011 recruiting class.
[+] Enlarge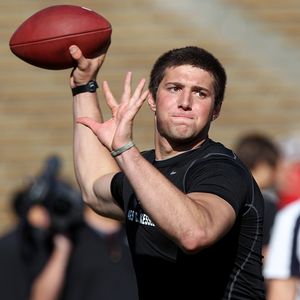 Tom Hauck for ESPN.comCody Kessler is one of the highly-touted quarterback coming to the USC campus.
Only two of the nine, though, are highly-touted players: quarterbacks
Cody Kessler
and
Max Wittek
. Only five -- maybe six -- are players you'd expect USC to recruit in a typical season over the last 10 years.
The rest seem to be reaches of varying extents. USC was the only Pac-10 school to offer a scholarship to linebacker
Dallas Kelley
and offensive linemen
David Garness
and
Jeremy Galten
. Galten isn't rated by some recruiting services; Kelley and Garness appear to be consensus two-star prospects.
USC didn't sign a single two-star player last year. Cornerback
Anthony Brown
was the only consensus three-star to sign with the school.
What does this all mean?
To put it simply,
Lane Kiffin
has recognized, we can gather, the need for USC to aim a little lower on the totem pole than it has in past years because of its 17-9 record in 2009 and 2010. That's good news for the Trojans in that it means that the depth issues that plagued the team in 2010 will be lessened some in 2011, but it's also bad news in that the better-athlete advantage USC has long held over Pac-10 opponents is on its way to being a thing of the past.
Critics often said that the only thing former USC coach
Pete Carroll
excelled at was recruiting, and that his success on the field only came as a direct result of that. In that same vein, if Kiffin goes on to have any sort of significant long-term success at USC, we'll know that it came because of his coaching, not his recruiting.
July, 29, 2010
7/29/10
6:06
PM PT
By
Pedro Moura
| ESPNLosAngeles.com
PASADENA, Calif. -- We've got plenty of notes and quotes from today's scorching media day event at the Rose Bowl. While
Lane Kiffin
and
Matt Barkley
were not the last pair to take the podium -- for the first time in a long time -- they were certainly the center of attention for much of the day. In this post we'll have comments from both Kiffin and Barkley plus thoughts on the Trojans from a number of opposing coaches and players.
For more on media day, check out our "What we learned" post coming soon. In the meantime, let's get to it. First, the two Trojans and what they had to say:
Almost as soon as he stepped to the stage and began to speak, Kiffin addressed the Kennedy Pola situation -- briefly, of course, and all he really said was that he could not talk about the actual lawsuit. Of course, Kiffin was asked about the issue many, many times as the day wore on. His response came out pretty much the same way each time, although he did make an intriguing remark about the nature of the case. Asked why he thought the Titans decided to sue, he said: "I think it has to do with the location of the team that's in the lawsuit." Kiffin also later said that USC's new athletic director, Pat Haden, "wasn't pleased" with the lawsuit. "Neither was I," Kiffin said.

Talk amongst fans and media members about USC's limited amount of scholarship players at its disposal has continued to mount in recent weeks. Kiffin attacked that topic during his presser Thursday. "Our numbers will be down – we'll have 71 scholarship players instead of 85," Kiffin said. "Depth, in general, is going to be an issue for us. So we have to be extremely smart and intelligent about the way that we practice, about the way that we handle our guys. On that note, the phrase "it's us against the world" was uttered at least twice by both Kiffin and Barkley -- as in, an us-against-the-world mentality, an attitude that would have been completely out of place at USC over the last decade.
Barkley, on heading into his sophomore season as a season sharper and better prepared because of his experience starting 12 games a season ago: "

Last year, the year that I had, the game time experience was able to help more than any practice or film session ever could."
More Barkley, on the true personality of Kiffin and whether the Trojans know their coach inside-out:"We know who he is.

He's not what people make him out to be, like some betrayer. I do believe he's a loyal Trojan."
Even more Barkley, on if he thought Kiffin's decision to declare every position an open battle at the start of spring practice was a good one: "I think one of the greatest things he could've done is open up the competition between Mitch and I. More than anything, it made me a better quarterback. And I noticed a change in Mitch's play this offseason as well. People can say what they want about Coach Carroll but I think Coach Kiffin -- with every position open and taking nothing for granted -- really made me improve my game a lot this offseason.

Receiver Brandon Carswell will stay at USC, Kiffin confirmed. A redshirt junior, Carswell flirted with the idea of transferring to Cincinnati -- even tweeting that he had made his decision at one point -- but ultimately decided to come back. Why? Kiffin said that he "begged" him to stay, offering the suggestion that Carswell stay for this season, obtain his degree and wait to see how much playing time he gets in the USC receiving corps in 2010, then decide whether to stay for his senior season in 2011 based on that.
The other reported transfer at receiver, Travon Patterson, is indeed gone. Kiffin confirmed that Patterson had already submitted his papers to USC and said he believed Patterson was already working out at Colorado, his new school. And why did juco linebacker Glen Stanley hire an attorney to get him out of his signed letter of intent with USC? "I don't know," Kiffin said. "I don't know why he hired an attorney given the situation. But we wish him the best of luck."
--
And, now, comments and quotes on USC from a few of the 18 other Pac-10 coaches and players in attendance:
UCLA coach Rick Neuheisel, on dealing with USC's sanctions: "Truthfully we can't take any time to worry about that. We're on a mission to be the best program we can be." Later, he added more context: "Is there a window of opportunity? Certainly, and we want to take advantage of that."
Cal linebacker Mike Mohamed, a first-team All-Pac-10 player a year ago as a junior, was asked how it would feel to have his team receive a two-year bowl ban and the other sanctions the Trojans received: "It's definitely tough for the players, especially when all this is coming down on them who had no part in it all," he said. " I definitely feel for the players -- it's definitely tough."
The word "parity" made more than a few appearances in the coach-speak of the day, including in this line from Cal coach Jeff Tedford, explaining how he expects the teams to finish come the end of the season: "I think there's a lot of parity in this conference, and not just because of what's happening at USC and Oregon."
And, lastly, the quote of the day from Kiffin, in response to whether it was difficult to keep his players' morale up as he saw several players choose to transfer in the weeks since the sanctions were released:
"The difficult thing was, with these sanctions -- and I don't know if this was part of why they did it, because it wasn't in the exact penalties, you just had to read a bylaw -- we created free agency in college football. So we've dealt with -- over the last month, however long it's been -- free agency that there's no salary cap on. Our players can leave at any time to go anywhere. They don't have to sit out; there's no penalty with it."
July, 12, 2010
7/12/10
4:10
PM PT
By
Pedro Moura
| ESPNLosAngeles.com
Just over four weeks have passed since the NCAA announced sanctions on the USC football program that included a two-year postseason ban and a loss of five scholarships a year. Shortly after they were handed down on June 10, perhaps the biggest sanction-related question turned to transfers.

Essentially, would USC experience a mass exodus of players taking advantage of the NCAA-instituted free-transfer policy for juniors and seniors, or would the Trojans stay Trojans and stick together as a team?

So far it's been somewhere in between, with five players choosing to transfer. Of course, none of the five — linebackers Jordan Campbell and Jarvis Jones, defensive end Malik Jackson, safety Byron Moore and now fullback D.J. Shoemate — were starters. But each of them, and Jackson and Shoemate especially, were key depth pieces for USC's present and future.

But how important were they?

Let's break them all down, player by player and in chronological order.

--

1. Campbell -- The first player to transfer, Campbell essentially used the sanctions as an opportunity to escape a situation where he had found himself in coach Lane Kiffin's doghouse. He even said so: "I decided to transfer because it was a blessing in disguise," he said last month. "The opportunity to go to any other school that I wanted to without sitting out a year -- that was awesome."

A reserve linebacker, Campbell was a solid special-teamer and provided depth on the defense, but was never a likely long-term starter.

2. Jones -- Another linebacker, Jones was also another special case. He was largely thought of by the USC coaching staff as a potential starter -- former linebackers coach Ken Norton Jr. compared him directly to Brian Cushing -- but injuries got in the way when Jones sprained his neck on Halloween Night at Oregon last season. He missed the rest of the year and was never cleared by team doctors, so he chose to transfer to Georgia, where he will reportedly be cleared to play.

Jones must sit out the 2010-2011 season as the NCAA's free-transfer policy does not apply to him.

3. Jackson -- The reserve defensive end was USC's first true loss, as he was the first player likely to earn significant playing time in 2010 that decided to transfer. Jackson had been an obvious part of the Trojans' defense during his two seasons at USC but failed to break through at any point and earn a starting job at one of the end spots.

Instead, he was bound to spend the 2010 season spelling fellow junior Armond Armstead.

4. Moore -- A redshirt freshman, Moore last week decided to transfer to Los Angeles Harbor College, a junior college. He had the talent to stick at USC but sometimes appeared to lack a sense of confidence in practice, and he had been largely outshined by other defensive backs in his recruiting class. In fact, it's possible that three of USC's four starters in the secondary next season will be from the class of 2009 — safeties Jawanza Starling and T.J. McDonald and cornerback Torin Harris.

Moore found himself behind all three of those players as he shuffled between safety and cornerback during his one-year tenure at USC, but as a talented player the Trojans will still miss him for depth purposes.

5. Shoemate -- Although not a starter, Shoemate was clearly the planned successor to one of the nation's top fullbacks in senior Stanley Havili. The problem was, of course, Shoemate never wanted to play fullback. He committed to USC after his sophomore year at Servite High School (Anaheim, Calif.) as an athlete and was shoehorned into playing wide receiver in fall camp as a true freshman. Midway through that 2008 season, he was switched to fullback and he never moved away from that position for the next year-plus.

To fill his spot, the Trojans will likely need to utilize incoming freshman Soma Vainuku (Eureka, Calif./Eureka) to back up Havili and prepare to start in 2011. A three-star recruit, Vainuku doesn't possess the pure speed Shoemate had but appears to be a vicious blocker. Problem is, Vainuku

--

And then there's Seantrel Henderson. The nation's top-rated offensive tackle, the 6-foot-7, 295-pound behemoth committed to USC on Signing Day in February and signed the next month, only to never actually appear at USC for the start of the summer session with the rest of his classmates (except for Vainuku and linebacker Glen Stanley, of course, but we'll get to that on another occasion).

A controversy ensued, as many predicted, and Kiffin released Henderson from his letter of intent last week. Three days later, Henderson signed with Miami, leaving the Trojans with no incoming tackles and a gaping hole on the offensive line. What would have Henderson have meant for the 2010 Trojans?

Two things: a dominant lineman to compete with Matt Kalil for the starting spot at left tackle, and depth. Now, if either Kalil or right tackle Tyron Smith go down with an injury, the Trojans will be forced to resort to players who have never logged significant snaps in a game situation.

In fact, depth is the real issue with all of these transfers. As we said, none of the five transfers were likely starters this season. But the interesting thing about football — and college football, especially — is that a backup in September can easily be a starter by November or December.

When players start to get hurt, Kiffin's squad will feel the hurt of the transfers, and, accordingly, the sanctions. Until then, the effects should be minimal.
July, 7, 2010
7/07/10
5:10
PM PT
By
Pedro Moura
| ESPNLosAngeles.com
A few things to pass along on this Wednesday:
Just as Seantrel Henderson wanted out of his letter of intent to USC — and got it, Tuesday — another Trojan signee in the class of 2010 wants out. Linebacker Glen Stanley (Thatcher, Ariz./Eastern Arizona JC) has requested his release from USC, according to a report in the Orlando Sentinel. Interestingly, his comments in the Sentinel — "Hopefully they grant my release," he said — contrast directly with coach Lane Kiffin's comments to the L.A. Times on Tuesday: "We anticipate Glen being here by fall camp once he has taken care of everything." The Stanley saga has been long and winding. The juco linebacker first committed to UCF last fall with the stated intention of enrolling at the school in January. He didn't, of course, and he didn't resurface again until he committed Tennessee in January, a week before Signing Day. Then, on Signing Day, he faxed in his letter of intent to USC in what was regarded as a mild surprise, even by recruiting insiders.
In other football news, USC athletic director Mike Garrett has sent formal letters to a number of schools apologizing for incorrect allegations concerning the recruitment of USC freshman running back Dillon Baxter, an early enrollee who practiced with the Trojans during the spring. The day after the NCAA announced its sanctions on the football program, the Trojans went public with allegations that five schools — Florida, Washington, Oregon, Fresno State and Alabama — had contacted Baxter against NCAA rules. Questions were raised about the Baxter claims because the San Diego native reportedly lost his phone just after the incident and was unable to provide proof of calls from any of the schools. Now, various media reports have confirmed that each of the other schools have all received Garrett's apology letter as well.
On basketball: two former Trojans — guards Dwight Lewis and Marcus Johnson — will compete against each other in the NBA's Las Vegas Summer League on Friday as members of the Houston Rockets and Phoenix Suns summer-league teams. The two squads will match up at 3 p.m. at COX Pavilion in Vegas. Meanwhile, fellow former USC guard Gabe Pruitt is listed on the official summer-league roster for the New Jersey Nets but has not logged playing time in any of the Nets' first three contests.
And, lastly, the Chattanooga Times Free Press reports that — while Tennessee did turn down an opportunity to face USC in 2011 — it was not Kiffin who first approached the Volunteers' athletic department with the possibility, but, rather an Atlanta Sports Council official. Either way, the Trojans and Volunteers will not play in the 2011 Chick-fil-A Kickoff Game and will instead have to wait until a two-year home-and-home series begins in 2021 to face each other — barring, of course, a bowl game matchup.
February, 3, 2010
2/03/10
10:57
AM PT
By
Pedro Moura
| ESPNLosAngeles.com
Letters of intent have been arriving into Heritage Hall all morning. Here's what we know for sure.
There are more, as ESPNU reports USC has received 17 LOI's. Meanwhile, the Trojans have officially lost out on at least two prospects:
Linebacker Jordan Zumwalt (Huntington Beach/Edison) didn't broadcast his announcement, but he gathered some publicity nonetheless, deciding on UCLA after heavy flirtations with Stanford.
Safety Sean Parker (Harbor City/Narbonne) chose Washington — coached by former USC assistant Steve Sarkisian — over USC and Michigan.
Still yet to be announced are the decisions of a number of top prospects, including:
Offensive tackle Seantrel Henderson (St. Paul, Minn./Cretin-Durham Hall)
Offensive tackle Chaz Green (Tampa, Fla./Tampa Catholic)
Linebacker Josh Shirley (Fontana/Kaiser)
Tight end Christian Thomas (Palmdale/Highland)
Safety Dietrich Riley (La Canada/St. Francis)
More as it happens.
2013 TEAM LEADERS
| TEAM | RUSH | PASS | TOTAL |
| --- | --- | --- | --- |
| Offense | 174.2 | 218.1 | 392.3 |
| TEAM | PF | PA | MARGIN |
| Scoring | 28.5 | 21.3 | 7.2 |