March, 20, 2013
3/20/13
9:39
AM PT
The Trojans are navigating through their share of injuries this spring. But at this time of year, as long as the injuries are not serious, they can offer a mixed blessing of sorts.
When one player is forced to sit on the sideline, it gives another player the chance for extended reps with the hope of showing the coaches he is ready for a bigger role. For the injured player, there is still plenty of time to return either in spring or in fall camp before the season begins. As quarterback
Max Wittek
noted after a recent knee injury, "you never want this to happen, but if it's going to happen, better to have it happen now."
[+] Enlarge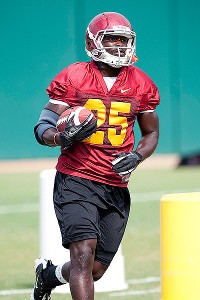 AP Photo/Grant HindsleySilas Redd's knee injury opens the door for other USC tailbacks to impress this spring.
Wittek is perhaps the most notable USC injury right now, primarily because he is engaged in a battle for the starting quarterback spot. Wittek suffered the knee sprain on March 9 prior to a scrimmage at the Coliseum and has been out ever since. He is expected to return when the Trojans practice on March 26.
Cody Kessler
has played well with Wittek out and any small gains by either player can end up meaning a lot in a competition that is so close.
On the same day that Wittek got hurt,
Marqise Lee
also went down with a "minor" knee injury and has been held out as well. There isn't as much of an impact here as Lee certainly isn't in any competition for his starting job. If anything, his absence gave the other receivers a chance to step up and the overall group is doing well from top to bottom. Right now,
Nelson Agholor
appears to be the clear leader for the starting spot opposite Lee.
A recent loss came with the news that
Silas Redd
would undergo surgery this week for a torn meniscus. Redd is the established senior starter at tailback, but he has only been on the USC campus for eight months, so any time spent on the field was beneficial. Instead, Redd will be out until fall camp and the Trojans are further limited at tailback with
Tre Madden
still not cleared for full contact due to his knee rehab. That means the remaining spring practices will be huge for guys like
D.J. Morgan
,
Buck Allen
and maybe even
Justin Davis
, although it remains to be seen how much a recent broken finger will hamper him.
The offensive line had been fairly healthy until the news that
Chad Wheeler
will miss the rest of spring with a knee injury. Wheeler had added bulk and was progressing nicely as the No. 2 left tackle.
On the defensive side of the ball, injuries are really impacting the interior depth on the line and the safety positions.
There are three linemen who have missed all of spring:
J.R. Tavai
,
Greg Townsend
and
Cody Temple
. All three figure to provide important depth at the three interior spots of the 5-2 defense, so it's vital to get them back on the field. Right now, the Trojans have
Kenny Bigelow
as a legit reserve at nose tackle, but the other spots are being manned by players out of position such as
Charles Burks
.
Scott Starr
is also out of action until fall, and he is expected to be a key reserve behind
Morgan Breslin
.
[+] Enlarge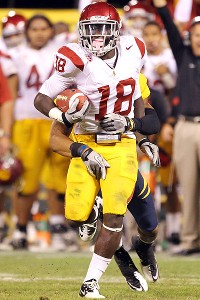 Ezra Shaw/Getty ImagesAs Dion Bailey recovers from shoulder surgery, the question of whether he'll play safety or linebacker in 2013 remains unanswered.
In the secondary, the Trojans have a lot of talent but not much is going to be settled until the coaches figure out where to put
Dion Bailey
. Most speculation centers around Bailey ending up at safety rather than linebacker, but he won't be available for spring after recent shoulder surgery. So
Josh Shaw
,
Demetrius Wright
and
Su'a Cravens
are auditioning for starting spots.
Gerald Bowman
could also be in that mix, but he is also out this spring. This means it's likely the safety rotation won't be determined until well into fall camp.
At corner, the top player through the early part of spring was
Kevon Seymour
, but he has missed the last couple of days with an ankle injury.
Devian Shelton
is also out with a foot injury. That means extended reps for
Torin Harris
,
Anthony Brown
and
Ryan Henderson
, as well as the freshman
Chris Hawkins
.
USC coach Lane Kiffin said after Saturday's scrimmage that the time off for spring break this week was coming at a good time for a team looking to get a few bodies back. The Trojans return to the practice field next Tuesday and having some of those injured players on the field will go a long way toward helping to determine starting spots.
Kiffin also acknowledged that the extra hitting in practices so far this spring -- done to achieve his goal of returning to a more physical style of play -- has played a part in having so many injuries. He said the team will continue to practice with full hitting for the rest of spring but gave no word on if there will be any changes in philosophy beyond that point.
August, 22, 2012
8/22/12
8:28
PM PT
By
Pedro Moura
| ESPNLosAngeles.com
LOS ANGELES -- Here are news and notes from Wednesday's no-pads two-hour practice session that won't make it into our other coverage from the day.

Talking about tiers

Coach Lane Kiffin was all about defining the depth chart Wednesday, referring to his players strictly in terms of tiers during his post-practice session with the media.

First-tier players are starters, second-tier guys are key reserves, and third-tier ones might be needed depth. Whether it goes down to a fourth tier is unknown.

But Kiffin spotlighted four so-called second-tier players for their preparation and playbook knowledge this camp: receiver Nelson Agholor, running backs Silas Redd and D.J. Morgan and left tackle Max Tuerk.

None of the four are starters, but all four figure to play this year. And, interestingly, three of the four haven't been with the team before this summer.

The tier-by-tier description is fitting, Kiffin said, because of the varying amount of readiness the Trojans have displayed in fall camp. Some have proved ready for the season opener; some have proved they won't even be ready by the time it comes around.

"We have some guys who could go play today and some guys who aren't close," Kiffin said. "So you have all different levels. I think they are in the time of dragging because you're not really in game week yet but you've been going against each other for so long.

"So we kinda change things up."


August, 12, 2012
8/12/12
9:30
PM PT
By
Pedro Moura
| ESPNLosAngeles.com
LOS ANGELES -- Here are notes from Sunday's afternoon practice session that won't make it into our other coverage from the day.

Injury updates

Left tackle Aundrey Walker did early work in practice but continued to sit out of team drills with his wrist issue. Middle linebacker Lamar Dawson also sat out, and Hayes Pullard worked at his spot again while Anthony Sarao took over on the weak side.

Defensive end Greg Townsend went down with an apparent ankle injury. Cornerback Torin Harris did not practice with a hamstring issue, but Lane Kiffin expressed confidence he'd be back on the field soon. Offensive lineman David Garness hasn't practiced this camp.

Running back Silas Redd left practice a bit early but did not appear injured.

The status of the O-line

Offensive line coach James Cregg said there are still a lot of uncertainties on the offensive line one week into camp. With Walker still out, freshman Max Tuerk has practiced at left tackle the last two days, but Cregg's not sure that would be the game plan come September.

"We still have a lot of pieces coming in and out," Cregg said. "We need to stay in one piece and work together and find a way to manage ourselves."

Kiffin said moving right tackle Kevin Graf to the left side "probably doesn't make a lot of sense right now," so it seems Tuerk is the legitimate second option for Walker. But Cregg said he hasn't reached the point, yet, where he's worried about Walker's status.


July, 26, 2011
7/26/11
6:26
PM PT
By
Pedro Moura
| ESPNLosAngeles.com

LOS ANGELES – With quarterback Matt Barkley flanking him for the second straight year, USC coach Lane Kiffin appeared at Pac-12 media day Tuesday and did the best U.S. Senate impersonation he could, controlling the floor from the podium with an long opening statement that resembled a Washington D.C. filibuster.

Kiffin went through his team position-by-position and provided his own unprompted answers to the biggest questions surrounding the Trojans. By the time he stopped talking for a few seconds, it was almost time for the Utah contingent to take the floor.

"With that, I've eaten up all the time," Kiffin said, smiling. "So there are no hard questions you can ask me right now. We only have a minute left, and Matt's going to announce that he's coming back for his senior year."

He was joking, obviously. There was a lot of joking going on between the two USC representatives, and most of the Pac-12 delegates in attendance at media day Tuesday, held for the first time at the Fox Studio Lot in L.A.

Tyler's transgressions

Running back Marc Tyler, USC's leading rusher in 2010 and projected starter in 2011, made news earlier this month when he made reference to getting paid to play for the Trojans in a video released on celebrity news site TMZ.com.

USC swiftly responded to the video by almost immediately suspending Tyler for the season opener against Minnesota. Kiffin and athletic director Pat Haden, who briefly attended Tuesday's festivities, condemned Tyler's actions in a university release and said there may still be more punishment to come for the senior running back, whether it comes from outside or inside the athletic department.

Tyler still awaits a ruling from USC's student judicial affairs and community stands board on two alcohol-related issues from earlier in the offseason. In June, Tyler said the punishment on those cases could end up being as strict as an expulsion from school.

As for a timeline of the July incident: the video was filmed outside a West Hollywood club late in the night on Thursday, July 14 and released by TMZ.com the next evening. Kiffin first saw the video Saturday morning while in the Florida Keys for a friend's wedding and was immediately disgusted by it, he said. He spoke to athletic director Pat Haden over the weekend and then, after arriving back in L.A. late Sunday, met with Haden in Heritage Hall on Monday morning to decide the specifics of the suspension.

Kiffin was asked at lunch Tuesday if this was strictly a case of the video leading to the suspension or if Tyler's previous actions played a role in the decision.

"With our players, everything you do counts," Kiffin said. "We've taken everything into account ever since we've been around here. But, in watching that video, regardless of anything else over our time with him, I think we've would've taken the same steps.

"It's just so not what we're about at USC, and to see it gave myself and a lot of people a really bad feeling."

Kiffin went on to call the content of the video "dirty." He said Tyler alone will determine when and/or if he returns to the field for the Trojans.

"He may never be back," Kiffin said. "But we do hope that he's back, because that means he's got everything in order."


March, 7, 2011
3/07/11
6:51
PM PT
By
Pedro Moura
| ESPNLosAngeles.com
There are three Mondays left until spring practice officially kicks off for USC on March 22. On each of those Mondays, we'll preview one-sixth of the Trojans' depth chart and eye potential risers and fallers during the monthlong springtime. We began three weeks ago with quarterbacks and running backs and continued two weeks ago with receivers and tight ends and last week with offensive linemen. This week, defensive linemen, keeping in mind that Ed Orgeron's group tends to move around a lot, so we put players at multiple positions:

Defensive end
1.
Armond Armstead
, senior
2.
Wes Horton
, redshirt junior
3.
Kevin Greene
, redshirt sophomore
4.
DeVante Wilson
, freshman (won't enroll until fall)
Assuming Armstead is available in the spring
, he's the surefire starter at this end spot, a senior with the size, build and experience for the position. He's not a world-beater as a pass-rusher, but he does enough in those situations to make himself a threat and is really one of the best run-stopping ends in the country. Horton is of starting caliber but is the third-best end on this squad, so look for the USC coaching staff to give him plenty of snaps both in spring practice and during the season.
Greene is a linebacker-turned-defensive end who is still quite inexperienced at the position and needs more seasoning before he can be counted on to play serious snaps. Wilson will likely redshirt.
Under tackle
1.
DaJohn Harris
, redshirt senior
2.
George Uko
, redshirt freshman
3.
Christian Heyward
, freshman (won't enroll until fall)
Harris is the glue guy that will keep this line together, a solid but mostly unspectacular player who really shined in spring practice last year and kept that going for most of the 2010 season. He lost his nose-guard job for a few games last season when the coaches decided to move under tackle
Jurrell Casey
to nose and Armstead from end to under tackle but regained it later in the year. He's never been in tip-top physical shape at USC, so that will be something to pay attention to.
Uko could have easily played last fall, members of the coaching staff admitted, but was redshirted instead as a way to combat sanctions and conserve resources. He's made a lot of physical improvements over the past few months, you can tell from winter workouts, and he could easily finagle his way into the line rotation this upcoming season.
Heyward's a nice prospect who's a very smart player but will need to redshirt to develop more physically.
Nose guard

1.
Christian Tupou
, redshirt senior
2.
George Uko
, redshirt freshman
3.
Antwaun Woods
, freshman (won't enroll until fall)
Tupou missed all of the 2010 season when he tore a knee ligament in the spring game last April, but he was on the sidelines for every practice and game throughout the year and will likely not miss a beat upon his return in the spring. He's not the most physically gifted player, at 6-2 and 290 pounds, but he's already started 23 games for the Trojans over the last three years and doesn't miss very many tackles.
Uko will be almost interchangeable between the two tackle spots this year, but he'll probably be more of an under tackle in the future. Woods will likely redshirt but stands a small chance to play this fall if USC needs the depth available.
Defensive end
1.
Nick Perry
, redshirt junior
2.
Wes Horton,
redshirt junior
3.
Greg Townsend Jr.
, freshman (won't enroll until fall)
Perry is the only true pass rusher on this defensive line, as the other starters are more run-focused players. Because of that, he'll probably again play more snaps than would be ideal --
Lane Kiffin
said last year he was over-playing him -- and could push for 10 sacks on the year. Horton's going to play both end spots.
Townsend Jr. is probably the least likely of the four defensive line recruits to redshirt, because he's (1) fairly physically developed for his age and (2) an exciting pass rusher, even at this stage in his career.
That's it for today, but keep in mind that other players could find their way onto this depth chart before the spring is over, including tight end Christian Thomas, who played some end last year, Steve Dillon, a 2011 recruit who has yet to officially sign his letter of intent and James Boyd, a two-year player for the Trojans who is not on the spring roster at the moment but could be back on it at some point. We'll be back next week with a look at the linebackers and defensive backs.
January, 5, 2011
1/05/11
8:48
PM PT
By
Pedro Moura
| ESPNLosAngeles.com
Defensive end Greg Townsend Jr. (Beverly Hills, Calif./Beverly Hills) committed to USC during halftime of the Under Armour All-American Game on ESPN Wednesday, picking the Trojans over Texas Christian and Miami.

He was first offered a scholarship by USC as a junior in high school and had since been expected to commit to the Trojans. He made it official Wednesday, although he did say he plans to take official visits to both the Horned Frogs and Hurricanes, giving each school a last chance of sorts.

"It was a tough decision but my family and I feels like this is the place for me to be," Townsend told ESPN's Lowell Galindo shortly after announcing his decision live on television. "Coach Monte Kiffin is an amazing coach. He and coach [Ed] Orgeron will make me a much better player."

Townsend Jr. becomes the 24th commitment in the Trojans' class of 2011 and their fifth defensive end commit. Nine of those 24 players are early enrollees and will technically count as part of the 2010 class.

Another USC-recruited player, athlete Devon Blackmon (Fontana, Calif./Summit), made his decision during the game. As expected, he picked Oregon over both USC and UCLA.
January, 5, 2011
1/05/11
3:49
PM PT
By
Pedro Moura
| ESPNLosAngeles.com
Two big-time high school players USC has been recruiting for a while -- defensive end Greg Townsend Jr. (Beverly Hills, Calif./Beverly Hills) and athlete Devon Blackmon (Fontana, Calif./Summit) -- will announce their college decisions during the Under Armour All-America Football Game today, airing at 4 p.m. PT on ESPN.

Townsend Jr., the son of former Los Angeles Raider defensive end Greg Townsend, will pick between USC and TCU, the school his father went to. He long has been considered a likely USC commit. Blackmon has publicly said he will pick from USC, UCLA and Oregon, but he's expected to choose between UCLA and Oregon.

Townsend will announce at halftime, Blackmon during the third quarter. National Signing Day, of course, is next month. All decisions are tentative until then.

Other players USC has recruited will be playing in the game, including five-star offensive lineman Cyrus Kouandjio (Hyattsville, Md./DeMatha), defensive tackle Christian Heyward (San Diego, Calif./Point Loma) and Arizona offensive linemen Christian Westerman (Chandler, Ariz./Hamilton) and Cyrus Hobbi (Scottsdale, Ariz./Saguaro), among others.

Committed Trojans suiting up in St. Petersburg, Fla. include: defensive tackle Antwaun Woods (Woodland Hills, Calif./Taft), quarterback Max Wittek (Corona Del Mar, Calif./Mater Dei), long snapper Peter McBride (Scottsdale, Ariz./Chaparral) and kicker Andre Heidari (Bakersfield, Calif./Stockdale). The latter three are expected to begin classes at USC on Monday and participate in spring practice in March.

We'll have a scouting report Thursday of all the USC commits and recruits from the game.
2013 TEAM LEADERS
| TEAM | RUSH | PASS | TOTAL |
| --- | --- | --- | --- |
| Offense | 174.2 | 218.1 | 392.3 |
| TEAM | PF | PA | MARGIN |
| Scoring | 28.5 | 21.3 | 7.2 |