August, 27, 2012
8/27/12
6:11
PM PT
By
Pedro Moura
| ESPNLosAngeles.com
USC released its
season-opening depth chart
Sunday night. Here are our brief takeaways, position by position:
Quarterback
As expected,
Cody Kessler
and
Max Wittek
are still listed as co-backups to starter
Matt Barkley
. We should have a resolution soon, according to
Lane Kiffin
, who said Sunday he'd have something to say on the subject on "Tuesday morning."
For what it's worth, Kessler was listed first at the end of spring and Wittek was listed first this time. But they still had an all-caps "OR" in between their names both times.
Running back
This might be the biggest surprise on the depth chart.
Curtis McNeal
was expected to be the for-sure starter heading into camp, and that didn't change much when
Silas Redd
was added just days before. McNeal has done very little wrong over the last few weeks, yet, somehow, Redd's listed as his co-starter on the depth chart.
As the third-string running back,
D.J. Morgan
cannot afford to fumble this season. A turnover or two and his carries will be going to redshirt freshman
Buck Allen
, who has improved in camp.
Fullback
Soma Vainuku
is the starter here. There was never any doubt.
Freshman
Jahleel Pinner
is listed as the second-stringer, but it's likely he'll redshirt, so third-stringer
Charles Burks
is probably bound for the backup role. Walk-on
Hunter Simmons
gets on the depth chart after re-joining the team this year.
March, 29, 2012
3/29/12
10:37
PM PT
By
Pedro Moura
| ESPNLosAngeles.com
USC couldn't scrimmage last Saturday because of a lack of healthy skill-position players, and it looks as if the Trojans might be in the same boat again this week.

None of the injured offensive players' statuses have improved, and, to make matters worse, redshirt freshman tight end Junior Pomee went down because of an injured right foot midway through Thursday's practice. He was carted off the field before returning later on to watch practice from the sideline.

With Pomee and fellow tight ends Xavier Grimble, Randall Telfer and Christian Thomas all out last weekend, the Trojans were forced to use walk-on fullback Hunter Simmons as their only tight end and avoid a full-on scrimmage. If Pomee's not able to suit up Saturday, that'll be the same approach again.

"Unfortunately we can't seem to keep a tight end healthy," USC coach Lane Kiffin said after Thursday's practice. "The problem right now is the offensive skill players (being out) aren't allowing us to practice the way we'd like, but we're making the best of it."

Receiver George Farmer (hamstring) is also out, and Robert Woods (ankle) is out for all of the spring. With Marqise Lee set to be in Texas for a track meet, USC could have only two scholarship receivers available again in De'Von Flournoy and Victor Blackwell.

Asked if the Trojans will scrimmage at the Coliseum on Saturday, Kiffin said he didn't know.

"There are so many guys in question, we may just practice like we did last Saturday instead of doing a scrimmage," he said.
March, 24, 2012
3/24/12
5:53
PM PT
By
Pedro Moura
| ESPNLosAngeles.com
Here are some notes that didn't make it into our other coverage from Saturday's scrimmage, the Trojans' first visit to the Coliseum since last November's 50-0 win over UCLA:
USC had only two scholarship receivers and tight ends available on the field Saturday because of injuries, so De'Von Flournoy and Victor Blackwell got plenty of chances to show off to the coaching staff. Coach Lane Kiffin indicated that Flournoy, now a redshirt junior, was more impressive than Blackwell. Walk-on fullback Hunter Simmons took most of the snaps at tight end with everyone else out.
So the track Trojans got mixed up a little bit. Nickell Robey, Marqise Lee and Tony Burnett had all planned to participate in the Trojan Invitational track meet on campus, but only Lee and Burnett ended up doing it. Kiffin convinced Robey that he needed to practice special-teams skills, so the junior cornerback skipped his long-jumping event, which Lee actually won. Burnett did the long jump on campus and then tried to golf-cart over to the Coliseum so he could participate in the latter half of practice but was turned down because of NCAA regulations governing two-sport athletes.
Defensive tackle George Uko was "dominant" on Saturday, according to Kiffin, wrapping up a big week for the redshirt sophomore. He found out two weeks ago Saturday that he had been demoted to the second team and since then he has been the best player in USC's front seven and arguably the best player on the Trojans' entire defense.
Injury report: Tight ends Xavier Grimble (toe) and Randall Telfer (hamstring), quarterback Jesse Scroggins (hip), running back Buck Allen (hamstring), center Khaled Holmes (calf) and receiver George Farmer (hamstring) all missed practice, and linebacker Dion Bailey (hamstring) missed almost all of it. Fullback Soma Vainuku hurt his back in individual drills and missed all of the scrimmage portion of the day.
Final notes: USC resumes practice on Tuesday at Howard Jones Field. ... As Kiffin said he would, Matt Barkley did limited work and backups Cody Kessler and Max Wittek took the majority of snaps. ... Robey, D.J. Morgan and Curtis McNeal all practiced punt returning during individual drills.
February, 14, 2011
2/14/11
10:15
PM PT
By
Pedro Moura
| ESPNLosAngeles.com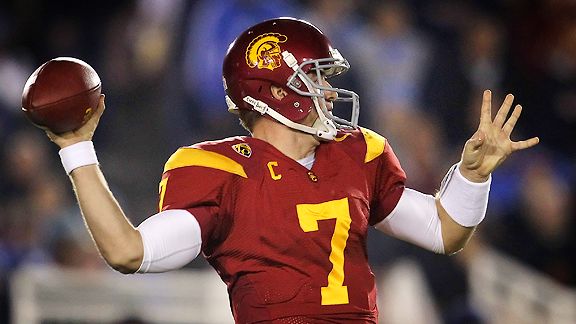 Jeff Gross/Getty ImagesMatt Barkley will be the highest-profile player on a Trojans team stacked as well as any in the country.
There are six Mondays left until spring practice officially kicks off for USC on March 22. On each of those Mondays, we'll preview one-sixth of the Trojans' depth chart and eye potential risers and fallers during the month-long springtime, beginning today with quarterbacks and running backs.
Quarterback
1.
Matt Barkley
, junior
2.
Jesse Scroggins
, redshirt freshman
3a.
Cody Kessler
, freshman (early enrollee)
3b.
Max Wittek
, freshman (early enrollee)
5.
John Manoogian
, redshirt junior
Barkley is the clear-cut starter at the position and will face no competition from the other players for the starting spot. The interesting matchup during spring practice, rather, will be that between Kessler and Wittek, the two California kids who both enrolled last month with quite the high expectations. They'll be battling for the third-string spot this year, sure, but, more importantly, they'll be fighting to make early inroads with
Lane Kiffin
and quarterbacks coach
Clay Helton
in the event that Barkley declares for the NFL draft after the 2011 season. If that does indeed end up happening, expect it to be a three-pronged race in the spring of 2012 between Scroggins, Kessler and Wittek. If, by some way, one of the true freshmen could jump in front of Scroggins this spring, that would bode very well for their starting hopes comes next season.
It's a safe bet to assume that either Wittek or Kessler will be asked to redshirt this season, and quite possibly both. If we had to guess, we'd say Wittek is probably a bit more likely to redshirt, if only because of his physical development at this point in time. But that can change quickly, and Manoogian, a capable walk-on, did serve all of last season as the third-stringer behind Barkley and
Mitch Mustain
.
Running back
1.
Marc Tyler
, redshirt senior
2.
Dillon Baxter
, sophomore
3a.
Curtis McNeal
, redshirt junior
3b.
D.J. Morgan
, redshirt freshman
5a.
Javorius Allen
, freshman
5b.
Amir Carlisle
, freshman
Tyler started the majority of last season's games, so it's safe to expect him to at least enter in to spring practice as the starter this year. It looks like Baxter will really control what ends up happening with the distribution of carries this season, though. If he comes out to spring practice with the sort of work ethic he did last season, Tyler will be the starter come September and Baxter will be the backup. But if Baxter comes out to spring practice like he did last spring -- plus the added benefits of a whole year in the system -- Baxter and Tyler could end up sharing carries evenly.
The other intriguing storyline is Morgan's. He sat out last season while recovering from a high-school knee injury, but he was making positive impressions on the coaching staff by mid-October and even earned a favorable comparison to Baxter by Kiffin during Oregon prep week. He very well may be the fastest player on the roster, so seeing how the coaches use him in the spring will be something to watch.
McNeal was academically ineligible last season but is a useful piece when available as a bowling-ball type back. Allen and Carlisle will likely redshirt.
Fullback
1a.
Soma Vainuku
, freshman
1b.
Simione Vehikite
, redshirt sophomore
3.
Hunter Simmons
, redshirt sophomore
Vainuku and Vehikite will probably be the only two scholarship players at fullback in the spring, but neither player has very much experience at the spot. Well, Vainuku has none in college. Vehikite has a little. Simmons is another capable walk-on and is a good practice player but won't start.
The early favorite is probably Vainuku, an impressive athlete who originally signed with USC as part of its 2010 recruiting class but failed to qualify and enrolled last month. Vehikite ran into some trouble with Kiffin and the staff last season and was suspended from the squad for a time.
Size could be a factor: Vainuku doesn't look the part of a freshman, measuring in at 6-foot-2 and 255 pounds. Vehikite is listed at 6-foot and 220 pounds.
That's it for this Monday. We'll be back a week today with a look at the receivers and tight ends, factoring in the recent injury to redshirt freshman Kyle Prater.
October, 18, 2010
10/18/10
6:41
PM PT
By
Pedro Moura
| ESPNLosAngeles.com
Sixteen USC football players and associate head coach
John Baxter
-- accompanied by the USC Song Girls and Trojan Marching Band -- made a trip to the Los Angeles County-USC Medical Center on Monday to visit with a number of kids at the Children's Hospital.
With an off day for the bye week, the team spent a couple of hours visiting with children in the eighth-floor playroom and then splitting up and visiting children all around the hospital. A hospital spokesperson said the Trojans have been coming annually since
Pete Carroll
became the coach at USC. Current coach
Lane Kiffin
did not attend this year but kept the tradition going.
Cool sights: kicker
Joe Houston
teaching a 14-year-old how to throw a football when the preferred expert -- quarterback
Mitch Mustain
-- was in another room, receiver
Ronald Johnson
pretending to be "el novio" -- the boyfriend -- of a young Spanish-speaking girl as two Song Girls joked with her and tight end
Jordan Cameron
holding an infant while his mom smiled big and watched and hospital staff snapped pictures.
Among those who made the trip: Mustain, fullbacks
Stanley Havili
and
Hunter Simmons
, receivers
Kyle Prater
and Johnson, tight end
Jordan Cameron
, linebackers
Shane Horton
,
Michael Morgan
and
Hayes Pullard
, defensive tackles
Christian Tupou
and
Derek Simmons
, defensive ends
Wes Horton
and
James Boyd
, safety
Marshall Jones
and Houston.
Photos from the event are
here
, with a video showing some of the playroom activities and one-on-one video interviews with two of the players below.
***
Wes Horton, a redshirt sophomore defensive end, has missed the last three games because of an injured back after leading the team in sacks through four games. But he still went on the trip -- and seemed to enjoy it, too. He and Cameron
had to be told to leave one young patient's room when the team was readying to depart.
See what Horton had to say about the visit:
***
Morgan was one of two captains to make the trip, with Havili also coming. See what Morgan said about the experience and what it meant for him -- and, more important -- what it meant for the kids:
***
See some of what the Trojans did with the children at the hospital in this quick video that takes you around the playroom:
A few things to pass along on this Friday:
First of all: junior fullback D.J. Shoemate is gone as of last night, heading to UConn with plans to play running back -- something he never had a chance to do at USC. Highly recruited out of Servite High School, the 6-foot, 220-pound Shoemate started his Trojan career at receiver but was moved mid-season to fullback. Injuries also limited his progression with the Trojans, as he missed a 2008 game due to a shoulder injury and missed the majority of 2010 spring practice. Now, the Trojans will be forced to use either walk-on Hunter Simmons or incoming freshman Soma Vainuku as the backup to likely All-Pac-10 fullback Stanley Havili.
A baseball update: junior-to-be first baseman Ricky Oropesa participated in the inaugural college home run derby this week that took place in famed Rosenblatt Stadium in Omaha, Neb. Oropesa, who hit 20 homers last season as the Trojans' lone marquee hitter, was one of seven competitors in the derby but couldn't advance past the first round after hitting only two out of the park. Featuring guest coaching from MLB Hall of Famers Mike Schmidt and Andre Dawson, the TD Ameritrade College Home Run Derby will air Sunday on CBS at 10 a.m. PST
More baseball: ex-Trojans lefthander Adam Dedeaux signed with the Dodgers last week and reported to the Arizona League Dodgers soon after. He has yet to appear in a game. Interestingly, Dedeaux's grandfather — and long-time USC baseball coach — Rod Dedeaux and Dodgers special advisor Tommy Lasorda were widely reported to be great friends before the elder Dedeaux passed in 2006. Grandson Adam pitched 26 career innings for the Trojans with an ERA higher than 6.
In basketball, fellow former Trojans Dwight Lewis and Marcus Johnson are matching up for the Houston Rockets and Phoenix Suns in the second game of NBA Summer League play in Las Vegas. At the time of this writing, it's halftime and the Rockets lead the Suns 43-42. Lewis has logged significant minutes on the perimeter for Houston and has seven points and an assist; Johnson hasn't gotten into the game.
2014 TEAM LEADERS
| TEAM | RUSH | PASS | TOTAL |
| --- | --- | --- | --- |
| Offense | 158.2 | 294.6 | 452.8 |
| TEAM | PF | PA | MARGIN |
| Scoring | 35.1 | 23.8 | 11.3 |