April, 12, 2013
4/12/13
7:45
AM PT
The Trojans hit Brian Kennedy-Howard Jones Field one last time on Thursday before they take part in the team's spring game on Saturday in the Coliseum. Donning shorts and helmets, the practice was the least physical of the last four and a half weeks -- a fact not surprising considering a total of 20 players have been ruled out for Saturday's contest including
Randall Telfer
,
Antwaun Woods
,
De'Von Flournoy
and
Jabari Ruffin
-- all suffering injuries within the last week.
"There are some good parts about it," said Kiffin in looking at the pros and cons of the physical way the team has practiced this spring. "I think that our guys that are still healthy are playing more physical than they were at the end of last year, and our front seven on defense is better because of it. But at the same time, obviously, we have a lot of players out."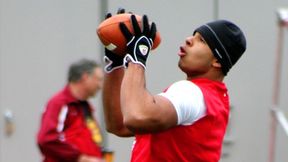 Courtesy of Erik McKinney, WeAreSC.comJalen Cope-Fitzpatrick will be the Trojans' only tight end in Saturday's spring game.
With Woods sidelined, it was
Cody Temple
who saw action with the first unit at nose tackle when the defense went to its base 5-2 look, but it's the injury suffered by Telfer that will make perhaps the biggest impact in regards to Saturday's game. Suffering a torn meniscus in his knee during Tuesday's workout, he underwent surgery on Thursday and figures to be back in action in 4-6 weeks. But with
Xavier Grimble
already out with a chest fracture, the USC offense will have just one tight end at its disposal for the scrimmage in
Jalen Cope-Fitzpatrick
.
"It's been kind of the theme of the spring -- very physical -- as we come down to one practice left here," Kiffin said. "I think you'll still see the stars out there making plays. We're just going to have to be creative because we're not going to be able to go at the same speed in between series, and obviously we can't have two teams with only one tight end, and all of our formations use a tight end, so we'll figure it out -- probably just a little more time in between [each] series."
Agholor and Lee at corner?
March, 11, 2011
3/11/11
5:02
PM PT
By
Pedro Moura
| ESPNLosAngeles.com
Talked to USC men's basketball coach Kevin O'Neill briefly Friday afternoon after his Pac-10 tourney suspension was announced. The second-year Trojans coach says he feels worse for his players, who he said have fought hard to get into position to essentially face Arizona for an NCAA tournament bid Friday. Here's more of what he had to say in the aftermath of a Thursday incident that saw he and his wife get into a verbal altercation with a University of Arizona booster:

On his overall feelings about his suspension, which he found out about at 2:15 p.m. today:

I agree with [athletic director] Pat [Haden]'s decision and [senior associate athletic directors] J.K. [McKay] and Steve [Lopes] and all those guys, and respect it. Moving forward, I'm going to hold myself to the highest standard I can.

On whether associate head coach Bob Cantu is well-equipped to handle the team for such a huge game:

It's a huge game for everybody. But it's still the right decision.

On his involvement with the team and Cantu before the game and whether he had helped Cantu with preparation:

I'm at my house right now. I have no involvement in the game at all.

On whether he has discussed coaching in the NCAA tournament with Haden:

We haven't gotten that far yet, but I believe I would be able to coach [in it] -- right now I'm suspended for the Pac-10 tournament.

On his plans to watch the team's 6:10 p.m. game against Arizona and whether he's ever had to do something similar in his coaching career:

I'm going to watch the game from my house. I've never done that. You know what, you've gotta try everything once I guess, right? Hopefully this is the only time.
August, 4, 2010
8/04/10
10:15
PM PT
By
Pedro Moura
| ESPNLosAngeles.com
Notes, quotes and video from Wednesday's (nearly) three-hour practice, the first of fall camp:
If Lane Kiffin was serious about slowing down the pace of practice to accommodate the shortened roster, as he indicated last week at Pac-10 media day, it sure didn't seem like it Wednesday. Sure, the players were sans pads and in shorts, but the sheer length of practice made it tough to endure. But Kiffin seemed to say that the practices would get shorter as camp goes on. "We're gonna have to play it by ear," he said after practice. "We probably won't be able to, especially as our numbers are starting to diminish as we put pads on and practices become more physical."
Speaking of endurance, defensive end Armond Armstead came off the field early because he was dehydrated. According to Kiffin, he was taken inside and given an IV. On the injury front, projected starting left tackle Matt Kalil missed nearly the entire practice with a hamstring injury that he sustained last week. Right tackle Tyron Smith arrived late after attending a family funeral and did not suit up.
Safety Drew McAllister and tight end Rhett Ellison each made their formal returns to practice after missing the entire spring with injuries. Both have some ground to make up: McAllister played on the second team as sophomores Jawanza Starling and T.J. McDonald manned the first-team safety spots, Ellison moved over to fullback for the practice because of a lack of depth at the position and backed up senior Stanley Havili. "It was hard to see that much out of Drew," Kiffin said. "He did do some things, but he's still a little bit limited, so we'll go back and watch the tape and continue to do more with him." Asked if Ellison's move to fullback could be long-term, Kiffin said "it may have to" be.
The new freshmen receivers stood out. Both Markeith Ambles and Robert Woods impressed Kiffin in their first appearances under the coach's watch. Ambles appeared tougher than advertised, even finishing up the practice by fighting his way downfield on a final pass play. Kiffin stopped short of saying the two would be in-season contributors but did compliment each of them. "They both made up a couple plays today," the first-year coach said. "Markeith seems to be really smooth; Robert seems to be really, really fast. They're in really good shape right now for having one practice with us."
Taking a look at the few spots on the depth chart that are still up for grabs, it appears Torin Harris has the inside track to start across from Shareece Wright at cornerback. Harris got the majority of snaps at the position, while Brian Baucham also garnered some time. C.J. Gable looked motivated in the race to back up Bradford at running back. Jordan Cameron played plenty at tight end but dropped a couple passes, including one in the open field with at least five free yards in front of him. Christian Thomas probably got the most time of the three freshmen tight ends and made a nice catch-and-run that quarterback Matt Barkley spotlighted after practice.
On Barkley, he didn't throw an interception on the day but didn't look as sharp as he had toward the end of spring practice. Staying at quarterback, incoming freshman Jesse Scroggins displayed an early semblance of poise on his limited snaps but did deliver one pass painfully high and out of reach when aiming for a receiver on the sideline. "It's the first day," Barkley said of the offensive performance that seemed to lack a bit of crispness. "We're just getting back into it. I think of a lot of those passes were on key, but it's still a lot of the timing and the play-calling, getting used to everything."
A few final notes: USC's new president, Max Nikias, showed up midway through practice with a few other school officials, including new athletic director Pat Haden and associate athletic director of football J.K. McKay...USC's first padded practice will be Sunday...Several walk-ons joined the team Wednesday; their names will be released later in the week...All 70 scholarship players showed up for the first day of camp -- save for incoming freshman fullback Soma Vainuku, who reportedly is finishing up his academic coursework that will get him qualified for USC. Vainuku was at the throwing sessions last month but did not participate...We'll have more observations from today's practice and video interviews tomorrow morning.
***
Kiffin wasn't too pleased with his team's performance in their fall opener. Hear what he had to say afterwards:
Starting running back
Allen Bradford
will be a key part of the USC offense in 2010. After Wednesday's practice, he talked at length about the need for the Trojans to eliminate individuality from their practices and play as a unit. Asked for an assessment of the practice as a whole, Bradford gave his team a B-. Here's more from the senior leader:
July, 20, 2010
7/20/10
11:16
PM PT
By
Pedro Moura
| ESPNLosAngeles.com
Fresh off a vacation, USC coach Lane Kiffin was back in Heritage Hall on Tuesday afternoon. Soon after, the first-year coach released a statement on the hiring of athletic director Pat Haden.

Here's what the 35-year-old coach said: "I've known Pat Haden for a long time and my congratulations go out to him. I know he'll do a wonderful job as our athletic director. He's been such a vital part of the USC fabric for so long, he'll be able to contribute immensely to our athletic department. I know the entire Trojan Family will readily welcome him."

It's important to note that Haden was reported to be on the committee -- made up of members of USC's Board of Trustees -- that helped former athletic director Mike Garrett make the decision to hire Kiffin.

Kiffin also mentioned a prior relationship with both Haden and the Trojans' new associate athletic director for football, J.K. McKay: "I've already met with Pat and J.K. McKay, and they are excited about our program and the upcoming season. I'm looking forward to working with them and embracing all the things they have to offer."

Kiffin finished off the statement by referencing the ousted Garrett, who spent 20 years at USC -- 17 of them as the school's athletic director.

"I also want to thank Mike Garrett for the opportunity he presented to us," Kiffin said. "We will work extremely hard to carry on his vision for USC football. He had an incredible run as our athletic director and Trojan fans should applaud his passion, dedication and accomplishments. When I spoke with Mike today, he said that although he won't be here, he'll be following us closely because USC is so dear to him."
2013 TEAM LEADERS
| TEAM | RUSH | PASS | TOTAL |
| --- | --- | --- | --- |
| Offense | 174.2 | 218.1 | 392.3 |
| TEAM | PF | PA | MARGIN |
| Scoring | 28.5 | 21.3 | 7.2 |