October, 30, 2013
10/30/13
1:00
PM PT
The story goes that when the USC buses pulled up to Reser Stadium on Sept. 25, 2008, just about every member of the No. 1 team in the nation was fast asleep. Perhaps visions of sugar plums were dancing in their heads.
Ah, but they were about to get a
rude awakening
! For their dreams were going to
turn into nightmares
! Or, you know, make up your own sleep-related riposte with dramatic voice-over. We all know what happens when the Trojans go to Corvallis, Ore., their football Bermuda Triangle. They seem to underestimate the Beavers, then get whipped. In this case, they were sliced and diced by 186 yards rushing from
Jacquizz Rodgers
in a 27-21 defeat.
[+] Enlarge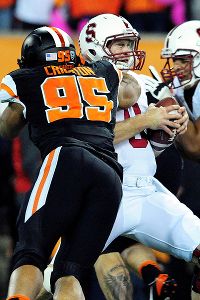 Steve Dykes/Getty ImagesCan Scott Crichton and the Oregon State defense shut down the Trojans' offense this weekend?
That 2008 team didn't lose again. The nation's most talented collection of players -- probably by a wide margin -- finished No. 3 in the AP poll and second with the coaches. Ah, what could have been in Pete Carroll's penultimate season at USC.
Yet there's a strong case the 2008 team should have known better. In 2006, third-ranked and unbeaten USC went down 33-31 in Corvallis, ending Troy's 27-game Pac-10 winning streak and 38-game regular-season winning streak.
Most recently, in 2010, with Lane Kiffin leading his first Trojans team, the Beavers dominated in a 36-7 victory.
That was the most recent meeting between these teams, a third consecutive Beavers win in Corvallis. That's USC's longest current road losing streak to a Pac-12 foe. Historically, the Trojans have dominated this series, holding a 59-11-4 advantage, which includes a 26-game winning streak from 1968 to 1999. But Corvallis, USC's destination on Friday, seems to be where the Trojans go to be humbled.
"I think you have to give Mike Riley and Oregon State the credit," USC interim coach Ed Orgeron said. "Those guys do a tremendous job when the Trojans get up there. It seems he always has his team ready to play for us, a great game plan. We need to do a better job of preparing our team for playing in a hostile environment."
OK, credit to Riley. Everyone knows he's a great coach. Often lost in the discussion of these wins over touted USC teams is that the Beavers were pretty darn good in 2006 (10-4) and 2008 (9-4). Still, is there some special Beavers mojo created when the Trojans take Route 34 into Corvallis?
"The only real explanation there is we maximized our playing when we've played them in the past," Riley said. "That's what it's always taken, they've been so good."
Of course, this is all academic, probably nothing more than a curiosity in a conference series. While William Faulkner would tell us "The past is never dead. It's not even past," football coaches don't think that way. What happened last year has little relevance to this year's game, so games that took place three, five and seven years ago are even more irrelevant. None of the prominent names in the 2010 box score will figure in the game Friday. Both programs are in different places, too.
USC, by the very fact of Orgeron's title, is a team in transition. The Trojans are trying to salvage a respectable season after Kiffin's firing, then they'll learn who their next coach will be. They need two more wins on their 13-game schedule to become bowl eligible.
As a team, the Trojans' offense has mostly been woeful, and injuries are making it difficult for it to right itself. The defense, other than hiccups against Arizona State and Arizona, has been mostly stellar. That leads into this game's big matchup: Oregon State QB
Sean Mannion
and WR
Brandin Cooks
versus the USC defense.
The Trojans shut down Utah last week in a
19-3 win
. They held the Utes to 201 total yards and recorded six sacks, three interceptions and kept them scoreless after a field goal on their first possession. The Beavers have the nation's most potent passing attack, but it was mostly muted by Stanford's defense last weekend. The Cardinal sacked Mannion eight times, and the Beavers had yielded only nine sacks in the previous seven games.
Riley said the protection issues against Stanford were about missed assignments as well as some one-on-one battles that didn't go well.
"We made some assignment mistakes on some stuff Stanford did, and that cost us some sacks, and then physically we'd get beat from time to time," he said. "Sean battled in there. He actually played about as well as he could, considering the circumstances."
USC will try to create the same circumstances, though the Beavers' cause is helped by the fact that Trojans outside linebacker
Morgan Breslin
(hip) again won't play. Even without Breslin, however, defensive lineman
Leonard Williams
leads a strong Trojans front seven.
The Beavers need a win to keep themselves in the Pac-12 North Division picture. A victory also might propel them back into the national rankings, and it would certainly boost their bowl prospects with three games to play.
Here's a guess that USC's players won't be fast asleep when their bus pulls up to Reser Stadium on Friday evening.
November, 9, 2011
11/09/11
10:48
PM PT
By
Pedro Moura
| ESPNLosAngeles.com
It's funny how things work out sometimes.

When now-Washington coach Steve Sarkisian was an assistant at USC last decade, he recruited now-Washington running back Chris Polk heavily out of local Redlands East Valley High. Back then, Polk was a top-100 prospect, and he committed to USC to compete with Joe McKnight and Co. for carries in the Trojans' backfield, but he ended up going against the grain and choosing coach Tyrone Willingham and the down-on-their-luck Washington Huskies.

Then Willingham was fired after Polk's freshman season when the Huskies went 0-12, Sarkisian was hired after grooming Mark Sanchez into an NFL first-round selection, and soon Sarkisian was Polk's college coach.

And now the 5-11, 222-pound Polk, a fourth-year junior, is Sarkisian's biggest weapon as the third-year Washington coach attempts to pull off an upset over USC for the third straight season this Saturday at the Coliseum. Considered a potential first-round selection in the NFL draft, he's been flat-out dynamic this year, averaging more than 120 rushing yards and another 30-plus receiving yards per game. He surpassed 1,000 rushing yards last month for the third time in his college career.

"He's big and physical, and he's really good in the passing game too," now-Trojans coach Lane Kiffin said this week. "So he's really kind of the complete package."

Polk's stat lines the last two seasons against USC include 235 yards from scrimmage and a TD. He's proven to provide a tough challenge for the Trojans' defense, perhaps the toughest challenge over the last couple of years outside of LaMichael James and Jacquizz Rodgers.

But USC is trying to keep it simple in devising a game plan to stop him this week, following what the Oregon Ducks did in holding him to 3.3 yards per carry in their 34-17 win over the Huskies last weekend.

"It's not real complicated," Kiffin said this week. "Tackle the guy really well and don't let him fall forward. Just look no further than what happened on Saturday night. Oregon tackled great the whole game.

"They swarmed to the ball, they tackled really well, they knocked the power back."

But, even then, Polk found a way to accumulate 114 yards out of the backfield. It's been almost a year since he's failed to reach the century mark in yards from scrimmage.

With him, it's more of a case of trying to limit his production than trying to make him completely unproductive -- and, of course, trying not to remember that he could very easily have been doing the same thing for the Trojans right now.
November, 20, 2010
11/20/10
11:42
PM PT
By
Pedro Moura
| ESPNLosAngeles.com
CORVALLIS, Ore. -- Notes, quotes and video from USC's 36-7 loss to Oregon State on Saturday night at Reser Stadium:
After emphasizing all week the importance of not underestimating the Beavers, the Trojans did just that -- presenting perhaps their poorest performance of the 2010 season in the same, familiar locale in Oregon. Afterward, they admitted to succumbing to letting up the pressure a little bit, boasting two consecutive wins against the Arizona schools compared to Oregon State's consecutive losses to Pac-10 cellar-dwellers UCLA and Washington State. "I think we took them lightly," said USC left tackle Matt Kalil, who played poorly as the Trojan offensive line gave up four sacks. "And that's what happens if you don't take a team seriously -- they catch you off-guard like this. They got us today." Other players disagreed with Kalil, including defensive end Wes Horton and safety T.J. McDonald. But cornerback Shareece Wright had a telling quote when asked if USC took OSU lightly: "There are some players that probably did, but I didn't."
The difference in approaches to the game became glaringly obvious afterward, in speaking with players and coaches from USC and Oregon State. Take a look at the variation in comments about the teams' practice performances this week -- especially earlier on, when most of the play-installing and scouting gets done. USC's perspective, from Kalil: "It just goes back to practice, like Coach Kiff said. It was our worst Tuesday and our worst Wednesday practice, and it showed up." And Oregon State's, from coach Mike Riley: "That's what we asked everybody to do...Take advantage of Tuesday's practice and Wednesday's practice and get ready for the game. I'm really proud of them. They did a great job of overcoming a lot to get to that performance." USC redshirt senior fullback Stanley Havili has talked up the correlation between practices and games over and over this season; he summed it up well postgame. See a video interview with him further down in this post for more.
Senior quarterback Mitch Mustain replaced Matt Barkley when the sophomore suffered a high-ankle sprain on the penultimate play of the first half. Taking his first meaningful snaps since his freshman year at Arkansas, Mustain didn't make many mistakes but didn't create any plays for the Trojans either -- completing 8-of-17 passes for 60 yards. Barkley hadn't been playing well either, going 10-of-19 for 75 yards, no touchdowns and a pick-six. Said Mustain of his day: "It felt good. I expected to come online a little bit quicker than what I did those first two drives, where I missed a couple of critical throws. It was really just a matter of getting my feet settled and feeling comfortable."
Jacquizz Rodgers did not run all over USC's defense. He gained 128 yards, but they were hard-earned ones, coming on 26 carries -- averaging out to fewer than five yards a carry. His best game against the Trojans remains the 2008 shocker here in Corvallis, when he ran for 186 yards and two scores. Said Wright: "He wasn't anything special."
On Rodgers, the junior runner offered some interesting perspective on why the Trojans can't manage to win a game in the state of Oregon, even bringing up the Beavers' cross-state rivals the Ducks in the process: "It's been five years since SC has won in Oregon, including (games against) the Ducks," he said. "I guess they just struggle whenever they come up here. Guys get pumped up for that game even though we are supposed to approach every game the same. With the history SC has, guys are just looking to knock them off and make history against them."
Injury updates: middle linebacker Chris Galippo started the game for USC but left with a concussion before the end of the first quarter, replaced for the duration of the game by Devon Kennard. Speaking coherently afterward, Galippo said he expects to be able to play next week against Notre Dame. Running back Marc Tyler got the start but barely got started before he got hurt and had to exit the game with a re-injury of the sprained ankle that was also bothering him against Arizona. He finished the game with 34 yards on 11 carries. Right tackle Tyron Smith hurt his knee and did not finish the game.
Final notes: Freshman running back Dillon Baxter did not make the trip up to Oregon because of contact with a student-agent at USC on Thursday. USC self-reported the violation and is hoping the NCAA will reinstate Baxter in time for him to play in the Trojans' final two games. ...The score at halftime of the 2008 game between the Trojans and Beavers in Corvallis? 21-0. Saturday's halftime score? 20-0. ...C.J. Gable led USC in rushing yards with 57 on 10 carries and also scored the Trojans' only touchdown.
***
See what Havili had to say after the game about the Beavers' all-around performance, USC's inability to win in the state of Oregon and more:
November, 20, 2010
11/20/10
8:29
PM PT
By
Pedro Moura
| ESPNLosAngeles.com
F
PASSING ATTACK
A flat-out nightmare of a day for USC quarterback
Matt Barkley
, who passed for only 75 yards on 19 attempts, threw an interception and hurt his ankle on the penultimate play of the first half. Backup
Mitch Mustain
couldn't muster up much in his place.
D
RUSHING ATTACK
Marc Tyler
was named the starter this week in practice by
Lane Kiffin
, but he squandered the opportunity with a 3.1 yards-per-carry average before apparently re-injuring his ankle late in the first half. Reserve runner
C.J Gable
impressed some in the second half, gaining 57 yards.
C
IN THE TRENCHES
Not a memorably bad day for the defensive line, but the brutes on offense struggled mightily to create running holes against the Beavers' D-line. The sack that caused Barkley's injury looked like it could have been prevented with good protection from the line.
C
DEFENSE
Jacquizz Rodgers
was a workhorse once again, but USC actually limited him fairly well early on and forced beleaguered Beavers quarterback
Ryan Katz
to make several tough passes. Unfortunately for the Trojans, Katz was able to do that just fine and made very few mistakes.
D
SPECIAL TEAMS
It may seem like a minor factor, but OSU punter
Johnny Hekker
outclassed USC's
Jacob Harfman
, giving the Beavers a 15-yard advantage in field position per punt. Gable did come close to taking a kickoff back for a score on the drive he later scored on.
C
COACHING
Curse or no curse, Kiffin's Trojans didn't appear to be completely prepared for everything Oregon State threw at them -- and some of that has to go on the head coach, who criticized his team twice this week for lackluster practices. Energy was largely absent.
November, 16, 2010
11/16/10
10:59
PM PT
By
Pedro Moura
| ESPNLosAngeles.com
Notes, quotes and video from Tuesday's practice:
It's a funny thing: Coach Lane Kiffin's USC squad has often appeared to play more complete games on the road than at home this season -- but that doesn't mean that this Saturday's 5 p.m. game at Oregon State won't be a challenge, for a variety of reasons that include expected weather, Oregon State's likelihood of rebounding after an embarrassing home loss to Washington State and Jacquizz Rodgers himself. But, still, the road aspect is worth mentioning. "It has been unique this season," Kiffin said after Tuesday's practice. "If you group all the games together, home and road, we've played more consistent on the road. Even as you look at the games themselves, I just think we've played better. Sometimes I think maybe your first year with a young team, there's something about playing on the road and growing together."
Injury report: cornerback Brian Baucham, safety Jawanza Starling (hamstring), tight end Blake Ayles (head), center Abe Markowitz (foot) did not practice. Defensive tackle Hebron 'Loni' Fangupo (ankle), cornerback Torin Harris, receiver Brice Butler and running back Marc Tyler (ankle) were limited. Kiffin said that even though the injury list was long, this week could very well end up being one of the Trojans' healthiest weeks of the season by the time Saturday rolls around. "That would be good to have, obviously," he said, "in going up to a place that has been extremely hard to play for a lot of people, including USC." Delving into injury specifics, Ayles revealed Saturday that he had suffered a concussion last month and said he hoped to return to practice this week; Fangupo said Tuesday that the ankle injury that has sidelined him in recent weeks is simply a re-aggravation of the injury that required surgery last season and forced him to miss spring practice this year. He re-injured it against Oregon and has missed the last two games; he said Tuesday he is "90 percent" healthy and plans to play Saturday against Oregon State.
2014 TEAM LEADERS
| TEAM | RUSH | PASS | TOTAL |
| --- | --- | --- | --- |
| Offense | 151 | 292 | 443 |
| TEAM | PF | PA | MARGIN |
| Scoring | 32 | 20 | 12 |