May, 29, 2012
5/29/12
10:52
AM PT
By
Pedro Moura
| ESPNLosAngeles.com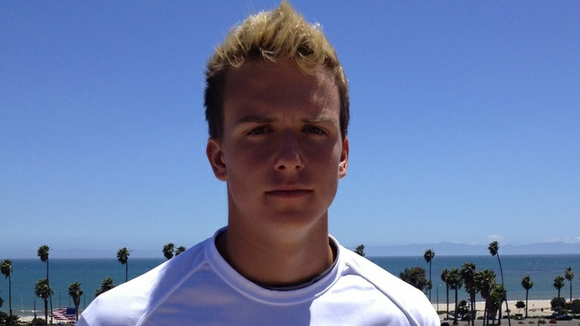 Pedro Moura/ESPNLA.com
16-year-old quarterback David Sills committed to USC in February 2010 and plans on honoring that commitment when he gets to college in the fall of 2015. He's finishing his freshman year of high school.
SANTA BARBARA, Calif. —
David Sills
turns 16 today. He acts a lot older.
Sills is the prep quarterback who verbally committed to USC as a 13-year-old in February 2010, making news headlines nationwide as the youngest athlete to ever accept a college scholarship offer. Back then, he was known to college football fans as the baby-faced seventh-grade prodigy with floppy blonde hair and a puka shell necklace.
Now, the Delaware native is finishing up the ninth grade at Eastern Christian Academy in Elkton, Md. In person, he hardly resembles the kid he was pictured as not too long ago. Sills is tall – nearing 6-4 already – and remarkably filled out in his upper body. He's well-spoken and very measured in tone.
Sills was in Santa Barbara over Memorial Day Weekend for a massive football camp put on by his private coach, famed QB guru
Steve Clarkson
. The camp and corresponding all-star games are held at the city college's smallish football stadium, which looks out over the Pacific Ocean.
Both Clarkson and Sills admit that the pupil doesn't need to be here – he's the most hyped of any of the participants, by far – but he's gotten so used to coming to Clarkson's camps over the last six years that his attendance wasn't even a question. His parents and siblings drop him off at the field in the morning each day and then go shopping on State Street until the afternoon.
Southern California is a second home to Sills by now. He's been to L.A. and its surrounding areas too many times to count since he started working with Clarkson in the summer of 2006. He acts like a native.
"He will do well in Los Angeles, let's put it that way," says Clarkson. "He'll have no problem getting along there.
"His personality lends itself to it."
Sills has a little Hollywood in him. To call him the football version of pop star
Justin Bieber
wouldn't be too much of a stretch.
"I really don't feel like I'm that different," Sills said. "I'm the same kid. I do the same things. I get treated the same way.
"There's nothing different, besides the publicity and stuff."
2014 TEAM LEADERS
| TEAM | RUSH | PASS | TOTAL |
| --- | --- | --- | --- |
| Offense | 158.2 | 294.6 | 452.8 |
| TEAM | PF | PA | MARGIN |
| Scoring | 35.1 | 23.8 | 11.3 |