March, 6, 2014
Mar 6
11:30
AM PT
What if the heart, for its own unfathomable reasons, leads one willfully and in a cloud of unspeakable radiance away from health, domesticity, civic responsibility and strong social connections and all the blandly-held common virtues and instead straight toward a beautiful flare of ruin, self-immolation, disaster?
February, 28, 2014
Feb 28
7:00
PM PT
Our look at position groups in the Pac-12 continues.
Arizona:
Terrence Miller
was listed on the team's depth chart as a tight end, but he wasn't a traditional tight end. After catching 40 passes for 467 yards in 2013, he's out of eligibility. Former quarterback
Josh Kern
backed up Miller and is one of four tight ends listed on the roster.
Arizona State:
Chris Coyle
(29 catches, 423 yards, 4 TD) is a big loss for the Sun Devils and his primary backup,
Darwin Rogers
, also is out of eligibility.
De'Marieya Nelson
and
Marcus Washington
are the most experienced of the four tight ends on the roster, which will grow by one with the addition of recent signee
Brendan Landman
. Landman is expected to redshirt after playing left tackle during his senior year in high school.
California:
There is no tight end position in Cal's offense, which was a factor in
Richard Rodgers
' early jump to the NFL. Rodgers was switched from tight end to wide receiver last season upon coach Sonny Dykes' arrival.
Colorado:
Senior
Kyle Slavin
is atop the depth chart after catching nine passes in 2013.
Sean Irwin
played minimally as a freshman, but his role is set to increase. Three other tight ends are on the roster, including
Connor Center
, who did not play football in high school.
[+] Enlarge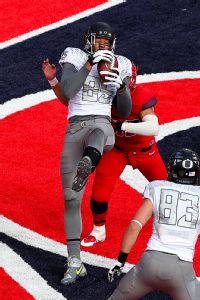 Christian Petersen/Getty ImagesOregon's Pharoah Brown made 10 catches, two for touchdowns, in 2013.
Oregon:
The Ducks have a trio of players who gained significant experience in 2013 in
Pharaoh Brown
,
Johnny Mundt
and
Evan Baylis
. Brown started five games, Mundt had a 121-yard receiving game and Baylis started in the Civil War game against Oregon State.
Koa Ka'ai
and
Davaysia Hagger
will provide depth, but they don't appear on track to make much of an impact on the depth chart.
Oregon State:
With
Connor Hamlett
and
Caleb Smith
both returning, the Beavers arguably have the best tight end tandem in the conference. Hamlett had 40 catches for 364 yards and Smith added 25 for 343 yards.
Kellen Clute
(19 catches, 159 yards) also contributed to the passing game and
Tyler Perry
, who will be a fifth-year senior, is an important run-blocker.
Stanford:
A one-time strength of the Cardinal, tight ends weren't a significant factor in Stanford's offense in 2013, but the staff is hopeful that an influx of new players will change that. Stanford signed No. 1-ranked TE-Y
Dalton Schultz
, and he'll compete for playing time immediately.
Greg Taboada
,
Eric Cotton
and
Austin Hooper
-- all well-regarded tight end recruits -- are coming off redshirts and will compete with
Charlie Hopkins
, who started three games last season.
UCLA:
There is no traditional tight end at UCLA, but Y receiver
Thomas Duarte
, who was recruited as a tight end, is coming off an exceptional freshman season. The 6-foot-3, 221-pound Orange County native appeared in all 13 games and tied a school freshman record with three touchdown receptions.
USC:
Losing
Xavier Grimble
early to the NFL is a blow and just two other scholarship tight ends remain from last season:
Randall Telfer
and
Jalen Cope-Fitzpatrick
. One of the nation's top tight ends,
Bryce Dixon
, signed with USC, but he wasn't among the group of four early enrollees.
Utah:
The Utes were the only school in the country to send two tight ends --
Jake Murphy
and
Anthony Denham
-- to the NFL combine, though Utah listed Denham at receiver.
Siale Fakailoatonga
, a former walk-on, was Murphy's primary backup on the final depth chart, and he caught two passes for 18 yards in 2013.
Harrison Handley
redshirted last season after enrolling early last spring and is a candidate to compete for playing time.
Washington:
John Mackey Award winner
Austin Seferian-Jenkins
' departure for the NFL was expected, and how the Huskies replace him will be an interesting process. Clearly, there's not a one-man solution for what they'll lose with Seferian-Jenkins, but the combination that the returning players provide is a nice mix of different talents.
Michael Hartvigson
and
Josh Perkins
have the most experience at tight end, but they should receive a push from
Darrell Daniels
and
David Ajamu
. Daniels, a highly-regarded receiver recruit who switched to tight end, was a special-teams standout in 2013 as a freshman, while Ajamu redshirted.
Washington State:
Washington State didn't list any tight ends on the roster last season, but early enrollee
Nick Begg
will start his career listed there. The long-term plan for Begg is likely elsewhere.
Previous positions
Quarterback
Running back
Receiver
Offensive line
February, 24, 2014
Feb 24
11:00
AM PT
Raise your hand if you thought Stanford running back
Tyler Gaffney
would run a faster 40-yard dash than Oregon's
De'Anthony Thomas
at the NFL combine.
Put your hand down, liar.
Granted, it was still only by a hundredth of a second -- Gaffney ran 4.49 and Thomas 4.50 -- but, still, Thomas built his reputation on speed, while Gaffney's was more on toughness and vision. It ranked as one of the surprise performances among Pac-12 players over the weekend at the NFL combine.
[+] Enlarge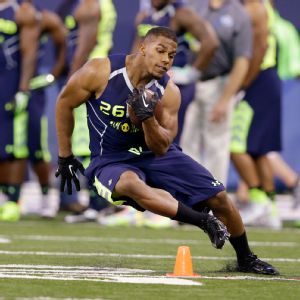 AP Photo/Michael ConroyWashington running back Bishop Sankey made a move up draft boards with his performance at the NFL combine.
Sunday proved to be a great day for Washington running back
Bishop Sankey
, who might have jumped Arizona's
Ka'Deem Carey
on some draft boards,
according to ESPN's John Clayton
.
From Clayton's story:
There may not be a running back who could entice a team to use a first-round pick, but the backs who ran Sunday looked great. Bishop Sankey of Washington may have entered the combine as the No. 3 halfback, but his stock probably rose with a 4.49 40 time along with a good show of lifting strength. Tre Mason of Auburn displayed second-round numbers with his 4.5. Both backs might have jumped ahead of Ka'Deem Carey of Arizona, who had a 4.70.
Sankey ranked No. 2 among running backs with 26 reps on the bench press and his 40-time was tied for No. 9.
Another one of the weekend's big winners was Oregon State receiver
Brandin Cooks
, who turned in the fastest 40 among receivers. His time of 4.33 was second to only to Kent State running back
Dri Archer
, who ran a 4.26.
Cooks, who set Pac-12 single-season records with 128 catches and 1,730 receiving yards this year, also turned in the fastest time registered in the 60-yard shuttle (10.72) at the combine
since at least 2006
. During that same time period, he's
tied for the fastest time
in the 20-yard shuttle (3.81) with Tennessee cornerback Jason Allen from 2006.
Washington tight end
Austin Seferian-Jenkins
, the John Mackey Award winner, has a stress fracture in his foot that is expected to need six to eight weeks to recover,
according to a report from the Tacoma News Tribune
. Due to the injury, Seferian-Jenkins was able to participate only in the bench press. He put up 20 reps, which ranked tied for No. 10 among the 15 tight ends who participated.
See the complete list of Pac-12 invitees.
Here are the Saturday and Sunday results from the Pac-12 players in the 40 and bench press:
Running back
Gaffney, Stanford: 4.49/did not lift
Sankey, Washington: 4.49/26 reps
Thomas, Oregon: 4.50/8 reps
Carey, Arizona: 4.70/19 reps
Silas Redd
, USC: 4.70/18 reps
Ryan Hewitt
, Stanford (fullback): 4.87/did not lift
Marion Grice
, Arizona State: Did not participate
Lache Seastrunk
, Baylor (transferred from Oregon): 4.51/15 reps
Wide receiver
Cooks, Oregon State: 4.33/16 reps
Paul Richardson
, Colorado: 4.40/did not lift
Shaquelle Evans
, UCLA: 4.51/13 reps
Josh Huff
, Oregon: 4.51/14 reps
Marqise Lee
, USC: 4.52/did not lift
Offensive line
Xavier Su'a-Filo
, OG, UCLA: 5.04/25 reps
Cameron Fleming
, OT, Stanford: 5.28/26 reps
David Yankey
, OG, Stanford: 5.48/22 reps
Marcus Martin
, C, USC: did not run/23 reps
Tight end
Colt Lyerla, formerly of Oregon: 4.61/16 reps
Anthony Denham
, Utah: 4.77/did not lift
Jake Murphy
, Utah: 4.79/24 reps
Richard Rodgers
, TE, California: 4.87/16 reps
Seferian-Jenkins, Washington: did not run/20 reps
Xavier Grimble
, USC: did not run or lift
Quarterback
No Pac-12 quarterbacks are at the combine, which is a rarity. The conference has sent at least one every year since at least 1999, which was as far back as we could go to find combine rosters.
January, 24, 2014
Jan 24
9:00
AM PT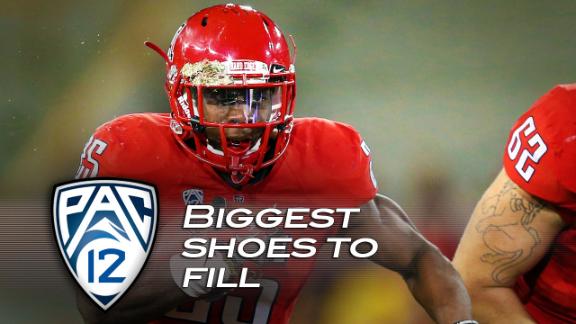 The Pac-12 has 26 of the 98 early entrants in the NFL draft. That's impressive. Some players are locks to get drafted. Others might have jumped the gun a bit and find themselves on practice squads or brushing up on their Canadian. We'll see.
What we're more concerned about here is who is going to replace them. Some answers are clearer than others. Some teams might have to alter their schemes just to account for a departed player.
Here's a look at the possible replacement players in the Pac-12 South. We'll look at the North later this morning.
Leaving:
Ka'Deem Carey
, RB, Arizona.
The replacement:
Jared Baker
should be in the mix, though an injury will keep him out of spring ball. He's expected to return in time for fall camp.
Pierre Cormier
and
Zach Green
will also get looks. Speaking with folks at Arizona, the word right now is that it's wide open. One player could emerge, or it could end up being a by-committee approach. Nothing is off the table at this point.
Leaving:
Carl Bradford
, LB, Arizona State
The replacement:
There really isn't anyone who has Bradford's skill set in the program yet, so the position is wide open.
Viliami Latu
has potential. So does
Chans Cox
, who was hurt a lot last season. They are also excited about incoming freshman
Ismael Murphy-Richardson
. He might not be ready to jump in immediately, but he could be the Devil backer by 2015.
[+] Enlarge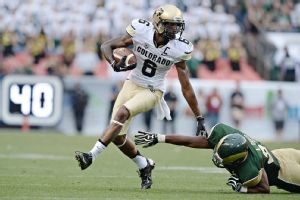 Ron Chenoy/USA TODAY SportsColorado will have a hard time replacing the explosive plays that Paul Richardson provided.
Leaving:
Paul Richardson
, WR, Colorado
The replacement:
It was probably going to be
Jeff Thomas
before he transferred. Now it's probably going to be a rotation of
D.D. Goodson
,
Devin Ross
, or redshirt freshmen
Bryce Bobo
or
Elijah Dunston
.
Nelson Spruce
has been solid, but he's not the breakaway threat Richardson was. This will be a key spring battle to watch.
Leaving:
Xavier Su'a-Filo
, OL, UCLA
The replacement:
Simon Goines
should be back after starting six games at left tackle before an injury forced him out.
Scott Quessenberry
stepped in and played five games at left guard, which is where he'll likely be next season with Goines back at tackle.
Leaving:
Dion Bailey
, LB, USC
The replacement:
Leon McQuay III
saw some playing time and is very highly regarded by the coaching staff. His contributions last season were mostly on special teams, but he'll take on a larger role with Bailey's departure.
Leaving:
Marqise Lee
, WR, USC
The replacement:
Remember
George Farmer
? He's still around and could be in for a big season if healthy.
Darreus Rogers
and
Steven Mitchell
both are promising, but both have missed time with injury. You never truly replace a Biletnikoff winner, but playing opposite a surging
Nelson Agholor
could help boost the production of whoever gets in the regular rotation.
Leaving:
George Uko
, DT, USC
The replacement:
Transfer
Delvon Simmons
is coming off a redshirt season, as is freshman
Kenny Bigelow
. Both should get some serious looks, as this will be one of the hot position battles this spring. Someone will ultimately win the job, but expect a rotation with both next season.
Leaving:
Marcus Martin
, C, USC
The replacement:
Lots of ifs here. It could be
Max Tuerk
moving over from guard, but he'll also be in the mix for right tackle to replace
Kevin Graf
.
Khaliel Rodgers
redshirted and is an option at guard or center.
Giovanni Di Poalo
could also get a look.
Leaving:
Xavier Grimble
, TE, USC
The replacement:
Grimble and
Randall Telfer
were basically co-starters, so all this probably means is Telfer's workload increases as he becomes the clear No. 1.
Jalen Cope-Fitzpatrick
is the only other scholarship tight end on the roster.
Leaving:
Jake Murphy
, TE, Utah
The replacement:
Westlee Tonga
seems like the logical fit. He has been around for a few years and has some experience, but was injured most of last year. He'll get another opportunity to be the lead tight end in the newest installment of Utah's offense.
January, 16, 2014
Jan 16
11:00
AM PT
While a number of big-name players opted to stick around for another year of Pac-12, most notably Oregon QB
Marcus Mariota
, UCLA QB
Brett Hundley
and Oregon State QB
Sean Mannion
, the conference was hit hard by early defections.
Here's the complete list of Pac-12 players who entered the NFL draft despite remaining eligibility.
Ka'Deem Carey
, RB, Arizona
Carl Bradford
, LB, Arizona State
Brendan Bigelow
, RB, California
Richard Rodgers
, TE, California
Khairi Fortt
, LB, California
Kameron Jackson
, CB, California
Viliami Moala
, DT, California
Paul Richardson
, WR, Colorado
De'Anthony Thomas
, RB/WR, Oregon
Colt Lyerla, TE, Oregon (was kicked off the team in October)
Terrance Mitchell
, CB, Oregon
Brandin Cooks
, WR, Oregon State
Scott Crichton
, DE, Oregon State
David Yankey
, OG, Stanford
Cameron Fleming
, OT, Stanford
Ed Reynolds
, S, Stanford
Xavier Su'a-Filo
, OG, UCLA
Dion Bailey
, LB, USC
Marqise Lee
, WR, USC
George Uko
, DT, USC
Marcus Martin
, C, USC
Xavier Grimble
, TE, USC
Jake Murphy
, TE, Utah
Bishop Sankey
, RB, Washington
Austin Seferian-Jenkins
, TE, Washington
January, 2, 2014
Jan 2
11:30
AM PT
This is the end, beautiful friend. This is the end, my only friend, the end.
October, 1, 2012
10/01/12
11:47
AM PT
[+] Enlarge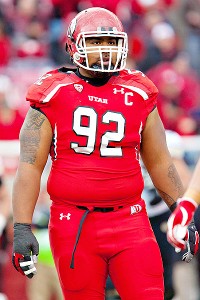 Russ Isabella/US PresswireUtah's Star Lotulelei, a potential top five pick in the 2013 NFL draft, anchors Utah's defense.
USC (3-1, 1-1 Pac-12) vs. Utah (2-2, 0-1 Pac-12)
Time:
Thursday, Oct. 4, 6:00 p.m. PT
Location:
Rice-Eccles Stadium, Salt Lake City, Utah
TV:
ESPN
Radio:
ESPNLA 710
Scouting Utah:
Eighth-year head coach Kyle Whittingham's Utah squad, rested after a bye, is coming off a 37-7 loss at Arizona State in its Pac-12 opener two weeks ago. That came a week after upsetting No. 25 BYU at home, 24-21. Senior QB
Jon Hays
(40-of-68, 58.8%, 467 yards, four TDs, one interception in 2012) has taken over for junior QB Jordan Wynn (25-of-38 passing, 65.8 completion percentage, 247 yards, two TDs, one interception), who had his second straight season cut short by a shoulder injury (the fourth of his career) when he was injured against Utah State. Hays is 7-4 starting in place of Wynn, who retired after throwing for 4,637 yards and 33 touchdowns. Senior RB
John White
(65 carries, 233 yards, 3.6 yards per carry, one TD; five receptions for 36 yards) is the top runner, while senior WR
DeVonte Christopher
(nine receptions, 83 yards, plus four kick returns for 98 yards), sophomore WR
Dres Anderson
(eight receptions, 116 yards, one TD) and sophomore TE
Jake Murphy
(nine receptions, 91 yards, 10.1 avg, two TDs) are among the featured pass-catchers.
The Utes' defense, which is tied for 25th in sacks per game (2.8, sixth in Pac-12), is led by senior DT
Star Lotulelei
(19 tackles, four for loss, one sack, two forced fumbles in 2012), who was an All-Pac-12 first team pick in 2011 when he won the Pac-12's Morris Trophy. Lotulelei is aided by junior LB
Trevor Reilly
(25 tackles, four for loss, 2.5 sacks, one fumble recovery) and senior LB
Dave Fagergren
(23 tackles, one for loss). Senior punter
Sean Sellwood
(47.8 avg) is second nationally in punting.
-- Courtesy USC sports information
2013 TEAM LEADERS
| TEAM | RUSH | PASS | TOTAL |
| --- | --- | --- | --- |
| Offense | 174.2 | 218.1 | 392.3 |
| TEAM | PF | PA | MARGIN |
| Scoring | 28.5 | 21.3 | 7.2 |