April, 24, 2012
4/24/12
6:27
AM PT
By
Pedro Moura
| ESPNLosAngeles.com
USC basketball's offseason won't compare to UCLA's, with the Bruins adding on big-time recruits Kyle Anderson, Shabazz Muhammad and Tony Parker, but the Trojans will also be a heck of a lot better in 2012-13 than they were in 2011-2012.

Of course, it doesn't take a lot to be a lot better than 6-26. But 15 wins is probably the baseline for next season's Trojans team, with 20 victories and NCAA tournament contention both legitimate possibilities. To that end, here is a projection of USC's 2012-2013 roster and lineup, taking into account the Trojans' remaining scholarship slot, which stands to be used on a transfer, probably a wing player of some sort.

That could very well be former Tennessee forward Renaldo Woolridge, who's visiting USC for the second time this weekend. So we took the liberty of including him here. It also could not, as the Trojans continue to pursue other prospects.

But here is the projected 2012-2013 lineup and, in basic order of contribution to the team, the bench. We provide brief comments on each player:


March, 1, 2012
3/01/12
11:06
PM PT
By
Pedro Moura
| ESPNLosAngeles.com
LOS ANGELES -- Almost everything about the USC basketball team's 2011-2012 season has been a full-fledged disappointment, from the Trojans' 6-24 record to the injuries that have ravaged the squad to downright embarrassing attendance numbers at the Galen Center.

Then there's freshman Byron Wesley, who continues to be the lone bright spot in a very dark canvas. The 6-5 guard set another career-high on Thursday in the Trojans' 80-58 loss to Washington, scoring a game-high 23 points on 10-of-18 shooting.

"If there's anything good about our season," USC coach Kevin O'Neill said after Thursday's game, "it's that this guy is really becoming a guy that's going to be hard to reckon with going forward in this league."

Wesley could now finish the season averaging double-digit points per game with strong performances in the regular-season finale against Washington State on Saturday and the Pac-12 tourney.

In his first five games, the Rancho Cucamonga native averaged 4.2 points per game. In his last five, he's putting up 18.4. He's also shooting 51 percent (37 of 72 attempts) in his last five compared to 27 percent (9 of 33) in his first five.

It's not hard to see the improvement.

Said O'Neill: "He is taking advantage of his opportunity, and good players do that."

Forward Garrett Jackson added 14 points for the Trojans. Washington's Terrence Ross led the Huskies with 18 points and forward Darnell Gant, an L.A. native, had 14 and a game-high nine rebounds.

Player of the game: Wesley was clearly USC's top performer; center James Blasczyk did have a career-high 10 points but only added three rebounds in his 33 minutes.

"This guy's becoming a premier player in this league," O'Neill said of Wesley.

Ross shot 8-of-13 from the field on his way to his 18 points. O'Neill said he looked at him as a prototypical NBA shooting guard, as long as he continued to improve his defense.

A sophomore, Ross is rated by most NBA draft prognosticators as a likely first-round selection in June's NBA draft if he chooses to declare.

Stat of the game: Washington (21-8, 14-3 in the Pac-12) out-rebounded the Trojans 49-23, the 16th-straight time USC has been out-rebounded this season.

"We miss so many shots that people get a lot of defensive rebounds," O'Neill said. "They're bigger and stronger than us. We don't have the capability to out-rebound people this year."

The last time the Trojans had more rebounds than an opponent was December 29 on the road against Cal, when they somehow produced 38 rebounds to the Bears' 25.

Quote of the game: "Kevin O'Neill is a testament to good coaching. They have one game left and have lost a lot of tough games and he is still fighting. He has been fighting all season." -- Washington coach Lorenzo Romar

His Huskies locked up a share of the Pac-12 regular-season title on Thursday, but it was interesting that Romar took time to praise O'Neill's coaching abilities in his postgame press conference. The two men have been complementary of each other in their three shared years in the conference.

Final notes: Attendance at the Galen Center was announced at 2,763, the lowest-ever number for a Pac-12 game in the history of the facility...With Senior Day on Saturday, O'Neill said he might start his lone senior -- walk-on guard Eric Strangis -- in the 3 p.m. contest against Washington State. For that game, the first 2,000 fans in attendance will receive a Maurice Jones bobblehead...With a 1-16 Pac-12 record, the Trojans are now locked into the No. 12 seed for the Pac-12 tourney, meaning they will play the No. 5-seeded team at 2:30 p.m. PT next Wednesday.
February, 9, 2012
2/09/12
11:54
PM PT
By
Pedro Moura
| ESPNLosAngeles.com
LOS ANGELES -- For most of one half of Thursday night's game against Cal, lowly USC looked like it could actually compete against the class of the Pac-12 conference.

Buoyed by superb play from sophomore point guard Maurice Jones, the Trojans actually led, 23-19, with eight minutes to go in the first half. Then the Bears went on a 16-6 run to finish off the period, and USC was soon run out of its own building. Cal ended up outscoring the Trojans 40-20 in the second half and wound up with a 75-49 victory.

"I thought we played a pretty good first half," USC coach Kevin O'Neill said afterward. "But we have to do a better job of putting together two good halves of basketball."

USC (6-19, 1-11) has rarely done that this season, winning only two games since November and putting together only three consistent games in that span -- the two victories against Utah and TCU and a close loss at Washington State earlier this month.

"It just feels like a re-run," said Jones, who led the Trojans with 17 points in 29 minutes.

Cal was led by Allen Crabbe, who had 19 points on 8-of-12 shooting. Senior forward Harper Kamp added 18 points.

Byron Wesley had 11 points for the Trojans for his third straight double-digit point game.

Player of the game: Jones had a great game, scoring his 17 points on 8-of-13 shooting and turning the ball over just once. And his numbers would likely have been better had he not missed a significant stretch of the second half because of a cut on his left hand that bled.

Plus-minuses aren't kept for NCAA games, but Jones' was clearly the best on the team. Cal took advantage every time he was out of the game, including for three-plus minutes in the first half when he picked up two fouls.

"When Mo's not in there, we don't function very well," O'Neill said. "Not that we function at a high level when he is in there. But when he's not in there, it's difficult for us.

"We're asking too much of Mo."

Said Jones of his teammates' struggles when he was out of the game: "You can't blame them. They're all new to this."

Stat of the game: USC was out-rebounded 41-28 by the Bears, and Cal got a third of the available boards when on the offensive end.

O'Neill said Cal's big men were overwhelming in that department, with USC's James Blasczyk and Garrett Jackson combining for only 12 rebounds. The Bears' David Kravish, on the other hand, had 18 on his own.

"No matter what size you have, if you don't gang rebound, you're not going to rebound well," O'Neill said. "The bottom line is, those guys are more experienced and they're better and us on the front line.

"And it showed tonight. It really did."

Quote of the game: "There was a level of frustration a long time ago." -- Jones

The 5-7 guard was asked after Thursday's game if he sensed a certain level of frustration creeping into the team's mentality following another blowout loss at the hands of a conference opponent.

His answer was quick, sharp and delivered without a hint of a smile, although it elicited laughs in those he was speaking to.

Final notes: USC's two starting forwards, Jackson and Wesley, combined to shoot 7-of-31 from the field, good for a 23-percent mark...Crabbe, a product of L.A. Price High, had a contingent of two dozen or so family members in attendance at the Galen Center (announced crowd: 3,707), who cheered wildly for every one of his eight made shots...O'Neill told the Trojans not to come into the arena at any cost on Friday, giving the players a full, no-strings-attached day off Friday before prepping for Sunday's game against Stanford on Saturday.
January, 4, 2012
1/04/12
9:22
PM PT
By
Pedro Moura
| ESPNLosAngeles.com
Ever wonder how 7-footers fit in airplanes?

It's tough. First class is generally the only way to do it comfortably, and sitting in economy can lead to some weird and uncomfortable situations.

But the circumstances USC forward Dewayne Dedmon dealt with Saturday are perhaps some of the weirdest on record. As he tells it, he was sitting in an aisle seat near the back of a commercial flight that departed from the Bay Area late Saturday night -- New Year's Eve.

In late November, Dedmon suffered a stress injury to his right foot that was supposed to keep him out until right around this time, but he returned after missing only one game and hasn't appeared particularly hurt on the court since. But, while he is permitted to play by school doctors, he is often required to wear a boot on the foot when off the court to stabilize the injury and prevent it from getting worse.

So, as USC (5-10, 0-2 in the Pac-12) flew home from Stanford on Saturday, where the Trojans lost 51-43 to the Cardinal, Dedmon was wearing the boot in the aisle seat and was apparently causing some significant trouble for the flight attendants on board the plane.

Why? Because the booted foot -- coupled with his large frame, of course -- was unable to be fit inside the normal confines of the seat, which prevented the stewards from doing their job.

"You know how they bring the carts up?" Dedmon recounted Wednesday after the Trojans practiced in preparation for Arizona State. "She was stopping the cart because she couldn't pass me. And she was just walking up the aisles handing some people their drinks.

"And so, before the flight ended, she got on the intercom and said, "I'm sorry for anybody that didn't get their drinks. We have an overly large man with a broken foot on our flight."


November, 10, 2011
11/10/11
7:21
PM PT
By
Pedro Moura
| ESPNLosAngeles.com
Let's get this out of the way, first off: 22-year-old USC forward Dewayne Dedmon is like nothing you've ever seen before.

Not necessarily better than anything you've ever seen, just different – significantly different.

He's 7 feet tall, having grown four full inches between ages 18 and 21. He's 255 pounds, having also gained upwards of 50 pounds in that same span.

And now for the weird but true, in progressive order: He's the second-fastest player on the USC basketball team, coming in behind only 5-6 point guard Maurice Jones. He can play point guard in a pinch, Trojans coach Kevin O'Neill says. And, maybe the craziest statistic of them all: Counting exhibitions and summer league games and everything with an official and a game clock, he's played in fewer than 100 organized basketball games in his life.

Truthfully, the last four years of Dedmon's life – basketball-wise, at least -- have had to take the place of most kids' entire adolescence, and probably more. He didn't start playing organized basketball until he was 18 years old, and, even then, he didn't play much at all until his second year of junior college.

And even then, he broke a bone in his forehead two months into the season and sat out a month. Now, 11 months since he arrived at USC, he's finally almost fully healthy, having broken a bone in his shooting hand a less than a week into practice this October. He had to wear a gigantic makeshift cast on his right hand to be able to take part in practices until Tuesday of this week, when he had the thing removed once and for all.

He's not pain-free, but he's cast-free, and that's a big step.

"This is how I explain him: He's 7-foot and he runs like a deer," says Jio Fontan, the USC basketball team's captain, likely out for the 2011-2012 season with a torn ACL. "I tell people all the time, if you saw him in jogging pants just walking into the gym and asked him to shoot a jump shot, he's gonna show you he's a little different.

"He shoots the ball like a guard, plain and simple. But give him time. Understand that not only has he not played that many years of basketball, but he's also just coming off sitting a whole year out.

"He's gonna be special. It's just gonna take time."

The thing is, USC doesn't have any time. Dedmon's first major college game is Friday at 8 p.m. against Cal State Northridge, the Trojans' 2011-12 season opener. It'll be his first real game since February 2010. And O'Neill needs him to be the team's No. 2 scorer and No. 1 rebounder in order the Trojans to have any real chance of getting back to the NCAA tournament this season.

It's unlikely, but that's what everyone said last year at this same time. And USC ended up finishing with 19 wins and sneaking into the First Four of the tourney.

Then the Trojans lost top scorer Nikola Vucevic to the NBA draft, starters Alex Stepheson, Marcus Simmons and Donte Smith to graduation and Fontan to injury. The question now is whether O'Neill can manage his new, similarly patchwork squad to similar heights.

Let's break it down, splitting it up by backcourt and frontcourt:


October, 15, 2011
10/15/11
8:20
PM PT
By
Pedro Moura
| ESPNLosAngeles.com
Around this time last year, USC Trojans basketball coach Kevin O'Neill made a prediction for his team's fate for the upcoming season that proved exactly true over the course of the year.

Forwards Nikola Vucevic and Alex Stepheson, O'Neill said last October, would carry the Trojans throughout the 2010-2011 season. They might carry them up, he implied, or they might carry them down, he didn't know for sure -- but he knew they would carry them.

Vucevic had an unexpectedly good year, vaulting himself into the first round of the NBA draft and the team into the first round of the NCAA tournament; Stepheson was effective but nowhere near dominant. And so the Trojans lost to Virginia Commonwealth in that first round, ending their seasons prematurely.

As the USC Trojans began practice Friday, seven months after the VCU loss and two months since they had last officially convened as a team in advance of the exhibition trip to Brazil, it was clear things had changed.

The fate of the 2011-2012 version of the Trojans will also depend on two players, O'Neill again says. But this time it's an all new cast of characters: Maurice Jones, who counts as one of the two, and forwards James Blasczyk, Dewayne Dedmon and Aaron Fuller, as O'Neill groups the trio together as one general 'big man.'

With supposed senior leader Jio Fontan likely out for the season with a torn ACL, those two -- er, four -- will determine just about everything with this team this year.

"What we do down the middle of the court, point guard and inside, is going to decide how good we're gonna be," O'Neill said Saturday, after the Trojans' second official practice of the season.

Moving Jones to point guard indicates an increased sense of confidence in him from O'Neill. The 5-7 sophomore was slated to play off guard this season alongside Fontan, and, when Fontan went down in Brazil, O'Neill indicated that freshman Alexis Moore would slide up into the point guard spot and Jones would stay off the ball.

That's changed.

"Mo's going to play the point," O'Neill said Saturday. "I don't know what it's going to do, but he's going to play the point."

Part of that is Jones, who noticeably talks and acts much more like a leader than he did last season, as a true freshman some 2,000-plus miles away from home in Michigan. And part of that is Moore, who proved over the last two months to be a risky proposition as an immediate starter.

"I just feel like it's too much pressure for him to be the starting point guard," O'Neill said. "He's going to play some point, obviously. And we're running what is probably going to be a two-guard offense, but I just don't want the pressure to be on him.

"I don't think he's ready for that yet."

Jones played the point at the start of his freshman season and had some great games, including a memorable 29-point performance in his second college contest. But his numbers tapered off toward the end of the year, and he was supplanted in the starting lineup late in the year as he began to show on-court signs of weariness.

But he's this team's No. 1 scoring option this season. USC is going to run its offense around him. And that's where the decision to move him back in control of the ball comes from.

"I'm trying to devise ways for Mo to score when he's on the ball and ways when he's off to get it back to him," O'Neill said."I think he's a special player, and I think he'll find a way."

Either he'll find a way, or the Trojans won't find theirs, either.
August, 15, 2011
8/15/11
7:48
PM PT
By
Pedro Moura
| ESPNLosAngeles.com
Senior point guard Jio Fontan nearly led the Trojans to a comeback victory in their second game of a 10-day Brazil trip Monday, scoring 28 points as they fell 87-81 to Sao Jose dos Campos, a first-division Brazilian pro team.

Fontan got into early foul trouble in the second quarter as USC trailed by double-digits but came back to put up a barrage of points in the third and fourth periods, as the game was played by international rules. The margin got as close as four points late in the fourth.

The game was originally intended to be a scrimmage, which would've allowed newcomers Alexis Moore, Greg Allen and Byron Wesley to take part in their first official competitions as Trojans. But USC coach Kevin O'Neill and his staff made a decision earlier Monday to play an official game, which kept the trio out until at least Tuesday, when summer-school grades are posted by the school.

"If we wouldn't have played a bad second quarter, we would've won the game," O'Neill said by phone from Sao Paulo. "We just didn't have enough juice, playing a back-to-back and playing without Byron, Alexis, and Greg.

"The team we played today was very, very good."

Other top performers for the Trojans included guard Maurice Jones, who scored 20 points, and forward Garrett Jackson, who scored 11 points and added 10 rebounds for his second-straight double-digit day on the boards. 7-footers James Blasczyk and Dewayne Dedmon again had trouble adjusting to the international style of play, combining for just 13 points and 14 rebounds. Dedmon did add four blocks.

But Fontan, the 6-foot Fordham transfer who was the Trojans' second-leading scorer last season, was USC's most dominating player for the second straight game in Brazil. On Sunday, in the exhibition opener, he had 29 points in leading the team to a nine-point victory over a second-division pro team in Sao Paulo.

"He's really stepped his game up," O'Neill said of Fontan. "He's in much better shape. He's got a little experience now, and he's played very, very well.

"He's played like you want your captain to play."

USC now has games scheduled for Tuesday and Wednesday in Sao Paulo and then one more in Rio de Janeiro on Friday, O'Neill said.
July, 29, 2011
7/29/11
12:35
AM PT
By
Pedro Moura
| ESPNLosAngeles.com


So it's not Midnight Madness, or even October.

But USC's taking advantage of a special allotment of 10 NCAA-allowed practices leading up to a trip to Brazil next month, beginning with an intense 2.5-hour session Thursday on the upstairs courts at the Galen Center.

Why the upstairs?

The band Blink-182 has the main arena court occupied for the next few days while it prepares for a nationwide tour beginning next week.

As for the basketball being played, the Trojans were sharp -- or about as sharp as you could expect three months prior to the 2011-2012 season opener. Newcomers Alexis Moore, Byron Wesley, Greg Allen and James Blasczyk weren't asked to do too much, only to give full efforts, Trojans coach Kevin O'Neill reminded them constantly.

And they did so. Moore, a 6-2 guard from Long Beach Poly, looked particularly well-rounded for a 17-year-old, displaying a smooth-to-20-feet jump shot, a solid handle and on-the-ball smarts. Blasczyk, the backup to fellow 7-foot phenom Dewayne Dedmon, ran the court with energy and rebounded well.

"It's been good, just getting to see them early on and getting them a chance to play," guard Jio Fontan said Thursday of the special practices. "For the freshmen, it's big. They get to play a little earlier than the rest of the freshmen around the country, so that'll help them out a lot."

All four newcomers plus six returners will make the trip to Brazil from Aug. 12-21. Incoming transfers Ari Stewart (Wake Forest) and Eric Wise (UC Irvine) will not be able to join them and cannot participate in the 10 special practices. Both players sat on the sidelines and watched the entire session, Stewart taking a ball onto the court and shooting on his own during a few water breaks.

USC will play at least three games in Brazil, against NBB squads Bauru, Paulistano and Flamengo. The Trojans are also attempting to schedule a scrimmage against the Brazilian national team for the in-between time. But O'Neill expects his team to lose most, if not all, of the games in South America. His 17-to-22-year-old players will be going head-to-head with players well into their 20's and 30's.

It's these times here in L.A. he's savoring.

"The practices are the most important part, and then we're going to get to play against some pro competition down there, which should be a very humbling experience for our team," O'Neill said Thursday. "If we lose every game we have in Brazil, I'll be cool with it, as long as we play hard and play our best."

The longest-tenured player on the USC team is now redshirt sophomore forward Evan Smith, the only member of the 2009 recruiting class who didn't ask for his release when Tim Floyd resigned that summer. But he's only played in seven games as a Trojan and scored 13 total points. Sophomore Maurice Jones leads the team in games played in a USC uniform with 34, one season's worth.

"This is the first time, since I've been here, that all the guys on the team are K.O.'s recruits," said Fontan, a Fordham transfer who arrived in December 2009, midway through O'Neill's first season on the job. "It's the beginning of a new era."

And, like little else in college basketball, it begins in July.
July, 4, 2011
7/04/11
8:36
PM PT
By
Pedro Moura
| ESPNLosAngeles.com
With the arrival of former Wake Forest forward Ari Stewart over the weekend, all three of USC's transfers in the class of 2011 are now on campus and officially in the program.

Stewart joined former UC Irvine forward Eric Wise and ex-Texas jucos Greg Allen and James Blasczyk as transfers, although both Allen and Blasczyk will be eligible to compete this season and Wise and Stewart won't be eligible until 2012-2013.

A 6-7, 205-pound forward, Stewart averaged 8.5 points and 4.4 rebounds for the Demon Deacons a year ago. Wise, an undersized 6-5, 230-pound power forward, was Irvine's leading scorer and rebounder as a junior -- putting up averages of 16.3 points and 8.1 rebounds.

Allen averaged roughly 12 points per game and shot 38 percent from 3-point range and 86 percent from the free-throw line last season at Navarro College. Blasczyk, a 7-1 center, didn't play basketball at Lee College last season after playing sparingly his freshman year at Texas A&M and then redshirting his sophomore season.

USC will have 11 scholarship players available next season, with Wise and Stewart then available the next year: guards Jio Fontan, Maurice Jones, Alexis Moore, Byron Wesley and Allen, forwards Garrett Jackson, Curtis Washington, Aaron Fuller and Evan Smith and centers DeWayne Dedmon and Blasczyk.

Only Fontan will be a senior of that group, and he'll have the ability to petition the NCAA for an additional year of eligibility if he so desires.
March, 18, 2011
3/18/11
1:37
PM PT
By
Pedro Moura
| ESPNLosAngeles.com
Oftentimes the best way to judge a season is in comparison to the one just before it.
Did the team improve? Did it decline? Did it stay the same?
From that perspective, the 19-15 year that
Kevin O'Neill
and the Trojans finished with this season has to be deemed a success, despite their quick first-round exit from the NCAA Tournament with Wednesday's 59-46 loss to Virginia Commonwealth. They finished 16-14 last year.
"I don't want to take away from what this team did this year," O'Neill said. "Nobody should."
[+] Enlarge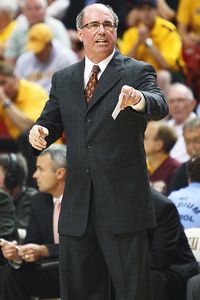 Doug James/Icon SMIKevin O'Neill is proud of the Trojans' success this season.
At the end of the day, though, how you finish is often what people remember most, so the loss will most certainly take away from the Trojans' accomplishments this year. Still, when evaluating the team's progress, it's as simple as this: USC was slightly better this season than last. The records will tell you that, the film will tell you that, and most in-depth statistical analysis will tell you that also.
The difference came because of USC's late-season run in conference games, winning five of its last six. Because of that, the Trojans were a good amount improved when it came to Pac-10 play this season, improving by two full games off of last year's pace.
Perhaps that's because the Pac-10, overall, declined. More likely, though, it's because USC stayed motivated throughout the 18-game conference schedule and didn't get discouraged halfway through like the Trojans did last year because of sanctions that banned them from postseason play.
At one point, things looked like even worse than last year, with the team 5-7 in conference after a home loss to Oregon in mid-February. But two straight wins in the Bay Area -- the rarity of all rarities for the Trojans -- followed, and soon they were in business again. They swept the Arizona schools at home, split a road trip to Washington and got to the semifinals of the Pac-10 tournament with a win over Cal.
That was literally just enough to get them into the NCAA Tournament, as they snuck in as one of the last teams in, a First Four team in the inaugural edition of the First Four. And they were quickly eliminated.
It's remarkable enough in itself that USC managed to do that, but it's even more remarkable considering the circumstances, with O'Neill suspended just before the Arizona semifinal game because of an altercation with a booster. And the sanctions, of course, which continue to affect scholarship limits and affected recruiting days in the past.
Because of all those things, O'Neill is quite proud of his team's success this year.
November, 10, 2010
11/10/10
5:56
PM PT
By
Pedro Moura
| ESPNLosAngeles.com
On the first day of the early signing period, USC announced that three class of 2011 recruits sent in their signed letters of intent Wednesday to officially join the next Trojans recruiting class.

The three -- guard/forward
Byron Wesley
(Fontana, Calif./Etiwanda), guard
Alexis Moore
(Long Beach, Calif./Long Beach Poly) and center
James Blasczyk
(Friendswood, Tex., Lee College) -- had all committed to the Trojans over the past several months.
"I am really, really excited about the class of 2011-2012," coach
Kevin O'Neill
said in a statement. "These guys will help stabilize our program and will serve as the beginning of us leaving all this negativity behind. Every one of these guys ts what we are looking for in players in terms of being good people, good students, and good athletes."
Wesley, at 6 feet 5, 210 pounds, is physically more mature than current freshman
Bryce Jones
, a similarly dominant L.A.-area wing in the class of 2010. But Jones had a more developed offensive game when he signed with the Trojans last November. Still, Wesley is regarded as among the cream of the crop in the state of California for the 2011 class.
The 6-2, 180-pound Moore, a likely point guard at the college level, isn't a particularly adept scorer either but is known as a stat line-filler. As a junior in the 2009-2010 season, he averaged 9.8 points, 4.9 assists, 4.6 rebounds and 1.8 rebounds per game.
Blasczyk, a 7-1, 260-pound center, played a total of 20 minutes while appearing in 13 games as a redshirt freshman at Texas A&M last season but averaged 14.6 points and 9.7 rebounds per game as a high school senior in 2007-2008.
Also considered parts of the Trojans' 2011 recruiting class are current forward
Aaron Fuller
, an Iowa transfer who is practicing with the team this season but can't suit up until next year, and junior college center
DeWayne Dedmon
, a 7-footer who is expected to enroll at USC in January.
2014 TEAM LEADERS
| TEAM | RUSH | PASS | TOTAL |
| --- | --- | --- | --- |
| Offense | 189.3 | 273.4 | 462.7 |
| TEAM | PF | PA | MARGIN |
| Scoring | 35.6 | 23.1 | 12.4 |