June, 25, 2014
6/25/14
9:00
AM PT
It's time to start our preseason position reviews. Please, hold your applause until we are finished.
Here's how we do this: We provide three evaluative categories: "Great shape," "Good shape" and "We'll see."
Hint: You'd prefer your team to be in "Great shape."
"We'll see" doesn't mean you're going to stink at said position. It means just what it says -- we'll see because there's no way at present to know.
You can
review last year's rankings here
.
And away we go ... starting, of course, with quarterback.
GREAT SHAPE

Oregon
: Junior
Marcus Mariota
is -- again -- a leading Heisman Trophy candidate and a two-time first-team All-Pac-12 performer. He would have been an early-round NFL draft pick this spring if he'd opted not to return. The Ducks have some questions at receiver though.

UCLA
: Junior
Brett Hundley
is the conference's No. 2 Heisman Trophy candidate. While Arizona State's
Taylor Kelly
eclipsed him for second-team All-Pac-12 last fall, Hundley's tremendous upside is why he has NFL scouts eagerly awaiting his entering the draft.

Arizona State
: As noted, Kelly was the Pac-12's No. 2 QB last season, which means he was one of the nation's best at the position. It also helps his cause that he's got WR
Jaelen Strong
, an All-American candidate. However, Kelly does need to take fewer sacks -- you could say the same for Hundley -- and throw fewer interceptions.

Oregon State
:
Sean Mannion
ranked second in the nation with 358.6 yards passing per game in 2013 and is also an NFL prospect. Life might be just a bit harder in the passing game without
Brandin Cooks
.
GOOD SHAPE

Stanford
:
Kevin Hogan
, a third-year starter, had a good but not great sophomore season while leading the Cardinal to the Pac-12 championship. He was mostly efficient and showed a good touch downfield, but he made some surprisingly bad decisions and needs work with his intermediate passing game. He's got a good crew of veteran receivers coming back, which bodes well for him.

Washington State
:
Connor Halliday
threw for a bunch of yards (4,597) and TDs (34) last season, but he also tossed way too many interceptions (22). Part of that was an inconsistent O-line and a neglected running game. The good news is he's in his third year under Mike Leach and has a strong crew of returning receivers. Of all the Pac-12 QBs, he might make the biggest climb this season.

USC
:
Cody Kessler
didn't put up big numbers last season and didn't beat Notre Dame or UCLA but significantly improved after Lane Kiffin was fired. Like Kelly, he's got an A-list target coming back in WR
Nelson Agholor
. We expect Kessler to thrive with a new, up-tempo scheme under Steve Sarkisian.

Utah
: Utah received good news yesterday when 16-game starter
Travis Wilson
was medically cleared to play. When healthy, Wilson has been a solid performer with good upside. He'll have to fight off a challenge this preseason from Oklahoma transfer
Kendal Thompson
though.

California
:
Jared Goff
averaged 292 yards passing per game as a true freshman. That's good. But the Cal offense struggled to do much else but throw the ball between the 20s -- hence a conference-worst 23 points per game. He had just 18 TD passes on 531 attempts. Still, he flashed potential and has a very good crew of receivers coming back.

Colorado
:
Sefo Liufau
became the Buffaloes' starter at midseason and often played like the true freshman he was. Furthermore, he won't have
Paul Richardson
serving as a safety blanket and making big plays for him. Still, Liufau's baptism by Pac-12 fire provided some seasoning that was evident this spring. The Buffs feel pretty good about having a returning starter behind center.
WE'LL SEE

Washington
: While
Cyler Miles
flashed potential last season coming of the bench for Keith Price, logging a road victory at Oregon State in his first start, he also had
an off-field issue that has muddied the waters at QB for the Huskies
. It remains to be seen how quickly Miles emerges from Chris Petersen's doghouse, and if he can beat out
Jeff Lindquist
and
Troy Williams
.

Arizona
: The Wildcats have
no clear frontrunner in their QB competition
. That's the bad news. The good news is the performances this spring were generally solid. Rich Rodriguez believes he's got a couple of guys who can win games for him. He's just not sure which guy is No. 1 between
Jesse Scroggins
,
Connor Brewer
,
Anu Solomon
and
Jerrard Randall
.
June, 6, 2014
6/06/14
9:00
AM PT
This week, we've looked at the worst offenses and defenses in the Pac-12 in 2013 and speculated on which is most likely to take a step forward this fall.
We broke things down. Now it's your turn to pick which team you think is headed for better things in 2014.
We polled defense Thursday
, and now it's time for offense.
Here's the
North Division offensive breakdown
. And
here's the South
.
Here's the North Division graphic.
And here's the South.
There is one problem.
Our poll tool only allows for five choices, so obviously one team must be eliminated. So goodbye to Stanford, which played pretty good offense last fall and is replacing four O-line starters as well as running back
Tyler Gaffney
. Our expectation -- and we're forcing it down your throats! -- is the Cardinal might score a few more points per game in 2014 because of an improved passing attack, but Stanford isn't a team that obsesses about scoring more than, say, 35 because it pretty much plays to its defense in the fourth quarter.

So who might improved the most?
California welcomes back pretty much its entire unit, and it should benefit from true sophomore QB
Jared Goff
and company having a full year in Sonny Dykes' system.
Washington State scored 31 points per game last season, and with a bevy of talent back to run Mike Leach's Air Raid offense, this could be the Cougars' breakthrough year. After his first season at Texas Tech, Leach's offenses averaged more than 35 points per game in eight of the next nine seasons, three times eclipsing the 40-point threshold.
While USC is adopting a new, up-tempo attack under new coach Steve Sarkisian, the Trojans have plenty of talent and could pile up points. The only question is the O-line.
Just like USC, Utah and Colorado welcome back their starting quarterbacks -- assuming that Utes QB
Travis Wilson
gets a clean bill of health. The Buffaloes have to figure out how to replace wide receiver Paul Richardson's production, while the Utes should greatly benefit from the return of wide receiver
Kenneth Scott
, who missed the 2013 season with a knee injury.
So, which team do you think shows the most improvement on offense in 2014?
February, 24, 2014
2/24/14
4:00
PM PT
Spring has sprung in the Pac-12
, with Stanford starting spring practices this week and several schools following suit next week.
Ergo, we break down where teams stand with each position group, starting with quarterbacks.

Arizona
: The Wildcats probably have the most wide-open QB competition, with four guys having a legitimate chance to replace the departed
B.J. Denker
. Three are transfers from big-time programs: senior
Jesse Scroggins
(USC), sophomore
Connor Brewer
(Texas) and junior
Jerrard Randall
(LSU). The fourth, redshirt freshman
Anu Solomon
, was one of the biggest stars in the 2013 recruiting class. Don't expect much to be settled by the end of spring, though coach Rich Rodriguez might at least allude to some sort of pecking order. Or a top three.

Arizona State
: The Sun Devils are strong at QB with senior
Taylor Kelly
, a third-year starter who has put up big numbers the past two seasons, and junior
Mike Bercovici
, a big-armed backup -- perhaps, in fact, the best backup in the Pac-12. That's why
Michael Eubank
opted to transfer to Samford in Birmingham, Ala. It will be interesting to see which of the youngsters on the roster emerge as a No.3, a guy who might challenge Bercovici in 2015.

California
: It seems unlikely that sophomore
Jared Goff
will be unseated, particularly after
Zach Kline
opted to transfer. Goff was uneven last season -- his entire team was -- but flashed plenty of potential. He and a talented crew of receivers should get better this spring. The big question might be whether anyone challenges senior
Austin Hinder
for the backup job.

Colorado
: Sophomore
Sefo Liufau
is solid as the returning starter. He took some lumps last season but also flashed plenty of promise -- as both a player and leader. After him, there's junior college transfer
Jordan Gehrke
, a redshirt sophomore, the likely backup. Depth is a problem, at least this spring. As the
Boulder Daily Camera noted
, "Five quarterbacks have left the CU program either to transfer to other schools or give up the sport entirely since the start of spring football last year. A sixth completed his eligibility last season." That's why the Buffs added walk-on Trent Sessions to the roster. He worked with the equipment staff last year.

Oregon
: The Ducks probably feel pretty good about their third-year starter, junior
Marcus Mariota
, a leading 2014 Heisman Trophy candidate who would have been a first-round pick if he'd entered the 2014 NFL draft. The competition for the backup spot, however, will be interesting because Mariota is almost certain to enter the NFL draft after the season. Sophomores
Jeff Lockie
and
Jake Rodrigues
are 2A and 2B, with Lockie first off the bench as the backup in 2013, but Rodrigues the more physically talented player as a runner and passer.

Oregon State
: Like their friends to the north, Oregon State is fortunate its 2013 starter,
Sean Mannion
, decided to return instead of entering the NFL draft. Mannion's chief focus will be finding some receivers to replace the production of the departed
Brandin Cooks
. The battle for the backup job also will be interesting between sophomore
Brent VanderVeen
and redshirt freshman
Kyle Kempt
. Of course, their battle might not resolve things much for 2015, with incoming Alabama transfer
Luke Del Rio
joining the fray after sitting out a season.

Stanford
: It seems unlikely that two-year starter
Kevin Hogan
will be challenged for the starting job this spring, even though he had some ups and downs in 2013, but there is no lack of talent battling for the backup job. Junior
Evan Crower
was the backup in 2013, but redshirt freshman
Ryan Burns
is a big-time talent. As is incoming freshman
Keller Chryst
, who officially will arrive in the fall but, as a Palo Alto resident, figures to hang around spring practices.

UCLA
: Heading into his third season running the offense,
Brett Hundley
gives the Bruins one of the best starting quarterbacks in the nation. He's a proven dual threat and leader who will be refining his game this spring and building chemistry with his receivers. After him, however, things are a bit iffy, in large part because of the 2013 preseason transfer of
T.J. Millweard
to Kansas. The chief competitors for the backup job are
Jerry Neuheisel
, the 2013 backup, and redshirt freshman
Asiantii Woulard
, with Woulard being the guy with the most future upside. Of course,
there is another QB out there
some UCLA fans might be thinking about.

USC
: The returning starter facing the most formidable challenge to his starting job this spring is probably
Cody Kessler
, even though Kessler played well in the second half of the 2013 season. With the transfer of
Max Wittek
, touted redshirt freshman
Max Browne
, at the very least, sets up to be a high-quality backup next season. But plenty of folks think Browne has a legitimate shot to unseat Kessler, particularly with new coach Steve Sarkisian taking over.

Utah
: There's still no final word on the long-term health issue that might end QB
Travis Wilson
's career, though you'd think something would be announced before the Utes begin spring practices on March 18. If Wilson gets cleared, the good bet is on him returning to the starting job. If not, a spring competition will begin between
Adam Schulz
, who stepped in when Wilson went down, and redshirt freshmen
Conner Manning
and
Brandon Cox
. In the fall, dual-threat QB
Donovan Isom
arrives.

Washington
:
Keith Price
, a three-year starter, is gone, but the Huskies seemed fairly set at QB with sophomore backup
Cyler Miles
appearing plenty capable of stepping into the cockpit this spring. In limited action last season, Miles completed 61 percent of his throws for 418 yards with four TDs and two picks, and he also showed good mobility, rushing for 200 yards. The pecking order at least seemed set, that is, until Miles got into some
off-field trouble that threatens his status for spring practice
and perhaps beyond. If Miles is still suspended, that means opportunity comes knocking for sophomore
Jeff Lindquist
or redshirt freshman
Troy Williams
to make an impression.

Washington State
:
Connor Halliday
will be a senior, three-year starter and the Cougars' top leader in the third season running Mike Leach's "Air Raid" offense. He figures to put up huge numbers this fall with a strong crew of receivers. His 2013 backup, sophomore
Austin Apodaca
, opted to transfer, perhaps believing that redshirt freshman
Tyler Bruggman
had the inside track to the starting job in 2015. Depth is a bit of a question, with the No. 3 this fall likely being true freshman
Peyton Bender
.
January, 14, 2014
1/14/14
8:00
AM PT
There were many remarkable performances in the Pac-12 this year. And some remarkably bad ones. Of course, one team rolling is another team getting rolled.
Here are some high & low lights of the 2013 season (conference games only).
And some of these are intriguing because they say the opposite thing.
Such as …
Worst rushing performance:
Washington rushed for negative-5 yards at Arizona State on Oct. 19 in a 53-24 defeat.
Best rushing performance
: Washington rushed for 530 yards at Oregon State in a 69-27 win on Nov. 23.
Best yards per rush
: Washington averaged 9.1 yards per carry at Oregon State.
Most points
: Washington at Oregon State.
Most rushing TDs
: The Huskies at seven rushing touchdowns at … well, you get the picture.
[+] Enlarge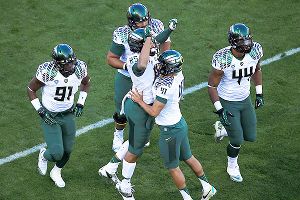 Doug Pensinger/Getty ImagesThe Oregon Ducks had plenty to celebrate when they piled up 755 yards against Colorado on Oct. 5.
Most yards
: Oregon gained 755 yards at Colorado on Oct. 5.
Most yards per play
: USC averaged 9.8 yards per play at California on Nov. 9.
Longest run
: USC running back
Javorius Allen
had a 79-yard touchdown run at Cal.
Longest pass
: Cal QB
Jared Goff
connected with
Chris Harper
for an 89-yard TD against Washington State on Oct. 5
Fewest pass completions
: Utah completed just six passes against Arizona State in a 20-19 defeat on Nov. 9.
Worst completion percentage:
Utes QB
Travis Wilson
completed 28.6 percent of his throws against the Sun Devils.
Best completion percentage
: Arizona's
B.J. Denker
completed 86.4 percent of his throws -- 19 of 22 -- against Oregon on Nov. 23.
Most interceptions
: Wilson threw six interceptions in the Utes 34-27 loss to UCLA on Oct. 3.
Shortest "long" pass in a game
: USC's longest completion against Washington State on Sept. 7 went for 8 yards.
Longest field goal
: Arizona's
Jake Smith
(vs. Cal) and Colorado's
Will Oliver
(vs. Arizona) both made 53-yard boots.
Longest punt
: Utah's
Tom Hackett
posted a 70-yard punt against Arizona State.
Best punt average in a game
: Cal's Cole Leiniger averaged 54.2 yards on four punts at Colorado.
Longest punt return
: USC's
Nelson Agholor
returned a punt 93 yards for a TD at Cal. He also had a 75-yard TD on a punt return in that game.
Longest kick return
: Stanford's
Ty Montgomery
went 100 yards for a touchdown at Utah on Oct. 12.
Most fumbles lost
: Cal lost four fumbles at Oregon on Oct. 28.
Most sacks allowed
: UCLA gave up nine sacks to Arizona State on Nov. 23.
Most sacks by a player in a game
: Both Arizona State's
Chris Young
(vs. UCLA) and Arizona's
Sione Tuihalamaka
(vs. Arizona State) had three.
Most penalties
: UCLA had 13 penalties for 100 yards at Utah.
Most penalty yards
: The Bruins had 122 yards in penalties -- on 11 flags -- against Colorado.
Touchdowns in one game
: Montgomery had five at California on Nov. 23 (four receiving, one rushing).
Most rushing yards in a game
: Washington's
Bishop Sankey
gained 241 yards against Cal.
Most passing yards in a game
: Washington State's
Connor Halliday
passed for 557 yards at Oregon. (Just don't remind Nick Aliotti).
Most passing touchdowns in a game
: Oregon State's
Sean Mannion
threw six touchdown passes against Colorado.
Most receiving yards in a game
: Oregon State WR
Brandin Cooks
had 237 yards receiving at Cal on 13 receptions.
Most receiving TDs in a game
: Montgomery had four against Cal.
November, 14, 2013
11/14/13
10:15
AM PT
Some storylines to keep an eye on this week in the Pac-12.
[+] Enlarge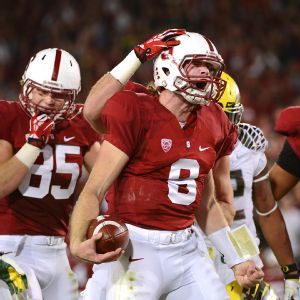 Kyle Terada/USA TODAY SportsKevin Hogan and Stanford control their North Division fate and play a dangerous USC team on Saturday.
North race
: Stanford is in the driver's seat. If it wins this week against USC and next week against Cal, the Cardinal will lock up the North Division and advance to the Pac-12 championship game for the second straight year. Oregon's best chance is for Stanford to lose one of those two games and the Ducks win out to finish with an 8-1 conference record.
South race
: Arizona State and UCLA are in the same position as Stanford. If either team wins out, they will be the South Division champ. We have to wait one more week for these teams to meet, and both need to keep focus this week with a pair of dangerous North Division teams coming to town. Arizona State hosts Oregon State and UCLA hosts Washington. This is one of those "you have to earn it weeks" because of the league's nine-game schedule. USC is still in the hunt but must beat Stanford.
Bowl checkup
: Right now the Pac-12 has eight bowl-eligible teams: Stanford, Oregon, Oregon State, Washington, Arizona State, UCLA, USC and Arizona. This week could provide some jockeying for bowl position and prestige. Colorado and California are officially out of bowl contention, and Washington State and Utah are still in the hunt with four wins each. Both have tough road draws this week -- Utah at Oregon and Washington State at Arizona -- and the stage is set for some good drama in Pullman, Wash., next week when Utah and Washington State square off in a game that could determine the postseason fates of both teams. Each needs to win two of their last three to become eligible.
North vs. South
: This is a big weekend for determining which division is truly the strongest from top to bottom. Right now the North holds a slight edge, going 8-7 against teams from the South. But all six games this week feature North vs. South teams -- Washington is at UCLA, Washington State is at Arizona, Oregon State is at ASU, Stanford is at USC, Cal is at Colorado and Utah is at Oregon. The South is home for five of the six games.
All eyes on L.A.
: Two huge games in the City of Angels this week with Stanford heading to USC and Washington coming down to UCLA. Both games have huge implications on the divisional standings. If USC wins, it keeps pace with UCLA and Arizona State. If the Cardinal win, they move one step closer to a second straight North title. Stanford has won the last four matchups and five of the last six. The last three have come down to a touchdown or less. Washington, meanwhile, looks to break its road blues. The Bruins are coming off a confidence-boosting road win at Arizona. We're also curious to see what
Myles Jack
brings, if anything, for an offensive encore.
All eyes (also) on Arizona
: Speaking of huge games. Oregon State heads to Tempe to take on an Arizona State team looking to steal the South Division crown from UCLA. ASU still has a one-game advantage in Pac-12 play, so a loss wouldn't be devastating (losing to Washington would hurt UCLA's chances more). But the trip to Pasadena next week is obviously going to be very telling. In Tucson, the Wildcats are looking to better their bowl standing while the Cougars are hoping to take another step toward bowl eligibility. It's 12-straight 100-yard rushing games and counting for Arizona's
Ka'Deem Carey
.
Someone has to win, right?
California and Colorado are the only two teams still seeking a conference victory. Both teams have true freshmen starters at quarterback with
Jared Goff
at Cal and
Sefo Liufau
at Colorado. Speaking of true freshmen, keep an eye on Colorado linebacker
Addison Gillam
, who already holds the school's record for tackles by a freshman with 86. Cal hasn't won a conference game since topping Washington State on Oct. 13, 2012. Colorado hasn't won a league game since topping, well, Washington State on Sept. 22, 2012.
Bounce back:
This is the first time we've had to include Oregon in a bounce-back category. But the Ducks were pretty much manhandled in the loss to Stanford last week. It was a low-output performance from the offense, and the defense couldn't get off the field. But the Ducks are still in contention for the North, though Oregon fans should be USC fans this weekend, and their shot at a BCS at-large game is still very much in play. Utah needs to find a way to snap its three-game slide. The Utes are winless since the victory over Stanford, and haven't won on the road this year. Like Stanford, Utah has a very physical front. But rehabbing at Autzen, especially with Oregon coming off of a loss, is going to be a tall order.
No more breathers
: The bye weeks are done. All 12 teams are in action this week and next week. In Week 14, only California has an open date, but that's because its season will be over.
Giving back
: ASU is known for embracing its military ties, and here's a head's up on something cool it is doing: As part of Sun Devil Athletics' annual Salute to Service football game against Oregon State, fans can purchase a ticket to donate to an active military member or veteran, and SDA will match every donated ticket with a second ticket.
November, 10, 2013
11/10/13
10:00
AM PT
Five things we learned in the Pac-12 this week:
1. Oregon has a Stanford problem
: Used to be the other way around. Last year it felt more like Oregon had a Stanford inconvenience, not so much a problem. This year, there is little doubt and few excuses. The Cardinal were dominant through 50 minutes and just good enough in the final 10. The extent of
Marcus Mariota
's injured knee remains a question. Still, he looked pretty spry in the fourth quarter, and there was ample opportunity along the way for the Ducks to make plays. But it was Stanford's defense that came up with the stops/turnovers and the offense that shoved its tempo right down the Oregon front seven. This was the offensive line we've been waiting to see. And let's not forget
Kevin Hogan
's mobility. He was good enough in the passing game, but his touchdown run was huge, as were his breaking three tackles on a third-down scramble. The Ducks still have national cred. They've done too much over the last four years to lose it with one game. But as long as Stanford continues to push them around, they won't be able to shake the questions about their physicality.
[+] Enlarge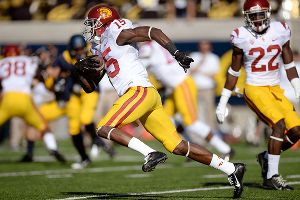 Thearon W. Henderson/Getty ImagesIt was another long day for Cal's special teams, which allowed two punt returns for TDs to USC's Nelson Agholor.
2. Cal has a special-teams problem
: We tip our cap to USC's
Nelson Agholor
for his two touchdowns on punt returns -- the first a 75-yard return in the first quarter to open scoring and the second a 93-yard return at the end of the first half. Those were, of course, contributing scores to USC's 62-28 shellacking of Cal, which is still seeking its first conference win. But this isn't the first time Cal's coverage team has had issues. Recall that it allowed two punt returns for touchdowns to Oregon's
Bralon Addison
, who ran back punts of 75 and 67 yards in the Ducks' home win in September. Adding insult to injury, the Trojans got a third "return for a touchdown" when
Josh Shaw
recovered a blocked punt.
Jared Goff
had his second interception-free performance in his last three games, so that's a positive. But there aren't many smiley faces around Cal right now. The Trojans became bowl-eligible with the win and are 4-1 since the coaching change. Their South Division hopes are still very much alive.
3. ASU almost had a problem
: First, give credit to Utah's defense, which once again came to play. And with the ASU offense struggling, it was the defense that stepped up and kept the Sun Devils in the game. Over the last four games, the Sun Devils are allowing fewer than 20 points per game. And they were clutch in the fourth quarter in the 20-19 win over Utah. The ASU defense held Utah to a three-and-out or a turnover in all five of the Utes' fourth-quarter possessions. And here's a fun note from our Stats & Info folks: According to ESPN's win probability model, Arizona State had a 7.1 percent chance of winning at the end of the third quarter. Entering this weekend, only 17 FBS teams have come back to win after having a win probability of 7.1 percent or lower. The offense finally came alive and scored 13 points in the fourth. Utah had won 49 straight games when leading at halftime.
4. No problems for the Huskies
: The Trojans weren't the only team to become bowl-eligible on Saturday. The Huskies picked up pivotal win No. 6 and are bowl-eligible for the fourth straight year after a brilliant performance from quarterback
Keith Price
, who was 22-of-29 for 312 yards with two passing touchdowns and one on the ground.
Bishop Sankey
turned in yet another solid performance with 143 yards and a score. The rebuilding Buffs have now lost 14 straight conference games. Washington has back-to-back road games at UCLA and Oregon State before closing out the year at home in the Apple Cup. The potential is there for nine or 10 wins, which would certainly assuage some of the midseason chatter about coach Steve Sarkisian.
5. Myles Jack = a problem for opposing teams
: How fun is that guy to watch? UCLA coach Jim Mora has been hinting for quite some time that we'd see the true freshman linebacker swap sides. And on Saturday we saw him tally eight tackles, recover a fumble in the end zone, and then as a running back carry the ball six times for 120 yards, including a 66-yard touchdown. That overshadowed
Ka'Deem Carey
's 149-yard rushing performance and a touchdown for Arizona -- Carey's 12th consecutive 100-yard rushing game, which is tops in college football. More importantly, the Bruins won in Tucson for the first time since 2003 and kept pace with the Sun Devils for the race in the South Division. Arizona is pushed aside, making it a three-way race among the Bruins, Trojans and Sun Devils.
November, 7, 2013
11/07/13
3:00
PM PT
By
WeAreSC staff
| ESPNLosAngeles.com
WeAreSC staffers discuss last week's game and Saturday's matchup with Cal.
What was most impressive part of USC's victory against Oregon State?
[+] Enlarge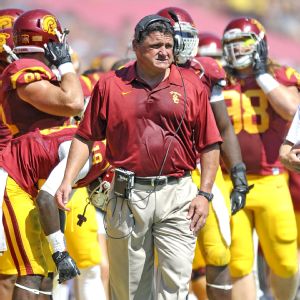 Cal Sport Media via AP ImagesInterim coach Ed Orgeron has led his Trojans to a 3-1 record since taking over.
Garry Paskwietz:
I thought it was the way the Trojans physically controlled the line of scrimmage on both sides of the ball. I completely understand that it's one thing to do that against Oregon State and another to do it against Stanford, but lately the Trojans hadn't put both sides of the ball together in one game for a while, so it was encouraging to see it happen in this game. This was particularly evident in how well the Trojans ran the ball and put pressure on
Sean Mannion
.
Johnny Curren:
It was a phenomenal effort by tailbacks
Javorius Allen
and
Silas Redd
, as the Trojans amassed 242 rushing yards. But it wasn't just the ball-carriers who made an impact. In fact, the performance of the offensive line might have been what was most impressive of all. Putting together their best outing of the season, they were an incredibly aggressive and cohesive unit. The lights-out night that
Aundrey Walker
had, in particular, was a positive development with an eye toward the rest of the season. If the USC ground game continues to roll like it did against OSU, there's little doubt the Trojans will be finishing the 2013 campaign very strong.
Greg Katz:
The most impressive part of the Trojans' victory was the way Ed Orgeron's team kept its poise once the Beavers tied the game at 14-14. In the past, the Men of Troy might have folded at Reser Stadium, but this group was able to rise above the crowd noise, keep its composure and come right back to win going away. It was a major maturity step and possible turning point for the 2013 Trojans.
---
What is the key matchup of the USC-Cal game?
Paskwietz:
USC vs. themselves. Things are going in a very positive direction right now for the Trojans, and on paper it doesn't appear Cal should present an overwhelmingly tough matchup. But, as any college football fan knows, anything can happen on any given day. Think back to last year for the Trojans at the beginning of November when they hit the road for a game they were expected to win. If they had won in Arizona, it would have set up a huge showdown the following week at the Coliseum -- a very similar scenario to this year.
Curren:
With
Josh Shaw
moving from safety to cornerback, the USC secondary has put together two consecutive solid outings after struggling at times earlier in the season, but it faces a big test this weekend in California's uptempo, spread offense. Freshman quarterback
Jared Goff
leads a Golden Bears aerial attack that generates 351.1 passing yards per game -- the No. 8 mark in the FBS -- and he has three very talented receivers at his disposal in
Chris Harper
,
Bryce Treggs
and
Kenny Lawler
. With very little else clicking for Cal on either side of the ball, if the Trojans' defensive backfield can keep those wideouts corralled while also taking advantage of a Goff mistake here or there -- which he's been known to make on occasion -- USC should run away with the game.
Katz:
The key matchup will not only will be the performance of the Trojans offensive line against the Bears defensive front, but the actual lineup of cardinal and gold players. The Trojans right side of the line actually looked pretty good against Oregon State with
Max Tuerk
at right tackle filling in for veteran
Kevin Graf
, and right guard Aundrey Walker having his best game as a Trojan. On the left side, senior
John Martinez
played a good game. Can this unit with or without Graf (ankle) continue to grow and open up big holes for the Trojans' obvious wealth of tailback riches?
---
What was the most memorable moment from USC vs. Cal in Memorial Stadium?
Paskwietz:
It's the 2007 game when both teams came in ranked in the top 25. The game was played in a hard-driving rain, and the Trojans were only able to throw for 129 yards. But senior tailback Chauncey Washington had the game of his career with 29 carries for 220 yards and a touchdown to lead USC to a 24-17 victory. Washington had spent two years on academic probation and had to pay his own way at USC, so to see him rewarded for his patience with a performance like that was truly memorable.
Curren:
It wasn't a positive memory for the Trojans, but the 2003 USC-Cal matchup was as drama-filled as it gets. In a game featuring an incredible three overtimes marked by wild and unpredictable plays, including a Hershel Dennis fumble, as well as a field-goal block by Gregg Guenther, the No. 3 Trojans wound up losing 34-31. The difference was a Tyler Fredrickson field goal. In looking back, the most significant thing to come from the game was that it really marked a turning point of sorts under Pete Carroll, as the Trojans would go on to win an incredible 34 consecutive games following that defeat.
Katz:
Unfortunately for Trojans fans it would be the 2003 triple-overtime loss to the Bears. The Dennis fumble and the game-winning 38-yard field goal by Frederickson in OT was at the time a killer. However, it seems that painful loss was inspirational the rest of the way, as former Trojans head coach Pete Carroll never again lost to Cal during his marvelous tenure.
November, 4, 2013
11/04/13
11:00
AM PT
Taking stock of Week 10 in the Pac-12.
Team of the week:
USC, injury-riddled, coach-less and written off just more than a month ago, has won three of four games since Ed Orgeron took over for Lane Kiffin as interim coach, including a
31-14 win at Oregon State
on Friday. And it just missed at Notre Dame (literally -- see two missed field goals). The Trojans might end up making some noise in the Pac-12's South Division after all.
[+] Enlarge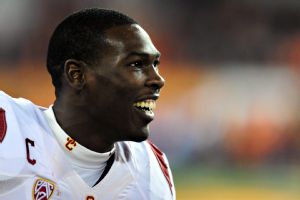 Steve Dykes/Getty ImagesUSC wideout Marqise Lee caught five passes for 105 yards and a touchdown versus Oregon State.
Best game:
California pushed Arizona to the brink in the
Wildcats' 33-28 victory
. The Bears pulled within a touchdown with 1:42 remaining on a 19-yard scoring toss for
Jared Goff
to
Kenny Lawler
, but Arizona recovered the ensuing onside kick and burned the clock down to zero after a 17-yard
Ka'Deem Carey
run gave the Wildcats a first down.
Biggest play:
USC QB
Cody Kessler
hit
Marqise Lee
for a 71-yard touchdown on the Trojans' first offensive play, which seemed to ignite the Trojans at Oregon State, a place where they had lost three consecutive games.
Offensive standout:
Arizona State QB Taylor Kelly accounted for seven touchdowns in the
Sun Devils' 55-21 blowout win at Washington State
, earning a 95.4 QBR for the performance. He completed 22 of 31 passes for 275 yards with five TDs and one interception. He also rushed for 66 yards on 13 carries with two TDs.
Defensive standout:
USC turned in another scintillating defensive performance at Oregon State, holding the Beavers to 14 points and 361 yards. The Beavers had been averaging 40.1 points and 487.4 yards. The Trojans had three interceptions, which matched Oregon State QB
Sean Mannion
's total through the first eight games. USC also got two sacks from outside linebacker
Devon Kennard
.
Special-teams standout:
Oregon State might have lost to USC, but it wasn't punter
Keith Kostol
's fault. He averaged 45.8 yards on five punts, killing three inside the Trojans' 20-yard line with no touchbacks. His long was 49 yards.
Smiley face:
While the North Division -- Oregon & Stanford -- gets much of the attention, the South Division also features two ranked teams: UCLA and Arizona State. They could play a critical game on Nov. 23 that will garner national attention, but they have to take care of business beforehand. Both did just that as favorites this week, with Arizona State rolling at Washington State 55-21 on Thursday, and the Bruins taking down the pesky Buffaloes
45-23
on Saturday. There have been plenty of years in the Pac-12 when ranked teams went rear-end-over-tea-kettle against seemingly overmatched foes, killing chances for a marquee matchup between ranked foes a few weeks down the road.
Frowny face:
Oregon State's chances of returning to the national ranking are probably done for the season. In fact, the blowout loss to USC at home opens up the question whether the Beavers will win again against a troika of tough foes down the stretch: at Arizona State, Washington and at Oregon.
Thought of the week:
It's Oregon-Stanford time. While Stanford's loss at Utah watered down this matchup a bit, it still remains the Pac-12 game of the season, the one that determines the North Division and conference front-runner. Oregon is aiming for an unbeaten season and a berth in the national title game. Stanford is aiming at a second consecutive upset of the Ducks, Pac-12 championship and Rose Bowl victory. Buckle up.
Questions for the week:
Who's going to rule the South and try to stop the Ducks or Cardinal from achieving their BCS bowl goals? The plot thickens Saturday with UCLA's visit to Arizona and Arizona State's trip to Utah. The Wildcats could throw themselves thickly into the race with a win over the Bruins, while the typically road-adverse Sun Devils need to win a second consecutive game away from Sun Devil Stadium. And, by the way, USC, which visits California on Saturday, is lurking.
October, 23, 2013
10/23/13
11:30
AM PT
Where we are from, he said, stories are factual. If a farmer is declared a music virtuoso by the state, everyone had better start calling him maestro. And secretly, he'd be wise to start practicing the piano. For us, the story is more important than the person. If a man and his story are in conflict, it is the man who must change.
October, 17, 2013
10/17/13
11:30
AM PT
Whether I shall turn out to be the hero of my own life, or whether that station will be held by anybody else, these pages must show. To begin my life with the beginning of my life, I record that I was born (as I have been informed and believe) on a Friday, at twelve o'clock at night. It was remarked that the clock began to strike, and I began to cry, simultaneously.
October, 10, 2013
10/10/13
10:15
AM PT
Here are a few storylines to keep an eye on this week in the Pac-12.
Welcome, Coach O: The USC Trojans will make their debut with Ed Orgeron running the show. Considered a fiery alternative to his predecessor, the former Ole Miss coach says he's been putting an emphasis on bringing fun back to football. The Trojans, who face the Arizona Wildcats tonight, are 0-2 in conference play for the first time since 2001, when they started 0-3. The last USC coach to lose his debut was John Robinson in his second stint in 1993. Not sayin' … just sayin'.
Speaking of that game: The past six matchups between Arizona and USC has been decided by a touchdown or less. Of the 35 meetings, 15 have been within a touchdown. The Trojans and Wildcats have split their past four meetings, with each team winning one at home and one on the road.
Get up for "GameDay"! ESPN's "College GameDay" is making its first appearance in Seattle for Saturday's showdown between the Oregon Ducks and Washington Huskies. Just a reminder, the Ducks have won nine straight in the series -- all by at least 17 points and with a 26-point average margin of victory. This is the second time in as many weeks the Huskies will face a top-5 opponent after falling 31-28 last week to No. 5 Stanford.

[+] Enlarge

Otto Greule Jr/Getty ImagesWashington State quarterback Connor Halliday won a shootout against Cal.

Conference of quarterbacks: Some quarterback numbers from our friends at the Pac-12 office: "Pac-12 quarterbacks continue to put up impressive numbers each weekend. Washington State's Connor Halliday [521 yards] and California's Jared Goff [504 yards] combined for 1,025 passing yards in WSU's 44-22 win at Cal. It was the most passing yards by two opposing players in a Conference game. Four Pac-12 quarterbacks ranked among the top eight in the FBS in passing yards per game -- No. 1 Oregon State's Sean Mannion (403.6 YPG), No. 3 California's Goff (364.2 YPG), No. 5 Arizona State's Taylor Kelly (346.4 YPG) and No. 8 Washington State's Halliday (332.2 YPG)."
North vs. South: Just an update on how things are going in the unofficial rivalry. The North division is 6-0 against teams from the South division. There's a good chance the Bruins -- the only South team yet to play a team from the North -- break up the no-hitter with a visit from California, which has dropped nine straight games to FBS opponents. That is one of two interdivision games this weekend. Stanford's trip to Utah is the other. The Bruins are 4-0 for the first time since 2005 and are coming off a six-interception performance against Utah.
Everyone in action: Did you know there are only three weeks out of the entire season in which every Pac-12 team is playing against another Pac-12 team? This is the first one. Every team played in Week 3, but mostly against nonconference foes. The next time this happens will be in Week 12, then again in Week 13.
55 for six? Last week, we asked if the Ducks could break 50 points for the fifth straight game. They did, becoming the first team since 1885 to start the season with five straight wins with 55 points or more. Now they'll look to become the first team to do it six times in a row since Oklahoma in 2008.
Must-see TV: Better yet, see it live. Stanford makes its first trip to Utah since the Utes joined the conference. The teams haven't played since 1996. It's been hard luck for the Utes so far in conference play, having dropped an overtime game to Oregon State and then falling by a touchdown last week to UCLA. Coach Kyle Whittingham talked this week about the need to be stronger on first and second down to give his team a more manageable third down. Utah is just 3-of-27 on third downs in its past two games. On the flip side, Stanford will look to rebound from a shaky offensive performance in the win over Washington. Quarterback Kevin Hogan has thrown an interception in four straight games.
Elite receivers: Two of the league's top receivers square off when Colorado travels to Arizona State. The Buffs' Paul Richardson has four plays of 50 yards or more and has three 100-yard receiving games this season. Also with three 100-yard games is ASU's Jaelen Strong, the junior college transfer who has made an immediate impact for the Sun Devils. OSU's Brandin Cooks still leads the league with 10.4 receptions per game, but Strong and Richardson are right behind, tied for second with 7.8 per game.
Bowl implications: Oregon State heads to Washington State with four wins. The Cougs likewise have four wins -- making this a critical game for postseason hopes. Both teams have a challenging second half of the schedule, so this one feels like one of those must-win games to keep bowl hopes alive and well. Don't expect a ton of play on the ground. As noted above, Cooks leads the league in receptions and Oregon State has the No. 1 passing offense with 21 touchdowns and 420.6 yards per game with Mannion at the helm. Washington State is third in passing offense (359.7 yards per game) and tied for second in the league with 15 passing touchdowns. The Beavers and Cougars rank 11th and 12th, respectively, in the league in rushing offense. Speaking of bowls, more of a formality, but Stanford and Oregon can become bowl eligible with a win.
October, 7, 2013
10/07/13
9:30
PM PT
Here's a quick look at Week 7 in the conference. All times are ET.
Thursday


Arizona (3-1, 0-1) at USC (3-2, 0-2) 10:30 p.m. Fox Sports 1
: USC leads the series 28-8, but the Wildcats prevailed 39-36 last year in Tucson and the teams have split the last four meetings. This will be the Trojans' first game after the firing of coach Lane Kiffin, with Ed Orgeron taking over as interim coach. A lot of Wildcats will be able to identify, as Mike Stoops was fired after the sixth game in 2011. Both teams had byes last week. The Wildcats are coming off two byes in three weeks -- a stretch that will have put them on the field just once (Sept. 28 at Washington) in a span of 25 days before Thursday's kickoff. Arizona scored 26 unanswered points in the second half of last year's victory over the then-No. 10 Trojans. The Wildcats defense has seven INTs this season and ranks No. 11 nationally in pass efficiency defense. In the Trojans' last game, they yielded a school-record tying 62 points. USC has some injury issues as both WR
Marqise Lee
and OLB
Morgan Breslin
are questionable.
Saturday


No. 2 Oregon (5-0, 2-0) at No. 16 Washington (4-1, 1-1) 4 p.m. Fox Sports 1
: Washington leads the series 58-42-5, but the Ducks have won nine straight in the series by at least 17 points, including a 52-21 win last year in Eugene. Washington has gone three-and-out on offense in only six of 65 drives this season (9.2 percent). Only Baylor (1-out-of-61; 1.6 percent) boasts a better percentage. Washington is highly ranked in a number of NCAA offensive and defensive categories, including: third in third-down conversions, seventh in completion percentage and fifth in total offense, as well as third in pass efficiency defense and 11th in scoring defense. Oregon is No. 2 in the nation in scoring, No. 2 in total offense, No. 3 in rushing offense and No. 9 in passing efficiency. The Ducks also are No. 2 in the nation in scoring defense, No. 7 in pass efficiency defense and No. 8 in third down defense. The Huskies have turned the ball over six times this year, but have not allowed any of those turnovers to be converted into points. The Huskies have converted six of eight takeaways into touchdowns. Oregon is third in the nation in turnover margin. Washington has allowed just seven points in the first and fourth quarters this season. Oregon QB
Marcus Mariota
has accounted for 21 touchdowns -- 14 passing, seven rushing. UW RB
Bishop Sankey
enters the week as the nation's No. 4 rusher with 146.4 yards per game. He's rushed for 100 or more in eight of the last 10 games.


No. 5 Stanford (5-0, 3-0) at Utah (3-2, 0-2) 6 p.m. Pac-12 Network
: Stanford leads the series 3-2, but this will be the teams' first meetings with the Utes being Pac-12 members. Utah won the most recent game 17-10 at Stanford in 1996, but the Utes are 0-2 against Stanford in Salt Lake City. In the last meeting Utah's defense, under the direction of then-defensive coordinator Kyle Whittingham, shut out the Cardinal for three and a half quarters in a 17-10 win. The Utes led 17-0 entering the fourth quarter.
Juan Johnson
rushed for 114 yards and Jeff Kaufusi had two sacks to lead the Utes. Since joining the Pac-12 in 2011, Utah is 0-4 against ranked conference opponents and 1-4 overall (the win was against No. 25 BYU in 2012). Stanford and Utah both average 39 points per game. Utah leads the Pac-12 with 18 sacks. Stanford has yielded just five, second fewest in the conference. Utah has forced just six turnovers. Stanford has forced seven. Those are the two lowest totals in the Pac-12. Stanford and Utah are tied for first in the Pac-12 in red zone offense. The Utes have 12 TDs in 18 red zone trips. The Cardinal has 11 in the same number of penetrations.


Colorado (2-2, 0-2) at Arizona State (3-2, 1-1) 10 p.m. Pac-12 Network
: Arizona State leads the series 4-0, including a 51-17 win in Boulder last year. The Sun Devils have won two games in Tempe and two in Boulder against CU and have outscored the Buffaloes 153-48 in those contests. Colorado is coming off a 57-16 defeat to No. 2 Oregon. The Sun Devils lost to Notre Dame 37-34. Arizona State WR
Jaelen Strong
is off to one of the best starts for a receiver in school history, amassing 569 yards (113.8 ypg, which ranks 15th in the nation) on 39 receptions (7.8 rpg) in his first five games in a Sun Devil uniform. Of those 39 receptions this season, 25 have resulted in first downs. He has also drawn six pass interference penalties against him this season, four of which have results in first downs, giving him a total of 29 of ASU's 126 first downs this season (23.0 percent). Colorado WR
Paul Richardson
ranks second in the nation with 155.3 yards receiving per game. The Sun Devils rank 11th in the Pac-12 in run defense (182.8 yards per game), but Colorado only ranks 10th in rushing offense (110.2 ypg).


California (1-4, 0-2) at No. 11 UCLA (4-0, 1-0) 10:30 p.m. ESPN2
: UCLA leads the series 50-32-1, but the Bears posted a stunning 43-17 win over the then-No. 25 Bruins last year. It was the high moment of the Bears 3-9 season that got coach Jeff Tedford fired. That game was notable for two individual performances. In a poor-to-middling career, it probably was Bears QB Zach Maynard's best game -- he completed 25 of 30 passes for 295 yards with four TDs. And, in what is a career rising from good to elite, Bruins QB
Brett Hundley
had his worst career game, throwing four interceptions. The key matchup will be the Bears passing attack against the Bruins secondary, which grabbed six of its seven interceptions last week against Utah. Cal's true freshman QB
Jared Goff
ranks third in the nation with 364 yards passing per game. But the Bears rushing offense is struggling, and the defense is suffering through epidemic injuries. Cal is 122nd in the nation in scoring defense, surrendering 45 points per game. A fast start might help.
As noted by the San Francisco Chronicle
, Cal has allowed a touchdown on the opposing team's first drive in each of the first five games and has been outscored 86-31 in the first quarter this season.


Oregon State (4-1, 2-0) at Washington State (4-2, 2-1) 10:30 ESPNU
: Washington State leads the series 48-46-2, but it has dropped five of the last six games, including the past two. The Beavers won 19-6 last year. The Cougs last win over the Beavers in Martin Stadium was 36-30 in 2003. The game features two of the nation's most prolific passing QBs. Oregon State's
Sean Mannion
leads the nation in both passing yards per game (403.6) and touchdowns (21). Washington State's
Connor Halliday
is ninth at 332.2 yards per game. If there is a difference, it's interceptions. Mannion has thrown just two, while Halliday has 10 to go with 13 TD passes. Halliday did pass for 521 yards in the win at California last weekend, just 10 yards short of a school record. It's the most passing yards by any FBS QB so far this year. The 44 points against Cal are the most scored by WSU in a conference game since beating Oregon 55-10 in Eugene in 2003. The Cougars claimed their first win over Cal since 2002 (in Berkeley), snapping an eight-game skid. Don't expect a lot of rushing yards. The Beavers and Cougars rank 121st and 122nd in the nation in rushing.
September, 26, 2013
9/26/13
9:00
AM PT
Kevin Gemmell went 7-0 last week and improved to a scintillating 33-3. Ted Miller went 6-1, missing with his Holy War pick, a selection he made only to put the stink on BYU. But Utah fans shouldn't send any more checks his way.
Miller therefore fell to 31-5. Gemmel; is already making plans for the $1 million he gets if he wins the season.
All games are Saturday.
Arizona at Washington


Gemmell:
Not sure what to make of Arizona yet. It hasn't been pressed, and the passing game is still a question mark. Taking on a Washington team that has been pushed -- and is at home -- seems like a lot to overcome. And I wouldn't worry about Washington looking over the horizon to the Stanford game next week. It'll be focused on revenge after what happened last year in Tucson.
Washington 38, Arizona 24.
Miller:
The Wildcats have had two weeks to prepare, but a team can't really prepare for an atmosphere like Husky Stadium. While Wildcats QB
B.J. Denker
has played in road games, this will be a new level of extreme. The real issue is how effective Denker is throwing the football. If the Wildcats can achieve efficient balance, the holes will be bigger for RB
Ka'Deem Carey
. It also will be interesting to see how the Wildcats newly stout defense holds up against the Huskies' highly rated offense.
Washington 35, Arizona 20.
USC at Arizona State


Gemmell:
Plenty of great sidebars and storylines in this must-win game for both teams. The Sun Devils are holding on to whatever national credibility they have by a thread. USC is riding the coattails of its defense. If Arizona State can put together 60 minutes instead of 15, I think it wins by a couple of touchdowns. If it doesn't, it could be tight.
ASU 24, USC 21.
Miller
: We know USC's defense is good. Do we yet know if the Trojans' offense is going to be this bad all season? The first question is whether Trojans QB
Cody Kessler
's throwing hand is 100 percent. The passing game went south against Utah State last weekend after he got hurt. And what will Sun Devils QB
Taylor Kelly
be able to do against that tough USC defense?
Arizona State 21, USC 17.
Colorado at Oregon State


Gemmell:
Much like Arizona, I'm waiting to see what Colorado is really made of. I love the start, and everyone feels good about the Buffaloes being 2-0. But Oregon State's passing game has been wickedly efficient and the
Sean Mannion
-to-
Brandin Cooks
connection is one of the best in the country. The Buffs will score points, but before I start picking them in a league game on the road, I need to see just how much they've grown up. The two weeks off is also a wrench in predictions. They could be super rested, or super rusty.
Oregon State 48, Colorado 38.
Miller:
Colorado is a better team than it was in 2012, we know that. But being better and being ready to win on the road in the Pac-12 are two different things. I want to see what Buffs QB
Connor Wood
and WR
Paul Richardson
can do against a suspect Beavers defense.
Oregon State 40, Colorado 28
.
California at Oregon


Gemmell:
Another step in the maturation of
Jared Goff
. Being down defensively isn't where you want to be when playing Oregon -- especially on the road. No reason why the Ducks don't keep things rolling.
Oregon 49, Cal 21.
Miller:
Both teams were off last weekend, and Cal needed a break. But Autzen Stadium isn't a place to go to heal a season. I think this one might get a bit lopsided.
Oregon 50, California 20.
Stanford vs. Washington State (in Seattle)


Gemmell:
Will be interesting to see how the Cougars attack Stanford early with
Ed Reynolds
out for the first half. I'm guessing they go at the heart of the Stanford secondary because running against the Cardinal will be a chore. Turnovers have been Washington State's Achilles Heel (11 total, minus-3 ratio, worst in the league). Stanford will do what Stanford does. And what Stanford does should be more than enough.
Stanford 31, Washington State 17.
Miller:
Stanford will be missing All-American OG
David Yankey
, too, so the Cougs' front-seven will be catching a break. No guard in the country is better at pulling, so that hits the Cardinal's bread-and-butter. But Stanford figures to take this one seriously because the Cougars gave them trouble last year, is an obviously improved team and the Cardinal turned in a woeful fourth quarter last weekend against Arizona State.
Stanford 35, Washington State 22
.
2014 TEAM LEADERS
| TEAM | RUSH | PASS | TOTAL |
| --- | --- | --- | --- |
| Offense | 158.2 | 294.6 | 452.8 |
| TEAM | PF | PA | MARGIN |
| Scoring | 35.1 | 23.8 | 11.3 |