November, 7, 2013
11/07/13
5:00
AM PT
A look across the board at the defensive statistics for the
California Golden Bears
shows that it could be a good day for the Trojans offense on Saturday in Berkeley.
[+] Enlarge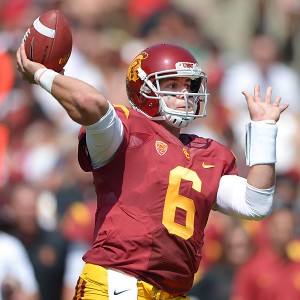 Kirby Lee/USA TODAY SportsUSC quarterback Cody Kessler could have a big day against Cal's porous pass defense.
The Bears rank last in the Pac-12 Conference in scoring defense, total defense and pass defense and rank No. 11 in rush defense. Those rankings aren't exactly a recipe for success against a USC offense that is coming off a balanced and effective performance against Oregon State, one that saw the Trojans gain 242 yards on the ground and 247 through the air.
In fact, it might have been the most complete offensive game of the year for the Trojans, which means the biggest key for the upcoming game is to keep on doing what they are doing.
Cody Kessler
is showing steady progress at the quarterback spot. He threw one interception that was returned for a touchdown against the Beavers but outside of that throw he hit of 17 of his other 20 passes, including a 71-yard touchdown toss to
Marqise Lee
on the first play from scrimmage.
Kessler could have the added benefit of a full complement of receivers. The WR group for the Trojans has been hit hard by injuries lately but all five scholarship receivers practiced this week, which has been a rare sight. The presence of Lee against Oregon State provided a huge spark, even if he didn't do a whole lot beyond that opening play.
Nelson Agholor
has shown he can be depended upon for a larger role and true freshman
Darreus Rogers
is proving to be a weapon as well.
The USC passing game will be going up against a Bears pass defense that ranks dead last in the nation by giving up 340 passing yards per game. Cal only has 15 sacks on the year so Kessler should also have time to throw the ball behind a USC offensive line that is coming off one of its better outings.
If the Trojans should choose to run the ball there is a lot of confidence in that area too. USC is coming off a game when it had a pair of tailbacks gain over 133 yards --
Silas Redd
and
Buck Allen
-- and they did it in impressive style. Don't be surprised if the Bears see a steady diet of the USC tailback duo early and often in this one.
Coaches often preach that a game isn't about the opponent as much as it is about themselves and this is truly one of those games for the Trojans. Cal is trying to find their way under a new coach while the Trojans are slowly showing signs that they may have found their way under a coach with an interim tag. USC just needs to focus offensively on doing what they do well and, barring any unforeseen issues, that should be enough to bring home the victory.
October, 11, 2013
10/11/13
7:00
AM PT
LOS ANGELES – A look at the positives and negatives from USC's
38-31 victory
over Arizona on Thursday.
THREE UP


1. USC tailbacks:
It's safe to say that USC interim head coach Ed Orgeron wasn't joking when he talked about wanting to get more players involved in the offensive attack. All five available scholarship tailbacks contributed on Thursday, helping the Trojans offense amass 249 rushing yards.
Tre Madden
– who went out in the first half with a hamstring injury – set the tone early, and
Silas Redd
,
Justin Davis
,
Javorius Allen
and
Ty Isaac
each kept it going. Redd, who closed the game out with some crucial runs during a game-clinching fourth-quarter drive, rushed for a team-best 80 yards.
2. USC passing offense:
Offensive coordinator Clay Helton impressed in his first game as the Trojans' play-caller, spreading the ball all over the field while placing an emphasis on establishing the vertical passing game.
Cody Kessler
completed passes to six receivers and threw for 297 yards and two touchdowns. The Bakersfield (Calif.) Centennial graduate completed long, first-quarter touchdown passes to Madden and
Nelson Agholor
, the latter of whom finished with seven grabs for 161 yards and one touchdown. To top things off, USC didn't turn the ball over.
3. J.R. Tavai:
Tavai, who had just two tackles to his credit on the season heading into the game, had a breakout performance. Filling in for
Morgan Breslin
at outside linebacker, he racked up 10 tackles (seven solo), including 3.5 tackles for loss. He was particularly active early on, making eight stops by halftime.
THREE DOWN
1. USC passing defense:
For the second consecutive game, the Trojans defense struggled tremendously in pass coverage. Arizona quarterback
B.J. Denker
entered the matchup by completing just 50 percent of his throws for an average of 111.2 yards per game, yet he managed to look like an All-American against USC, completing 28 of 44 passes for a career-high 363 yards and four touchdowns.
2. Second-half letdown:
The Trojans led 28-10 at halftime and appeared well on their way to a blowout victory, but unable to match the stamina nor the emotionally hyped level of play that they put on display early, they let the Wildcats hang around until the very end. Arizona outscored the Trojans 21-10 in the second half, and the USC defense, in particular, appeared to be physically drained in the fourth quarter, allowing Arizona to drive down the field with ease for touchdowns on the team's final two possessions.
3. Attendance:
The Trojans' first-ever non-Thanksgiving/non-bowl Thursday night game in the Coliseum drew just 64,215, a number that began to shrink dramatically near the end of the third quarter -- just when Arizona started to make the game interesting. On a positive note, those who were in attendance were noticeably enthusiastic and vocal, feeding off the energy of Orgeron and the USC players.
August, 4, 2013
8/04/13
7:00
AM PT
The USC Trojans took the field Saturday for the opening day of fall camp practices.
"It was nice to get out here and have organized practices," said quarterback
Cody Kessler
. "The summer workouts are great and all, but it's good to finally be able to be out here with the whole team and the coaches. I thought we had a really good focus today, which was good to see."
It was a no-pads practice for the Trojans, who will not put on full pads until practice No. 6, which will take place Thursday in a scrimmage in the Los Angeles Memorial Coliseum.
"It will be a very physical camp once pads get put on," said coach Lane Kiffin.
There will be a lot of attention paid to the quarterbacks, and Kiffin praised both Kessler and
Max Wittek
for their work Saturday. Kiffin said there is a long way to go before a starter is named.
Among the primary things Kiffin will be looking for is to see who manages the game better and who takes care of the football. For what it's worth, Kessler took the first-team reps in the final team drill of the day.
Wittek made an early completion deep to
Victor Blackwell
, and Kessler hit
Nelson Agholor
over the middle on a deep ball and then later hooked up with
Marqise Lee
on a nice reception. Another receiver who had a good first day was freshman
Darreus Rogers
, who caught almost everything thrown his way.
On the defensive side of the ball, safety
Gerald Bowman
stood out as a playmaker as he had a one-handed interception and broke up a pass.
Running back rotation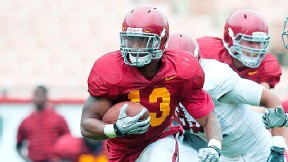 Courtesy of Joe AndrasTre Madden "looked great" in the first practice, said USC head coach Lane Kiffin.
All the tailbacks were in action, which was important since several are coming back from injuries.
Silas Redd
and
D.J. Morgan
were limited, but the other four all stood out in some way.
"
Tre [Madden]
looked great and he got a lot of work," Kiffin said. "
Justin [Davis]
looked better than he did at the end of last spring. Ty [Isaac] had one fumble, but other than that he looked good. There's a lot of talent in that group."
Buck Allen
ran well in a team drill and looked sharp.
Markowitz update
Abe Markowitz was on the field taking reps as a reserve center. Kiffin confirmed that Markowitz has received a sixth year of eligibility from the NCAA and has returned to the team as a walk-on. Markowitz gives the Trojans an additional versatile player on the line, as he can also play either guard spot.
Special teams in action
There was a lot of special teams work early in the practice with
Andre Heidari
attempting several field goals. There were also kickoff return and punt return drills, with the return men alternating among a group of Marqise Lee, Nelson Agholor, D.J. Morgan, Victor Blackwell and
Anthony Brown
.
More highlight plays
Jabari Ruffin
came on a pass rush and leaped high in the air to knock down a
Max Browne
pass attempt. ...
J.R. Tavai
was on a blitz and absolutely bowled over Justin Davis trying to make a block in the backfield. ... There were a couple nice plays by walk-ons: Tailback
Taylor Ross
had a long run and wide receiver
Robby Kolanz
leaped between two defenders to make a nice grab.
Recruits in attendance
DL
Michael Wyche
(Monterey Park, Calif./East Los Angeles College), LB
D.J. Calhoun
(El Cerrito, Calif./El Cerrito), OL
Jordan Austin
(Claremont, Calif./Claremont) and class of 2016 WR
Brandon Burton
(Gardena, Calif./Serra).
Quotebook
"I'm at 198 pounds right now; I was at 208 last year. It's easier to move around at this weight, but I was cramping up a little today because I haven't bent this much in a long time. I like that this defensive scheme holds the secondary accountable because everybody in the back end is in man-to-man coverage. In high school, when I played free safety I was just roaming around, relying on my talent. Now I understand how to read offenses, I know my keys and how to read the quarterback." – safety
Dion Bailey
"I worked on my decision-making the most in the offseason. Making the right decision is what will win games. The Sun Bowl game gives me the drive to show something different; I'm very much looking forward to that. As far as the quarterback competition, we all know the reality of the situation. Someone will be named the starter and we all know that. We all spend so much time together and we're friends, but we don't talk about who will win the job. (Wittek was asked if he would consider transferring if he didn't win the job) I will cross that bridge if it comes to that." – quarterback Max Wittek
"I worked a lot this offseason on making sure I give my receivers a chance to make plays, to not overthrow them. We've got the kind of receivers that, if you give them a chance, they will do a lot of good things. It comes down to trust as a quarterback, trust in your guys to go get the ball. I also worked on being a field general, being a leader. It's things like being the first guy in the meeting room, being there in the mornings when guys want to throw, just doing the right thing by example." – quarterback Cody Kessler
April, 23, 2012
4/23/12
9:24
PM PT
By
Pedro Moura
| ESPNLosAngeles.com
USC released its annual end-of-spring depth chart last week, which we posted mostly without comment at the time. Here, now, is our position-by-position analysis of what Lane Kiffin and Co. released, with an eye on what it means for the 2012 Trojans.

Quarterback

This was exactly as expected, with Matt Barkley entrenched and Cody Kessler and Max Wittek continuing to compete behind him. It is noteworthy that Jesse Scroggins is listed a spot behind the two redshirt freshmen and not tied with them, but it'd be a little unfair for him to be anywhere else. He missed most of the spring with hip issues and is still in academic jeopardy.

Running back

Where would Tre Madden have been if he wasn't out for the 2012 season? That's the question this portion of the chart begs. Curtis McNeal would still be starting, but Madden could very well be vying with D.J. Morgan for that No. 2 spot. Javorious Allen will be the third-string back unless he gets beat out by an incoming freshman.

Fullback

Soma Vainuku is locked in as the starter with no pressing competition, but he had himself a nice conclusion to the spring anyway, giving the coaching staff more confidence in him going into the summer. Jahleel Pinner will be somewhat of an unknown.

Receiver

De'Von Flournoy jumped in front of Victor Blackwell with an impressive spring, and has now put himself into position to challenge George Farmer for third-receiver status in the fall. And if Farmer can't stay healthy (again), then Flournoy's suddenly the favorite to line up with Robert Woods and Marqise Lee.


January, 21, 2012
1/21/12
6:21
PM PT
By
Pedro Moura
| ESPNLosAngeles.com
USC can sign 15 players this year as part of its 2012 recruiting class. It's likely the Trojans will ink all 15 of those players on Signing Day, although there is a possibility they could hold off on a player or two to save space for a last-second top prospect.

Position by position, let's delve into who will make up that 15-man list, including the eight prospects already committed, with assistance from ESPN Recruiting, Rivals and Scout. We'll do the offense Saturday and the defense Sunday.

Quarterback

USC is not seriously recruiting any signal-callers. The Trojans have three scholarship quarterbacks on the roster with three or more years of eligibility remaining.

Running back

This is probably the Trojans' biggest position of need after Amir Carlisle left to Notre Dame and George Farmer switched back to receiver.

Curtis McNeal is the clear-cut No. 1 and D.J. Morgan will back him up, but Javorious Allen is the only other scholarship player on the roster. Jahleel Pinner (Mission Viejo, Calif./Mission Viejo) is committed and expected to sign, but he's more of a fullback than a running back.

It's a near-guarantee USC will sign another running back in the 15. Arizona prep athlete D.J. Foster, who dropped USC during his senior season but is now reconsidering, could be the player the Trojans pick up.

Fullback

Pinner is likely to start his USC career as a fullback, so he'll fill the need here. Plus, the Trojans already have redshirt freshman Soma Vainuku and Simione Vehikite also available.


July, 18, 2011
7/18/11
5:31
PM PT
By
Pedro Moura
| ESPNLosAngeles.com
USC's Monday suspension of
Marc Tyler
for the season opener against Minnesota -- and potentially longer -- has an immediate and fairly wide-ranging effect on the team.
There's a chance it could change the coaches' plans to redshirt their two incoming running backs,
Amir Carlisle
and
Javorious 'Buck' Allen
. It could very well change the framework of USC's offense as
Kennedy Pola
and
Lane Kiffin
move more toward a pass-based offense. And it almost certainly changes the fall camp depth chart, as
Dillon Baxter
,
D.J. Morgan
and
Curtis McNeal
now begin what is essentially a three-way race to start the season as the No. 1 running back.
Tyler, who was suspended after a TMZ video showed him clearly intoxicated and cracking wise about USC players getting paid and
Kim Kardashian
, has already been involved in
two publicized alcohol-related incidents over the last few months
. He is currently under review with USC's Student Judicial Affairs and Community Standards board, facing potential punishment there as well.
For a fifth-year senior who will turn 23 less than a month into the 2011 season, those actions are, as athletic director
Pat Haden
said Monday, "way out of line." Kiffin made similar statements to his team in a brief 3 p.m. meeting Monday.
2014 TEAM LEADERS
| TEAM | RUSH | PASS | TOTAL |
| --- | --- | --- | --- |
| Offense | 158.2 | 294.6 | 452.8 |
| TEAM | PF | PA | MARGIN |
| Scoring | 35.1 | 23.8 | 11.3 |