January, 2, 2014
Jan 2
11:30
AM PT
This is the end, beautiful friend. This is the end, my only friend, the end.
November, 28, 2012
11/28/12
11:54
AM PT
When Lane Kiffin was hired by USC nearly three years ago, the idea of Kiffin as the head coach didn't excite USC's fan base nearly as much as did the coaching staff he was putting together.
Kiffin was bringing over his dad, Monte, the father of the "Tampa Cover 2" defense and former USC head coach Pete Carroll's mentor. He was hiring Ed Orgeron, widely regarded as one of the best defensive line coaches and recruiting coordinators in college football. And he nabbed highly regarded running backs coach Kennedy Pola from the Jacksonville Jaguars as well.
It was all supposed to work out beautifully for Kiffin, but as
Matt Barkley
found out this season, things don't always go according to plan.
Monte Kiffin's three seasons as USC's defensive coordinator have been a serious disappointment. The Trojans gave up over 500 yards per game in their five losses this season and gave up the most points, touchdowns and yards in school history in a loss to Oregon. Monte, 72, may be a coaching pioneer but his schemes and coaching technique simply haven't translated to the college game.
Lane Kiffin's track record as an offensive coordinator at USC certainly isn't terrible but it's clear that Barkley and
Robert Woods
regressed this season and he wasn't able to get the most out of a starting unit that had arguably as much talent as any team in the country.
It seems as if USC athletic director Pat Haden is committed to giving Kiffin at least one more season as USC's head coach. Kiffin still has two years left on a contract that pays him around $4 million annually, and USC is still going to be hit with scholarship reductions for the next two seasons. Haden would likely want those funds and a clean slate before seriously considering a run at a new coach.
But the one thing Haden can do in the short-term, both to appease his disgruntled fan base and take some pressure off Kiffin, is insist on bringing in a new offensive and defensive coordinator for the 2013 season.
It's all speculation at this point, of course, but it has me thinking about potential difference-makers. If I were looking to reshape the USC staff, here are four names I would think about:
Jeff Tedford
Possible position: Offensive coordinator, quarterbacks coach
Tedford was fired as Cal's head coach last week after he won a school-record 82 games in 11 seasons. He was Fresno State's offensive coordinator and quarterbacks coach from 1993-1997, where he coached Trent Dilfer and David Carr. He took a similar position with Oregon from 1998-2001, where he coached Akili Smith and Joey Harrington. And while he was at Cal he coached Kyle Boller and Aaron Rogers. Tedford also coached a quarterback by the name of Lane Kiffin from 1994-1996 at Fresno State and was his mentor when Kiffin became an assistant there in 1997. If Kiffin is going to be comfortable with anyone taking over the offense it might be Tedford.
Norv Turner
Possible Position: Offensive coordinator, quarterbacks coach
Turner looks like he is coaching his final games in San Diego and will be searching for a job next season. With no head coaching jobs available for him, he might be open to returning to USC, where was an assistant coach from 1976-1984 and with the Los Angeles Rams under former USC coach
John Robinson
from 1985-1990. Turner's record as a head coach (111-120) may not wow you, but his track record as an offensive coordinator and quarterbacks coach is solid.
Gene Chizik
Possible Position: Defensive coordinator
Chizik was fired as Auburn's coach last week, less than two years after leading the Tigers to the BCS National Championship. It has been a historic slide for Chizik, who went 3-9 this past season at Auburn. If Chizik isn't able to find any attractive head coaching vacancies, he might be inclined to return to his old role as a defensive coordinator, a position he shined in at Auburn and Texas. Chizik was Auburn's defensive coordinator from 2002-2004, and his 2004 unit led the country in scoring defense and was a catalyst in the Tigers finishing the season 13-0 and second only to USC in the final polls. He was then Texas' defensive coordinator from 2005-2006, a team USC fans remember well from their classic 2006 Rose Bowl game. If Chizik can help turn USC's defense around and help them to an undefeated season or a Rose Bowl win, he'll probably get to choose his next head coaching job.
Randy Shannon
Possible Position: Defensive coordinator
Shannon, who is currently the linebackers coach at TCU, was fired as Miami's head coach two years ago after a compiling a 28-22 record in four seasons. Shannon may not have been the perfect fit as Miami's head coach, but he shined as the Hurricanes' defensive coordinator from 2001-2006. His units ranked in the top seven nationally in all but one season. He was an assistant in Miami with Orgeron for one season, before replacing him as the defensive line coach in 1992. He's not only a solid coordinator but also a solid recruiter who could work his way back into a head coaching job by helping turn around USC's defense.
October, 17, 2012
10/17/12
11:28
AM PT
The major preseason stories in the Pac-12 were four new coaches, the return of
Matt Barkley
, the nation's leading Heisman Trophy candidate, and USC and Oregon apparently headed for a showdown with national-championship implications on Nov. 3.
The major midseason stories are a little different.
USC and Oregon could still be an epic clash, just not as epic because USC already has lost. Also, Barkley's middling numbers for an offense that hasn't been consistently in sync have diminished the national perception of the Trojans. The Ducks are now the Pac-12 team at the center of the national discussion.
As for the four new coaches, three have gotten off to great-to-solid starts in year one. But how will they finish? And will Mike Leach get Washington State on track?
Will Arizona State maintain its fast start, or are the Sun Devils headed for a tough dose of reality as the schedule firms up, starting with Oregon on Thursday?
Speaking of fast starts: Oregon State. The Beavers have surged, and coach Mike Riley has moved from the hot seat to the throne of a national-coach-of-the-year candidate. Oregon and Oregon State are the only two unbeaten teams in the conference, so it's not inconceivable that the Civil War could be for the North Division crown, a spot in the Pac-12 title game and, perhaps, a chance to play for the national title.
It could become the season's true epic clash.
As for hot-seat talk, as distasteful as it is, nearly all of such focus will be on California coach Jeff Tedford. The Bears have won two in a row after a 1-4 start, but it remains in the air whether this team can be consistent enough to earn a bowl berth. A losing record wouldn't be good for Tedford.
[+] Enlarge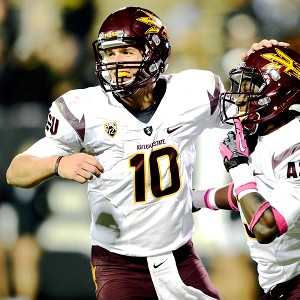 Ron Chenoy/US PresswireWith Taylor Kelly back at quarterback, Arizona State could be doing a lot of celebrating in 2013.
Finally, in terms of individual awards, it will be interesting to see if any Pac-12 player emerges as a true Heisman Trophy contender. Might Barkley turn it up during the second half? Will Oregon's
De'Anthony Thomas
start to fill up "SportsCenter" with highlights? Is there a potential dark-horse candidate?
Ultimately, midseason reviews don't mean much. Teams and players can reverse course -- positively or negatively -- at any moment.
But what it is fair to say is there are plenty of rich plot lines heading into the season's second half, even if those were not the stories that advanced the season.
Bold prediction
: The conference will fill all seven of its bowl obligations, plus one. Oregon is already in; Oregon State, Arizona State, USC and UCLA are all one win from being bowl-eligible. If you follow the Sunday zaniness that is
our weekly bowl projections
, you know your bloggers project Oregon to the national championship, which opens up one more spot. We see Stanford and Washington bowling. That's seven right there. The eighth spot is up for grabs, with Arizona and Cal the likely candidates. Cal could get to .500 this week, then would need two more wins with Utah, Washington, Oregon and Oregon State remaining. If Arizona takes care of Colorado and Utah in the second half, that leaves it looking for one more win over from among Washington, USC, UCLA and Arizona State.
Looking forward to
: The race in the Pac-12 South. Once thought to be gift-wrapped for the Trojans, the recent inconsistent play of USC opens up the possibility of someone else as the South's representative in the title game. The Trojans are still the favorite, but Arizona State and UCLA aren't going to make it easy. Both of UCLA's losses have come to North Division teams, USC's loss was to Stanford and ASU's was out of conference. It's more wide-open than we ever could have imagined in August.
Top five games (by date, not importance):
Oct. 18, Oregon at Arizona State
: Time to find out if the Sun Devils are for real. They have the conference's No. 1 scoring defense facing Oregon's top-ranked scoring offense. The Sun Devils rank second in scoring. Both teams are getting phenomenal quarterback play and both like to work fast.
Oct. 27, UCLA at Arizona State
: This is a pivotal game in the aforementioned race for the South Division title. It features two explosive offenses and two of the league's brightest young quarterbacks. Some pretty good players from both defenses as well.
Nov. 3, Oregon at USC
: This is still the big one. An Oregon win gives the Ducks some much-needed national credibility, while a USC victory puts the Trojans back in the BCS championship hunt. Might be a last-gasp Heisman run for Thomas and/or Barkley.
Nov. 17, USC at UCLA
: A new chapter in this historic rivalry begins with Jim Mora at the helm for the Bruins. He has made them a player in the Pac-12 South, and lest we forget, coordinator Noel Mazzone's offense put up 43 points on USC last year when he was with ASU. This one could decide the South champion.
Nov. 24, Oregon at Oregon State
: The stakes could be stratospheric -- as in national championship implications for both schools. If the Ducks take care of business Nov. 3 and Oregon State can navigate a second-half schedule that includes Stanford and ASU, then all of Oregon will show up for what could conceivably be the Pac-12 game of the year.
September, 21, 2012
9/21/12
11:22
PM PT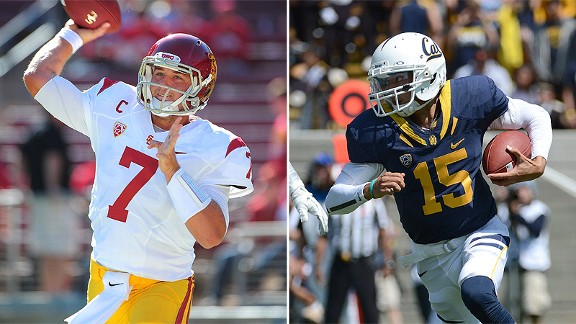 Kyle Terada/US PresswireUSC's Matt Barkley and Cal's Zach Maynard are both aiming to get back to winning on Saturday.
California's visit to USC on Saturday features two quarterbacks looking for redemption. Bears QB
Zach Maynard
wants to redeem himself for a three-interception performance in last season's 30-9 loss to the Trojans.
And Trojans QB
Matt Barkley
? He's looking to redeem a more recent performance.
You might have heard: The then-No. 2 Trojans went down 21-14 at Stanford last weekend, with Barkley throwing a pair of interceptions and no touchdown passes while getting sacked four times.
You could make a case it was the worst performance of his career, but he had a lot of help. Or, rather, little of it. His offensive line was overwhelmed by the Cardinal, so he had no support from a running game and little time to pass. A Stanford defender seemed to be in his face just about every play.
"No matter how great the quarterback is, that will affect you," USC coach Lane Kiffin said.
You also might be able to at least partially excuse Maynard for his woeful performance against the Trojans last year. Cal rushed for just 35 yards -- 1.3 yards per carry -- amid a flurry of five total turnovers.
And Maynard is not the same QB he was last year. In fact, at sixth in the Pac-12, he ranks just one spot behind Barkley in pass efficiency at present.
"I think he feels the speed of the game a little bit better," Cal coach Jeff Tedford said when asked about how Maynard is different this season. "I think he manages the game better."
USC has won eight straight against California, the Bears last winning a triple-overtime classic in 2003. They haven't won in Los Angeles since 2000. And just about all of those games were much like last year: Blowouts.
There is pressure on Tedford as the Bears try to avoid a 1-3 start. Many fans in Berkeley are frustrated with the recent mediocre turn of the program. And there is pressure on Kiffin as he tries to right a team that a week ago was viewed as the top potential foil for the SEC to win a seventh consecutive national title. Kiffin showed his stress this week when he stomped out of a post-practice news conference, apparently peeved over an innocuous question.
Health -- the improving variety -- is notable for each. It appears the Trojans will get back starting center
Khaled Holmes
, who sat out the Stanford loss with an ankle injury. Cal certainly should benefit from the potential return of right tackle
Matt Summers-Gavin
, tight end
Richard Rodgers
and defensive end
Mustafa Jalil
.
While Cal's recent history in this rivalry, particularly on the road, isn't good, the Trojans shouldn't feel safe by any stretch. The Bears showed they can go toe-to-toe on the road with an A-list foe at Ohio State last weekend, a game that included a breakout performance from speedy RB
Brendan Bigelow
. Further, the Bears have a tough front seven, particularly if Jalil is indeed ready to go.
If it's close, it will be interesting to see how things might stack up at kicker. USC's
Alex Wood
, the Trojans' backup, has yet to be allowed to attempt a field goal, while Cal's
Vincenzo D'Amato
missed all three of his attempts last weekend.
September, 19, 2012
9/19/12
8:00
PM PT
By
Pedro Moura
| ESPNLosAngeles.com
LOS ANGELES -- After
USC
beat
Cal
30-9 last year in San Francisco, former Trojans linebacker Chris Galippo memorably said that Bears quarterback
Zach Maynard
"just telegraphed the heck out of his passes" while throwing three interceptions and playing generally poor football.
Well, he's not telegraphing them anymore.
Maynard, a left-handed senior, has demonstrated significant improvement through three games this season, completing 67 percent of his passes as compared to 57 percent last year and improving his quarterback rating roughly 20 percent. He has thrown only two picks in 90 attempts after throwing those three in just 43 attempts against the Trojans last year.
USC linebacker
Dion Bailey
, who had two of those picks in 2011 in a breakout game, said this week that Maynard is no longer the easy-to-read signal-caller he once was.
"He's a completely different quarterback," Bailey said Wednesday after reviewing tape from Cal's nonconference games. "He's more composed, seems like he's got a year more mature, a year better in his accuracy and decision-making."
Cal coach Jeff Tedford, who recruited Maynard out of Buffalo after he started there in 2009, has been similarly impressed. Maynard did nearly lead the Bears to a road victory over Ohio State last weekend and completed 70 percent of his passes in the process, with only one interception in 37 attempts.
"He's really grown," Tedford said on a conference call Tuesday. "Last year, early in the year, we struggled a little bit with just management of the game and turning the football over and speed of the game."
Tedford said Maynard started to improve in the latter half of last season -- his final two regular-season games were his top two of the year. And he has carried that over into 2012.
He'll need to carry it over to the Coliseum on Saturday for Cal to upset USC, who are once again heavy favorites despite losing to Stanford last week.
"He just continues to grow each week and I think he's more comfortable with the offense, comfortable with the speed of the game and protecting the football," Tedford said of Maynard. "He needs to continue to do that against a very athletic, tough USC defense."
July, 11, 2012
7/11/12
1:25
PM PT
ESPN.com's series on FBS coaches continues today with this question: Which coach in the Pac-12 provides the biggest bang for the buck?
That's tough to answer for a number of reasons.
There are four new coaches in the Pac-12 this season.

There were two new coaches last year.

USC and Stanford, as private schools, don't provide salary information for their coaches, though USA Today reported that Lane Kiffin made $2.4 million in 2010, way less than had been widely reported.
Two years ago, it would have been easy to say that Oregon State's Mike Riley provided the most bang for buck. Riley won 36 games from 2006-2009 before the Beavers tumbled to consecutive losing seasons. And he did that with a
fairly modest salary
.
[+] Enlarge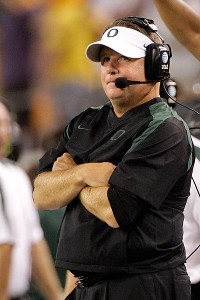 AP Photo/Tony GutierrezChip Kelly may be the Pac-12's highest-paid coach, but he's worth the money.
Here are the latest numbers.
Chip Kelly, Oregon, $2,800,000

Lane Kiffin, USC, $2,400,000*

Jim Mora, UCLA, $2,400,00 million**

Jeff Tedford, California, $2,300,000

Steve Sarkisian, Washington, $2,250,000

Mike Leach, Washington State, $2,250,000

Todd Graham, Arizona State, $2,000,000

Kyle Whittingham, Utah, $2,000,000

Rich Rodriguez, Arizona, $1,910,000

Mike Riley, Oregon State, $1,313,471

Jon Embree, Colorado, $725,000
*It's perfectly reasonable to posit that Kiffin made more than this in 2011 and also will in 2012.

**Mora's number is an average of his five-year, $12 million contract. He'll likely make less than this figure this season.
By the way, David Shaw's salary at Stanford has been
estimated at $1.75 million
. It seems, in any event, that it's too early to rate Shaw or Colorado's Jon Embree as second-year coaches. And it makes no sense to look at the track record of the four new coaches because the past doesn't mean anything for the new schools, though you could say that Arizona got Rodriguez at below market value.
So who provides the most bang for the buck? I've got two answers: Utah's Kyle Whittingham and Oregon's Chip Kelly.
Why? Well, name the two coaches on the above list who have won BCS bowl game at their present job.
Whittingham is 66-25 (.725) at Utah, including double-digit wins in three of the past four seasons. His worst season in seven years is 7-5 in 2005. After an 0-4 start in Pac-12 play last fall, he rallied his team behind a backup QB who'd transferred from Nebraska-Omaha, and the Utes nearly won the South Division. Oh, and he's 7-1 in bowl games.
Further, Whittingham has been loyal to Utah. He's had opportunities to leave but he's stuck around.
Kelly is the Pac-12's highest paid coach by a fairly wide margin. He was guaranteed $2.8 million in 2011 and will make $3.5 million this season,
according to USA Today
. So why does he rate highly in terms of bang for the buck? Well, there's a 34-6 (.850) record, including a 25-2 mark in Pac-12 games (.926). And there's three consecutive conference titles. And an undefeated regular season in 2010 when the Ducks fell just short of beating Auburn for the national title. And there's the Rose Bowl victory over Wisconsin last January.
Kelly has delivered a super-elite level of performance in his three seasons. If you were to name the nation's best coaches, you wouldn't have to wait long after Nick Saban and Urban Meyer to get to Kelly.
He gets big bucks, yes, but he's delivered unprecedented bang to the Ducks program.
Any Oregon fans think he's overpaid?
November, 22, 2011
11/22/11
9:35
PM PT
As USC quarterback Matt Barkley's Heisman Trophy campaign heats up this week with the Trojans days away from concluding their 2011 regular season, it's interesting to see where he stands with a number of college football figures who don't have a vote but have plenty of opinions.

USC coach Lane Kiffin has already said he'd vote for Barkley to win the Heisman.

And a number of Pac-12 coaches said Tuesday on the conference's weekly conference call they would vote for him as at least a finalist. All who answered said he at least deserved consideration for the award.

Colorado coach Jon Embree, Oregon State coach Mike Riley, Arizona interim coach Tim Kish and California coach Jeff Tedford gave him glowing endorsements. Arizona State coach Dennis Erickson, Washington State coach Paul Wulff, UCLA coach Rick Neuheisel and Stanford coach David Shaw said he undoubtedly deserved to be in the conversation.

Washington coach Steve Sarkisian and Oregon coach Chip Kelly said they'd need to look into the other candidates more to properly comment but continued to speak highly of him. Utah coach Kyle Whittingham wasn't available for comment.

"I'm one of those guys that doesn't think the Heisman goes to the best player on the best team," Embree said Tuesday. "I think it goes to the best player. And he definitely needs to be in that conversation. He's put that team on his back and has taken them to a very good year. What he has done and how he has matured through this season and career says a lot about the kid.

"He's one of those guys that has always been overshadowed. He doesn't go away."


October, 11, 2011
10/11/11
12:30
PM PT
By
Pedro Moura
| ESPNLosAngeles.com
Here's Trojans coach Lane Kiffin talking to the media after Tuesday's practice, addressing the wide-ranging impact of Cal coach Jeff Tedford going back to offensive play-calling this season, the inherent oddity in playing a road game at a baseball stadium and other topics relating to his roster.

See the video here:


October, 9, 2011
10/09/11
7:25
AM PT
By
Pedro Moura
| ESPNLosAngeles.com
USC's struggles over the last few years of Pac-12 play don't really apply to the California Bears.

Jeff Tedford's squads, while consistently solid nationally and often a force in the conference, have just not been an issue for the Trojans of late. In 2008, USC shut down Cal's offense entirely and won 17-3. In 2009, the Trojans blew the Bears out, 30-3, in a game dedicated to Stafon Johnson, who had dropped a bench-press bar on his throat in the week leading up to it. And, last year, at the Coliseum, USC led 42-0 at halftime before pulling away with a comfortable 48-14 win.

Going back further, the Trojans haven't lost to Cal since a triple-overtime game in Berkeley in 2003, a game in which future Super Bowl-winner Aaron Rodgers was replaced in the second half becaise of poor play. The 2011 Bears starting signal-caller, Zach Maynard, has been replaced by a backup, Allan Bridgford, twice this season. But those appearances came later in the game, in one case because of an injury and in the other because of a blowout.

Maynard, a Buffalo transfer, has proven to have well-developed chemistry with his top two receivers in Keenan Allen and Marvin Jones. Running back Isi Sofele stepped right in for Shane Vereen, who left to the NFL, but the Bears defense has been the primary issue at fault for the team's 3-2 start.

Cal was 3-0 at first, after a trio of non-conference games. But Keith Price and Washington found a way to beat the Bears last month in Seattle, and then the Bears again struggled to keep up with Oregon last week in Eugene. The latest problem is the pass defense, especially now, with top corner Marc Anthony out for the foreseeable future and a true freshman, Stefan McClure, in for him.

With how much trouble USC's quarterback-receiver tandem of Matt Barkley and Robert Woods has caused some better defenses so far this year, it's not hard to imagine a situation where Woods surpasses 200 receiving yards on Thursday at AT&T Park.

Cal's run defense allowed a ton of yards (239) to Oregon's LaMichael James on Thursday, but that's not indicative of its normal play. Washington running back Chris Polk gained three yards a carry against the Bears in that Huskies win, and Fresno State's Robbie Rouse and Colorado's Rodney Stewart both ran the ball poorly earlier this year, too.

A Marc Tyler-dominated day is not likely for USC in what promises to be an unusual environment at AT&T Park, where only a handful of Trojans have played a football game previously.

A Barkley-to-Woods one is.
October, 7, 2011
10/07/11
3:59
PM PT
By
Pedro Moura
| ESPNLosAngeles.com
Lane Kiffin caught Cal's 43-15 loss to Oregon in Eugene last night as it happened and offered his thoughts on the Bears' performance after USC's Friday practice.

He clearly found it hard not to draw similarities -- tacitly, of course -- to USC's own 53-32 loss to the Ducks last season at the Coliseum, when the Trojans led 17-15 in the second quarter and 32-29 in the third before the roof caved in on them late.

"I thought they played great through the half and into the third quarter," Kiffin said of Jeff Tedford's Bears, who led 15-14 at halftime. "Obviously a tough environment to play versus a very explosive offense and what happened is what happens in most Oregon games over the last couple years.

"Somehow Oregon gets stronger as the game goes in the second half, especially on defense. As you go back to last year, so few points given up in the fourth quarter on defense. They do a great job. And they've done a great job at recruiting depth so they play a bunch of players. If you start taking off their reps, they get a ton of guys in their on offense and on defense and so obviously that contributes to what they're able to do late in the third and the fourth quarter."

But USC doesn't play Oregon for another month and a half, and the Trojans play Cal in six days. So what'd he pick up from the Bears? Cal's known weakness is its secondary, but, in again bringing up USC's own performances last season, Kiffin implied that it wasn't as much of one as most have said so far this year.


October, 16, 2010
10/16/10
8:15
PM PT
By
Pedro Moura
| ESPNLosAngeles.com
Notes, quotes and video from USC's 48-14 win over Cal at the Coliseum:
Saturday's victory was important for USC in that it stopped a rare two-game losing streak for the squad, but the way the Trojans beat the Bears was the story of the day. USC outscored Cal 42-0 in the first half and outgained the Bears by a margin of 602-245, and the outcome was never really in doubt once the Trojans scored. "To win was huge," Coach Lane Kiffin said afterward. "To win in this style was really, really big -- against a good team."
Of course, as soon as USC put together an all-around solid performance like this one, the comparisons to Trojan teams of old began to be thrown out. "It reminded me of the way we used to play here," defensive coordinator Ed Orgeron said. "There was no doubt about that. I had that feeling on the field." Said USC right tackle Tyron Smith, a junior who hardly practiced this week with a sprained ankle but made the start and played well: "This feels like the same team that I came in here with and got recruited for."
Running back C.J. Gable hurt his left knee near the end of the game and may -- or may not -- be out for the year, but starter Allen Bradford is also hurt. He said he played the game with a lingering left big toe sprain he suffered Wednesday, but said that was no excuse for his two fumbles on the day. Tyler (seven carries, 79 yards, one touchdown) clearly outplayed Bradford (nine carries, 27 yards), but quarterback Matt Barkley was the top performer for the Trojans once again, completing 68 percent of his passes for a school record-tying five touchdowns and no picks. "Their offense is the best we've faced," Cal coach Jeff Tedford said. "They can do it all."
Defensively, the Trojans were much, much better than they had been at any point this season. And, truthfully, they were a little different, too. Linebackers Chris Galippo and Devon Kennard indicated that the unit was blitzing a lot more than usual, especially at the start of the game. The Bears went the first 18 minutes without gaining a first down. Said Cal quarterback Kevin Riley, asked to explain how USC dominated: "There were some things that caught us off guard up front. But they made a couple plays and we didn't. They got off to the start that we wanted."
While Riley has frequently been the culprit for a variety of poor performances over the past few years in Berkeley, the blame for Cal's dysfunctional offense Saturday went to the receivers as well. Cal's Keenan Allen, Marvin Jones and Jeremy Ross combined to drop a number of key passes as Riley completed just over 50 percent of his attempts. Said Tedford, who earned big praise from Kiffin after the game: "We had a chance to make plays but we have to catch the ball. Someone has to make a play. It's not all the quarterback's fault. It's easy to point fingers at the quarterback but everyone has to make plays."
Individuality was a big deal this week for the Trojans, with a number of players mentioning a need to take care of tasks on an individual basis in order for the team as a whole to perform well. Galippo said it first: "We came in, looked at the film and took a look at ourselves individually. We needed to focus on individual technique, and we did, and that results in great play as a team." Barkley continued: "We need to realize on both offense and defense, it's a team effort, but every individual has to do what they're supposed to do. When we focus on our own jobs, that turns into 11 guys doing the right thing. That's what the offense has done the last two weeks, and the defense did that today."
Cornerback Shareece Wright, a senior leader, hosted a defensive players-only meeting before Thursday's practice to talk over some of the issues the unit has dealt with this year. It worked, obviously. "I told them, 'I'm tired of hearing about how good our defense is not,'" Wright said Saturday. "Before the season, we were talking about how great our defense was, and now, I told them, we can't hear that anymore about our defense. I feel like the team responded very well -- the defense -- to what I talked about."
Maybe the most obvious improvement on defense for the Trojans was an immediate increase in pressure from the defensive line from the first snap of the game on. In retrospect, that appeared to be a pride thing. Said defensive tackle Jurrell Casey, who recorded a tackle for a loss and hurried Riley constantly: "It's really frustrating to be talked down. Every week we've tried to brush it off and play the game we know we can play. Today I think we played that game." On that note, a number of defensive players -- Tyler, too -- said that the Trojans played a lot faster in this week's practice and thus played faster in the game.
Final notes: Cal's 42-point halftime deficit was the worst in Bears history. USC last led 42-0 at the half when it beat Washington 56-0 at the Coliseum in November 2008. ...Running back Dillon Baxter (toes), linebacker Malcolm Smith (knee), tight end Jordan Cameron (knee) and defensive end Wes Horton (back) all missed the game after not participating in any of the week's practices.
***
Kiffin was, with good reason, more pleased with his team's performance Saturday than after any game this season.
See what the coach had to say:
***
USC assistant head coach
Monte Kiffin
had some great comments about the Trojans' defensive play against the Bears.
See everything he had to say, including his thought-provoking remarks on increasing the simplicity of his defense for the players:
October, 12, 2010
10/12/10
11:53
PM PT
By
Pedro Moura
| ESPNLosAngeles.com
Notes, quotes and video from Tuesday's practice:
The injury report was so long, we'll split it up into two sections. First, those unable to practice: defensive end Wes Horton (back), linebackers Shane Horton (groin) and Malcolm Smith (knee), running back Dillon Baxter (toes) and right tackle Tyron Smith (undisclosed) all sat out and were listed as "out" by coach Lane Kiffin; tight end Jordan Cameron (knee) also did not appear to do any work in practice but was not listed on the report. Baxter, who underwent X-rays on the toes of his left foot Sunday, said he was set to find out results just after practice. He was still sporting crutches and wearing a boot on the injured foot.
And the "limited" group, who participated to varying extents: defensive end Nick Perry (ankle), cornerback Shareece Wright (ankle), guards Khaled Holmes and Butch Lewis, left tackle Matt Kalil and receiver and Brice Butler.
In the first position change in quite a while, freshman Christian Thomas has been moved from defensive end to tight end. Thomas was considered a tight end coming out of high school and spent the first week of fall camp at that spot before switching over to end because of a need at the position. But with Cameron out of commission for the time being, the Trojans are in need of depth at tight end other than starter Rhett Ellison and backup Blake Ayles.
Quarterback Matt Barkley had high praise for Cal's defensive unit Tuesday, calling the Bears "probably the best defense" the Trojans will have faced to this point in the season. But there is an inherent advantage in playing them this week, he said: "It's an easy transition from last week, because, structurally on defense, they're really similar to Stanford." Both teams are able to switch from a particular 3-4 scheme to other arrangements just before the snap -- an aspect that can severely confuse inexperienced offenses and quarterbacks. Said Barkley: "We just have to be on point with knowing what front it is or what checks need to be made."
Freshman receiver Robert Woods, on the aftermath of viewing the film from his 12-catch, 224-yard, three-touchdown performance against Stanford: "I watched it and I was kinda impressed but then I noticed a lot of flaws in my catching. I noticed I was catching a lot with my body instead of my hands. And that resulted in a couple of my drops. I know for next week I gotta make sure I use my hands and practice it throughout this week." He's right; Kiffin corroborated that statement. Woods interestingly dropped the first pass he was thrown on the night in the exact fashion he described but rebounded within minutes to make two catches on USC's first drive.
With Smith out, redshirt junior Chris Galippo is filling his stead at weakside linebacker in practice. While Kiffin refused to address how the coaching staff would go about readying Galippo to start at that spot until later in the week, Galippo said Smith has already helped him with some of the differences in the two positions. Of course, Galippo lost his starting spot at middle linebacker to Devon Kennard this season, but he has recently begun to find his way onto the field for more playing time -- including last Saturday's game against Stanford, when he essentially split series with Kennard and earned the nod on Stanford's final series. Galippo takes the added responsibility in stride, and uses last year's failures as a way to "As an older guy who was here last year, I unfortunately had the experience of learning how to lose and how to deal with that as a competitor and as an athlete," he said Tuesday. "As someone who considers himself a veteran now, sometimes you gotta deal with that. It's a game -- it's not always gonna be perfect, but it's about how you deal with it and how you rebound that really shows your character."
Final notes: Cal coach Jeff Tedford had this to say about USC: "They're about five seconds from being 6-0 so they're still a great team."... This is now the third week of practice that Wes Horton has missed -- all because of an accidental kick to the back from fellow end Perry during the Washington State game.
***
Per usual, Kiffin spoke to the media after Tuesday's practice.
See what he had to say, including his comments on Cal's much-improved defense:
***
Smith spoke candidly Tuesday about the injury he suffered during the first series of the Stanford game after he made an impressive tackle, expressing some frustration with the irony that many of his injuries have come directly as a result of some of his bigger on-field successes.
See what the senior linebacker had to say about that, the possible steps to the transition Galippo would need to take to replace him this week and other topics:
July, 29, 2010
7/29/10
6:06
PM PT
By
Pedro Moura
| ESPNLosAngeles.com
PASADENA, Calif. -- We've got plenty of notes and quotes from today's scorching media day event at the Rose Bowl. While
Lane Kiffin
and
Matt Barkley
were not the last pair to take the podium -- for the first time in a long time -- they were certainly the center of attention for much of the day. In this post we'll have comments from both Kiffin and Barkley plus thoughts on the Trojans from a number of opposing coaches and players.
For more on media day, check out our "What we learned" post coming soon. In the meantime, let's get to it. First, the two Trojans and what they had to say:
Almost as soon as he stepped to the stage and began to speak, Kiffin addressed the Kennedy Pola situation -- briefly, of course, and all he really said was that he could not talk about the actual lawsuit. Of course, Kiffin was asked about the issue many, many times as the day wore on. His response came out pretty much the same way each time, although he did make an intriguing remark about the nature of the case. Asked why he thought the Titans decided to sue, he said: "I think it has to do with the location of the team that's in the lawsuit." Kiffin also later said that USC's new athletic director, Pat Haden, "wasn't pleased" with the lawsuit. "Neither was I," Kiffin said.

Talk amongst fans and media members about USC's limited amount of scholarship players at its disposal has continued to mount in recent weeks. Kiffin attacked that topic during his presser Thursday. "Our numbers will be down – we'll have 71 scholarship players instead of 85," Kiffin said. "Depth, in general, is going to be an issue for us. So we have to be extremely smart and intelligent about the way that we practice, about the way that we handle our guys. On that note, the phrase "it's us against the world" was uttered at least twice by both Kiffin and Barkley -- as in, an us-against-the-world mentality, an attitude that would have been completely out of place at USC over the last decade.
Barkley, on heading into his sophomore season as a season sharper and better prepared because of his experience starting 12 games a season ago: "

Last year, the year that I had, the game time experience was able to help more than any practice or film session ever could."
More Barkley, on the true personality of Kiffin and whether the Trojans know their coach inside-out:"We know who he is.

He's not what people make him out to be, like some betrayer. I do believe he's a loyal Trojan."
Even more Barkley, on if he thought Kiffin's decision to declare every position an open battle at the start of spring practice was a good one: "I think one of the greatest things he could've done is open up the competition between Mitch and I. More than anything, it made me a better quarterback. And I noticed a change in Mitch's play this offseason as well. People can say what they want about Coach Carroll but I think Coach Kiffin -- with every position open and taking nothing for granted -- really made me improve my game a lot this offseason.

Receiver Brandon Carswell will stay at USC, Kiffin confirmed. A redshirt junior, Carswell flirted with the idea of transferring to Cincinnati -- even tweeting that he had made his decision at one point -- but ultimately decided to come back. Why? Kiffin said that he "begged" him to stay, offering the suggestion that Carswell stay for this season, obtain his degree and wait to see how much playing time he gets in the USC receiving corps in 2010, then decide whether to stay for his senior season in 2011 based on that.
The other reported transfer at receiver, Travon Patterson, is indeed gone. Kiffin confirmed that Patterson had already submitted his papers to USC and said he believed Patterson was already working out at Colorado, his new school. And why did juco linebacker Glen Stanley hire an attorney to get him out of his signed letter of intent with USC? "I don't know," Kiffin said. "I don't know why he hired an attorney given the situation. But we wish him the best of luck."
--
And, now, comments and quotes on USC from a few of the 18 other Pac-10 coaches and players in attendance:
UCLA coach Rick Neuheisel, on dealing with USC's sanctions: "Truthfully we can't take any time to worry about that. We're on a mission to be the best program we can be." Later, he added more context: "Is there a window of opportunity? Certainly, and we want to take advantage of that."
Cal linebacker Mike Mohamed, a first-team All-Pac-10 player a year ago as a junior, was asked how it would feel to have his team receive a two-year bowl ban and the other sanctions the Trojans received: "It's definitely tough for the players, especially when all this is coming down on them who had no part in it all," he said. " I definitely feel for the players -- it's definitely tough."
The word "parity" made more than a few appearances in the coach-speak of the day, including in this line from Cal coach Jeff Tedford, explaining how he expects the teams to finish come the end of the season: "I think there's a lot of parity in this conference, and not just because of what's happening at USC and Oregon."
And, lastly, the quote of the day from Kiffin, in response to whether it was difficult to keep his players' morale up as he saw several players choose to transfer in the weeks since the sanctions were released:
"The difficult thing was, with these sanctions -- and I don't know if this was part of why they did it, because it wasn't in the exact penalties, you just had to read a bylaw -- we created free agency in college football. So we've dealt with -- over the last month, however long it's been -- free agency that there's no salary cap on. Our players can leave at any time to go anywhere. They don't have to sit out; there's no penalty with it."
2013 TEAM LEADERS
| TEAM | RUSH | PASS | TOTAL |
| --- | --- | --- | --- |
| Offense | 174.2 | 218.1 | 392.3 |
| TEAM | PF | PA | MARGIN |
| Scoring | 28.5 | 21.3 | 7.2 |