March, 11, 2011
3/11/11
11:43
PM PT
By
Pedro Moura
| ESPNLosAngeles.com
LOS ANGELES -- It has been a while since USC associate head coach
Bob Cantu
was the head coach of a basketball team.
Fifteen years, to be exact -- and that was as a JV head coach in his hometown of San Luis Obispo. But when USC head coach
Kevin O'Neill was suspended Friday afternoon by Trojans athletic director Pat Haden for his role in an altercation
with an opposing booster that took place Thursday night, Cantu took the reins of the squad for which he has served as an assistant coach for the last 10 seasons.
And, going against the class of the Pac-10 in No. 16 Arizona, Cantu's Trojans (19-14) held their own until the final minutes, eventually falling short, 67-62, to the Wildcats in the semifinals of the conference tournament.
"That was unbelievable, in my eyes," said USC guard
Jio Fontan
, who had seven points and five assists in 28 minutes. "To be honest, I didn't expect him to do the job he did today. I knew myself, as a leader, I was gonna go out there and try to lead my team -- but Coach Cantu today, that was almost unreal.
"That's one of the craziest experiences I've ever dealt with, throwing a coach into the fire to face a top 15 team just on the fly, two hours before the game."
Cantu said he learned he'd coach the game at 3 p.m., three hours before tip-off. He made plentiful use of his fellow assistants --
Dieter Horton
was in charge of substitutions,
Tony Miller
called out defensive assignments and strength coach
Shaun Brown
focused on
Nikola Vucevic
-- but Cantu was the play-caller and the guy in charge of the huddle.
And his players, from Fontan and Vucevic to seniors
Alex Stepheson
and
Marcus Simmons
, praised his performance.
"He didn't show us any sign of fear, any sign of confusion or anything," Fontan said. "He was ready for the moment. He didn't try to be KO, he was himself. He was different. He was real confident in himself, and I think that's what made the team go the way we did today."
March, 11, 2011
3/11/11
1:18
PM PT
By
Pedro Moura
| ESPNLosAngeles.com
Here are five questions -- well, four, plus a prediction -- that will go a long way toward deciding today's 6:10 p.m. game against Arizona in the semifinals of the Pac-10 tournament:
1. Arizona can run. Can USC keep up one day after a game?
Listen to Trojans coach
Kevin O'Neill
: "Arizona is a very high energy, high level, high intensity team that's extremely well coached. It has one of the best players in the league as their center piece. So we know that if we don't control tempo and let them play at their pace, we'll have problems.
"We're talking about a legitimate top 10 or 12 team that shoots the ball better from three than anybody. You know, we just know we were fortunate the last game to win."
That's not the type of team you'd pick to play for your first back-to-back game this season, but that's who USC's got on the schedule, and the Trojans will attempt to beat the running-and-gunning Wildcats at the Staples Center on Friday to earn a trip to the finals of the Pac-10 tournament.
The two teams split their season series, each squad winning on its home court. Arizona's a team with a number of talented swingmen, which naturally presents quite a few challenges for a short-handed and small USC team, but there is a blueprint to beating this team, which we'll get into later.
USC is focused on bringing up its play another notch, though, from its 70-56 win over Cal Thursday in the Pac-10 quarterfinals.
"Arizona's a great team," senior forward Alex Stepheson said. "I think we gotta take it up to another level and just try to be aggressive -- that's the key."
February, 25, 2011
2/25/11
12:17
AM PT
By
Pedro Moura
| ESPNLosAngeles.com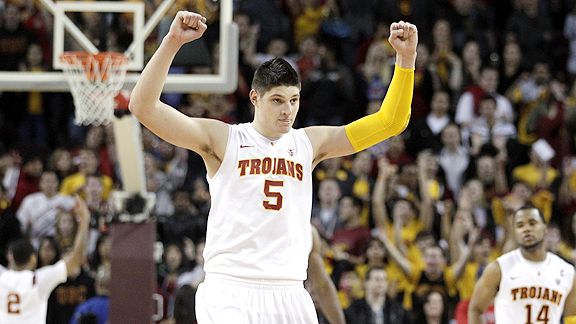 AP Photo/Jae C. HongNikola Vucevc raises his arms in triumph after USC's upset win over No. 10 Arizona.

LOS ANGELES -- Nine days ago, at his team's first practice after a disappointing home loss to Oregon that put the Trojans just above .500, USC coach Kevin O'Neill held court with reporters and reasoned that there was no possible way his team would win 18 or 19 games this season.

Now, three games later, it looks as if they're going to do just that.

Thursday, O'Neill's Trojans (16-12, 8-7 in the Pac-10) put together what he termed their most complete game of the season and beat No. 10 Arizona, 65-57, behind 25 points from Nikola Vucevic and 21 points from Jio Fontan and stifling defense on the Wildcats' Derrick Williams and Lamont Jones. With the win, USC moves within two games of the mark O'Neill thought they'd never reach, with at least four games left this season.

It also puts the Trojans once again in the mix -- as a longshot, surely, but still in the mix -- for an at-large bid to the NCAA tournament, assuming they do win at least two of their three remaining Pac-10 games and get a game or two in the Pac-10 conference tourney. And it sets Arizona quite a bit back in its race for a top seeding in the tourney and gives UCLA a chance to take over the top spot in the conference, or at least share it, with a win over the Wildcats on Saturday.

For his part, O'Neill was focused on what his team did well Thursday -- meaning, most areas of the game, especially in the second half. He also had an eye clearly focused on Saturday's game against Arizona State and next weekend's trip to Washington when speaking about what worked against the Wildcats.

"It's a huge confidence builder," O'Neill said afterward. "We played well tonight, we played hard. We controlled the tempo and we played with poise and confidence down the stretch."

"I hope we can keep this going Saturday."


December, 27, 2010
12/27/10
2:32
PM PT
By
Pedro Moura
| ESPNLosAngeles.com
USC junior guard Jio Fontan is raking in the honors.

He's already the Trojans' best player, according to USC coach Kevin O'Neill. Now he's on the conference spotlight.

The former Fordham transfer was named the Pac-10 player of the week Monday, just nine days after making his USC debut in a hotly contested road game at No. 3 Kansas. The award covered his second and third games for the Trojans, wins over No. 18 Tennessee and Lehigh. Fontan averaged 17 points, four assists and 3.5 steals in the two games.

Fontan earned Atlantic-10 All-Rookie Team honors after his freshman season at Fordham in 2008-09, but he had never before earned a player of the week award.

It's the 32nd time a USC player has earned Pac-10 honors. Former transfer point guard Mike Gerrity was the last winner, last December.

Also nominated this week were Arizona forward Jesse Perry, Oregon State guard Jared Cunningham, Washington guard Isaiah Thomas and Washington State guard Klay Thompson. Previous winners this season have been Thompson (twice), UCLA forward Reeves Nelson (twice) and Arizona forward Derrick Williams.
2014 TEAM LEADERS
| TEAM | RUSH | PASS | TOTAL |
| --- | --- | --- | --- |
| Offense | 158.2 | 294.6 | 452.8 |
| TEAM | PF | PA | MARGIN |
| Scoring | 35.1 | 23.8 | 11.3 |