October, 25, 2011
10/25/11
9:54
AM PT
By
Pedro Moura
| ESPNLosAngeles.com
On the day after every game USC has played this season, Trojans coach
Lane Kiffin
has introduced his team to the next squad they'll face by playing a cut-up clip of highlights from the team's games that season.
It typically comes right after the Trojans have finished reviewing the film of their game from the day before, so the players are usually very excited to move forward and stop looking back. Each week, Kiffin said, they have "oohed and aahed" as he flipped the switch to the new unseen footage and discarded the previous game's.


Not this week, though. This week, they were silent and focused on the task at hand: beating the fourth-ranked team in the country in the Coliseum, the Stanford Cardinal.
"Nobody even made a noise," Kiffin said of showing Stanford's tape inside Heritage Hall on Sunday. "They've really finally understood that it's not about hype, it's about the prep.
"I was really proud of the way the players handled themselves."
USC has learned its lesson about the sliding scale between hype and prep, the sliding scale between focusing on one's own game and worrying too much about the opponent. It has probably cost the Trojans a perfect 7-0 record, as they succumbed to it on the road at Arizona State last month.
But this game is a bit different. Stanford just smacked around a pretty good Washington team last week in Palo Alto, beating the Huskies by 44 points. The Trojans could be similar victims on Saturday at the Coliseum
They have to keep up they way they played against Notre Dame to even have a chance to win, and they have to keep up the mindset all week in practice, too, as they prep for the multi-faceted Cardinal.
"Well, we don't have a choice," Kiffin said Monday. "This is arguably the best team in the country coming in here, and I can't imagine there's a more complete team in the country.
"They're hitting on all cylinders."
October, 18, 2011
10/18/11
12:34
PM PT
By
Pedro Moura
| ESPNLosAngeles.com
Here's Trojans coach Lane Kiffin after Tuesday's practice, talking to the media about some of the issues surrounding USC heading into Saturday's road game against Notre Dame. Included are his thoughts on the first night game in South Bend, the trade of Carson Palmer to his old Oakland Raiders and Jim Harbaugh's postgame altercation with Detroit Lions coach Jim Schwartz.

See the video here:


July, 7, 2011
7/07/11
4:24
PM PT
By
Pedro Moura
| ESPNLosAngeles.com
The weeks are counting down until fall camp begins for the USC football team the first week of August. During each of the in-between weeks, we've been offering up an early first look at the 12 scheduled opponents for the 2011 season, in chronological order. We began with Minnesota and Utah, continued the next three weeks with Syracuse, Arizona State, and Arizona, and added Cal and Notre Dame recently. We now present Stanford, who the Trojans will face at home on Saturday, Oct. 29:
History
: USC and Stanford have matched up 88 times in their histories, dating to 1905.

On only five occasions have the Cardinal been ranked higher than USC entering the matchup. Last year was one of those times, and this year figures to be another, as the Cardinal enter the 2011 season as a likely preseason top-10 pick.
USC leads the all-time series between the schools by a margin of 58-27-3, and the Trojans have had win streaks as long as 12 games against Stanford. But, over the last dozen years, the Cardinal have actually been USC's toughest in-conference opponent.
Since 1999, the teams have split 12 games, and it has been streaky. Stanford won in 1999, 2000 and 2001; USC won five straight from 2002 to 2006 until Stanford pulled off the big upset in 2007. Then the Trojans won once more in 2008 before the Cardinal took the next two, including USC's worst home loss in three decades in 2009.
Half of those last 12 games have been tightly contested, with margins of victory of five points or fewer.
January, 18, 2011
1/18/11
3:36
PM PT
By
Pedro Moura
| ESPNLosAngeles.com
Tuesday's announcement
that passing game coordinator and receivers coach
John Morton
accepted a job with
Jim Harbaugh
and the NFL's San Francisco 49ers is the first coaching switch for USC this offseason.
Who could
Lane Kiffin
and the Trojans appoint to replace him?
It would seem that graduate assistant
Keary Colbert
is the likely candidate. Colbert, a former USC receiver who also spent six seasons in the NFL, worked with the tight ends this past season and earned praise from Kiffin at various points in the season.
Another option could be longtime college and NFL assistant
Kippy Brown
, who currently coaches receivers for the NFL's Seattle Seahawks. Former USC coach
Pete Carroll
is the Seahawks' head coach, of course, and it is unlikely Brown would jump down a level to work under Kiffin at USC. But Carroll today fired offensive coordinator
Jeremy Bates
(remember him, USC fans?) and could be in the process of revamping his offensive staff.
Brown was hired to Kiffin's staff at Tennessee in December 2009 and was named the Volunteers' interim head coach when Kiffin departed for USC in January 2010 but left for the Seahawks when he was leapfrogged by
Derek Dooley
for the head coaching job.
In a statement released Tuesday by USC, Kiffin said he has not yet determined who will fill the receivers coach position for the 2011 season.
January, 17, 2011
1/17/11
10:14
PM PT
By
Pedro Moura
| ESPNLosAngeles.com
USC hosted a reported 21 recruits for official visits over the weekend, quite the large number for a crucial weekend just two-plus weeks from National Signing Day.

It's already paid dividends for the Trojans.

USC received its second verbal commit since the weekend Monday, with speedy middle linebacker Anthony Sarao (Absecon, N.J./Holy Spirit). Running back Amir Carlisle (Sunnyvale, Calif./Kings Academy) announced his commitment a day earlier.

Both players are consensus four-star prospects and both players, interestingly, were former Stanford commits. Of course, the Cardinal's recruiting class was heavily affected when coach Jim Harbaugh and defensive coordinator Vic Fangio departed for the NFL's San Francisco 49ers.

Linebacker is a position of need for the Trojans for the 2011 season, so Sarao's commitment is a big one. Some recruiting services have him projected as an outside linebacker and some as a middle linebacker, but he will probably need to gain some significant weight and strength to get playing time as a true freshman. Carlisle is known as a shifty back with great pass-catching skills out of the backfield.
January, 7, 2011
1/07/11
2:47
PM PT
Back in early October, before anyone knew how far
Jim Harbaugh
could take Stanford, you could hear the respect oozing out of the USC coaches as they prepared to face his team. The Cardinal had once been routinely picked on at recess and now it was rubbing other kids' noses in the dirt.
Harbaugh, in fact, might have given USC's first-year coaches a template to build a program around. You start with the fundamentals – toughness and discipline – and built up. Imagine that: A Stanford coach showing USC the way… in football, not water polo or women's volleyball.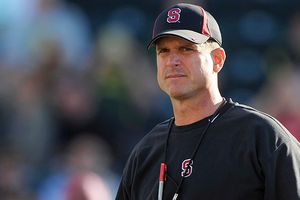 Kirby Lee/Image of Sport/US PresswireBig change, just not a big move for Jim Harbaugh, who is moving just up the peninsula.
"What's this, Coach Harbaugh's fourth year with them? We're not in the fourth year in our program," defensive coordinator
Ed Orgeron
had said. "These guys are just learning our system and our ways, but you have to give them credit. They are a tough football team and that's what they build on."
Orgeron didn't even mind the over-the-top motto Harbaugh apparently came up with – the bit about winning with "character and a little bit of cruelty."
"It's all good. That's who they are. That's good," Orgeron said. "Each team has a different personality. I commend these guys. They have a great personality and they've done a good job."
And now the foundation has shifted. Friday's news -- first reported by ESPN.com -- that Harbaugh was moving up the Peninsula, from Stanford to the 49ers, might have been the best news USC – or UCLA – has gotten this off-season. Thus far, the headlines have been dominated by juniors departing early for the NFL and shuffling in the coaching ranks.
Now, the path to the pinnacle of the conference looks a little clearer, especially after
Andrew Luck
finally goes pro in about 15 months. Now, instead of two implacable opponents, USC might only have to contend with Oregon in the coming years. None of the other Pac-10 teams, with the possible exception of Washington, looks to be on the rise.
Maybe Harbaugh, like
Pete Carroll
before him, realized he had maxed out the potential of the program, ridden the horse as far as it would carry him. Maybe that's part of the reason he moved on to a bigger challenge.
More than that, few people will realize how difficult what he did was. You probably wouldn't need more than one hand to count the number of USC players who could have academically qualified to play at Stanford.
And now the Cardinal loses all the momentum it had built up under four years of Harbaugh, whose prickly personality seemed to rub off on his players. They didn't just play smart. They played angry. Now, he can be a thorn in Carroll's side again. Maybe he'll open his inaugural press conference by taking sarcastic shots at the Seattle Seahawks, as he once did at USC at an LAX airport hotel during Pac-10 media day in 2007.
In a way, USC put Harbaugh on the map. Before his Cardinal shocked the Trojans as six-touchdown underdogs later that year, most people considered him fortunate to have gotten the Stanford job. Remember, he was coming from coaching the San Diego Toreros, not exactly your typical stepping stone. Just as Carroll's departure shifted the power structure in the conference, so does Harbaugh's.
If Lane Kiffin and his coaches are lucky, now it's their turn to build something. Who knows, maybe Oregon's
Chip Kelly
will get an offer he can't refuse before too long. That seems to be the way of things in this conference nowadays.
October, 9, 2010
10/09/10
11:45
PM PT
By
Pedro Moura
| ESPNLosAngeles.com
STANFORD -- Notes, quotes and video from USC's 37-35 loss to Stanford at Stanford Stadium:
Hey, now that was fun. For the second straight week USC lost on a last-second field goal, but this time the Trojans were more competitive than many expected them to be, matching almost every Stanford score until the final seconds. But while coach Lane Kiffin was "pleased" with the resolve his team exhibited Saturday, the Trojans weren't. "It is really disappointing to lose two games like this," said USC quarterback Matt Barkley, who completed 28-of-45 passes for 390 yards, three touchdowns and no interceptions in what was probably the best game of his young career. "We are at the lowest of lows and it is very tough because we were at the highest of highs just two weeks ago."
Added backup linebacker Shane Horton, on a more positive note: "We're growing. With the new guys and the new staff, we're growing together as one. So sometimes you gotta take these on the chin. Compared to last week, I think we know where we're going -- we're going in the right direction."
USC lacked discipline again late in the game, but the Trojans were not lacking one key aspect that looked to be at times absent earlier this year -- effort. "That's the one thing that Coach Kiffin said," linebacker Chris Galippo said after the game. "There's no one on the coaching staff that's gonna question anyone's effort. The bottom line is that we played our butts off. But, at the end of the day -- once again -- the ball didn't really go our way. That's not to say we couldn't have got better, that we didn't make [bad] decisions at times, that we didn't miss tackles at times, but our team fought until the very end and that's all you can ask."
2014 TEAM LEADERS
| TEAM | RUSH | PASS | TOTAL |
| --- | --- | --- | --- |
| Offense | 158.2 | 294.6 | 452.8 |
| TEAM | PF | PA | MARGIN |
| Scoring | 35.1 | 23.8 | 11.3 |