August, 1, 2014
Aug 1
9:00
AM PT
Our list of the
top 25 players in the Pac-12
concludes.
No. 5: Arizona State QB Taylor Kelly
2013 stats:
Completed 62.4 percent of his throws for 3,635 yards with 28 touchdowns and 12 interceptions, giving him an adjusted QBR of 74.2, which ranked 24th nationally. He also rushed 173 times for 608 yards and nine touchdowns.
Why he's ranked here:
There was some disagreement at the end of last season about who was the second-team All-Pac-12 quarterback. Kelly won the official Pac-12 vote with the coaches, and that means a lot. It also helps that he is the quarterback of the defending South Division champion. Further, you have to love his story. Nothing has been given to Kelly. In the spring of 2012, he was little more than an afterthought, ranking third in the Sun Devils' quarterback competition. You have to be mentally tough to emerge from that sort of deficit. He has earned his spot by fighting like crazy to win the job, to lead his team well and, finally, to become an A-list quarterback worthy of national attention. He has a chance to play his way into a solid spot in the NFL draft too. As for this season, Kelly has a lot coming back on offense and, because of the Sun Devils' questionable defense, offensive coordinator Mike Norvell figures to set him free as a third-year starter.
No. 4: Oregon CB Ifo Ekpre-Olomu
2013 stats:
Ekpre-Olomu was second on the Ducks with 84 tackles. He had five tackles for a loss to go with three interceptions and nine passes defended. He also forced a fumble.
Why he's ranked here:
Ekpre-Olomu might be the best cornerback in the nation. He earned All-American honors last season and is pretty much a unanimous 2014 preseason All-American. He is not expected to last too far into the first round of the 2015 NFL draft, and truth be told, it was a bit of a surprise he stuck around for another season because he likely would have been a first-round pick last spring. It will be interesting to see if he sees much action on his side of the field this season, considering he is the lone returning starter in the Ducks' secondary. His numbers might not wow you, but opposing coaches will start their Monday meetings by drawing a line down one third of the field and saying, "Ifo is here, so we're throwing over here."
No. 3: UCLA QB Brett Hundley
2013 stats:
Hundley completed 67.2 percent of his throws for 3,071 yards with 24 touchdowns and nine interceptions. He also rushed for 748 yards and 11 scores.
Why he's ranked here:
Kelly-Hundley, Hundley-Kelly -- based on last season, Kelly should nip his buddy from UCLA. But Hundley ends up at No. 3 because of projection. He is simply overbrimming with talent. He's big, strong, smart, charismatic, etc. Outside of Johnny Manziel, no one has more scramble yards in the past two seasons than Hundley (per ESPN Stats & Information). Though there are parts of his game that didn't completely arrive in 2013 -- still more feared as a runner than downfield passer and still takes too many sacks -- those were delays, not cancellations. Hundley also has a stacked supporting cast. The Bruins are the favorite in the Pac-12 South, a preseason top-10 team and a dark horse national title contender. If UCLA surges, Hundley almost certainly will become a top Heisman Trophy candidate.
No. 2: USC DT Leonard Williams
2013 stats:
Williams was second on the Trojans with 74 tackles, tied with
Devon Kennard
for the team lead with 13.5 tackles for loss and forced two fumbles.
Why he's ranked here:
Williams, a 2013 first-team ESPN.com All-American, is the consensus pick as the nation's best returning defensive lineman. He could be the top overall pick in the 2015 NFL draft, and he's almost certainly not going to last past the top 10 picks. Former USC coach Ed Orgeron called him the best defensive lineman he's ever coached, and Orgeron's defensive line résumé is deep. Williams has great length and athleticism and surprising power. He is the centerpiece of what might be the Pac-12's best defense. Last season, he was the lone sophomore semifinalist for the Chuck Bednarik Award, given to the nation's top defensive player, and he is likely to be a finalist for just about every award for which he is eligible.
No. 1: Marcus Mariota
2013 stats:
Mariota completed 63.5 percent of his passes for 3,665 yards with 31 touchdowns and just four interceptions. He also rushed for 715 yards and nine touchdowns.
Why he's ranked here:
Surprise! Bet you didn't see this coming, considering Mariota finished No. 1 on this list in 2012 and 2013. This was the easiest spot to fill on this list, perhaps the only easy spot by the way. Why? Mariota might be the best quarterback and player in the nation. In the 2014 Heisman Trophy race, he is option 1A besides Florida State's
Jameis Winston
, who won it last year but has significant character issues. Mariota opted to return and get his degree -- yes, he is taking a light class load this fall because he doesn't need any more credits -- and instantly made the Ducks (again) the Pac-12 favorite and a national title contender. The biggest question of the 2013 season was what might have happened if Mariota didn't suffer a knee injury before playing at Stanford. Pre-injury, he had 20 touchdowns and zero interceptions; post-injury, 11 touchdowns and four picks. All nine of his rushing touchdowns came before he partially tore his MCL. Despite that injury, Mariota led an offense that averaged 45.5 points per game last season -- tops in the Pac-12 and fourth in the nation -- in a very good defensive conference. While his speed and production as a runner is impossible to ignore, what separates him is his passing ability. He was No. 1 in the Pac-12 in efficiency and No. 1 in the nation in ESPN's adjusted QBR rating. He set an Oregon single-season record with 4,380 total yards. He also set a Pac-12 record by attempting 353 consecutive passes without an interception. Though character isn't much of a factor on this list -- the Pac-12 is fortunate that it didn't see much of that weigh down the offseason -- Mariota's is difficult to ignore. St. Marcus of Eugene seems likely to be in New York in December.
October, 24, 2013
10/24/13
6:00
AM PT
They're only college football opinions, but at least they're all mine:
-- What this week's Miami ruling proved is that the only organization in America more dysfunctional than Congress is the NCAA.
-- Losing nine scholarships compared to USC's 30? Really? What would the penalty have been if the Hurricanes' entire squad had admitted to accepting illegal benefits? Ten scholarships?
[+] Enlarge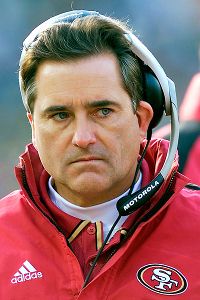 JEFF HAYNES/AFP/Getty ImagesShould Steve Mariucci's name be in the mix at USC?
-- Here's a name no one has mentioned in the USC coaching derby: Steve Mariucci. Once one of the hot, young coaches in America, he was Brett Favre's quarterback coach with the Packers, the head coach one year at Cal, then moved on to the NFL and had some good years in San Francisco, where he beat out Pete Carroll, among others, for the head job. Currently a broadcaster for the NFL Network, he has the style and the look and was strongly considered for the Trojans' position before Mike Garrett opted for Lane Kiffin.
-- One of the main reasons USC's secondary is struggling is because of the early departure of Nickell Robey, the terrific cornerback whom you might have seen returning an interception for a touchdown for the Buffalo Bills on Sunday.
-- Maybe it's just a freshman thing now. Certainly, Florida State's "Famous Jameis" Winston has vaulted right up near the top of the Heisman Trophy rankings with that spectacular performance against Clemson. First
Johnny Manziel
and now Winston? It's possible, although Oregon's
Marcus Mariota
is still No. 1 on most lists.
-- How tough is the transition from college football to the NFL? Just ask Matt Barkley. I'm sure that ugly, three interception afternoon on Sunday wasn't the way the former USC star dreamed his debut would go.
-- For all his unquestioned athletic ability, I thought UCLA's
Brett Hundley
showed for the first time against Stanford that he'd probably be wise to stick around another year before becoming a first-round draft pick. Mechanically, there are still some things he needs to refine.
-- By the way, that jaw-dropping, one-handed catch by Stanford's
Kodi Whitfield
against the Bruins wasn't just the play of the week. It was the college football play of the year.
-- OK, I agree. It is time to start taking Baylor seriously. You keep dropping 70 points on other people and you have to be pretty good.
-- For all those who admire the late Hall of Fame coach Eddie Robinson, it's difficult to believe what has happened to the program at Grambling State.
-- I'm still trying to digest the fact that Washington State's
Connor Halliday
put the ball in the air 89 times against Oregon. I remember when some quarterbacks barely threw the ball 89 times in a season.
-- How quickly things change in the Pac-12. A week ago, UCLA was being mentioned as a top five BCS bowl candidate and a possible national title contender. This week, the Bruins are 22-point underdogs at Oregon.
-- Talk about contrast in styles. This week's Stanford at Oregon State matchup is a duel between the Cardinal's old-fashioned power game and the Beavers'
Sean Mannion
, throw –it-all-over-the-yard philosophy. The surprise is that Mike Riley's pass-crazy team is the one with the undefeated conference record.
-- Wonder what the late Bo Schembechler would have thought of Michigan's 63-47 victory over Indiana? The two teams combined for 63 first downs and 1,323 yards of offense. Come to think of it, I know what Bo would have thought and you couldn't repeat it on a family website.
-- Back when running backs were still considered serious Heisman candidates, Wisconsin's young bull of a tailback,
Melvin Gordon
, would have been right up there in the polls.
-- It is a little early to start talking Coach of the Year, but whenever the conversation begins, Auburn's Gus Malzahn should be included.
-- Jack Nicklaus's grandson, Nick O'Leary, is one powerful, impressive-looking tight end for Florida State. Wonder what the kid can do with a driver in his hands?
2014 TEAM LEADERS
| TEAM | RUSH | PASS | TOTAL |
| --- | --- | --- | --- |
| Offense | 189.3 | 273.4 | 462.7 |
| TEAM | PF | PA | MARGIN |
| Scoring | 35.6 | 23.1 | 12.4 |